Angela Merkels neues Deutschland
BERLIN – Die Christlich Demokratische Union (CDU) von Kanzlerin Angela Merkel hat zwar bei den Bundestagswahlen im September eine Mehrheit errungen, aber das heißt nicht, dass die Zukunft des Landes damit klar ist. Was bei Merkels Versuchen einer Koalitionsbildung mit den Grünen und den Freien Demokraten herauskommt, wird nicht nur den wirtschaftlichen Kurs Deutschlands in den nächsten vier Jahren bestimmen, sondern auch das Schicksal des Landes bei seiner Transformation zu einer echten offenen Gesellschaft.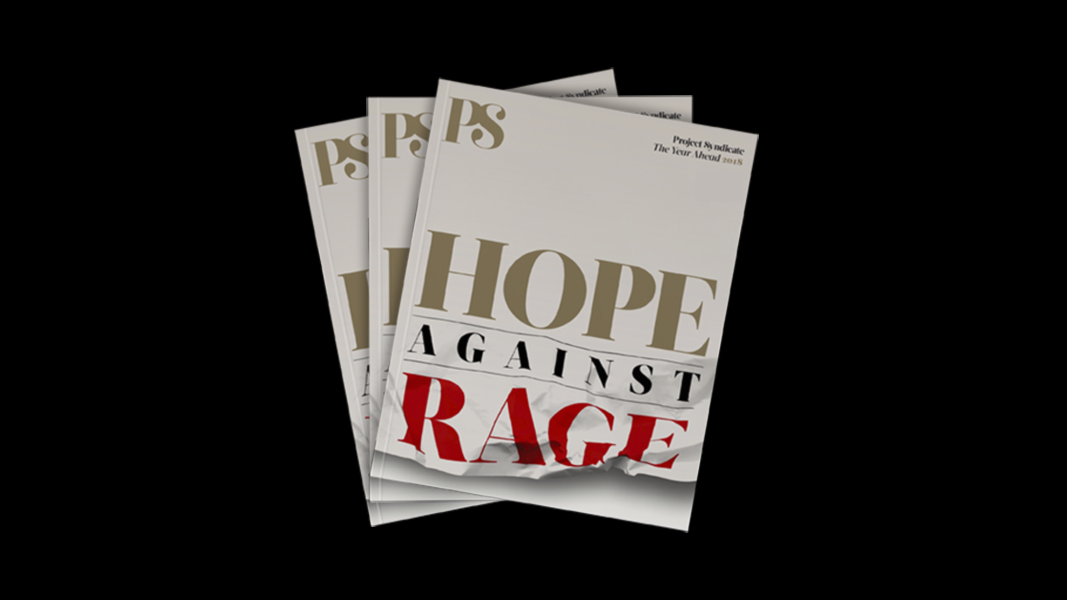 The Year Ahead 2018
The world's leading thinkers and policymakers examine what's come apart in the past year, and anticipate what will define the year ahead.
In weniger als einer Generation entwickelte sich Deutschland vom kranken Mann Europas zu einer globalen Wirtschaftsmacht. Doch in Wahrheit ist Deutschlands wirtschaftlicher Erfolg weniger das Ergebnis einer guten Politik als vielmehr vorteilhafter externer Bedingungen, insbesondere in Europa, die eine starke Nachfrage nach deutschen Exporten sicherstellten.
Freilich ermöglichten wichtige wirtschaftspolitische Reformen, diese externe Nachfrage zu nutzen. Doch diese Reformen wurden lange vor Merkels Amtsübernahme in die Wege geleitet und während ihrer 12-jährigen Amtszeit sind wenige sinnvolle Wirtschaftsreformen umgesetzt worden. So bleiben beispielsweise die privaten Investitionen teilweise aufgrund von Überregulierung und massiver bürokratischer Hürden schwach.  
Während die deutsche Regierung überdies ihren Nachbarn Sparpolitik predigte, hat sie im eigenen Land die Sozialausgaben für Renten und Transferleistungen erhöht und zugesehen, wie die staatlichen Nettoinvestitionen einen negativen Wert erreichten. Die dringend notwendige und einst von der CDU stark propagierte Überarbeitung des Steuersystems hat nicht stattgefunden. Und obwohl die Zahl der Beschäftigten im Laufe der Amtszeit Merkels stieg, gelang es mit der Schaffung von Arbeitsplätzen nicht, das Niedrigeinkommenssegment auf dem Arbeitsmarkt zu verkleinern.
Die Parteien, die höchstwahrscheinlich die nächste Regierung bilden werden – die CDU (und ihre bayerische Schwesterpartei, die CSU), die Grünen und die Freien Demokraten – streiten sich nun, wie man die hohen Haushaltsüberschüsse am besten verwenden könnte, damit deren jeweilige Wählerklientel davon profitiert. Ungeachtet dessen, welche Entscheidung getroffen wird, dürfte die deutsche Wirtschaftsleistung stark bleiben, zumindest was den Handel und den ausgeglichenen Haushalt betrifft.   
Die eigentliche Bewährungsprobe für die aufgrund der jeweiligen Parteifarben so genannten Jamaika-Koalition wird in einem anderen Bereich stattfinden. Was Merkel an wirtschaftspolitischen Leistungen vermissen ließ, machte sie im Bereich des gesellschaftlichen Wandels wett. Unter ihrer Führung wurde Deutschland zu jener offenen Gesellschaft, die es heute ist. Aber es handelt sich auch um eine zunehmend gespaltene Gesellschaft.
Derzeit weisen etwa 20 Prozent der 82 Millionen Menschen umfassenden deutschen Bevölkerung Migrationshintergrund auf und annähernd fünf Millionen sind Muslime. Dieser Multikulturalismus findet seinen Niederschlag in den sich ändernden Perspektiven aller Deutschen. Vier von fünf Deutschen betrachten Islam und Homosexualität mittlerweile als Teil der deutschen Gesellschaft; drei von vier sagen das auch über Migranten und Geflüchtete. Und Deutschland verfügt über eine der am stärksten pro-europäisch eingestellten Bevölkerungen auf dem Kontinent.
Die letzten drei Regierungen, die alle unter Merkels Führung standen, haben enorm zu dieser Transformation beigetragen. Kritiker bezeichnen Merkel als die erste sozialdemokratische Kanzlerin von einer konservativen Partei, weil sie sich vieler progressiver politischer Strategien bediente und gleichzeitig Stabilität und traditionelle Werte predigte. Ihre wohl bedeutendste Entscheidung – die ihr beinahe das Kanzleramt kostete, wohl aber letztlich ihr Vermächtnis prägen wird -  fällte sie im Jahr 2015 gegen den heftigen Widerstand vieler Mitglieder ihrer eigenen Partei, als sie sich für die Aufnahme von beinahe 1,5 Millionen Asylbewerbern einsetzte und auf deren Integration in die deutsche Gesellschaft pochte.
Die Regierungen unter Merkels Führung setzten sich auch für frühkindliche Bildung und Kinderrechte ein und erzielten beträchtliche Fortschritte im Bereich der Gleichstellung der Geschlechter. Durch einen breiteren, flexibleren Zugang zum Arbeitsmarkt, den Ausbau von Kinderbetreuungseinrichtungen und finanzielle Anreize stieg die Erwerbsbeteiligung der Frauen auf über 70 Prozent, einen der höchsten Werte in der industrialisierten Welt. Die derzeitige deutsche Regierung setzte eine Frauenquote von 30 Prozent in den Aufsichtsräten großer Unternehmen ebenso durch wie ein Entgelttransparenzgesetz, das auf die Verringerung des geschlechtsspezifischen Lohngefälles von derzeit immer noch 21 Prozent abzielt.
Merkel agierte zwar nicht als Vorkämpferin für diese Reformen – nicht zuletzt, um diejenigen in ihrer Partei nicht zu verprellen, die diesen Reformen negativ gegenüberstanden – unterstützte sie aber stillschweigend. In ähnlicher Weise stimmte Merkel bei der Abstimmung über die Legalisierung der gleichgeschlechtlichen Ehe, die von vielen ihrer Partei abgelehnt wird, selbst dagegen, akzeptierte die Entscheidung des Bundestags aber wohlwollend und erklärte, sie hoffe, dieses Ergebnis würde nicht nur den "gegenseitigen Respekt zwischen den unterschiedlichen Positionen" fördern, sondern auch "mehr sozialen Zusammenhalt und Frieden" bringen. 
Letztlich ermöglichte Merkels Talent, soziale und politische Spaltungen zu überbrücken, die Transformation Deutschlands zu einer offenen Gesellschaft. Dies - und nicht die Wirtschaftspolitik - könnte letzten Endes die größte Errungenschaft ihrer Kanzlerschaft werden. Aufgrund der Flüchtlingspolitik Merkels im Jahr 2015 ist Deutschland auf seinem Weg in Richtung Offenheit in mancherlei Hinsicht bereits an einem Punkt angelangt, ab dem es kein Zurück mehr gibt.  
Dennoch stehen noch enorme Herausforderungen bevor. Jenseits der technischen und sozialen Herausforderungen im Zusammenhang mit einer erfolgreichen Integration der Geflüchteten besteht die Notwendigkeit größerer Toleranz aller Deutschen gegenüber dem Islam und der Vielfalt im Allgemeinen. Weitere Änderungen im Bereich Familien- und Geschlechterpolitik und eine Überarbeitung des Bildungssystems sind ebenfalls erforderlich.
Während Deutschland weiterhin darüber diskutiert, was es bedeutet, deutsch zu sein, wird das Ergebnis der aktuellen Koalitionsverhandlungen bestimmen, ob Merkels nächste Regierung diesen Herausforderungen wirksam begegnen kann. Wenn das gelingt, wird man sich an Merkel als die Architektin einer neuen deutschen Gesellschaft erinnern. 
Aus dem Englischen von Helga Klinger-Groier