Zakázat hovězí?
KODAŇ – Christiana Figueresová, někdejší zástupkyně Organizace spojených národů zodpovědná za pařížskou dohodu o klimatu z roku 2015, má znepokojivou vizi restaurací budoucnosti: každý, kdo zatouží po steaku, by měl být vykázán. "Co kdyby se restaurace za 10-15 let začaly chovat k masožravcům stejně, jako se dnes chovají ke kuřákům?" nadhodila Figueresová během nedávné konference. "Jestli chtějí jíst maso, ať to dělají před restaurací."
Pokud vám náhodou tento trend unikl, zrekapitulujme si ho: konzumace masa se pro mnohé zelené aktivisty rychle stává stejně odpudivou jako kouření. Je to chování, od něhož je prý potřeba odrazovat nebo ho přímo zakázat.
Je to proto, že vašemu hamburgeru se kladou za vinu klimatické změny. Produkce masa – zejména chov skotu – emituje metan a vyžaduje vstupy náročné na oxid uhličitý. Řečeno dramatickým jazykem nedávných zpráv je "obrovské snížení konzumace masa" nezbytnou podmínkou toho, aby se odvrátilo "zhroucení klimatu".
Celý dospělý život jsem vegetarián, protože nechci zabíjet zvířata, takže se dokážu ztotožnit se snahou prosazovat méně masa v naší stravě. Zároveň však chci mít jistotu, že se věda nemýlí. Když se nad novinovými titulky zamyslíte hlouběji, zjistíte, že lidé, kteří se vyslovují za vykazování "masožravců" z restaurací a vyzývají ostatní, aby změnili svůj jídelníček, si často jen vybírají údaje, které se jim hodí, a ignorují základní fakta.
Pokud čtete populární tiskoviny, najdete k tomuto tématu spoustu článků, které naznačují, že eliminace spotřeby masa by mohla snížit emise skleníkových plynů o 50% nebo i více. To je nesmírně vysoký údaj. A je i nesmírně zavádějící.
Podstatné je, že na snížení o 50% by vegetariánství zdaleka nestačilo a museli bychom jít mnohem dál. Bylo by nutné uchýlit se k úplnému veganství, což znamená přestat jíst a využívat jakýkoliv živočišný produkt: mléko, vajíčka, med, maso, mořské plody, kožešinu, kůži, vlnu, želatinu a mnoho dalšího. A takové změny našeho převládajícího jídelníčku a životního stylu se hned tak nedočkáme.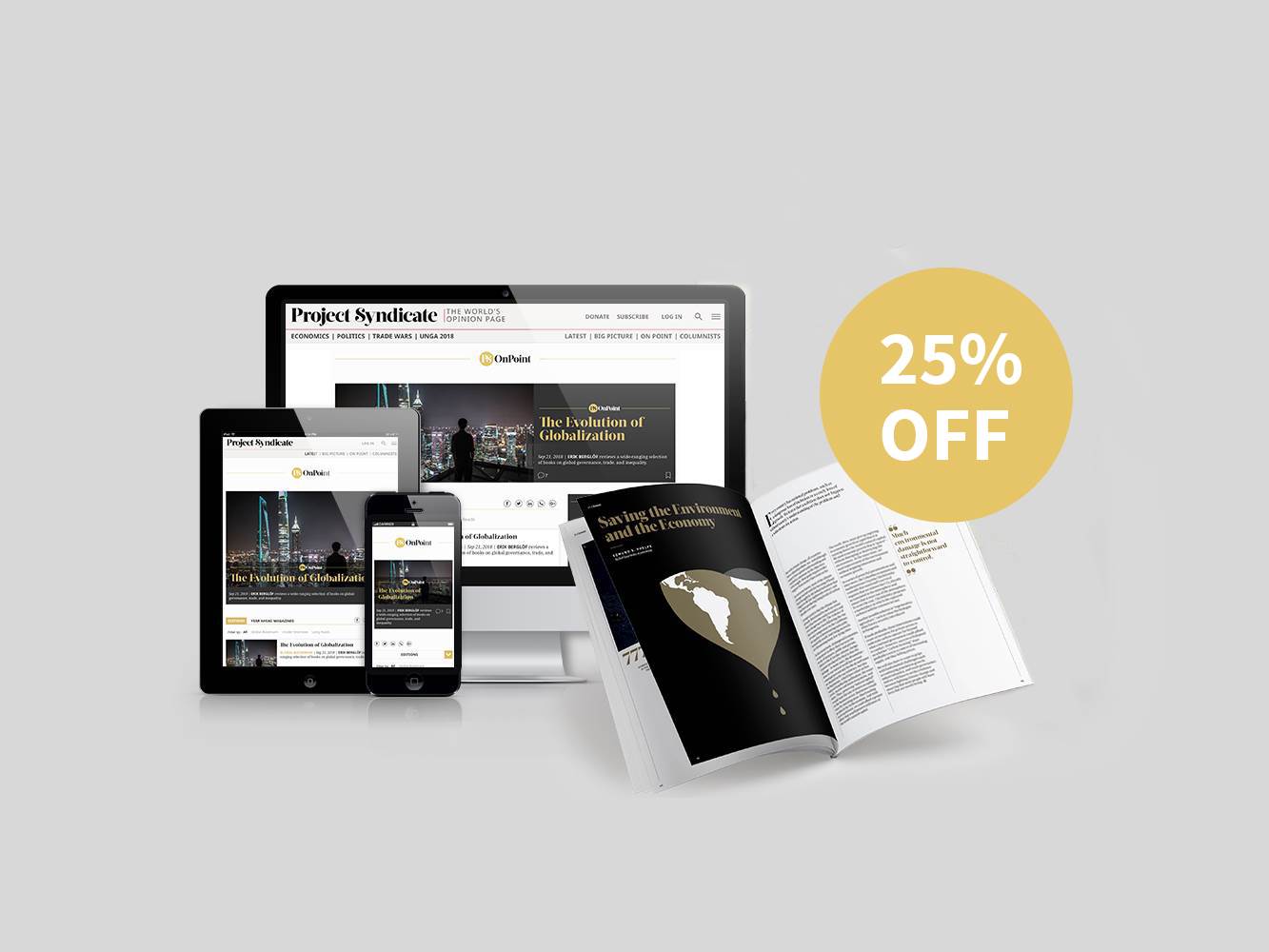 Subscribe now
For a limited time only, get unlimited access to On Point, The Big Picture, and the PS Archive, plus our annual magazine and a tote bag, for just $75.
Média přesto naznačují, že přechodem na vegetariánství můžeme dosáhnout snížení osobních emisí o 20-35%. To ovšem nejsou všechny emise daného člověka – pouze ty, které vznikají z jídla. Čtyři pětiny emisí jsou opomenuty, což znamená, že skutečný dopad změny je pětkrát nižší.
Zaměříme-li se na akademickou literaturu o snížení emisí po přechodu na vegetariánství, pak systematický přehled recenzovaných studií ukazuje, že nemasitá strava pravděpodobně sníží emise jednotlivce o ekvivalent 540 kilogramů CO2. U průměrného člověka v průmyslovém světě to znamená úbytek emisí o pouhých 4,3%.
I tento odhad je přitom stále zveličený, protože opomíjí prastarý a dobře popsaný ekonomický jev známý jako "rebound efekt". Vegetariánská strava je o něco levnější, a ušetřené peníze tudíž budou vynaloženy na další zboží a služby způsobující další emise skleníkových plynů. Ve Spojených státech mají vegetariáni asi o 7% nižší výdaje za potraviny a ve Velké Británii je to o 15%. Z jedné švédské studie vyplývá, že vegetariánská strava je o 10% levnější, takže z celkového rozpočtu jednotlivce uvolní přibližně 2%. Tato částka se přetaví v dodatečné výdaje, které způsobí další emise CO2, a ty podle závěrů studie z poloviny vymažou úsporu emisí v důsledku přechodu na vegetariánství.
V prostředí rozvinuté země je realita taková, že přechod na plně vegetariánskou stravu do konce života sníží vaše emise zhruba o 2%.
Přestože jde o dobře podložený výsledek, stále překvapuje mnoho lidí, kteří se domnívají, že přechodem na vegetariánskou stravu by se mělo dosáhnout více. Když jsem na tyto hodnoty poprvé upozornil, dva britští vědci napadli můj přístup, a dokonce prohlásili, že si vybírám jen argumenty, které se mi hodí. Zmíněné číslo je však nejlepším odhadem metastudie, nikoliv výsledkem volby jediné studie s nejvyšším či nejnižším výsledkem.
Když naopak zmínění akademici chtěli dodat váhu svému protitvrzení, podle něhož má vegetariánství daleko větší vliv, opřeli se o pouhé dvě studie, jejichž odhady patřily shodou okolností mezi nejvyšší. A pak zavrhli studii ukazující na nižší efekt a zaokrouhlili směrem nahoru údaj z další studie. Rebound efekt, který snižuje reálný dopad na polovinu, ignorovali úplně, třebaže literatura jasně říká, že "když vyhodnocujeme ekologické důsledky vegetariánství, měl by se zohledňovat rebound efekt úspor".
Manipulace s čísly tak, aby odpovídala našim předem přijatým závěrům, samozřejmě planetu neošálí. Faktem zůstává, že pokud nechcete být nadosmrti vegetariány, můžete snížit emise skleníkových plynů o přesně stejné množství tím, že utratíte šest dolarů ročně v evropském systému emisních povolenek – a jíst přitom můžete, co chcete.
Snížení emisí o dva procentní body není nic, čemu bychom se měli vysmívat, ale rozhodně "nezachrání planetu". Nepříjemná pravda je taková, že jen málo individuálních počinů může zcela změnit boj proti klimatickým změnám. Jedním z kroků, které by mohly přinést opravdovou změnu, je boj za podstatně vyšší výdaje do globálních investic v oblasti výzkumu a vývoje zelených technologií. Tyto technologie je třeba masivně rozvíjet, pokud se někdy chceme dočkat dne, kdy alternativní zdroje předčí fosilní paliva.
Intenzivnější výzkum a vývoj je zapotřebí také ke snížení uhlíkového dopadu farmaření a k vývoji a velkovýrobě umělého masa, které by mohlo snížit emise skleníkových plynů až o 96% oproti konvenčně produkovanému masu.
Stejně jako velká část kampaní je i plán Figueresové pro lidi konzumující maso znepokojivý, poněvadž naznačuje, že někdejší šéfka OSN pro oblast klimatu se soustředí na zákazy chování, které se jí nelíbí, na základě chatrných důkazů a pošetilých novinových reportáží.
A také to naznačuje úzké zaměřování se na bohatou část světa. Je neuvěřitelně sebestředné mluvit o vykazování konzumentů steaků z restaurací v době, kdy 1,45 miliardy lidí je nucenými vegetariány v důsledku chudoby a zoufale touží po tom, aby si mohli dovolit maso.
Já jako vegetarián z etických příčin budu první, kdo prohlásí, že existuje mnoho dobrých důvodů, proč jíst méně masa. Výrazná změna klimatu bohužel mezi tyto důvody nepatří.
Z angličtiny přeložil Jiří Kobělka.