Wat zal de COVID-19-recessie ons brengen?
CAMBRIDGE – Met iedere dag die voorbijgaat ziet de mondiale financiële crisis van 2008 er steeds meer uit als een voorproefje voor de economische catastrofe van nu. De ineenstorting van de mondiale productie die inmiddels onderweg is lijkt die van iedere recessie van de afgelopen 150 jaar te zullen evenaren of overtreffen.
Ondanks alle inspanningen van centrale banken en begrotingsautoriteiten om de klap te verzachten zijn de aandelenmarkten in de geavanceerde economieën zwaar onderuit gegaan, en is het kapitaal in een halsbrekend tempo uit de opkomende markten gestroomd. Een diepe economische inzinking en een financiële crisis lijken onvermijdelijk. De hamvraag is nu hoe erg de recessie zal zijn en hoe lang die zal duren.
Totdat we weten hoe snel en hoe grondig het volksgezondheidsprobleem zal worden aangepakt is het voor economen vrijwel onmogelijk het eindspel van deze crisis te voorspellen. Minstens zo groot als de wetenschappelijke onzekerheid over het coronavirus is de sociaal-economische onzekerheid over hoe beleidsmakers en de mensen in het algemeen zich de komende weken en maanden zullen gaan gedragen.
De wereld ervaart nu immers iets dat veel weg heeft van een buitenaardse invasie. We weten dat het menselijk doorzettingsvermogen en de menselijke creativiteit uiteindelijk zullen prevaleren. Maar tegen welke kosten? Op het moment van schrijven lijken de markten voorzichtig hoopvol dat een herstel snel zal zijn en misschien al wel in het vierde kwartaal van dit jaar zou kunnen beginnen. Veel commentatoren wijzen op de ervaringen van China als een bemoedigend signaal voor wat de rest van de wereld te wachten staat.
Maar is dit vooruitzicht ook werkelijk gerechtvaardigd? De werkgelegenheid in China heeft zich inderdaad enigszins hersteld, maar het is nog lang niet duidelijk of die weer zal uitkomen op iets wat in de buurt komt van het niveau van vóór de pandemie. En zelfs als de Chinese productie zich weer volledig herstelt, wie zal dan al die goederen gaan kopen als de rest van de wereldeconomie is ingestort? Wat de Verenigde Staten aangaat lijkt een terugkeer naar een capaciteit van 70 tot 80 procent een verre droom.
Nu de VS er niet in zijn geslaagd de uitbraak in te dammen, ondanks het feit dat het land over het meest geavanceerde gezondheidszorgstelsel ter wereld beschikt, zullen Amerikanen het steeds moeilijker vinden om terug te keren naar de economische normaliteit, zolang er geen breed verkrijgbaar vaccin is, wat nog wel een jaar of langer kan duren. Er is zelfs onzekerheid over hoe de VS de presidentsverkiezingen van november 2020 willen gaan verwezenlijken.
Subscribe to Project Syndicate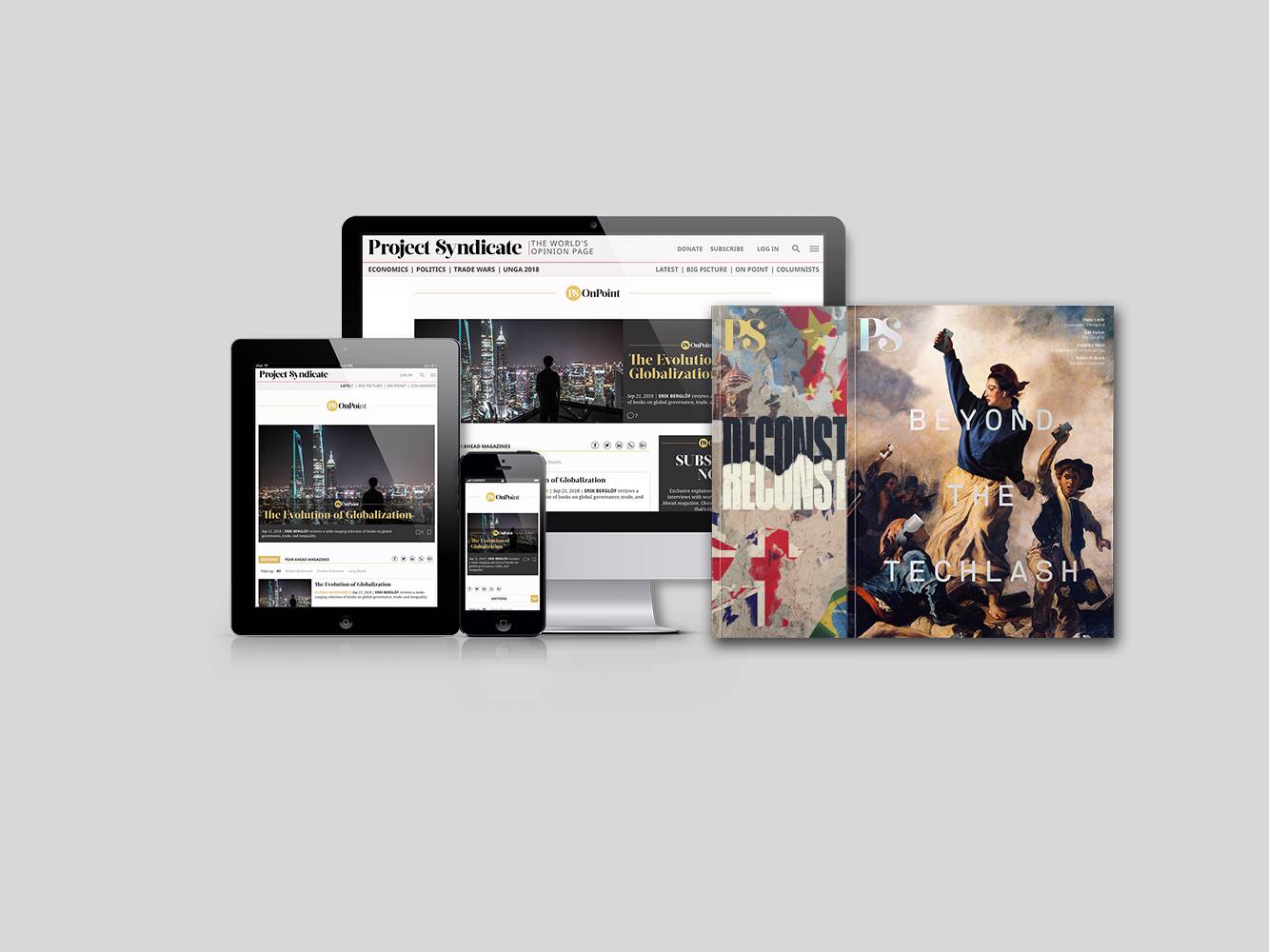 Subscribe to Project Syndicate
Enjoy unlimited access to the ideas and opinions of the world's leading thinkers, including weekly long reads, book reviews, and interviews; The Year Ahead annual print magazine; the complete PS archive; and more – all for less than $2 a week.
Op dit moment lijken de markten gerustgesteld door de enorme stimuleringsprogramma's van de VS, die absoluut noodzakelijk waren om gewone werknemers te beschermen en een meltdown van de markten te voorkomen. Toch is het nu al duidelijk dat er nog veel meer moet worden gedaan.
Als dit slechts een huis-tuin-en-keuken-variant van een financiële paniek zou zijn, zou een grote impuls van de vraag een hoop problemen kunnen oplossen. Maar de wereld ervaart nu de ernstigste pandemie sinds de griepuitbraak van 1918-1920. Als deze keer nog eens 2% van de wereldbevolking zou overlijden, zou de tol op ongeveer 150 miljoen mensen uitkomen.
Gelukkig zal de uitkomst waarschijnlijk niet zo extreem zijn, gezien de radicale lockdowns en social distancing-maatregelen die wereldwijd zijn ingevoerd. Maar zolang de volksgezondheidscrisis niet is opgelost, zal de economische situatie er buitengewoon grimmig blijven uitzien. En zelfs na een economische herstart zal de schade die is toegebracht aan bedrijven en kredietmarkten blijvende gevolgen hebben, vooral gezien het feit dat de mondiale schulden al op recordniveau stonden voordat de crisis begon.
De eerlijkheid gebiedt te zeggen dat overheden en centrale banken in actie zijn gekomen om grote delen van de financiële sector te steunen op een manier die bijna Chinees is qua doortastendheid; en zij hebben de vuurkracht om nog veel meer te doen, indien noodzakelijk. Het probleem is echter dat we niet alleen kampen met een tekortschietende vraag, maar ook met een enorm tekortschietend aanbod. Het steunen van de vraag kan bijdragen aan het afvlakken van de besmettingscurve, omdat dit mensen helpt binnen te blijven, maar er is een grens aan hoezeer dit de economie kan helpen als ongeveer 20% tot 30% van de beroepsbevolking een groot deel van de komende twee jaar in quarantaine moet blijven.
En dan heb ik nog niet eens iets gezegd over de grote politieke onzekerheid die een mondiale depressie teweeg kan brengen. Gezien het feit dat de financiële crisis van 2008 heeft geleid tot een diepgaande politieke verlamming en een hele reeks anti-technocratische populistische leiders, kunnen we verwachten dat de COVID-19-crisis nog extremere ontwrichtingen zal opleveren. De reactie van de Amerikaanse overheid op de volksgezondheidscrisis is rampzalig geweest, als gevolg van een combinatie van onvermogen en veronachtzaming op vele niveaus, tot en met dat van de centrale overheid. Als de zaken zo blijven, kan het dodental alleen al in New York City dat van Italië gaan overtreffen.
Er zijn uiteraard ook optimistischer scenario's denkbaar. Met uitgebreid testen kunnen we vaststellen wie ziek is, wie gezond is en wie al immuun is en derhalve weer aan het werk kan gaan. Dergelijke kennis zou van onschatbare waarde zijn. Maar als gevolg van diverse lagen van wanbeheer en misplaatste prioriteiten in de afgelopen jaren ontbeert het de VS aan adequate testcapaciteit.
Zelfs zonder vaccin zou de economie relatief snel weer in normaal vaarwater terecht kunnen komen als effectieve behandelingen snel worden doorgevoerd. Maar bij ontstentenis van wijdverbreid testen en een duidelijk idee van wat over een paar jaar "normaal" zal zijn, zal het lastig zijn bedrijven ertoe over te halen om te gaan investeren en mensen in dienst te nemen, vooral als ze hogere belastingaanslagen verwachten als het allemaal weer voorbij is. En het is mogelijk dat de koersverliezen op de beurzen tot nu toe alleen maar minder zijn geweest dan die van 2008 omdat iedereen zich nog herinnert hoe de koersen tijdens het herstel weer zijn gestegen. Maar als die crisis slechts een voorproefje blijkt te zijn geweest van deze, hoeven beleggers niet op een snel herstel te rekenen.
De wetenschappers zullen over een paar maanden veel meer weten over onze microscopische indringer. Nu het virus door de VS raast zullen Amerikaanse onderzoekers rechtstreekse toegang hebben tot gegevens en patiënten, en niet langer afhankelijk zijn van Chinese gegevens uit de provincie Hubei. Pas nadat de invasie is teruggeslagen zal het mogelijk zijn een prijskaartje te hangen aan de economische ramp die het virus in zijn kielzog achter zich heeft gelaten.
Vertaling: Menno Grootveld