Macrons Russlandinitiative: eine Innenansicht
BERLIN – Der französische Präsident Emmanuel Macron ist einer jener Politiker, die dem Bogen der Geschichte eine neue Richtung geben wollen. Nachdem er die französische Politik auf den Kopf gestellt hat, hat er seinen bevorzugten Kandidaten Positionen an der Spitze der Europäischen Kommission und der Europäischen Zentralbank gesichert, und nun versucht er, Europas Beziehung zu Russland zu verbessern.
Französische Regierungsvertreter vergleichen Macrons Russlandstratege mit der Öffnung Chinas durch US-Präsident Richard Nixon 1972. Doch Macrons diplomatische Ouvertüre ist eher so etwas wie das Gegenteil zu Nixon. Statt China zu umwerben, um den Sowjets Grenzen zu setzen, will Macron Europas "Beziehungen zu Russland entkrampfen und klären", um zu verhindern, dass Russland auf Schmusekurs zu China geht. Er hofft, auf diese Weise Europas Kontrolle über seine eigene Zukunft sicherzustellen.
Macron leitete sein Bemühen um eine neue Sicherheitsarchitektur in typisch grandioser Weise ein, die das Projekt des Stadtplaners Georges-Eugène Haussmann zur Neugestaltung von Paris im 19. Jahrhundert widerspiegelt. Sein erster Schritt bestand darin, vor dem G7-Gipfel im August in Biarritz Gespräche mit Putin im französischen Fort de Brégançon zu führen. Doch die mit der Umsetzung des Plans betrauten französischen Minister haben diesen seitdem auf den Kopf gestellt.
Statt mit einer Top-down-Agenda zu beginnen, versuchen sie nun, die europäische Sicherheit von unten nach oben aufzubauen und zugleich Stein für Stein verbesserte Beziehungen zu Russland zu verfolgen. Die französische Roadmap konzentriert sich auf fünf zentrale Bereiche: Abrüstung, Sicherheitsdialog, Krisenmanagement, Werte und gemeinsame Projekte.
End August hielt Macron eine Rede, in der er seine Vision eines Systems "konzentrischer Kreise" erläuterte, das verschiedene Grade europäischer und eurasischer Integration umfasst. Ein derartiges Arrangement müsste die Grenzen der NATO- und EU-Mitgliedsstaaten sichern, eine produktivere Beziehung zur von Russland geführten Eurasischen Wirtschaftsunion ermöglichen und Wege zur Bewältigung regionaler Konflikte, nicht zuletzt dem in der Ukraine, anbieten.
Der Zeitpunkt der Initiative macht Sinn. Wie Macron selbst hat der kürzlich gewählte Präsident der Ukraine, Wolodymyr Selenskyj, eine Partei aus dem Nichts aufgebaut und ist mit dem Versprechen an die Macht kommen, ein diskreditiertes Ancien Régime hinwegzufegen. Insbesondere hat Selenskyj die Lösung der Sicherheitslage der Ukraine zu einer Spitzenpriorität gemacht.
Subscribe now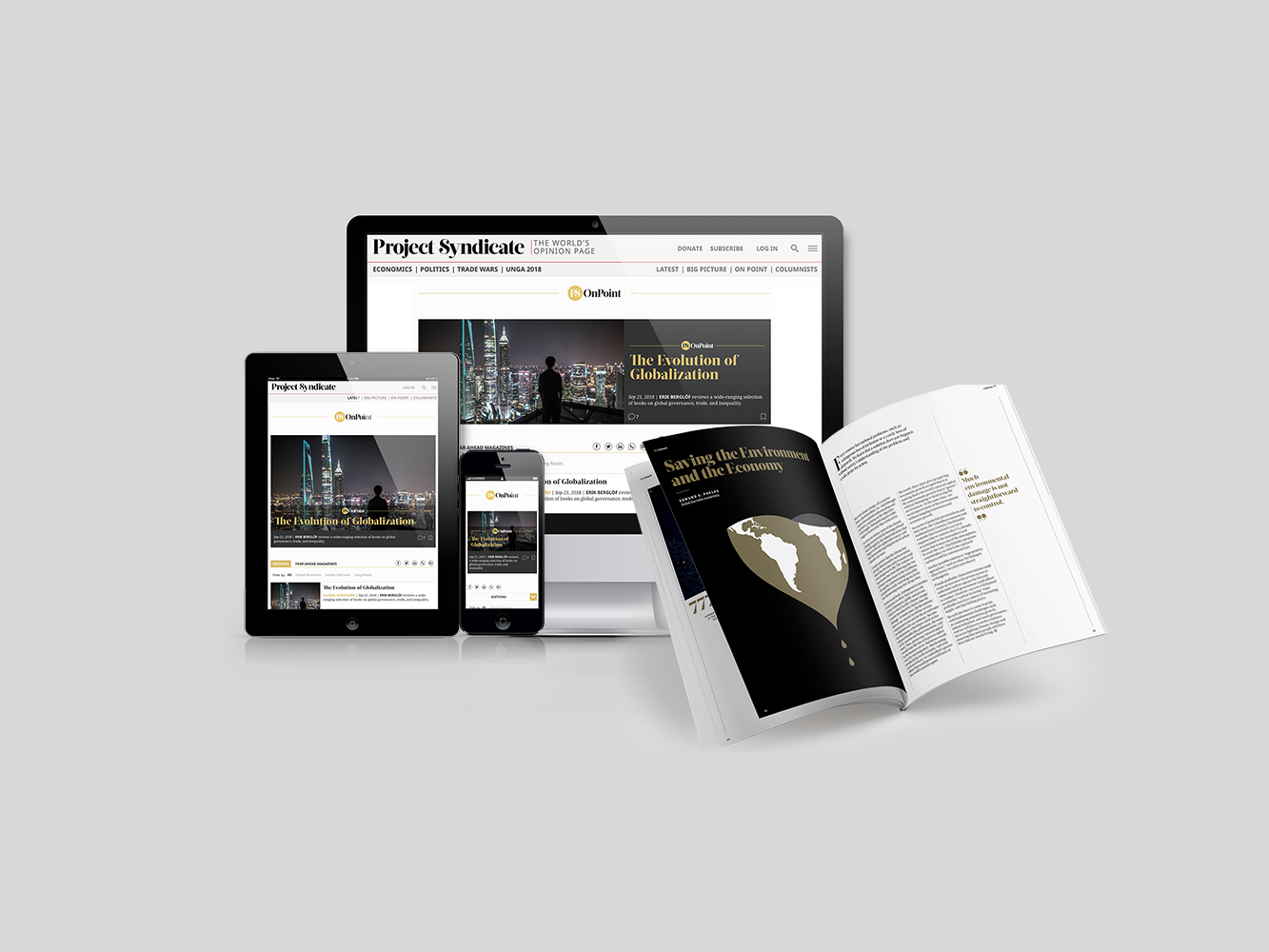 Subscribe now
Subscribe today and get unlimited access to OnPoint, the Big Picture, the PS archive of more than 14,000 commentaries, and our annual magazine, for less than $2 a week.
Macron ist der Ansicht, dass Russlands Hinwendung zu China zumindest teilweise das Ergebnis westlichen Missmanagements ist. Er ist nicht naiv, was die territoriale Aggression und die Wahlbeeinflussung durch den Kreml angeht. Doch er ist überzeugt, dass man jedem Land, das in einer Position ist, Europa derart zu bedrohen, von Angesicht zu Angesicht begegnen müsse. Ein französischer Regierungsvertreter hat es mir so erklärt: "Was für den Iran und Nordkorea gilt, gilt auch für Russland. Wir werden es nicht beeinflussen und zu einem verantwortungsvolleren Verhalten anleiten können, wenn wir uns bloß hinter einem Wall von Sanktionen verstecken."
Weitere Dringlichkeit erhalten Macrons Bemühungen durch US-Präsident Donald Trump, der Frankreichs gaullistisches Misstrauen über Amerikas Unzuverlässigkeit als Bürge für Europas Sicherheit bestätigt hat. Wenn die USA ihren Konflikt mit China weiter verschärfen, werden sie Europa und den dieses umgebenden Nachbarländern (der ehemaligen Sowjetunion, dem Nahen Osten und Nordafrika) unweigerlich weniger Aufmerksamkeit schenken. Schlimmer noch: Die Franzosen fürchten, dass Trump sich um eine "große Lösung" mit Russland bemühen könnte, bei der die Europäische Union zwischen den USA und China eingekeilt würde.
Macrons größte Sorge ist Europa selbst. Die EU wird sich nie zu einem Global Player des 21. Jahrhunderts entwickeln, wenn sie weiterhin uneinig und durch andere Mächte eingeengt ist. Aus Macrons Sicht ist eine Neufassung der Beziehung Europas zu Russland der erste Schritt zum Erreichen europäischer Souveränität. "Wenn Sie keinen Sitzplatz am Tisch der Großmächte haben", so erklärte mir ein französischer Regierungsvertreter, "dann deshalb, weil Sie auf der Speisekarte stehen." Natürlich verstehen die Franzosen die Gründe der Unterstützung der anderen Europäer für die gegen Russland nach dessen Annexion der Krim und seinem Einmarsch in der Ostukraine verhängten Sanktionen. Aber sie fürchten die Schwäche von Europas breiter angelegter Sicherheitspolitik.
Im Idealfall sollte die EU einen zweigleisigen Ansatz gegenüber Russland verfolgen, der Sanktionen und die Abschreckung durch die NATO mit dem Bemühen um einen Dialog verbindet. Die französische Beschwerde ist, dass es keine bedeutsamen Kanäle für einen derartigen Dialog gibt und dass die Sanktionen die von Russland ausgehende allgemeine Bedrohung nicht ansprechen. "Was würde mit der europäischen Einheit passieren", so französische Regierungsvertreter, "wenn Moskau irgendwelche Schritte in Bezug auf die Ukraine oder Syrien unternehmen würde und ein paar Mitgliedsstaaten sich entscheiden würden, eine Verlängerung der Sanktionen zu blockieren?" Höchstwahrscheinlich wäre das das Ende der Russlandpolitik der EU.
Trotzdem wirft Macrons Initiative viele Fragen auf. Ob Putin Interesse daran hat, den Ukraine-Konflikt beizulegen, bleibt abzuwarten. Und selbst wenn Europa es schafft, Russland von China abzulösen, ist unklar, ob die Trump-Regierung untätig zusehen und die europäische Initiative ihren Verlauf nehmen lassen würde.
Die größten Fragen jedoch stellen sich auf europäischer Seite. Viele mittel- und osteuropäische Länder machen sich Sorgen, dass sie innerhalb von Macrons System "konzentrischer Kreise" Bürger zweiter Klasse sein werden. Andere fürchten, dass Macron die Ukraine verraten wird, indem er sie zwingt, den Konflikt zu Russlands Bedingungen zu beenden. Und es ist nicht gerade hilfreich, dass Macron seine Initiative gestartet hat, ohne sich mit den übrigen Europäern abzustimmen, von denen viele bereits verunsichert über Amerikas schwindendes Bekenntnis zur Sicherheit der EU sind.
Französische Regierungsvertreter haben darauf verwiesen, dass Nixon die Verbündeten der USA nicht konsultiert habe, bevor er seine China-Mission startete. Doch Nixons Glaubwürdigkeit als Falke in Sicherheitsfragen stand außer Frage, während Frankreich von einigen in Mittel- und Osteuropa, die befürchten, dass auch ihre Interessen einem neogaullistischen Versuch, sich einen Platz auf der Weltbühne zu erobern, geopfert werden könnten, mit Misstrauen betrachtet wird.
Wenn Macron Erfolg haben will, muss er beweisen, dass er sich der Souveränität und Sicherheit nicht nur Mittel- und Osteuropas, sondern auch der ehemals sowjetischen Länder wie der Ukraine, Georgien und Moldau verpflichtet fühlt. Er wird zudem eine engere Zusammenarbeit mit den Nordischen und Baltischen Staaten sowie den zuständigen EU-Institutionen und dem neuen Hohen Vertreter der EU für Außen- und Sicherheitspolitik, Josep Borrell, verfolgen müssen. Und vor allem muss Macrons Initiative eine glaubwürdige Plattform für eine gemeinsame Sicherheitsstrategie schaffen. Wenn es so aussieht, als begünstige sie einige Länder gegenüber anderen, werden sie und ihr Verfasser letztlich auf der Speisekarte und nicht in den Geschichtsbüchern landen.
Aus dem Englischen von Jan Doolan