Peut-on légiférer contre les "fake news »?
PARIS – Comment lutter contre les « fake news », ces informations mensongères, souvent fabriquées de toutes pièces, qui circulent sur internet et polluent le débat politique? A cette interrogation, qui préoccupe les défenseurs de la démocratie depuis la campagne présidentielle américaine de 2016, Emmanuel Macron vient d'apporter sa propre réponse dans ses vœux à la presse de janvier 2018, en affirmant son intention de procéder par la loi. Il s'est engagé à présenter avant la fin de cette année un projet de loi réprimant les fausses nouvelles en période électorale.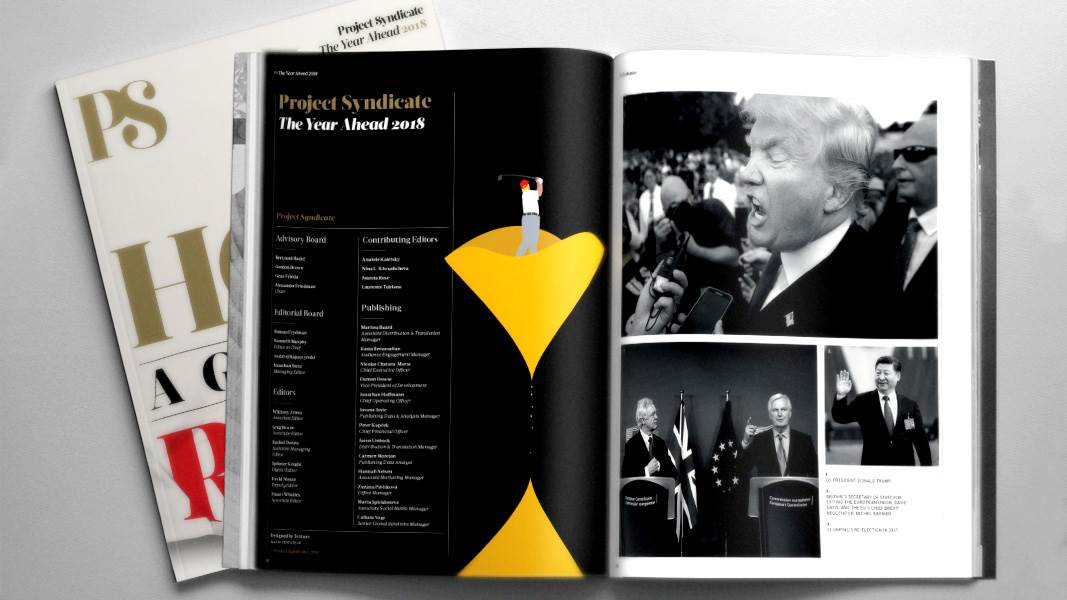 The Year Ahead 2018
The world's leading thinkers and policymakers examine what's come apart in the past year, and anticipate what will define the year ahead.
Un dispositif répressif existe pourtant en droit français contre les fausses nouvelles diffusées de mauvaise foi. L'article 27 de la célèbre loi de 1881 sur la liberté de la presse punit de  45000 euros la diffusion de telles nouvelles « par quelque moyen que ce soit », mais cette loi est peu appliquée, car elle soumet cette punition à la condition que cette diffusion ait « troublé la paix publique », situation difficile à définir, plus encore à vérifier. De son côté, le code électoral punit d'un an de prison et de 15000 euros d'amende ceux qui, par des fausses nouvelles « ou autres manœuvres frauduleuses »,auront détourné des suffrages. Mais cette disposition sanctionne plutôt des fraudes électorales caractérisées.L'enjeu est aujourd'hui d'adapter la législation à l'ère numérique.
Sans les mentionner explicitement, le Président français visait les ingérences russes dans la campagne présidentielle américaine de 2016, mais aussi les actes de désinformation dont il avait été lui-même victime au cours de la campagne présidentielle française de 2017. Au delà de la Russie, il invoque la protection des institutions démocratiques contre les manœuvres de certains régimes qui seraient tentés par ce qu'il appelle « l'illibéralisme politique  », où il inclut  sans doute le gouvernement de Victor Orban en Hongrie, le parti Droit et Justice (PiS) en Pologne, ou le régime de Recep Tayyip Erdogan en Turquie.
La première piste explorée par Emmanuel Macron se rattache au principe de transparence. Les plateformes numériques se verront imposer des obligations accrues de transparence sur tous les « contenus sponsorisés », de manière à rendre publique l'identité des annonceurs, mais aussi de limiter les montants consacrés à ces messages. Mais le projet envisagé prévoirait aussi, en cas de propagation d'une fausse nouvelle, la possibilité de saisir un juge à travers une nouvelle procédure d'urgence, dite de référé, qui pourrait conduire à la suppression du contenu en cause, au déréférencement du site, à la fermeture du compte utilisateur, voire au blocage de l'accès au site internet.
Ce faisant, la France ne serait pas le premier pays à légiférer sur les fake news. Le Parlement allemand l'a déjà fait en septembre 2017, à la veille des élections législatives. La loi allemande, dite « NetzDG », qui vient d'entrer en vigueur le 1er janvier 2018, impose aux réseaux sociaux, Facebook, Twitter ou YouTube, de supprimer dans les vingt-quatre heures tout contenu illégal, ce qui couvre non seulement les fausses nouvelles mais aussi les « contenus haineux » . La violation de la loi peut être sanctionnée à hauteur de cinquante millions d'euros. Le gouvernement italien a, lui aussi, déposé un projet de loi contre les fake news, dans la perspective des élections législatives de mars prochain.
Sans surprise, les projets d'Emmanuel Macron ont suscité de vives critiques, au nom de la liberté de l'information, au Front National de Marine Le Pen, mais aussi à l'extrême-gauche. Nombre d'experts ont en outre fait valoir que la législation actuelle permettait déjà de faire face aux fake news. Ils ne prennent pas suffisamment en compte le changement de dimension que les technologies nouvelles ont imprimé au phénomène de la désinformation, devenue massive et difficilement traçable, mettant en jeu des millions de comptes et utilisant savamment les réseaux sociaux. Ceux qui cherchent à pratiquer la désinformation et à diffuser les théories de conspiration disposent désormais de moyens considérables.
Dans ces conditions, les mesures proposées par Emmanuel Macron concernant la transparence des contenus sont difficilement contestables: il faudra les aborder en connexion avec la question aujourd'hui controversée de la neutralité du Net, principe selon lequel toutes les données sont traitées de la même manière par les opérateurs.
Quant à la nouvelle procédure judiciaire envisagée, dont le contenu détaillé n'a pas encore été arrêté, elle devra être examinée avec attention. Faut-il conférer au juge le pouvoir de démêler dans l'urgence le vrai du faux? La question est d'autant plus légitime que la notion de fake news couvre des réalités fort variées, depuis la fausse information rapportée sans mauvaise foi jusqu'à la manipulation intentionnelle pour tenter d'influencer le résultat de l'élection.  Faut-il se fonder sur l'intention des auteurs du message?
Nul ne saurait soupçonner Emmanuel Macron de vouloir instaurer quelque censure que ce soit. Mais des garde-fous doivent pourtant être trouvés pour que la lutte contre les fausses nouvelles ne dérive pas vers la contestation d'informations gênantes pour les gouvernants. Il est significatif, à cet égard, que le dispositif envisagé ne s'applique qu'à la période électorale, moment particulièrement délicat de la vie publique où une désinformation organisée peut créer une confusion dangereuse pour le débat démocratique. Il faudra enfin apprécier la capacité pour une législation nationale de statuer sur des acteurs -réseaux sociaux ou Etats- basés à l'étranger.
En tout état de cause, la voie législative n'est qu'un des moyens disponibles pour lutter contre les fake news. Une meilleure éducation du public à la compréhension des médias, un statut des plateformes numériques prenant mieux en compte leur responsabilité éditoriale, une plus grande crédibilité de l'information délivrée par les médias traditionnels, sont autant de voies contribuant à vider de leur venin les techniques nouvelles de désinformation.
Tarir le flot des fake news est un défi global qui requiert une solution globale. A cet égard, la décision de la commissaire de l'Union européenne sur le numérique, qui a réuni un groupe de haut niveau sur ce sujet, est une initiative particulièrement bienvenue. Il faut espérer que les travaux de ce groupe déboucheront sur un ensemble de mesures susceptibles de recueillir un certain consensus.
A ce stade, même controversées, les idées exprimées par Emmanuel Macron, et qui, selon un sondage tout récent, sont approuvées par 79% des Français, ont le mérite de poser devant l'opinion publique les termes d'un débat qui touche à la protection de la démocratie occidentale. Comme on a pu le constater dans plus d'un pays, la désinformation du citoyen est en définitive la défaite de la démocratie.