Reiz und Grenzen monetisierter Haushaltsdefizite
NEW YORK – Über der Jahrestagung des Internationalen Währungsfonds schwebte in diesem Monat eine düstere Wolke. Angesichts des synchronisierten Abschwungs der Weltwirtschaft könnten eine ganze Reihe von Extremrisiken eine ausgewachsene Rezession hervorrufen. Unter anderem müssen sich Anleger und Wirtschaftspolitiker über eine neuerliche Eskalation des chinesisch-amerikanischen Handels- und Technologiekrieges Sorgen machen; ein Militärkonflikt zwischen den USA und dem Iran wäre weltweit zu spüren, und dasselbe gilt für einen "harten" Brexit oder eine Kollision zwischen dem IWF und Argentiniens kommender peronistischer Regierung.
Trotzdem könnten sich einige dieser Risiken im Laufe der Zeit abschwächen. Die USA und China haben eine vorläufige Übereinkunft über eine erste Teilvereinbarung zum Handel getroffen, und die USA haben die Zölle, die eigentlich am 15. Oktober in Kraft treten sollten, ausgesetzt. Bei Fortsetzung der Verhandlungen könnten auch die für den 15. Dezember angesetzten schädlichen Zölle auf chinesische Konsumgüter hinausgeschoben oder ausgesetzt werden. Die USA haben zudem bisher davon abgesehen, direkt auf den angeblichen Abschuss einer US-Drohne, und den Angriff auf saudische Ölanlagen, durch den Iran in den letzten Monaten zu reagieren. US-Präsident Donald Trump ist sich zweifellos bewusst, dass ein aus einem militärischen Konflikt herrührender steiler Anstieg der Ölpreise seine Aussichten auf eine Wiederwahl im nächsten November ernsthaft beeinträchtigen könnte.
Das Vereinigte Königreich und die Europäische Union haben eine vorläufige Einigung über einen "weichen" Brexit erzielt, und das britische Parlament hat zumindest Schritte unternommen, um ein Ausscheiden des Landes aus der EU ohne Austrittsvertrag zu verhindern. Doch wird sich die Saga fortsetzen, und zwar höchstwahrscheinlich mit einer weiteren Verlängerung der Brexit-Frist und einer irgendwann erfolgenden Parlamentswahl. Und schließlich könnte in Argentinien – angenommen, der neuen Regierung und dem IWF ist bereits bewusst, dass sie einander brauchen – die Gefahr einer gesicherten gegenseitigen Zerstörung zu einem Kompromiss führen.
Die Finanzmärkte haben derweil positiv auf die Verringerung der globalen Extremrisiken und eine weitere Lockerung der Geldpolitik durch wichtige Notenbanken wie die US Federal Reserve, die Europäische Zentralbank und die chinesische Volksbank reagiert. Doch ist es noch immer eine bloße Zeitfrage, bis irgendeine Erschütterung eine neue Rezession auslöst, auf die dann aufgrund des Anwachsens der öffentlichen und privaten Schulden womöglich eine Finanzkrise folgt.
Was werden die Entscheider tun, wenn das passiert? Eine zunehmend verbreitete Sicht ist, dass sie feststellen werden, dass es ihnen an Munition fehlt. Haushaltsdefizite und Staatsverschuldung sind schon jetzt überall auf der Welt hoch, und die Geldpolitik stößt derweil an ihre Grenzen. Japan, die Eurozone und einige andere, kleinere hochentwickelte Volkswirtschaften haben bereits negative Leitzinsen eingeführt und verfolgen nach wie vor eine quantitative Lockerung und eine Lockerung der Kreditpolitik. Selbst die Fed senkt derzeit die Zinsen und ist dabei, durch Stützung der Repomärkte (Märkten zur kurzfristigen Kreditaufnahme) ein Programm zur quantitativen Lockerung durch die Hintertür einzuführen.
Doch ist die Annahme naiv, dass die Politik einfach eine Welle "kreativer Zerstörung" zulassen würde, die alle faktisch insolventen Firmen, Banken und souveränen Einheiten liquidiert. Sie wird unter intensivem politischen Druck stehen, eine voll ausgewachsene Depression und das Auftreten einer Deflation zu verhindern. Wenn überhaupt wird ein weiterer Abschwung zu einer noch "verrückteren" und unkonventionelleren Politik einladen, als wir sie bisher erlebt haben.
Subscribe now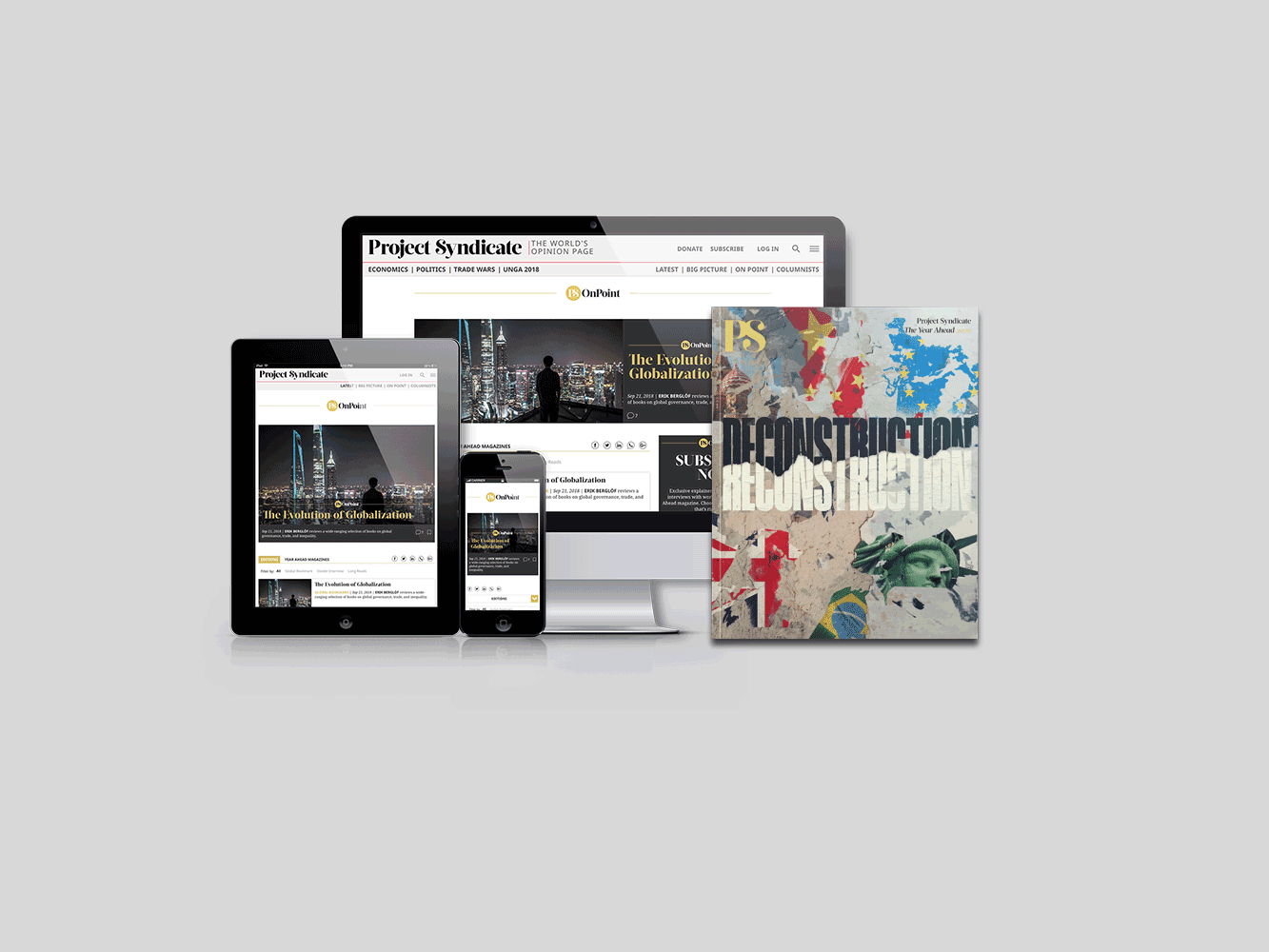 Subscribe now
Subscribe today and get unlimited access to OnPoint, the Big Picture, the PS archive of more than 14,000 commentaries, and our annual magazine, for less than $2 a week.
Tatsächlich wird, das ideologische Spektrum übergreifend, zunehmend die Vorstellung vertreten, dass eine semipermanente Monetisierung großer Haushaltsdefizite beim nächsten Abschwung unvermeidlich und sogar wünschenswert ist. Die – politisch links stehenden – Befürworter der sogenannten modernen Geldtheorie argumentieren, dass größere, dauerhafte Haushaltsdefizite tragbar sind, wenn sie in Phasen der Konjunkturflaute monetisiert werden, weil keine Gefahr galoppierender Inflation bestünde.
Dieser Logik folgend hat im Vereinigten Königreich die Labour Party eine "quantitative Lockerung für das Volk" vorgeschlagen, bei der die Notenbank Geld zur Finanzierung direkter fiskalischer Transfers an die privaten Haushalte (statt an Banker und Anleger) drucken würde. Andere, darunter etablierte Ökonomen wie der frühere Vorsitzende der britischen Finanzaufsicht Adair Turner, haben sich für "Hubschraubergeld" ausgesprochen: direkte Transfers an die Verbraucher mittels notenbankfinanzierter Haushaltsdefizite. Wieder andere, wie der frühere stellvertretende Chairman der Fed Stanley Fischer und seine Kollegen bei BlackRock, haben eine "ständige fiskalische Notfallfazilität" vorgeschlagen, mit der die Notenbank im Falle einer tiefen Rezession hohe Haushaltsdefizite finanzieren könnte.
Trotz Unterschieden bei den Begrifflichkeiten sind alle diese Vorschläge Abwandlungen derselben Idee: dass man im Falle eines kommenden Konjunktureinbruchs die Gesamtnachfrage durch große, von den Notenbanken monetisierte Haushaltsdefizite ankurbeln sollte. Um zu verstehen, wie eine derartige Zukunft aussehen könnte, genügt ein Blick nach Japan, wo die Notenbank faktisch die großen Haushaltsdefizite des Landes finanziert und seine hohe Schuldenquote durch Aufrechterhaltung eines negativen Leitzinses, eine quantitative Lockerung großen Umfangs und die Verfolgung eines Renditeziels von 0% für zehnjährige Staatsanleihen monetisiert.
Wird eine derartige Politik den nächsten Konjunkturabschwung wirklich wirksam stoppen und umkehren? Im Falle der Finanzkrise von 2008, die durch eine nachfrageseitige Erschütterung und eine Kreditverknappung gegenüber illiquiden, aber solventen Akteuren ausgelöst wurde, waren massive geld- und fiskalpolitische Konjunkturimpulse und Rettungsmaßnahmen für den privaten Sektor sinnvoll. Was aber, wenn die nächste Rezession durch eine dauerhafte angebotsseitige Erschütterung ausgelöst wird, die eine Stagflation (geringeres Wachstum kombiniert mit steigender Inflation) hervorruft? Dies ist ja schließlich die Gefahr, die von einer Entkoppelung des Handels in den USA und China, dem Brexit oder einem beständigen Aufwärtsdruck auf die Ölpreise ausgeht.
Eine Lockerung der Fiskal- und der Geldpolitik ist keine angemessene Antwort auf eine dauerhafte angebotsseitige Erschütterung. Eine derartige Lockerung in Reaktion auf die Ölschocks der 1970er Jahre führte zu zweistelliger Inflation und einem steilen, gefährlichen Anstieg der Staatsverschuldung. Drüber hinaus ist es, falls ein Abschwung zur Insolvenz – und nicht bloß zur Illiquidität – einiger Konzerne, Banken oder souveräner Einheiten führt, unsinnig, diese durch Rettungsmaßnahmen künstlich am Leben zu erhalten. In diesen Fällen ist eine Inanspruchnahme der Kreditgeber (Umstrukturierung der Schulden und Abschreibungen) vernünftiger.
Kurz gesagt: Eine semipermanente Monetisierung von Haushaltsdefiziten im Falle eines weiteren Konjunkturabschwungs kann die geeignete politische Reaktion sein. Aber das muss nicht so sein. Alles hängt von der Beschaffenheit der Erschütterung ab. Doch weil die politischen Entscheidungsträger unter Druck stehen werden, irgendetwas zu tun, sind "verrückte" politische Maßnahmen in so einer Lage eine ausgemachte Sache. Die Frage ist, ob sie langfristig mehr Schaden als Nutzen anrichten.
Aus dem Englischen von Jan Doolan