L'ordre du monde de Joe Biden
TEL AVIV – En moins de quatre ans, le président américain sortant Donald Trump a accompli ce que seuls les ravages de la guerre avaient réussi à faire : redistribuer l'ordre du monde. Avec son isolationnisme, ses tendances à l'autoritarisme et ses caprices, Trump a pulvérisé avec jubilation les institutions internationales et les organisations multilatérales que ses prédécesseurs avaient bâties sur les cendres de la Seconde Guerre mondiale et qu'ils avaient conservées jusque-là. Que va-t-il se passer à présent ?
Bien des gens s'attendent à ce qu'à l'entrée en fonction du président élu Joe Biden, les arrangements internationaux libéraux puissent être récupérés, voire même renouvelés. Cela serait certes souhaitable. Mais il serait malheureusement irréaliste de trop vouloir y croire. Un ordre post-Trump a davantage de chances de ressembler à un retour à la compétition entre blocs de 1945 qu'à l'euphorie libérale qui a fait suite à la Guerre froide.
Tout d'abord, l'administration Biden aura deux lourdes tâches à régler : l'une visant à panser les plaies nationales infligées par Trump, l'autre de corriger les faiblesses essentielles de l'Amérique, révélées par la pandémie. La guérison de l'Amérique suite à la présidence la plus clivante de son histoire ne se fera pas sans peine, ni du jour au lendemain. Réformer l'Amérique est une condition préalable au rétablissement de sa capacité de leadership mondial.
Même si l'administration de Biden était dotée de capacité infinie, il lui serait néanmoins impossible de faire marche arrière. Le statu quo ante est né d'une sorte d'euphorie qui avait fait suite à la Guerre froide, animée par la conviction que la démocratie libérale occidentale avait triomphé de manière définitive sur les autres puissances et que le monde était parvenu, selon les termes de Francis Fukuyama, à la « fin de l'histoire. »
Dans les années 1990 et 2000, lorsque les États-Unis étaient la puissance économique, militaire et diplomatique inégalée du monde, la logique de l'hégémonie libérale était convaincante. Mais les États-Unis n'occupent plus aujourd'hui une telle place dans un monde multipolaire en constante mutation. Cela est vrai depuis plus de dix ans, raison pour laquelle les États-Unis se sont retirés du leadership mondial bien avant l'arrivée au pouvoir de Trump.
Bien que l'isolationnisme de Trump soit souvent décrit comme anormal, il reflète un courant de la pensée américaine qui remonte à la fondation de ce pays. Si les sous-marins allemands n'avaient pas attaqué les navires marchands américains en 1917, les États-Unis se seraient peut-être tenus à l'écart de la Première Guerre mondiale
Subscribe to Project Syndicate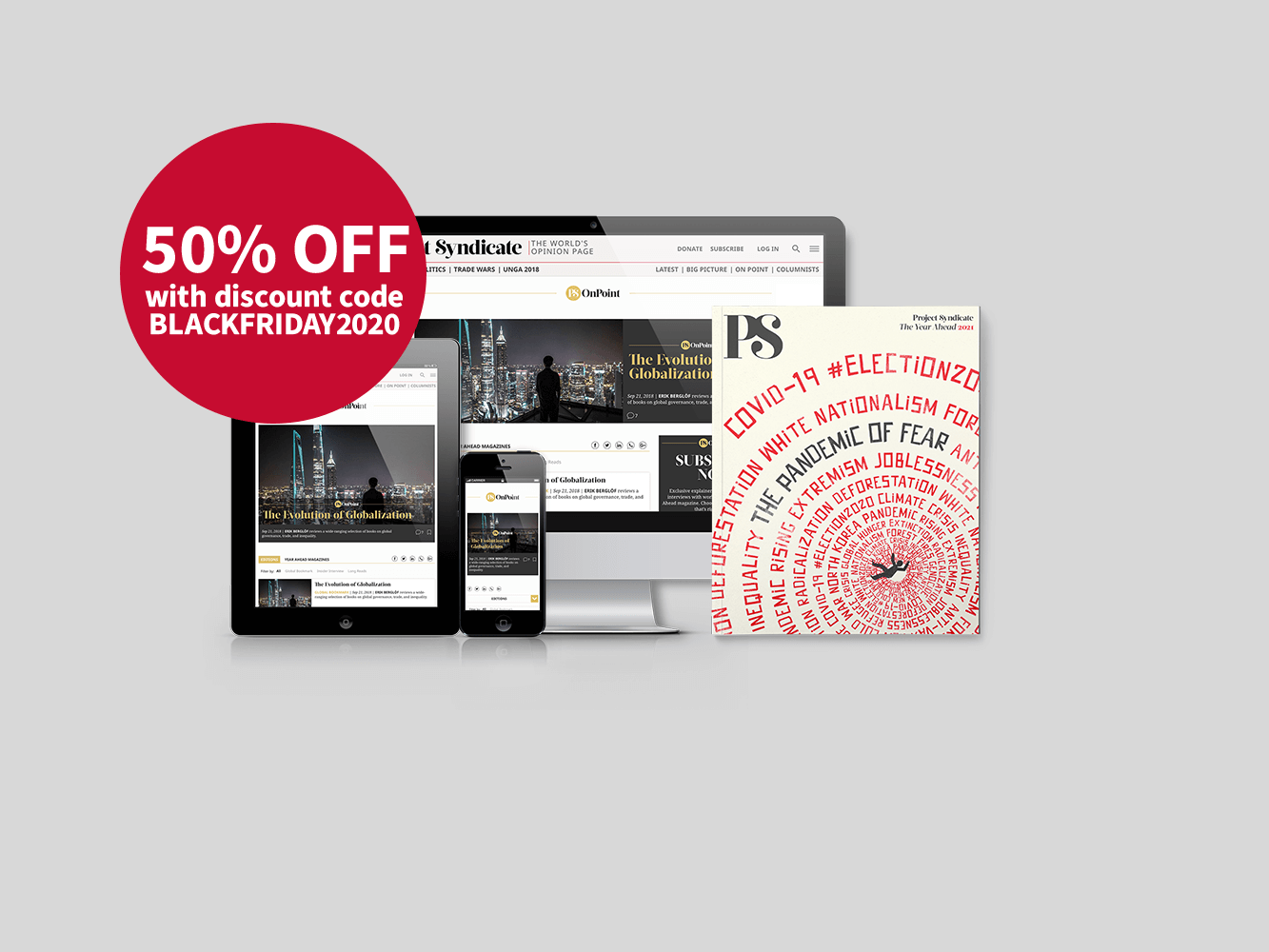 Subscribe to Project Syndicate
Enjoy unlimited access to the ideas and opinions of the world's leading thinkers, including weekly long reads, book reviews, and interviews; The Year Ahead annual print magazine; the complete PS archive; and more – All for less than $9 a month.
De même, ce n'est que lorsque le Japon a attaqué Pearl Harbor en décembre 1941 que les États-Unis ont pris part à la Seconde Guerre mondiale. Après cette guerre, les efforts américains en vue de préserver la paix (par l'envoi de troupes) et de restaurer la prospérité en Europe (par la mise en place du Plan Marshall) étaient motivés par la peur de l'expansion du bloc soviétique, plutôt que par un sens du devoir.
Ce fut également dans l'intérêt de l'Amérique que le prédécesseur de Trump, Barack Obama, dont Biden fut le vice-président, et même George W. Bush avant lui, ont pris des mesures en vue de réduire le projet hégémonique de la politique étrangère américaine. Comme Trump, Obama et Bush ont tous deux exprimé leur frustration quant à un partage inéquitable des charges par les alliés de l'OTAN des États-Unis.
Le retrait américain de l'hégémonie est un aspect de l'histoire que Biden ne peut défaire : la perte de crédibilité de l'Amérique en raison de ses guerres longues, coûteuses et peu concluantes au Moyen-Orient, et de la crise financière mondiale de 2008, qui a révélé au grand jour les inconvénients de la mondialisation et les défauts de l'orthodoxie néolibérale. Loin de tenir la promesse d'une prospérité largement partagée, il est devenu évident que l'éthique de l'économie de marché des dernières décennies a facilité l'émergence d'inégalités choquantes et l'effondrement de la classe moyenne.
Cette combinaison de guerres sans fin et de montée des inégalités a alimenté la réaction nationaliste qui a propulsé Trump vers la victoire en novembre 2016. Les mêmes frustrations se sont traduites par le vote du Brexit au Royaume-Uni en juin, par les manifestations des Gilets jaunes en France en 2018 et même par la crise de la COVID-19.
Une pandémie semble être une occasion incontournable de coopération. Pourtant, elle a été accueillie par des fermetures de frontières et une concurrence sur le matériel et les futures doses de vaccins, sans parler des restrictions sur les libertés civiles et de l'expansion des capacités de surveillance, notamment dans les démocraties. Bref, au moment où nous avons le plus besoin de coopération mondiale, notre système multilatéral en panne nous a ramenés au sein de l'État-nation.
Ainsi, le monde semble revenir à un ordre westphalien, dans lequel la souveraineté l'emporte sur la réglementation internationale. Le slogan de Trump "America First" (l'Amérique d'abord), s'inscrit parfaitement dans un ordre de ce type. Et bien que la Chine se fasse le champion de la coopération internationale dans certains domaines, le multilatéralisme lui reste un concept fondamentalement étranger. Elle s'opposerait à la renaissance d'un ordre mondial fondé sur des préceptes libéraux. D'autres grandes puissances nationalistes (comme le Brésil, l'Inde, la Russie et la Turquie) et d'autres plus petites en Europe de l'Est (la Hongrie et la Pologne) évoluent globalement au sein de la même mouvance anti-libérale.
L'administration Biden doit aspirer à mener les démocraties du monde à entrer en concurrence avec un bloc autoritaire en plein essor, tout en défendant les institutions et structures multilatérales les plus fondamentales pour la paix. Dans ce but, elle devrait immédiatement abandonner la connivence de son prédécesseur avec le président turc Recep Tayyip Erdoğan et remplacer sa stratégie belliqueuse envers l'Iran par un effort visant à parvenir à la révision d'un accord nucléaire durable. Heureusement, il semble bien avoir opté pour ces deux objectifs.
Dans le même temps, l'administration Biden devra traiter les alliances de l'Amérique plutôt comme des entreprises collectives, que les États-Unis pourraient dans l'idéal guider sans les dominer. Du côté des alliés, ce changement a déjà commencé, puisque les dirigeants européens, au premier rang desquels le Président français Emmanuel Macron n'ont de cesse de plaider en faveur de l'impératif pour l'Europe de prendre le contrôle de sa sécurité. Les États-Unis devraient collaborer avec une Union européenne habilitée à contenir le révisionnisme de la Russie sur les frontières de l'OTAN et à mettre fin à sa guerre hybride contre les démocraties occidentales.
De même, pour gérer leur confrontation stratégique actuelle face à la Chine, les États-Unis devront collaborer avec leurs alliés asiatiques, en particulier le Japon et la Corée du Sud, deux États réarmés. Alors que la Chine n'a pas du tout abandonné sa stratégie de « montée en puissance pacifique », éviter les conflits violents va devenir un subtil exercice d'équilibriste.
Plus largement, les États-Unis devront galvaniser les démocraties libérales du monde pour forger un bloc capable de tenir les régimes autoritaires du monde en respect. Cela devrait inclure des efforts pour contrer les forces de désintégration au sein de l'UE et, potentiellement, pour transformer l'OTAN en une plus large alliance de sécurité des démocraties.
Il est essentiel que les deux blocs coopèrent efficacement dans des domaines clés d'intérêt commun, comme le commerce, la non-prolifération, le changement climatique et la santé mondiale. Il faudra pour cela utiliser des compétences diplomatiques que Trump n'a tout simplement pas pu imaginer - et dont, à plus forte raison, il n'a pas su faire preuve.