Perfekter Sturm im Libanon
BEIRUT – Im Nachhinein wirken Finanzkrisen oft wie vorherbestimmt, doch für Klarheit über den weiteren Verlauf der Geschichte sorgen sie kaum. Das dürfte gegenwärtig im Libanon der Fall sein, wo eine vorhersehbare Krise für große Ungewissheit im Land gesorgt hat.
Seit dem Ende des langen Bürgerkrieges (1975-1990) werden die Wirtschaft und das politische System im Libanon durch Kredite aus dem Ausland gestützt, was unweigerlich zu einer untragbar hohen Staatsverschuldung geführt hat. Irgendwann mussten die Kapitalzuflüsse enden, und dieser Moment kam Ende 2019, nach einer Reihe negativer Schocks.
Dieses plötzliches Ende der Kapitalzuflüsse, auch "sudden stop" genannt, hat das Land in eine dreifache Krise von dramatischem Ausmaß gestürzt. Das erste Problem ist die Zahlungsbilanz. Das Leistungsbilanzdefizit des Libanon liegt bei satten 25% des BIP, und die Exportbasis des Landes ist zu klein, um selbst für lebensnotwendige Importe aufkommen zu können. Das zweite Problem sind die Finanzen. Die Staatsverschuldung des Libanon beläuft sich heute auf mehr als 150% des BIP. Die Staatseinnahmen brechen unter der Last der Rezession zusammen, und das Haushaltsdefizit – das mit 10% des BIP im Jahr 2019 bereits hoch ist – vergrößert sich rasch.
Obendrein befindet sich der libanesische Bankensektor in einer Krise. Die Großbanken, die die Hauptempfänger von Kapitalzuflüssen aus dem Ausland sind, haben in großem Umfang in libanesische Staatstitel investiert (die im Durchschnitt 50% ihres Portfolios ausmachen) und sind nun im Grunde bankrott.
Zusammen haben diese Krisen die Wirtschaft in den Abgrund gestürzt. Unternehmen, die nicht an dringend benötigte Kredite und Importe kommen, haben begonnen, Arbeiternehmer zu entlassen oder schließen ganz. Eine schwere libanesische Wirtschaftskrise ist durch die Rezession schon vorprogrammiert.
Die wichtigste Kapitalquelle für die Rentenökonomie im Libanon war nicht das Öl, wie anderswo in der Region, sondern es waren Investitionen aus der Diaspora, die durch hohe Zinsen und einen festen, an den Dollar gebundenen Wechselkurs angezogen wurden. Nicht von ungefähr gibt es überall Anzeichen der "Holländischen Krankheit": Die Einlagen sind auf über 400% des BIP angewachsen, was einen Wohlstandseffekt erzeugt hat, der die nationale Sparquote auf unwahrscheinliche -3% des BIP gesenkt hat. Die Ungleichheit ist groß und nimmt weiter zu. Und eine reale (inflationsbereinigte) Aufwertung des Wechselkurses um etwa 50% zwischen 2000-2015 hat die Sektoren der handelbaren Güter geschwächt. Da es keine Waren und Dienstleistungen für den Export gibt, verlassen viele gebildete junge Libanesen ihr Land.
Subscribe to Project Syndicate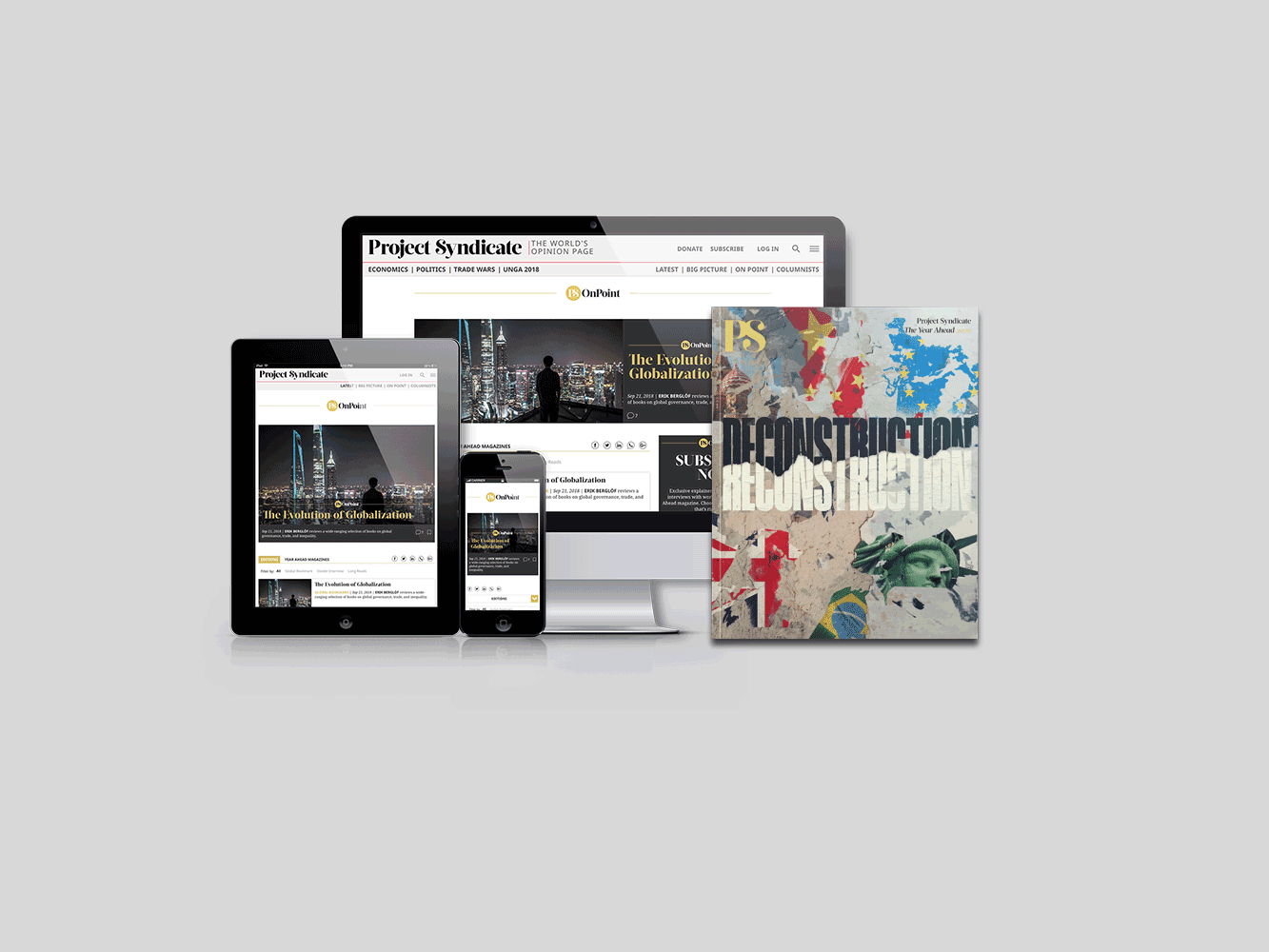 Subscribe to Project Syndicate
Enjoy unlimited access to the ideas and opinions of the world's leading thinkers, including weekly long reads, book reviews, and interviews; The Year Ahead annual print magazine; the complete PS archive; and more – all for less than $2 a week.
Noch wesentlicher ist, dass massive Kapitalzuflüsse es einer konfessionsgebundenen Elite ermöglicht haben, sich durch Klientelismus und nicht durch Leistung zu etablieren. Diese Eliten haben sowohl den öffentlichen als auch den privaten Sektor geschröpft, um die Macht aufgeblähter Seilschaften wachsen zu lassen. Dieses Arrangement hat zwar eine gewisse politische Stabilität in einer ansonsten chaotischen Region gewährleistet, doch die Grundbedürfnisse der Menschen wurden nicht befriedigt. Sogar die Stromversorgung ist unbeständig und unzuverlässig, während die umfassenderen Herausforderungen in makroökonomischer Hinsicht völlig unbeachtet geblieben sind.
Die Finanzkrise hat einen politischen Aufstand ausgelöst. Eine revolutionäre Volksbewegung ist auf die Straße gegangen, um gegen das Sektierertum zu protestieren und ein Ende der Korruption zu fordern. Dennoch haben die Reaktionen des Regimes auf die wirtschaftlichen Probleme des Libanon bisher überwiegend die Eliten begünstigt, was darauf hindeutet, dass die Krise auf dem Rücken der Armen und der Mittelschicht "gelöst" werden könnte, und zwar auf eine Weise, die das politische Sektierertum weiter festigt.
So hat sich der Staat geweigert, Kapitalverkehrskontrollen einzuführen, und überlässt es den einzelnen Banken – zu deren Hauptaktionären auch die regierenden Politiker gehören – zu entscheiden, wie Barabhebungen rationiert werden. Faktisch können die Eliten ihr Kapital somit ins Ausland umschichten, während der Durchschnittsbürger Schwierigkeiten hat, an das Geld auf seinem Konto heranzukommen.
Darüber hinaus hat die Zentralbank die Zinsen für Einlagen, aber noch nicht für die Staatsschulden gesenkt und damit die Gewinne der Banken erhöht. Außerdem hat sie trotz der sinkenden internationalen Reserven ihre Auslandsverschuldung weiter bedient, die hauptsächlich bei den inländischen Banken liegt. Und es gibt Anzeichen dafür, dass sie anfangen könnte, staatliche Vermögenswerte zu Spottpreisen an Unternehmen mit Verbindungen zur Elite zu verkaufen.
Der offizielle Wechselkurs wurde unterdessen unangetastet gelassen, was den Eliten Zugang zu billigen Dollars ermöglicht, während der Durchschnittsbürger in der Praxis mit einem rapide fallenden Kurs am freien Markt konfrontiert wird, der inzwischen um 40% gesunken ist. Diese Abwertung wird sich beschleunigen, wenn der Staat beginnt, die heimische Währung Lira zur Deckung der Löhne im öffentlichen Dienst zu drucken. Tatsächlich verwendet die Zentralbank bereits jetzt Lira zur Verzinsung der Dollar-Einlagen (die über 80% aller Einlagen ausmachen) und schafft damit die Voraussetzungen, die öffentliche Verschuldung durch Inflation zu beseitigen. Da die Kosten des Schuldenabbaus durch die "Liralisierung" der Einlagen auf die Bankkunden abgewälzt werden, könnte das Eigenkapital der Banken weitgehend geschont werden.
Sollte dieses Szenario eintreten, wird die libanesische Mittelschicht durch niedrigere Reallöhne und Renten und eine Vernichtung ihrer Ersparnisse stark geschwächt. Die Abwanderung qualifizierter Jugendlicher würde sich beschleunigen, und sogar die finanziellen Interessen der Diaspora – auf die das System angewiesen ist – würden geschädigt. Falls das sektiererische System unter diesen Bedingungen überleben sollte, würde es eine verarmte Bevölkerung regieren, die sich durch noch billigere Vetternwirtschaft kontrollieren ließe. Der Libanon würde sich in einer ähnlichen Situation wie Venezuela wiederfinden.
Die neue Republik, für die sich die Revolutionäre einsetzen, würde dagegen einen radikal anderen Ansatz verfolgen. Die Revolutionäre wollen den Libanon besser machen, nicht fallen lassen. Sie glauben, dass der Libanon weit unter seinen Möglichkeiten bleibt und dass Leistung, Meritokratie und soziale Gerechtigkeit an die Stelle von Korruption, Vetternwirtschaft und Ungleichheit treten sollten. Sie wollen dynamische Hightech-Industrien aufbauen, die Landwirtschaft umweltverträglicher machen, Libanon als Land mit großer kultureller Anziehungskraft positionieren und mehr Synergien mit der Diaspora entwickeln.
Um diese Ziele zu erreichen, will die Reformbewegung einen geordneten Abbau der Staatsverschuldung anstreben, der mit Bankeigenkapital unterlegt würde, und dem einen Prozent der Einleger, auf die mehr als 50% aller Einlagen entfallen, Haircuts auferlegen. Sie unterstützen eine moderate Währungsabwertung und eine radikale Verbesserung des Geschäftsklimas, um die Wettbewerbsfähigkeit der Exporte zu erhöhen. Und sie würden eine tiefgreifende haushaltspolitische Umstrukturierung verfolgen, wobei der Schwerpunkt auf die Beseitigung korrupter Praktiken und höhere Ausgaben für Sozialprogramme und Infrastruktur gelegt würde. Die unvermeidliche Rezession würde mit Unterstützung der internationalen Gemeinschaft, einschließlich des Internationalen Währungsfonds, abgemildert werden.
Der gegenwärtige Machtkampf um die Zusammensetzung des nächsten libanesischen Kabinetts ist Teil eines größeren Kampfes um eine neue politische Einigung. Die Finanzkrise kann den Kollaps des Landes bedeuten, sie ist aber auch eine Chance für politische Veränderungen. Die Zukunft des Libanon hängt in der Schwebe.
Aus dem Englischen von Sandra Pontow.