Os temores mais arraigados dos falcões da inflação
AUSTIN – Em um recente comentário  para o The Washington Post, o ex-secretário do Tesouro dos EUA, Lawrence H. Summers, afirmou que "o índice de preços ao consumidor subiu a uma taxa anual de 7,5 por cento" no primeiro trimestre de 2021. Não consegui chegar a esse número a partir do site do Setor de Estatísticas do Departamento do Trabalho CPI-U, que relata um aumento ano-a-ano (abril 2020-abril de 2021) de 4,2%, impulsionado em grande parte por uma acentuada retomada de 49,6% nos preços da gasolina a partir da crise da pandemia. Excluindo os preços dos alimentos e da energia, a taxa de inflação no ano passado foi de apenas 3%.
Mais estranho ainda é o raciocínio de Summers para projetar os riscos da inflação futura:
"As pressões inflacionárias estão crescendo com o aumento na demanda criado pelos mais de US$ 2 trilhões em poupanças que os americanos acumularam durante a pandemia; de compras de dívida em grande escala pelo Federal Reserve, juntamente com previsões do Fed de taxas de juros basicamente em zero em 2024; de cerca de US$ 3 trilhões em estímulos fiscais aprovados pelo Congresso; e da disparada nos preços de ações e imóveis".
Essa é uma lógica estranha, começando com a conjectura de que a poupança causa inflação. John Maynard Keynes argumentou o contrário: o excesso de poupança é retido da demanda, causando desemprego. E a própria escola neoclássica de Summers normalmente afirma que grandes poupanças são uma coisa boa, porque sustentam taxas de juros baixas e levam a mais investimentos empresariais. Até onde eu sei, nenhum economista jamais sugeriu que a poupança, como tal, causasse inflação.
Da mesma forma, embora seja verdade que quando o Fed compra dívidas privadas indesejadas, principalmente de bancos, os vendedores obtêm dinheiro, protegendo-os de perdas que poderiam ter sofrido, essa proteção não tem conexão direta com seus hábitos de empréstimo. Como observou o economista Hyman Minsky, os bancos fazem empréstimos quando têm clientes com capacidade de crédito. Eles não emprestam suas reservas, nem precisam de reservas para emprestar.
Em seguida, vem a alegação de que as previsões do Fed de baixas futuras taxas de juros são inflacionárias. Na verdade, a previsão da taxa de juros do Fed depende de sua previsão de inflação, e sua posição atual é que ele espera que as pressões sobre os preços sejam transitórias e reagirá aumentando as taxas se isso estiver errado. Se o Fed concordasse com Summers sobre a inflação futura, ele o teria dito em sua previsão de inflação. A previsão da taxa de juros não desempenha papel independente.
Back to Health: Making Up for Lost Time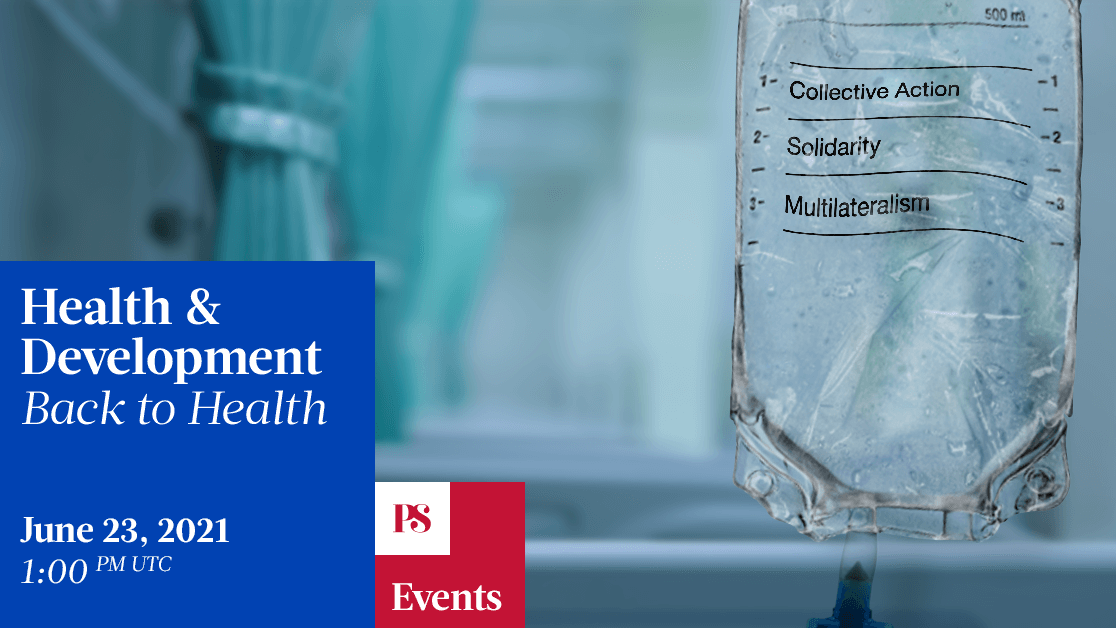 Back to Health: Making Up for Lost Time
The COVID-19 crisis has laid bare systemic inequities that will have to be addressed if we are ever going to build more sustainable, resilient, and inclusive societies. Join us on June 23, 2021, for our latest live virtual event, Back to Health: Making Up for Lost Time, where leading experts will examine the immediate legacy of the pandemic and explore solutions for bringing all communities and societies back to health.
Summers então aponta para os U$ 3 trilhões de estímulos fiscais já aprovados. Porém, cerca de US$ 2 trilhões desse valor estão por enquanto, armazenados em economias privadas, sendo este ponto redundante com o primeiro. Por fim, ele menciona "alta nos preços de ações e imóveis". No entanto, não ouvimos nenhum desses avisos por parte dele no final dos anos 1990, quando era secretário do Tesouro durante um enorme boom de ações. E, por certo, o boom não provocou aumento na inflação.
O que realmente está acontecendo? Summers pode simplesmente estar tentando reviver o antigo conceito da curva de Phillips, que afirma que, à medida que o desemprego cai, os salários – e, portanto, os preços – aumentam. Mas se esse padrão já existiu e desapareceu há 50 anos, e mesmo os economistas de pensamento mais retrógrado já abandonaram em grande parte a curva de Phillips em meados da década de 1990. Desde então, quase todos os novos empregos nos Estados Unidos foram criados nos setores de serviços, onde os "restritos" mercados de trabalho têm pouco efeito sobre os salários e nenhum sobre os preços ao consumidor.
Além disso, os mercados de trabalho dos EUA de hoje não estão nem perto do arrocho. A proporção entre emprego e população ainda está pelo menos quatro pontos percentuais abaixo de onde estava há um ano e parece estar diminuindo após uma forte recuperação. Isso significa que ainda há cerca de cinco milhões de pessoas que estavam trabalhando em 2019, mas não estão trabalhando hoje. As razões são desconhecidas. Talvez os empregadores não os quisessem de volta ou os empregos oferecidos não fossem muito bons. Talvez eles retornem depois – neste ano ou depois – quando a reserva fornecida por toda essa poupança se esgotar. 
O que, então, está causando o medo da inflação de Summers? Quando um economista dessa importância faz afirmações ilusórias como essa, só podemos nos perguntar se não há outra coisa em sua mente.
Por certo, existem alguns riscos reais de preço. Um grande problema é a especulação financeira – com relação ao petróleo, metais, madeira para construção de casas e assim por diante. Não é incomum para protagonistas financeiros aumentarem os preços retirando esses produtos do mercado no início de um boom. (Os chineses sabem disso e estão devidamente reprimindo o acúmulo de cobre e outros metais.)
Outro risco poderia surgir se o Fed seguisse o conselho dos falcões da inflação. Para a maioria das empresas, os juros são um custo como qualquer outro, e um aumento nesse custo seria repassado, em parte, nos preços ao consumidor. É interessante que Summers não mencione nada disso, o que poderia ser mitigado com uma regulamentação rígida do setor financeiro – e, é claro, sem aumentar as taxas de juros.
Mas preocupações mais sérias podem estar ocultas sob a superfície do artigo de Summers. Uma diz respeito àqueles US$ 2 trilhões em poupança. Por meio de pagamentos diretos e aumento do seguro-desemprego, uma boa parte dessa soma foi para as famílias da classe trabalhadora – a  primeira grande mudança para muitas dessas famílias em décadas. Ter algum dinheiro pode torná-los menos propensos a tomar empréstimos – e, portanto, menos dependentes dos bancos. Os trabalhadores podem até exigir salários mais altos, criando a "escassez de mão-de-obra" de que fala Summers (pelo menos temporariamente). De maneira mais geral, quando as pessoas têm um pouco de reserva financeira, é mais difícil dar ordens a elas.
Uma segunda fonte de ansiedade pode ser identificada no apelo de Summers por "declarações claras de que os Estados Unidos desejam um dólar forte". Esta é a angústia secreta dos homens do dinheiro forte, um bando inseguro que teme que sua posição no totem global possa não ser totalmente segura. Talvez eles estejam certos. O mundo hoje centrado no dólar reflete os alinhamentos de poder do período entre o fim da Segunda Guerra Mundial e o fim da Guerra Fria em 1989. O poder dos Estados Unidos desde então se desgastou, abrindo a possibilidade de que o sistema monetário mundial pudesse um dia virar.
Isso pode não acontecer tão cedo. Mas se e quando chegar o momento, isso ocorrerá por causa de décadas de declínio, de melhores estratégias adotadas em outros lugares, das feridas auto infligidas das eras Reagan, Clinton e Bush, do sacrifício da base industrial dos Estados Unidos na década de 1980, da fragilidade da ordem global que emergiu na década de 1990, e do exagero militar dos anos 2000. Contra tudo isso, algumas "claras" afirmações não significarão muito.
Tradução de Anna Maria Dalle Luche, Brazil