Eine gute deutsche Idee für 2018
ATHEN – Bis 2016 hatten fast alle Europäer erkannt, dass radikale politische und institutionelle Reformen zur Wiederbelebung des europäischen Projekts unverzichtbar waren. Doch wurden ernsthafte Reformen durch die übliche Uneinigkeit darüber behindert, was zu tun sei – ein Streit, den Frankreichs neuer Präsident Emmanuel Macron einmal als "heiligen Krieg" zwischen deutschen und französischen Eliten beschrieben hat.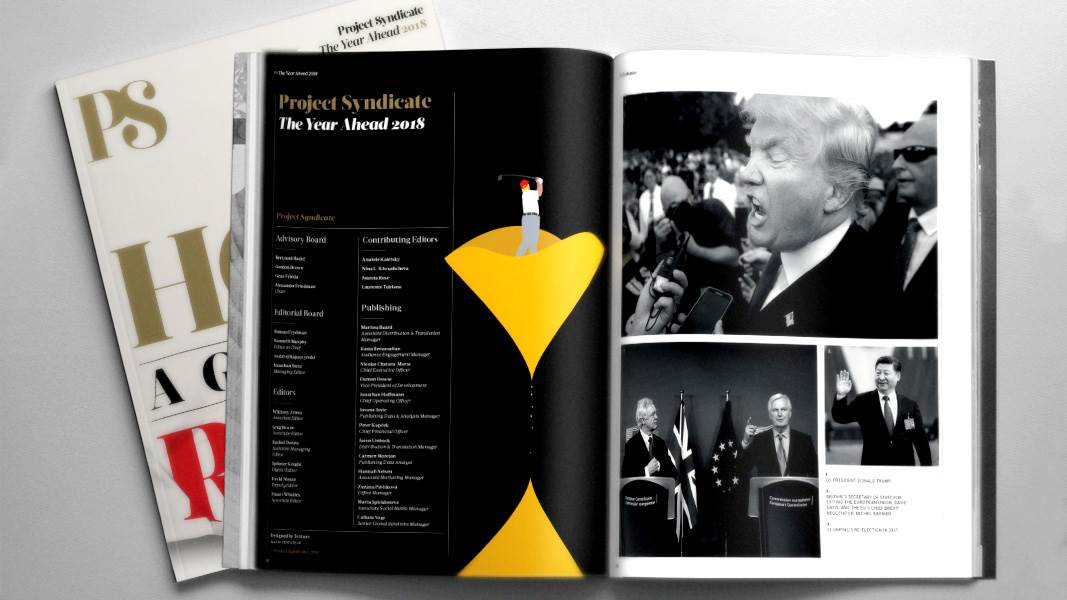 The Year Ahead 2018
The world's leading thinkers and policymakers examine what's come apart in the past year, and anticipate what will define the year ahead.
Das gerade zu Ende gegangene Jahr – in dem die Wahl eines französischen Präsidenten, von dem Bundeskanzlerin Angela Merkel sehr angetan ist, einer der Höhepunkte war – hat gezeigt, dass es letztlich keine wirkliche Rolle spielt, wer in Berlin und Paris regiert oder wie sehr die beiden Regierungschefs einander mögen. Der "heilige Krieg" geht weiter, auch wenn die Raketen, mit denen beide Seiten die Vorschläge der jeweils anderen abschießen, jetzt mit diplomatischem Samt verbrämt sind.
Im Kern dieses französisch-deutschen Krieges steht der Konflikt zwischen dem deutschen Bekenntnis zur Korrektheit und dem französischen Hang zur Umverteilung. Deutsche Regierungsvertreter begrüßen jeden Vorschlag der französischen Regierung damit, dass sie im Geiste die Kosten für die deutschen Steuerzahler durchrechnen. Und französische Regierungsvertreter sehen hinter jedem deutschen Gegenvorschlag ein Manöver, um sich hinter Regeln und Vorschriften zu verstecken, damit die deutschen Eliten das Unmögliche miteinander vereinbaren können. Europas fortgesetztes Abgleiten in Stagnation und Verruf ist das logische Ergebnis.
Möglicherweise haben die Deutschen mit ihrem Beharren auf Korrektheit Recht, wenn auch nicht in einem Sinne, den deutsche Regierungsvertreter zwangsläufig zu schätzen wissen werden. Ich könnte guten Gewissens nicht glaubwürdig französische, italienische oder griechische Umverteilungsbefürworter unterstützen, wenn deren Vorschläge gegen die Grundsätze der Korrektheit verstoßen. Das Richtige zu tun ist doch sicherlich besser, als etwas Falsches, aber in der jeweiligen Situation Vorteilhaftes zu tun. Dies freilich führt zu der Frage: Was ist das Richtige? Und wie können wir uns angesichts unserer unterschiedlichen Interessen und unserer Unterschiede beim Naturell und kulturellen Hintergrund auf eine Antwort einigen?
Eins ist sicher: Wir werden nie herausfinden, was Korrektheit erfordert, wenn wir uns allein durch unsere "Interessen" leiten lassen. Der Stillstand in Europa beruht großenteils auf einem Konflikt zwischen einander widersprechenden Wünschen, Zielen und Bedenken: Die deutschen Sorgen über Regelverstöße der Südländer werden den französischen Sorgen über deutsche Großreichsbestrebungen immer vorgehen, und umgekehrt. Aber wenn parteiliche Wünsche in eine Sackgasse führen und die richtige Vorgehensweise nicht aufzeigen, wo liegt dann der Schlüssel zur Korrektheit?
"Wir sollten alle unsere Pflicht tun" – eine sehr deutsche Antwort – verlagert den Dissens lediglich auf eine andere Ebene, wo wir dann ohne Ende über konkurrierende Pflichten debattieren. Schließlich glaubten auch alle Verrückten, die jemals an der Macht waren, dass sie ihre Pflicht taten. Die Frage wandelt sich dann also zu: "Wie kann ich wissen, was meine Pflicht umfasst?" Eine theistische Antwort ist gleichermaßen inakzeptabel angesichts der monströsen Verbrechen, die von Eiferern verübt wurden, welche überzeugt waren, ihre göttliche Pflicht zu erfüllen.
Die beste Antwort, auf die ich bisher gestoßen bin, stammt aus Deutschland, und zwar, um genau zu sein, von Immanuel Kant. Laut Kant, der versuchte, in einer neuen Ära der Marktgesellschaften Ethik neu zu definieren, können und müssen wir unsere Pflicht aus unserer Fähigkeit zur Rationalität ableiten. Anders als persönliche Geschmäcker, die wechselhaft sind und keinen klaren Weg hin zur Zufriedenheit oder Tugend abstecken, lassen sich Pflichten durch einen logischen Mechanismus ableiten, der allen Menschen gemein ist.
Rational zu sein bedeutet mehr als die Fähigkeit, die eigenen Mittel in effizienter Weise einzusetzen, um seine Ziele zu erreichen. Alle Arten von Tieren sind gut darin, verfügbare Mittel mit bestehenden Zielen in Einklang zu bringen. Menschen jedoch, so beharrt Kant, seien einzigartig, weil sie anders als Katzen und Hunde zu einer rationalen Beurteilung ihrer Wünsche in der Lage seien. Wir können uns fragen: "Mir gefällt X, aber sollte ich das tun?" Und wir können sagen: "Es ist meine Pflicht, Y zu tun, auch wenn Y angesichts meiner Erwartungen an das Verhalten anderer vermutlich zu Resultaten führen wird, die mir nicht gefallen."
Doch wenn das Kennzeichen einer rationalen Person in der Fähigkeit besteht, aus Gründen zu handeln, die über eine Kosten-Nutzen-Analyse hinausgehen, wie lässt sich dann unsere rationale Pflicht objektiv und losgelöst vom Einfluss persönlicher Interessen oder Vorurteile ermitteln?
Kant bietet ein berühmtes Beispiel an: Was uns von anderen Arten unterscheide, sei die Sprache; ohne sie wären wir bloße Tiere. Während sich Lügen oft auszahlt, würde die Sprache, wenn wir alle ständig lögen, obsolet werden. Rationale Menschen, so Kant, müssten erkennen, dass sie eine Pflicht haben, sich einer Gewohnheit (Lügen) zu enthalten, die, wenn alle sie zur gleichen Zeit übernähmen, unsere wertvollste Erfindung (die Sprache) annullieren würde.
Es bedarf weder eines Gottes noch des Moralisierens, um unsere Pflicht zu demonstrieren, die Wahrheit zu sagen, sondern allein der praktischen Vernunft: Eine Welt, in der alle lügen, ist eine Welt, in der menschliche Rationalität, die vollständig von Sprache abhängig ist, stirbt. Daher ist es unabhängig von den Vorteilen, die Lügen in der Praxis mit sich bringen, unsere rationale Pflicht, die Wahrheit zu sagen.
Auf Marktgesellschaften angewandt führt Kants Idee zu faszinierenden Schlussfolgerungen. Strategische Preissenkungen, um einen Konkurrenten zu unterbieten, bestehen den Test der rationalen Pflicht (solange die Preise kostendeckend sind). Schließlich ist die Produktion maximaler Mengen zu minimalen Preisen der heilige Gral einer Volkswirtschaft. Doch die strategische Absenkung der Löhne auf ein immer niedrigeres Niveau (die "Uberisierung" der Gesellschaft) kann nicht rational sein, weil das Resultat aufgrund der verschwindenden Gesamtnachfrage ein katastrophaler Zusammenbruch wäre.
Was nun Europa angeht, impliziert Kants Prinzip wichtige Pflichten für Regierungen und Gemeinwesen. Und Deutschland und Frankreich wäre dabei eine Vernachlässigung ihrer Pflicht vorzuwerfen, ein funktionierendes Europa zu gewährleisten.
Würde man Deutschlands Leistungsbilanzüberschüsse, die derzeit bei 9% vom BIP liegen, allgemein ausweiten, sodass die Regierung, der private Sektor und die privaten Haushalte jedes Mitgliedslandes Nettosparer wären, schösse der Euro steil in die Höhe und würde die produzierende Industrie in Europa weitestgehend zerstören. In gleicher Weise würden die Haushaltsdefizite der Südländer Europa bei allgemeiner Ausweitung in den Ruin treiben.
Der Trick, und unsere rationale Pflicht, besteht darin, eine Politik zu verfolgen und Institutionen aufzubauen, die im Einklang mit ausgewogenen Handels- und Finanzströmen stehen. Anders ausgedrückt: Authentische deutsche Korrektheit lässt sich nicht ohne eine Form der Umverteilung erreichen, welche zwangsläufig mit den Interessen beispielsweise einer französischen oder griechischen Oligarchie kollidiert, die zu faul ist, sich mit ihrer eigenen mangelnden Nachhaltigkeit auseinanderzusetzen.
Ein Kritiker dieser deutschen Idee für eine Reform Europas könnte glaubwürdig fragen, warum jeder seine rationale Pflicht tun sollte, statt weiter dem altehrwürdigen Pfad engen Eigeninteresses zu folgen? Die einzige vernünftige Antwort darauf lautet: weil es keine wirklich rationale Alternative dazu gibt. Oder vielmehr, weil die Alternativen sämtlich scheinheiliges Gerede sind.
Aus dem Englischen von Jan Doolan