¿Por qué querría alguien ser presidente?
Washington DC – Más a menudo de lo que se cree, hay muchos motivos para preguntarse por qué alguien querría ser presidente de Estados Unidos. Es cierto, implica la gloria de ser electo para ocupar el puesto más poderoso del país, escuchar el «Saludo al Jefe» (la canción Hail to the Chief), recibir saludos militares y ser llamado «Sr. Presidente»; puedes ocupar la cabecera en los elegantes banquetes del estatales y nunca tienes que esperar un turno para jugar al golf. De todas formas, una y otra vez vemos encanecer los cabellos presidenciales (los de Joe Biden, por supuesto, ya lo han hecho, pero la presión por el cargo se manifestará de algún modo).
El origen de ese estrés es claro: hasta los mejores planes salen mal y detrás de cada esquina se esconden sorpresas desagradables. Al principio el gobierno de Biden parecía ser un modelo de eficiencia, especialmente comparado con el desastre que fue la presidencia de Donald Trump. Incluso con una transición trunca —uno de los resultados de la ridícula y ruinosa insistencia de Trump en que había ganado las elecciones— Biden y sus principales funcionarios parecían estar bien preparados para gobernar. La fuertemente custodiada ceremonia de toma de posesión —en medio de las tensiones que persistían después del ataque del 6 de enero al Capitolio— transcurrió sin problemas. Tan solo unas horas más tarde, firmó 17 decretos ejecutivos y dictó órdenes para revertir políticas distintivas de Trump (por ejemplo, detener la construcción del muro en la frontera).
La prioridad legislativa y ejecutiva de Biden era poner bajo control la desbocada pandemia de la COVID-19. La mala gestión de Trump de la crisis sanitaria, según algunos expertos, causó la muerte innecesaria de cientos de miles de estadounidenses.
Las acciones iniciales de Biden, que incluyeron dar marcha atrás a la salida de organismos multinacionales que inició Trump, así como la implementación de políticas medioambientales y para la igualdad de derechos, fueron mucho más lejos que los de cualquier otro presidente moderno para desandar las políticas de su predecesor. Biden, un personaje afable y accesible, demostraba ser mucho más duro de lo que la mayoría había previsto. Mantuvo su llamado al bipartidismo, pero si los republicanos no tenían la intención de trabajar con él (y había motivos para suponerlo), Biden demostró que estaba preparado para avanzar sin ellos. 
Los republicanos trumpificados, más partidistas que nunca, hasta se opusieron a la propuesta de los expertos para reforzar la claramente inadecuada fuerza policial del Capitolio. Algunos trumpistas insistieron en que los disturbios del 6 de enero en Capitol Hill, iniciados por Trump y que terminaron con la muerte de cinco personas, fueron algo sin importancia.
Para mediados de febrero, el consenso en Washington —entre quienes no habían sido captados por el culto de Trump— era que Biden «no había dado pasos en falso», pero luego su presidencia, aparentemente encantada, fue golpeada por un tsunami de desafíos. Si no mantenía las prácticas de Trump, poco podía hacer Biden para evitar que se corriera la voz en Centroamérica y México de que su gobierno sería más receptivo a los inmigrantes. Para principios de abril, la cantidad de cruces en la frontera se había disparado a su máximo en 15 años e incluyó cantidades récord de adolescentes y niños sin padres, desbordando la capacidad de atención del gobierno.
Subscribe to Project Syndicate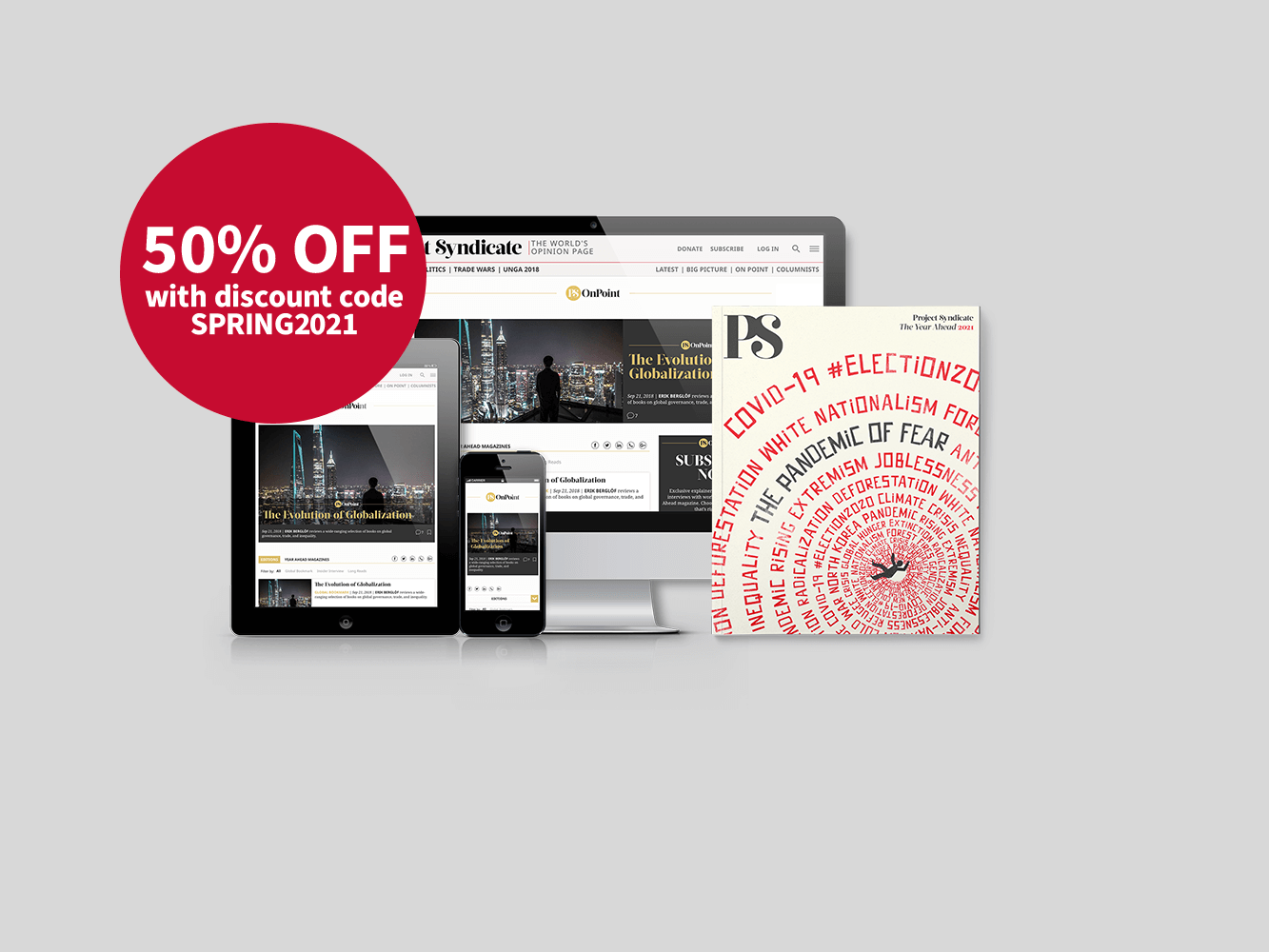 Subscribe to Project Syndicate
Enjoy unlimited access to the ideas and opinions of the world's leading thinkers, including weekly long reads, book reviews, topical collections, and interviews; The Year Ahead annual print magazine; the complete PS archive; and more. All for less than $5 a month.
Biden, en un raro circunloquio y a pesar de haber jurado que intentaría mantener un gobierno transparente, fingió que no se trataba de una crisis y que la situación no difería demasiado de lo que venía ocurriendo todos los años aproximadamente en esta época. En otro raro traspié, su gobierno se mostró hermético acerca de la situación en algunos de los campos para refugiados en la frontera.
La inmigración demostró ser un tema políticamente insoluble en EE. UU. durante mucho tiempo y los republicanos se abalanzaron sobre la oportunidad para avergonzar a Biden por ello. El nombramiento de la vicepresidenta Kamala Harris para liderar el esfuerzo de reducción de la cantidad de inmigrantes fue un honor no exento de dificultades. La tarea de Harris es ocuparse de «la raíz» del problema: descubrir por qué tanta gente de El Salvador, Guatemala y Honduras desea abandonar sus hogares o enviar a sus niños en el peligroso viaje hacia el norte. Se cree que la raíz del problema son los gobiernos corruptos, las malas economías, las pandillas violentas y el cambio climático (ninguna de esas cuestiones permitiría lograr una solución en el corto plazo).
El gobierno de Biden tampoco previó el resurgimiento de otro problema también tenaz, el fácil acceso a las armas; pero dos tiroteos masivos en una semana a fines de marzo, en Atlanta primero y luego en Boulder, Colorado, pusieron nuevamente esta cuestión sobre el tapete. Sin embargo, el control de las armas es mucho más popular entre el público que entre los políticos electos en Washington, quienes aún temen el poder de la Asociación Nacional del Rifle (NRA, por su sigla en inglés), a pesar de que se encuentra envuelta en desafíos legales.
Lo que cambió en los últimos años es el creciente poder de quienes están a favor del control de las armas. Con cada masacre estos defensores sienten que esa es su oportunidad... y eso están diciendo ahora. La propuesta más popular es ampliar los controles de antecedentes sobre quienes compran armas; el problema es que el tirador de Boulder había superado uno de esos controles. Biden propuso, entre otras cosas, renovar la prohibición de las armas de asalto, pero no está dejando que esta cuestión entorpezca otras prioridades.
Su principal prioridad en este momento es el programa de infraestructura de más de dos billones de dólares. Creo que la decisión de Biden de «actuar a lo grande» en esta cuestión, así como el anterior plan de rescate de casi dos billones de dólares frente a la pandemia, refleja una rivalidad subterránea entre Biden y Barack Obama. Obama era cauto y Biden, alguna vez su leal lugarteniente, está siendo deliberadamente audaz. Obama negoció con los republicanos, quienes se opusieron a las propuestas, de todas formas.
El concepto de infraestructura de Biden es generoso, por decir algo: el secretario de transporte Pete Buttigieg lo define como «la base que permite que los estadounidenses prosperen». El programa de Biden va mucho más allá del concepto de infraestructura asociado con carreteras, puentes y agua —que constituye, en realidad, una parte pequeña del plan— e incluye, entre otras cosas, el cambio climático y la asistencia para ancianos en sus hogares. Más adelante se propondrá una segunda parte, que abarcará las escuelas y la vivienda asequible. El gigantesco programa y los impuestos que lo financiarán tienen opositores en ambos partidos, pero una norma parlamentaria, la conciliación (reconciliation) —que permite su aprobación en el Senado con 51 votos— ayudará enormemente a Biden.
Algunos presidentes caen en el «síndrome del monte Rushmore», en un obvio esfuerzo por alcanzar la grandeza. Biden, aparentemente modesto y con su habitual tono suave al hablar, está haciendo su propia apuesta a la inmortalidad.
Traducción al español por Ant-Translation