Warum sollte jemand amerikanischer Präsident werden wollen?
WASHINGTON, DC – Häufiger als vermutet besteht Grund, sich zu fragen, warum jemand Präsident der Vereinigten Staaten werden will. Ja, man ist geehrt, in das höchste Amt im Staat gewählt worden zu sein, den Präsidentensalut "Hail to the Chief" zu hören, mit militärischen Ehren empfangen und mit "Mr. President" angesprochen zu werden. Man nimmt bei eleganten Staatsbanketten den Ehrenplatz ein. Man muss ich am Golfplatz nie wieder um Abschlagszeiten kümmern. Hin und wieder jedoch beobachten wir, wie eine präsidentielle Haarpracht ergraut (bei Joe Biden war das freilich schon der Fall, aber die Strapazen des Amtes werden sich in irgendeiner anderen Weise bemerkbar machen).
Die Ursachen dieser Belastungen liegen auf der Hand: sorgfältigst ausgearbeitete Pläne gehen schief, hinter jeder Ecke lauern unangenehme Überraschungen. Zu Beginn ihrer Amtszeit erschien Bidens Administration als Musterbeispiel an Effizienz, besonders im Vergleich zu Donald Trumps chaotischer Amtsführung. Selbst angesichts der verkürzten Übergangsphase – eine Folge der grotesken, ruinösen und beharrlich vorgebrachten Behauptung Trumps, er hätte die Wahl gewonnen – schienen Biden und seine Spitzen-Berater gut auf die Regierungsarbeit vorbereitet zu sein. Auch die aufgrund der Spannungen nach dem Angriff auf das Kapitol vom 6. Januar unter schwerer Bewachung durchgeführte Amtseinführung Bidens ging reibungslos über die Bühne. Nur Stunden später unterzeichnete er 17 Exekutivanordnungen und erließ Weisungen, die darauf abzielten, Trumps Politik rückgängig zu machen, wie etwa den Baustopp der Grenzmauer.
Bidens oberste legislative wie auch exekutive Priorität bestand darin, die außer Kontrolle geratene Covid-19-Pandemie in den Griff zu bekommen. Trumps Missmanagement der Gesundheitskrise führte nach Ansicht einiger Experten dazu, dass hunderttausende Amerikaner  unnötigerweise starben.
Bidens erste Amtshandlungen, darunter die Rücknahme des von Trump angeordneten Rückzugs der USA aus multinationalen Organisationen sowie die Umsetzung einer Umwelt- und Gleichstellungspolitik, präsentierten sich in puncto Umkehrung der Politik des Vorgängers weitreichender als die jedes anderen Präsidenten der jüngeren Vergangenheit. Der sympathische, zugängliche Biden erwies sich dabei jedoch als konsequenter als die meisten Menschen erwartet hatten. Er rief weiterhin zu überparteilicher Zusammenarbeit auf, aber wenn die Republikaner – wie anzunehmen war -  keinerlei Absicht zu gemeinsamer Arbeit an den Tag legten, demonstrierte Biden, dass er bereit war, seinen Weg auch ohne sie fortzusetzen.    
Die trumpifizierten Republikaner agieren stärker parteipolitisch motiviert als jemals zuvor und stellen sich sogar gegen einen Expertenvorschlag zur Verstärkung der eindeutig unzureichenden  Polizeikräfte des Kapitols. Einige Trump-Jünger beharrten sogar darauf, dass der von Trump ausgelöste Aufstand vom 6. Januar auf dem Kapitol, der mit dem Tod von fünf Menschen endete, keine große Sache war.
Unter denjenigen, die nicht im Trump-Kult gefangen sind, bestand Mitte Februar in Washington weit verbreiteter Konsens darüber, dass Biden "fehlerfrei agiert hatte."  Doch dann wurde seine scheinbar magische Präsidentschaft von einem Tsunami an Herausforderungen erfasst. Außer durch die Beibehaltung der Praktiken Trumps hätte Biden wenig tun können, um zu verhindern, dass sich in Mittelamerika und Mexiko herumsprach, seine Regierung würde Einwanderern gegenüber aufgeschlossener agieren. Anfang April war die Zahl der Grenzübertritte auf den höchsten Wert seit 15 Jahren gestiegen. Unter den Eingewanderten befand sich eine Rekordzahl an unbegleiteten Teenagern und Kindern, wodurch die Betreuungskapazitäten der Regierung überfordert waren.
Subscribe to Project Syndicate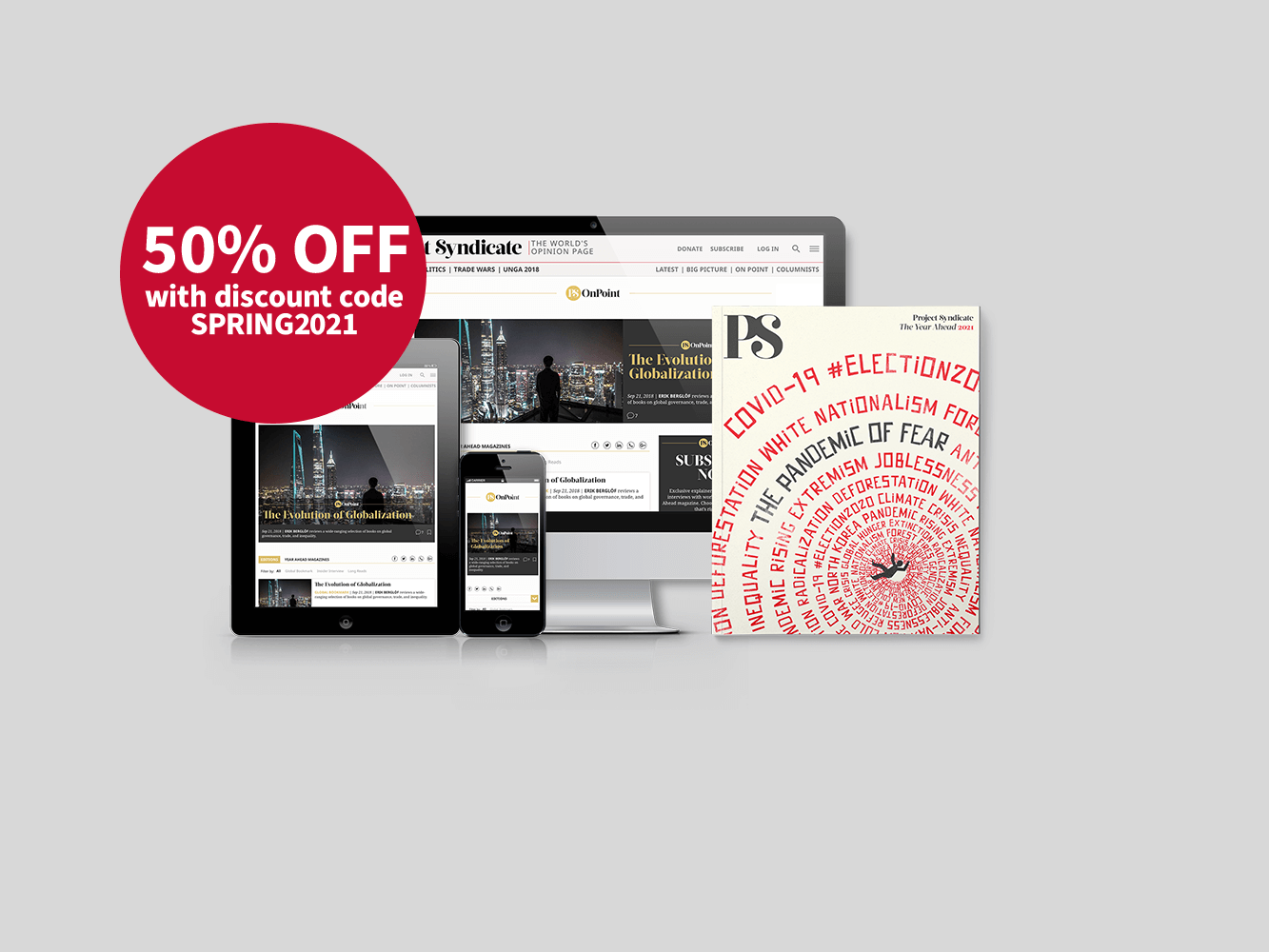 Subscribe to Project Syndicate
Enjoy unlimited access to the ideas and opinions of the world's leading thinkers, including weekly long reads, book reviews, topical collections, and interviews; The Year Ahead annual print magazine; the complete PS archive; and more. All for less than $5 a month.
In seltener Umständlichkeit und trotz seines unter Eid abgelegten Versprechens, transparente Regierungsarbeit zu leisten, führte Biden ins Treffen, dass es sich dabei nicht um eine Krise handelte und sich die Situation nicht von den Vorgängen unterschied, die jedes Jahr ungefähr zu dieser Zeit stattfinden. Ein weiterer seltener Fehltritt bestand darin, dass sich seine Administration zu den Zuständen in manchen Flüchtlingslagern an der Grenze in Schweigen hüllte.
Das Thema Einwanderung hat sich in den USA schon lange Zeit als unlösbares politisches Problem erwiesen, und die Republikaner nutzten die Gelegenheit, Biden in Verlegenheit zu bringen. Die Ernennung von Vizepräsidentin Kamala Harris zur Leiterin der Bemühungen um die Senkung der Einwanderungszahlen war für sie eine zweifelhafte Ehre. Harris' Aufgabe besteht darin, das Problem "an der Wurzel" zu packen – also herauszufinden, warum so viele Menschen aus  El Salvador, Guatemala und Honduras ihre Heimat verlassen oder ihre Kinder auf die höchst gefährliche Reise nach Norden schicken möchten. Als Ursachen werden korrupte Regierungen, schlechte Wirtschaftslage, Bandenkriminalität und der Klimawandel vermutet – also nichts, das sich in unmittelbarer Zukunft beheben lässt.
Ebenso wenig hatte die Biden-Administration auch mit der Wiederkehr eines anderen hartnäckigen Problems gerechnet, nämlich der leichten Verfügbarkeit von Waffen. Zwei Schießereien innerhalb einer Woche Ende März in Atlanta und anschließend in Boulder, Colorado sorgten dafür, dass das Thema wieder auf der Tagesordnung erschien. Allerdings ist die Frage des Waffenbesitzes in der Öffentlichkeit von weitaus größerem Interesse als bei den gewählten Politikern in Washington, die immer noch die Macht der Waffenlobby-Organisation National Rifle Association (NRA) fürchten, obwohl diese in rechtliche Verfahren verstrickt ist.
Wirklich verändert hat sich in den letzten Jahren der zunehmende Einfluss der Befürworter von Kontrollen beim Kauf von Schusswaffen. Nach jeder Schießerei wittern sie ihre Chance. Auch diesmal ist das so. Der populärste Vorschlag besteht in der Ausweitung von Hintergrundkontrollen für Waffenkäufer. Das Dumme ist nur, dass der Schütze von Boulder einen derartigen Hintergrundtest bestanden hatte. Biden hat sich unter anderem für eine Erneuerung des Verbots von Schusswaffen eingesetzt, allerdings will er nicht, dass dieses Thema seinen anderen Prioritäten in die Quere kommt.
Bidens oberste Priorität besteht derzeit in seinem mehr als 2 Billionen Dollar schweren Infrastrukturprogramm. Ich glaube, dass Bidens Entscheidung, bei diesem sowie auch im Falle des beinahe 2 Billionen Dollar umfassenden Pandemie-Rettungsplans "zu klotzen und nicht zu kleckern" mit einer unter der Oberfläche brodelnden Rivalität zwischen ihm und Barack Obama zu tun hat. Obama ging mit Vorsicht ans Werk, während Biden – einst Obamas loyaler Stellvertreter – bewusst wagemutig agiert. Obama schloss Kompromisse mit den Republikanern, die seine Vorschläge ohnehin ablehnten.
Bidens Infrastruktur-Konzept ist, gelinde gesagt, großzügig: Verkehrsminister Pete Buttigieg definiert es als "Grundlage, auf der Amerika florieren kann." Bidens Programm geht weit über das alte Straßen-Brücken-Wasser-Infrastrukturkonzept hinaus – das nur einen kleinen Teil seines Plans bildet – und erweitert es etwa um Fragen des Klimawandels und der häuslichen Pflege alter Menschen. Ein zweiter, Schulen und bezahlbaren Wohnraum umfassender Programmteil, soll zu einem späteren Zeitpunkt vorgelegt werden. Dieses gigantische Programm sowie auch die zu seiner Finanzierung notwendigen Steuern stoßen in beiden Parteien auf Widerstand, aber eine parlamentarische Entscheidung, wonach es im Senat (im so genannten Reconciliation-Verfahren) mit 51 Stimmen verabschiedet werden kann, wird Biden enorm helfen.
Manche Präsidenten verfallen dem "Mount-Rushmore-Syndrom" und bemühen sich ganz offenkundig darum, als wahre Größen in die Geschichte einzugehen. Biden, eigentlich ein Mann der leisen Töne und der Bescheidenheit, versucht sich mit diesen Programmen auf seine Art unsterblich zu machen.
Aus dem Englischen von Helga Klinger-Groier