Za hlubokou dekarbonizaci
NEW YORK – Pohleďme, co se minulý měsíc po celém světě dělo. Na přední stránky novin pronikla vlna veder v Austrálii, když teploty dosahující 45° Celsia přerušily tenisový turnaj Australian Open. Extrémní sucho v Kalifornii donutilo tamního guvernéra vyhlásit stav ohrožení. Rozsáhlé povodně v Indonésii připravily o život desítky lidí a desetitisíce dalších vyhnaly z domovů. Uhelný smog v Pekingu přiměl tamní obyvatele zůstat doma, uzavřel dálnice a odklonil lety. Takové události jsou každodenní výstrahy světu: probuďte se, než bude pozdě.
Vstoupili jsme do věku udržitelného rozvoje. Buď s planetou uzavřeme mír, anebo rozvrátíme svou těžce vydobytou prosperitu. Volba se zdá jasná, ale podstatné jsou činy, ne slova. Lidstvo dál kráčí po cestě zmaru, vedeno krátkodobou hamižností a nevědomostí.
Globální environmentální krize z velké části (byť ne zcela) plyne z celosvětového energetického systému založeného na fosilních palivech. Přes 80 % veškeré primární energie na světě pochází z uhlí, ropy a plynu. Když se tato fosilní paliva spalují, uvolňují oxid uhličitý, který pak mění klima planety. Fyzikální základy těchto dějů jsou známé už víc než sto let.
Několik ropných společností (nejnechvalněji prosluly ExxonMobil a Koch Industries) bohužel vynakládá obrovské prostředky na zasévání chaosu i tam, kde panuje jasný vědecký konsenzus. Chceme-li zachránit planetu, jak ji známe, a zachovat světové zásobování potravinami a blahobyt budoucích generací, neexistuje však jiná možnost než přejít na nový, nízkouhlíkový energetický systém.
Tato transformace se skládá ze tří částí. První je zdokonalená energetická účinnost, což znamená, že bychom k dosažení téže úrovně blahobytu měli spotřebovávat mnohem méně energie. Můžeme například koncipovat budovy tak, aby využívaly slunečního svitu a přirozené cirkulace vzduchu, a vyžadovaly tedy mnohem méně komerční energie na vytápění, klimatizaci a ventilaci.
Zadruhé je třeba, abychom se přiklonili k energii solární, větrné, vodní, geotermální a dalším formám, které se neopírají o fosilní paliva. Existují technologie jak tyto alternativy využít bezpečně, za dostupnou cenu a v dostatečně velkém rozsahu, aby nahradily téměř veškeré uhlí a velkou část ropy, jež dnes spotřebováváme. Do poloviny století by významnějším zdrojem energie zůstal jen zemní plyn (nejčistěji hořící fosilní palivo).
Subscribe to PS Digital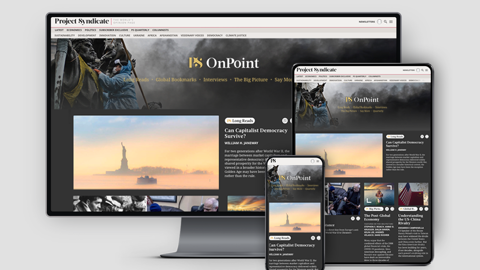 Subscribe to PS Digital
Access every new PS commentary, our entire On Point suite of subscriber-exclusive content – including Longer Reads, Insider Interviews, Big Picture/Big Question, and Say More – and the full PS archive.
Konečně v rozsahu, ve kterém budeme nadále spoléhat na fosilní paliva, je třeba emise CO2 z elektráren zachytávat, než uniknou do atmosféry. Zachycený CO2 by se pak pumpoval do podzemí nebo pod mořské dno, kde by byl dlouhodobě bezpečně uložen. Zachytávání a sekvestrace uhlíku (CCS) se už ve velmi malém rozsahu používá (hlavně s cílem dotěžit zbytky z vyčerpaných ropných vrtů). Pokud (a jedině pokud) se ukáže, že jde o úspěšnou metodu pro rozsáhlé využití, země závislé na uhlí jako Čína, Indie a Spojené státy by mohly své zásoby dál využívat.
Američtí politici už předvedli, že nejsou schopni vytvořit strategie, které by USA posunuly k využívání nízkouhlíkové energie. Takové strategie by zahrnovaly narůstající daň z emisí CO2, rozsáhlé úsilí v oblasti výzkumu a vývoje nízkouhlíkových technik, přechod k elektrickým vozidlům a nařízení zajišťující postupné uzavření všech uhelných elektráren s výjimkou těch, které zavedou CCS.
Politici však žádné z těchto strategií dostatečně neprosazují. Nepřátelé soustředěnosti na změnu klimatu vynaložili miliardy dolarů, aby ovlivnili tvůrce politik, podpořili předvolební kampaně obhájců fosilních paliv a porazili kandidáty, kteří si troufají podporovat čistou energetiku. Republikánská strana jako celek přitahuje obrovskou finanční podporu od odpůrců dekarbonizace a tito dárci agresivně bojují i proti nejmenším krokům směřujícím k obnovitelné energii. Součástí tábora zastánců fosilních paliv jsou ovšem i mnozí demokratičtí členové Kongresu USA.
Několik velkých hráčů v energetickém průmyslu, projevujících nulový zájem o pravdu (natož o naše děti, které ponesou důsledky naší současné pošetilosti), spojilo síly s Rupertem Murdochem. Při popírání vědeckých pravd se Murdoch, bratři Kochové a jejich spojenci chovají stejně jako tabákový průmysl, dokonce využívají týchž nájemných expertů.
Obecně vzato je situace stejná po celém světě. Všude, kde mocné lobbistické skupiny hájí zavedené uhelné či ropné zájmy, se politici zpravidla bojí vyslovit pravdu o nezbytnosti nízkouhlíkové energie. Smělé politiky říkající pravdu o změně klimatu najdeme hlavně v zemích, kde mocné lobby obhajující fosilní paliva nepůsobí.
Zamysleme se nad osudem jedné odvážné výjimky z tohoto pravidla. Bývalý australský premiér Kevin Rudd se ve své zemi, kde se těží uhlí, pokusil zavést politiku čisté energie. Když se Rudd ucházel o znovuzvolení, porazil jej kandidát, jemuž podpora aliance Murdocha a uhelných společností umožnila dát na kampaň mnohem víc peněz než Rudd. Murdochovy bulvární deníky chrlí protivědeckou propagandu brojící proti klimatickým politikám nejen v Austrálii, ale i v USA a jinde.
Důvod, proč na tom všem záleží, tkví v tom, že cestu k hluboké dekarbonizaci máme otevřenou. Času je však velmi málo. Svět musí přestat stavět nové uhelné elektrárny (s výjimkou těch, které zavedou CCS) a přiklonit se k nízkouhlíkové elektřině. Zhruba do roku 2030 musí přestat používat spalovací motory téměř ve všech nových osobních vozech a přejít k autům poháněným elektřinou. Nadto musí zavést úsporné technologie, které spotřebují méně komerční energie. Takové technologie jsou dostupné a používáním se zdokonalí a zlevní, dokážeme-li si udržet od těla fosilní lobby.
Pokud k tomu dojde, lidé po celém světě objeví něco úžasného. Nejenže zachrání planetu pro příští generaci, ale budou se také těšit ze slunečního svitu a čistého, zdravého vzduchu. A budou se ptát, co trvalo tak dlouho, když ve vážném ohrožení byla samotná Země.
Z angličtiny přeložil David Daduč