Sportovní kmeny
NEW YORK – Siya Kolisi, který počátkem listopadu zvedl v japonské Jokohamě nad hlavu pohár Webba Ellise, je prvním černošským kapitánem "Springboks" neboli reprezentace Jihoafrické republiky v ragby, přestože tato hra bývala kdysi spojována výlučně s bílými Jihoafričany. Kolisi se narodil v chudé černošské čtvrti ve Východním Kapsku. Jean de Villiers, bývalý kapitán Springboks, prohlásil, že toto vítězství bylo "pro celou zemi". Zároveň však bylo událostí, z níž se mohli radovat nejen Jihoafričané.
V jistém smyslu je však ještě pozoruhodnějším úkazem Michael Leitch, kapitán japonské reprezentace přezdívané "Brave Blossoms". Na několik týdnů se stal Leitch, syn novozélandského otce a fidžijské matky, hlavní mediální postavou týmu zastupujícího jednu z nejizolovanějších a etnicky nejhomogennějších společností na světě. Domorodá japonská "rasa" samozřejmě není čistá ani monolitická. Pro většinu Japonců však etnicitu nelze oddělit od národnosti. Japonskost mají v krvi. Leitch, který poprvé přicestoval do Japonska jako patnáctiletý školák, jako by dokazoval pravý opak. V Japonsku ho dnes oficiálně znají jako Leitche Michaela – jeho jména píšou v japonském pořadí.
Leitch však není jediný japonský ragbista ze zahraničí. Další členové týmu pocházejí z Jihoafrické republiky, Tongy, Nového Zélandu a Jižní Koreje. V propustnosti sportovních reprezentací se samozřejmě projevuje prvek oportunismu a pravidla pro ragby jsou obzvlášť velkorysá. Všechny státy jsou rády, když jejich týmy vyhrávají, a výtečné hráče berou odkudkoliv, kde je dokážou sehnat. Tento koncept sahá daleko před mezinárodní sportovní klání. Většina vojáků, kteří v řadách vojska 1. vévody z Wellingtonu porazili Napoleona, se koneckonců narodila mimo Britské ostrovy. Mnozí ani neuměli anglicky.
Přesto je zajímavé, jak rychle se kmenová cítění dokážou přizpůsobovat novým okolnostem. Není to tak dávno, co britské fotbalové kluby podobně jako kluby v mnoha evropských městech vyžadovaly přísnou loajalitu v geografických, etnických, a dokonce i náboženských aspektech. Téměř všichni fotbalisté byli místními kluky. Některé londýnské kluby byly spojovány s irskými fanoušky, jiné s Židy. V Glasgowě byli Rangers a Celtic zapřisáhlými soupeři, protože jeden tým byl údajně protestantský a druhý katolický. Už na sklonku minulého století však mohl špičkový britský tým mluvit o štěstí, když měl v sestavě více než dva britské hráče, neřkuli britského kouče. Loajalita fanoušků se ovšem nezměnila a příznivci různých klubů se stále s chutí perou. Zahraniční hráči jsou možná žoldáci, ale jsou to "naši žoldáci".
Bližší pohled na kmenovou loajalitu však záhy odhalí složitější obrázek, a to nejen ve sportu. Jeden maďarský Žid mi kdysi řekl, že antisemité nepohlížejí na Židy jako na skutečné Maďary až do chvíle, kdy židovský spisovatel získá Nobelovu cenu; v tu chvíli se Židé stávají "jedněmi z nás". Německá fotbalová hvězda s tureckými předky zase před časem prohlásila, že když Německo vyhrálo, byl národním hrdinou, ale v případě porážky byl prvním, na koho se svalovala vina.
Japonci s radostí slaví úspěchy tenistky Naomi Ósakaové (která má japonskou matku, haitského otce a vzdělání ze Spojených států) jako národní vítězství, ale to ještě neznamená, že ji mnoho lidí pokládá za skutečnou Japonku. Jeden z jejích sponzorů, výrobce nudlí Nissin Foods, se musel omluvit za reklamní kampaň, v níž tato hráčka tmavé pleti vystupovala jako kreslená postavička vyvedená v nejsvětlejších odstínech. Leitch má japonský pas od roku 2013 a mluví plynně japonsky. Jestli ho však většina Japonců pokládá za "jednoho z nás" i ve chvílích, kdy nestojí na ragbyovém hřišti, to je velká otázka.
Subscribe now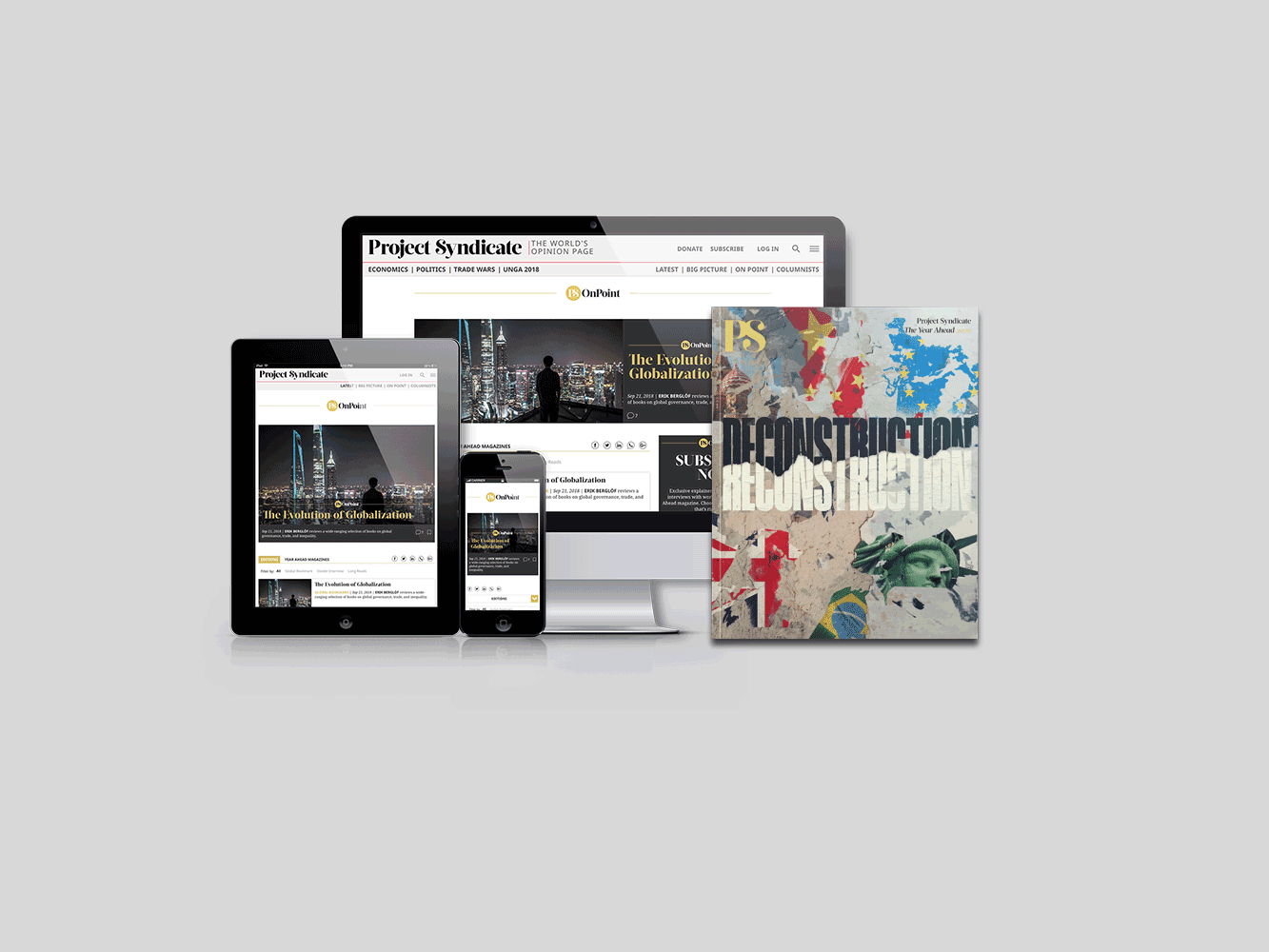 Subscribe now
Subscribe today and get unlimited access to OnPoint, the Big Picture, the PS archive of more than 14,000 commentaries, and our annual magazine, for less than $2 a week.
Přesto se i v úzkoprsém Japonsku poměry mění. V 50. letech se stal japonský profesionální zápasník jménem Rikidozan národním idolem, poněvadž pravidelně porážel daleko větší a obvykle nápadně světlovlasé bělošské soupeře. Tato klání však byla něčím více než pouhou ukázkou showmanství – obvykle začínala tím, že světlovlasý obr terorizoval menšího Asiata, a končila očistným vítězstvím, když chrabrý Japonec srazil cizáka k zemi. Zejména japonští muži pokoření porážkou ve válce a americkou okupací si vychutnávali pocit zprostředkované pomsty, když sledovali Rikidozana na televizorech vystavených ve výkladních skříních po celé zemi.
Skutečnost, že japonský hrdina se ve skutečnosti jmenoval Kim Sin-rak a narodil se v Severní Koreji, musela zůstat přísně střeženým tajemstvím. Pár lidí si ještě pamatuje, jak si v bytě postavil malý oltář s matčinou fotografií obklopenou různými korejskými artefakty. Věděli to však jen jeho nejdůvěrnější přátelé. Na veřejnosti vystupoval jako ryzí Japonec. (Pohyboval se však v pochybných kruzích, a když ho v jednom tokijském nočním klubu v roce 1963 pobodal gangster, bohužel se po operaci řádně nezotavoval, pokračoval v hýření a po pár dnech zemřel.)
Minulost Leitchovy rodiny samozřejmě není žádným tajemstvím. Zahraniční původ by těžko dokázal utajit už vzhledem ke svému vzhledu. O to však právě jde. Rikidozan musel zachraňovat čest Japonců tím, že se vydával za někoho, kým nebyl. Leitch nemá v krvi nic japonského. Nemálo Japonců by ho stále mohlo pokládat za cizáka. Přesto se stal kapitánem státní reprezentace. Můžeme to nazývat oportunismem. Ale také je to známka pokroku.
Z angličtiny přeložil Jiří Kobělka