¿Por qué Japón está libre de populismo?
TOKIO – En un momento en que una ola de populismo de derecha está arrasando en Europa, Estados Unidos, India y partes del sudeste asiático, Japón hasta el momento parece ser inmune. No existen demagogos japoneses, como Geert Wilders, Marine Le Pen, Donald Trump, Narendra Modi o Rodrigo Duterte, que hayan explotado los resentimientos acumulados contra las elites culturales y políticas. ¿Por qué?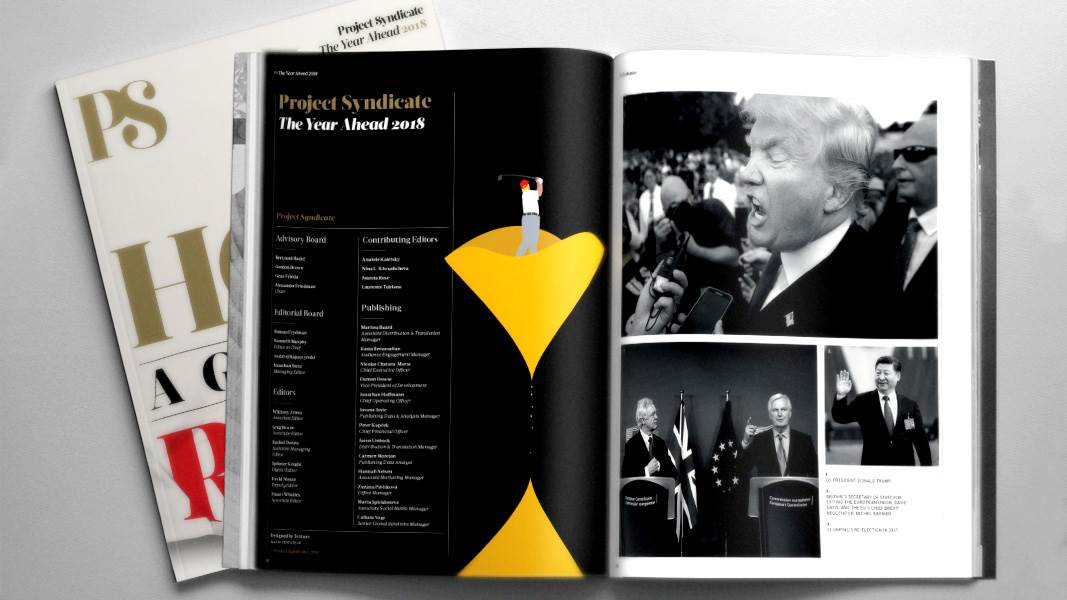 The Year Ahead 2018
The world's leading thinkers and policymakers examine what's come apart in the past year, and anticipate what will define the year ahead.
Quizá lo más cerca que haya estado Japón fue el ex alcalde de Osaka, Toru Hashimoto, que primero se hizo famoso como personalidad de la televisión y luego, en los últimos años, cayó en ridículo cuando elogió el uso de esclavas sexuales en tiempos de guerra por parte el Ejército Imperial Japonés. Sus visiones ultranacionalistas y su aversión a los medios liberales fueron una versión familiar del populismo de derecha. Pero nunca llegó a entrar en la política nacional.
Hashimoto ahora le brinda asesoramiento gratuito al primer ministro Shinzo Abe sobre cómo ajustar las leyes de seguridad nacional. Y allí reside una explicación para la aparente falta de un populismo de derecha en Japón. Nadie podría estar más identificado con la elite política que Abe, que es nieto de un ministro de gabinete de guerra y luego primer ministro, e hijo de un ministro de Relaciones Exteriores. Y, aun así, comparte la hostilidad de los populistas de derecha hacia los académicos, periodistas e intelectuales liberales.
La democracia japonesa de posguerra estuvo influenciada en los años 1950 y 1960 por una elite intelectual que conscientemente pretendía alejar a Japón de su nacionalismo de tiempos de guerra. Abe y sus aliados intentan acabar con esa influencia. Sus esfuerzos por revisar la constitución pacifista de Japón, restablecer el orgullo de sus antecedentes de tiempos de guerra y desacreditar a los medios tradicionales "elitistas", como el periódico de centro-izquierda Asahi Shimbun, les ha valido el elogio del ex estratega de Donald Trump, Stephen Bannon, quien definió a Abe como "un Trump antes que Trump".
En algunos sentidos, Bannon tenía razón de pensar así. En noviembre de 2016, Abe le dijo a Trump: "Logré domesticar al Asahi Shimbun. Espero que usted también logre domesticar a The New York Times". Aunque fuera una broma entre dos líderes supuestamente democráticos, fue vergonzoso.
De manera que se podría decir que hay elementos del populismo de derecha presentes en el corazón del gobierno japonés, representados por el vástago de una de las familias más elitistas del país. Esta paradoja, sin embargo, no es la única explicación para la ausencia de un Le Pen, Modi o Wilders japonés.
Para que los demagogos puedan agitar resentimientos populares contra los extranjeros, los cosmopolitas, los intelectuales y los liberales, deben existir disparidades financieras, culturales y educativas enormes y obvias. Eso fue lo que pasó en Japón a mediados de los años 1930, cuando militares exaltados montaron un golpe fallido que apuntaba a los banqueros, empresarios y políticos que, en su opinión, estaban corrompiendo a la política japonesa.
El golpe estuvo respaldado por soldados que, en muchos casos, se habían criado en zonas rurales pobres. Sus hermanas a veces tenían que ser vendidas a grandes burdeles de las ciudades para que sus familias pudieran sobrevivir. Las elites urbanas cosmopolitas y occidentalizadas eran el enemigo. Y la opinión pública estaba, en gran medida, del lado de los rebeldes.
El Japón contemporáneo puede tener sus defectos, pero hoy es mucho más igualitario que Estados Unidos, India o muchos países en Europa. Los impuestos elevados hacen difícil legar la riqueza heredada. Y, a diferencia de Estados Unidos, donde se hace ostentación de la prosperidad material -el propio Trump lo hace-, los japoneses más adinerados tienden a ser discretos. Japón ha superado a Estados Unidos como un país de clase media.
El resentimiento se alimenta de una sensación de humillación, una pérdida del orgullo. En una sociedad donde el valor humano está medido por el éxito individual y simbolizado por la celebridad y el dinero, es fácil sentirse humillado cuando esto no existe, cuando se es una cara más en la multitud. En casos extremos, individuos desesperados asesinarán a un presidente o a una estrella de rock sólo para figurar en las noticias. Los populistas encuentran respaldo entre esos rostros resentidos en la multitud, gente que siente que las elites la han traicionado al privarla de su sentido del orgullo de su clase, su cultura o su raza.
Esto todavía no ha sucedido en Japón. La cultura puede tener algo que ver con esto. La autopromoción, al estilo norteamericano, se ve con malos ojos. Sin duda, Japón tiene una cultura de la celebridad promovida por los medios masivos. Pero la autoestima no está tan definida por la fama o la riqueza individual sino por ocupar un lugar en una empresa colectiva, y hacer el trabajo que a uno se le asigna de la mejor manera posible.
La gente en las tiendas departamentales parece sentirse genuinamente orgullosa de envolver la mercadería a la perfección. Algunos empleos -pensemos en esos hombres uniformados de mediana edad que sonríen y hacen una reverencia ante los clientes que entran a un banco- parecen ser absolutamente superfluos. Sería ingenuo suponer que estas tareas dan una enorme satisfacción, pero ofrecen a la gente un sentido de pertenencia, un rol en la sociedad, por más humilde que sea.
Mientras tanto, la economía japonesa doméstica sigue siendo una de las más protegidas y menos globalizadas del mundo desarrollado. Existen varias razones por las que los gobiernos japoneses se han resistido al neoliberalismo promovido en Occidente desde los años de Reagan/Thatcher: intereses corporativos, privilegios burocráticos y política clientelista de diferente tipo. Pero preservar el orgullo en el empleo, en el costo de la eficiencia, es una de ellas. Si esto sofoca a la empresa individual, que así sea.
El thatcherismo probablemente haya hecho que la economía británica fuera más eficiente. Pero al aplastar a los sindicatos y a otras instituciones establecidas de la cultura de la clase trabajadora, los gobiernos también han eliminado los motivos de orgullo de la gente que suele hacer trabajos desagradables. La eficiencia no crea un sentido de comunidad. Quienes hoy se sienten a la deriva le echan la culpa por su situación a las elites más educadas y a veces más talentosas -y que, por ende, pueden progresar en una economía global.
Una de las consecuencias más irónicas es que mucha de esa gente en Estados Unidos ha elegido como presidente a un multimillonario narcisista que hace alarde de su riqueza, de su éxito personal y de su genialidad. Es poco probable que algo así suceda en Japón. Tal vez aprendamos algo valioso si reflexionamos sobre los motivos de por qué esto es así.