Proč je Japonsko bez populistů?
TOKIO – Zdá se, že i v době, kdy se přes Evropu, Spojené státy, Indii a některé části jihovýchodní Asie valí vlna pravicového populismu, je Japonsko vůči této hrozbě prozatím imunní. V Japonsku neexistují demagogové typu Geerta Wilderse, Marine Le Penové, Donalda Trumpa, Naréndry Módího či Rodriga Duterteho, kteří využívají potlačované zášti vůči kulturním či politickým elitám. Proč tomu tak je?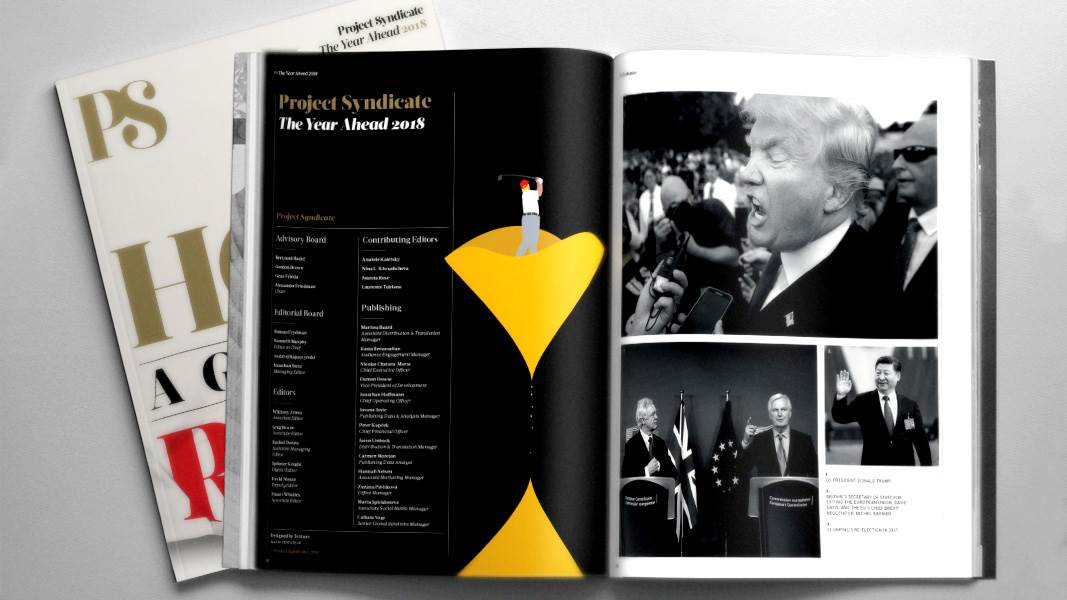 The Year Ahead 2018
The world's leading thinkers and policymakers examine what's come apart in the past year, and anticipate what will define the year ahead.
K populismu měl v Japonsku zřejmě nejblíže bývalý starosta Ósaky Tóru Hašimoto, který si udělal jméno jako televizní celebrita a v posledních letech si uřízl ostudu, když schvaloval využívání sexuálních otrokyň japonskou císařskou armádou během války. Jeho ultranacionalistické postoje a odpor k liberálním médiím představovaly důvěrně známou verzi pravicového populismu. Nikdy se mu však nepodařilo proniknout do celostátní politiky.
Dnes dává Hašimoto bezplatné rady premiéru Šinzó Abemu v otázce zpřísňování zákonů o národní bezpečnosti. A právě zde spočívá jedno vysvětlení zdánlivé neexistence pravicového populismu v Japonsku. Nikdo nemůže být ztotožňován s politickou elitou více než Abe, vnuk válečného ministra a pozdějšího premiéra a syn ministra zahraničí. Přesto tento člověk sdílí nevraživost pravicových populistů vůči liberálním akademikům, novinářům a intelektuálům.
Poválečnou japonskou demokracii ovlivnila v 50. a 60. letech intelektuální elita, která se vědomě snažila distancovat Japonsko od jeho válečného nacionalismu. Abe a jeho spojenci se nyní pokoušejí tento vliv vymazat. Premiérovo úsilí revidovat pacifistickou ústavu země, obnovit hrdost na její válečnou minulost a zdiskreditovat "elitářská" média hlavního proudu, jako je levicový list Asahi Šimbun, mu vysloužilo chválu Stephena Bannona, někdejšího stratéga Donalda Trumpa; Bannon dokonce Abeho označil za "Trumpa před Trumpem".
V některých ohledech si to Bannon myslí právem. V listopadu 2016 řekl Abe Trumpovi: "Daří se mi krotit Asahi Šimbun. Doufám, že budete stejně úspěšný při krocení New York Times." I jako vtip pronesený mezi dvěma údajně demokratickými lídry to bylo ohavné.
Dalo by se tedy říci, že některé prvky pravicového populismu se nacházejí přímo v srdci japonské vlády, jejímž ztělesněním je potomek jedné z nejelitnějších rodin v zemi. Tento paradox však není jediným vysvětlením neexistence japonské verze Le Penové, Módího či Wilderse.
Aby mohli demagogové rozdmýchávat nevraživost obyvatel vůči cizincům, kosmopolitům, intelektuálům a liberálům, musí v jejich zemi existovat zjevné finanční, kulturní a vzdělávací nepoměry. To byl případ Japonska v polovině 30. let, kdy horké hlavy v armádě zorganizovaly neúspěšný pokus o převrat namířený proti bankéřům, podnikatelům a politikům, kteří podle názoru pučistů korumpovali japonské politické zřízení.
Tento pokus o puč podporovali vojáci, kteří často vyrostli v chudých venkovských oblastech. Jejich sestry někdy musely být prodány do nevěstinců ve velkých městech, aby jejich rodiny přežily. Nepřítelem tedy byly kosmopolitní městské elity ovlivněné Západem. Veřejné mínění stálo převážně na straně vzbouřenců.
Současné Japonsko má možná své chyby, ale je mnohem více rovnostářské než USA, Indie či řada evropských zemí. Zděděné bohatství se kvůli vysokým daním těžko předává dál. A na rozdíl od USA, kde se lidé v čele se samotným Trumpem hmotným blahobytem vychloubají, nejzámožnější Japonci mají sklon být diskrétní. Jako země střední třídy předčilo Japonsko USA.
Záštiplnost vyvěrá z pocitu ponížení, ze ztráty hrdosti. Ve společnosti, kde se cena člověka měří jeho individuálním úspěchem symbolizovaným slávou a penězi, se lze snadno cítit poníženým, pokud se člověku těchto věcí nedostává nebo pokud si připadá jako jeden z davu. V extrémních případech pak zoufalí jedinci zavraždí prezidenta či rockovou hvězdu, jen aby se dostali do zpráv. Populisté nacházejí mezi těmito nevraživými tvářemi v davu podporu – mezi lidmi, kteří trpí pocitem, že je elity zradily, protože jim sebraly pocit hrdosti na jejich společenské zařazení, na jejich kulturu či rasu.
V Japonsku k tomu zatím nedošlo. Možná je to právě otázka kultury. Sebeprosazování se na americký způsob je zde přijímáno s nevolí. Jistě, i Japonsko má kulturu celebrit taženou hromadnými sdělovacími prostředky. Lidskou sebeúctu tam však nedefinuje ani tak individuální sláva či bohatství, jako spíše podíl na nějakém společném úsilí a co nejlepší plnění svěřených úkolů.
Prodavačky v obchodních domech jako by byly opravdu hrdé na to, že dokážou nádherně zabalit zboží. Některá pracovní místa – například muži středního věku v uniformách, kteří se uklánějí a usmívají na zákazníky vstupující do banky – se zdají být zcela nadbytečná. Bylo by naivní předpokládat, že tyto činnosti poskytují lidem velké uspokojení, avšak alespoň jim nabízejí nějakou roli, nějaké místo ve společnosti, jakkoliv skromné.
Japonská ekonomika přitom zůstává jednou z nejchráněnějších a nejméně globalizovaných v rozvinutém světě. Existuje několik důvodů, proč japonské vlády odolávaly a odolávají neoliberalismu prosazovanému na Západě od dob Reagana a Thatcherové: zájmy velkých firem, výsady státních úředníků a politika porcování medvěda v nejrůznějších podobách. Jedním z důvodů je však také zachování hrdosti na zaměstnání i za cenu ztráty efektivity. A pokud to dusí individuálního podnikatelského ducha, tak ať.
Thatcherismus pravděpodobně zvýšil efektivitu britské ekonomiky. Rozdrcením odborů a dalších zavedených institucí kultury pracujících vrstev však vlády sebraly také zdroje hrdosti lidem, kteří často vykonávají nepříjemné práce. Efektivita nevytváří pocit sounáležitosti. Lidé, kteří dnes mají dojem, že je společnost nechala na holičkách, viní ze svého nelehkého osudu elity, které mají lepší vzdělání a leckdy jsou i talentovanější – a tudíž mají lepší předpoklady k tomu, aby se jim v globální ekonomice dařilo.
Jedním z paradoxních důsledků je, že mnozí z těchto lidí si v USA zvolili za prezidenta narcistního miliardáře, který se vychloubá svým bohatstvím, osobním úspěchem a genialitou. Nic podobného se v Japonsku nejspíš nestane. Možná bychom se mohli zamyslet nad otázkou, proč tomu tak je, a vzít si cenné ponaučení.
Z angličtiny přeložil Jiří Kobělka.