Abenomics Setelah Abe
TOKYO – Parlemen Jepang dijadwalkan akan melantik Yoshihide Suga sebagai perdana menteri Jepang yang baru pada minggu ini. Ia akan menggantikan Shinzo Abe, yang mengumumkan pengunduran dirinya pada bulan lalu karena alasan kesehatan, setelah menjabat selama hampir delapan tahun. Para pengamat di dalam dan luar Jepang kini bertanya apakah arah kebijakan ekonomi pemerintahan Abe (yang disebut dengan Abenomics) akan mengalami perubahan signifikan di bawah pemerintahan Suga, dan jika berubah, maka seperti apa perubahan tersebut.   
Jawaban dari pertanyaan-pertanyaan tersebut akan memberikan dampak geopolitik yang penting. Jepang masih berusaha mengatasi guncangan negatif akibat COVID-19, dan kesehatan perekonomiannya menjadi semakin penting karena semakin besarnya konfrontasi antara Amerika Serikat (AS) dan Tiongkok.
Banyak pihak di luar Jepang mungkin berasumsi bahwa Suga tidak akan melakukan banyak perubahan, dan ia menampilkan dirinya kepada Partai Demokrat Liberal (LDP) sebagai kandidat yang membawa "kontinuitas" sebagai pengganti Abe. Mungkin alasan tersebut adalah alasan terbaik yang bisa ia berikan, setelah ia menjabat sebagai sekretaris kabinet, yang merupakan posisi paling berpengaruh kedua di Jepang, selama delapan tahun masa jabatan Abe sebagai perdana menteri. 
Berdasarkan pandangan ini, Suga akan berada dalam posisi yang aman jika tetap berpegang pada Abenomics. Pelonggaran kuantitatif berskala besar yang dilakukan sejak tahun 2013 oleh Gubernur Bank Sentral Jepang (Bank of Japan/BOJ) Haruhiko Kuroda – yang ditunjuk oleh Abe – akan terus dilakukan. Suga juga akan menghindari pengetatan fiskal yang kuat dan tergesa-gesa, meskipun langkah-langkah yang diambil pemerintahan Abe dalam merespons pandemi semakin meningkatkan utang bersih pemerintah Jepang, yang berkisar pada 150% dari PDB, yang sudah merupakan tingkat tertinggi di antara negara-negara maju.     
Tapi jika Jepang ingin mempertahankan posisi global mereka, Suga harus mengambil langkah yang berbeda dari pendahulu dan atasannya, serta melakukan berbagai reformasi struktural. Memang benar bahwa pasar tenaga kerja yang meningkatkan produktivitas dan reformasi peraturan hampir dipastikan menjadi satu-satunya cara untuk meningkatkan pertumbuhan ekonomi Jepang.   
Meskipun kebijakan-kebijakan Abe membantu mengakhiri stagnasi deflasi Jepang, catatan menyeluruh dari Abenomics tidak begitu membanggakan. Antara tahun 2013 dan 2019, pertumbuhan PDB tahunan rata-rata hanya sebesar 1%, dan melebihi 2% hanya pada dua tahun dari delapan tahun masa jabatan Abe sebagai perdana menteri.
Subscribe to Project Syndicate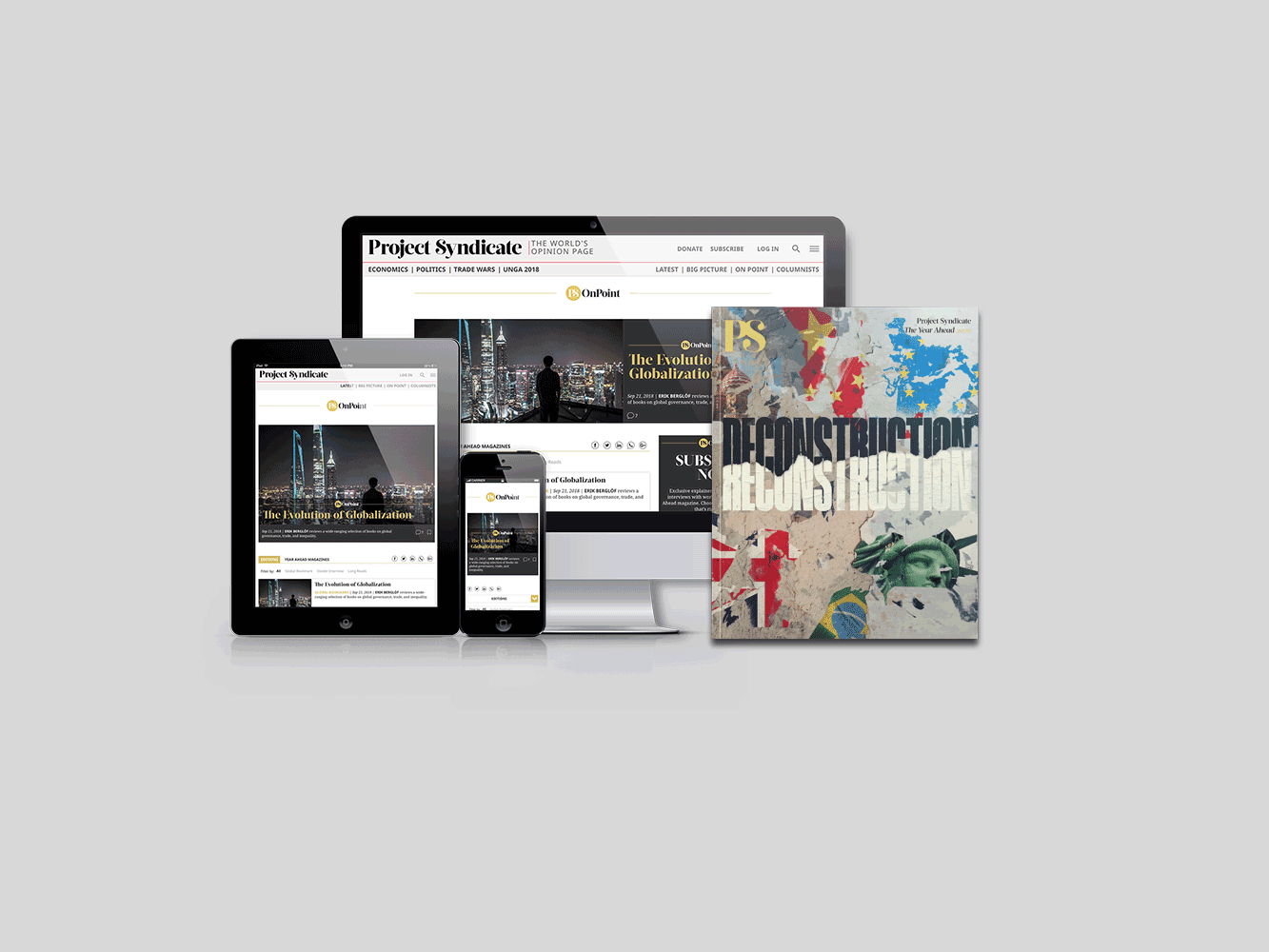 Subscribe to Project Syndicate
Enjoy unlimited access to the ideas and opinions of the world's leading thinkers, including weekly long reads, book reviews, and interviews; The Year Ahead annual print magazine; the complete PS archive; and more – All for less than $9 a month.
Selain itu, data BOJ menunjukkan bahwa pertumbuhan dalam Abenomics sebagian besar disebabkan oleh peningkatan modal dan input tenaga kerja, dibandingkan peningkatan produktivitas. Berlawanan dengan pandangan konvensional yang menyatakan bahwa perekonomian Jepang menghadapi tantangan yang besar karena populasi yang menua dan angkatan kerja yang berkurang, jumlah orang yang bekerja terus bertambah selama masa pemerintahan Abe karena lebih banyak perempuan yang bergabung ke dalam angkatan kerja. Tapi karena tingkat partisipasi perempuan di angkatan kerja Jepang sudah lebih tinggi dibandingkan di AS, maka tren ini mungkin akan berhenti dalam waktu dekat.    
Pertumbuhan produktivitas yang terhambat mengindikasikan bahwa reformasi struktural yang dilakukan pemerintahan Abe (yang sering disebut dengan "anak panah ketiga" Abenomics) tidak mencapai hasil yang diperlukan oleh Jepang. Memang benar bahwa penyelamatan yang dilakukan oleh Jepang terhadap perjanjian dagang 12 negara Kemitraan Trans-Pasifik setelah penarikan diri AS oleh Presiden Donald Trump, dan perjanjian perdagangan bebas dengan Uni Eropa baru-baru ini adalah pencapaian-pencapaian yang penting dan patut mendapat pujian, khususnya mengingat adanya peningkatan sentimen proteksionisme yang ditumbuhkan oleh Trump. Pemerintahan Abe juga mencapai kemajuan yang besar dalam tata kelola perusahaan. Tapi dampak agregat dari Abenomics masih terlalu kecil.     
Mengingat tingkat kepuasan terhadap Abe yang selalu tinggi dan cerdasnya para penasihat ekonominya, mengapa Abe gagal melakukan reformasi struktural yang lebih berani? Salah satu jawabannya adalah ia tidak harus melakukan hal tersebut, karena tidak adanya partai oposisi yang efektif yang menawarkan alternatif terhadap Abenomics. 
Jawaban lain terhadap pertanyaan tersebut adalah Abe punya prioritas kebijakan non-ekonomi yang besar – merevisi konstitusi 1947 Jepang yang menganut pasifisme – dan ia selalu berniat untuk menggunakan modal politiknya pada permasalahan tersebut. Tapi pada akhirnya ia juga gagal mencapai prioritas tersebut karena tidak ada kondisi yang memungkinkan reformasi konstitusi untuk mendapatkan dukungan mayoritas dari para pemilih. 
Mendukung reformasi struktural yang beragam yang dihindari oleh para pendahulunya mengharuskan Suga untuk menghadapi kelompok-kelompok lobi dan kepentingan yang berpengaruh – banyak dari mereka yang berasal dari Partai Demokrat Liberal – dan memobilisasi opini masyarakat dengan terampil. Tapi beberapa pernyataan Suga dalam kampanye kepemimpinan LDP baru-baru ini memberikan harapan bahwa ia mungkin menjadi perdana menteri yang lebih berani dan teguh dari yang diperkirakan oleh banyak orang. 
Misalnya, Suga secara eksplisit terbuka dengan gagasan untuk memperbolehkan kompetitor baru memasuki sektor yang diatur dengan ketat seperti telekomunikasi seluler dan pertanian. Ia juga mengumumkan niatnya untuk mendirikan badan baru yang ditugaskan untuk merombak infrastruktur digital pemerintah.
Tanda lain bisa dilihat pada masa jabatan Suga sebagai sekretaris kabinet, ketika ia mendorong para birokrat Jepang mengubah kebijakan-kebijakan yang ketika itu dianggap tidak boleh diubah. Menghapuskan pembatasan penerbitan visa membuka jalan bagi peningkatan jumlah turis asing yang mengunjungi Jepang dalam beberapa tahun terakhir secara signifikan. Dan membenahi peraturan penggunaan bendungan yang terhambat oleh permasalahan rumit mengenai kewenangan kementerian memungkinkan para pengambil kebijakan melakukan persiapan bencana alam dengan lebih baik. 
Meskipun demikian, sebagian besar ketidakpastian terjadi di masa depan, dan Suga akan menghadapi dua hambatan dalam jangka pendek. Pertama, ia harus terlihat mempunyai gaya kepemimpinannya sendiri. Para pendahulu Suga – termasuk Abe dan Taro Aso – berasal dari keluarga politik (bahkan bangsawan) yang terkenal, sedangkan Suga berasal dari keluarga kelas menengah.
Meskipun Suga sudah membuktikan dirinya adalah manajer yang sangat andal ketika menjabat sebagai sekretaris kabinet bagi Abe, peran barunya mengharuskan Suga untuk tidak hanya bertindak sebagai pelaksana, tapi juga sebagai pemimpin. Tidak sekedar mengatur para birokrat elite di belakang layar, Suga juga harus memberikan inspirasi bagi negara. Ujian pertamanya adalah untuk memimpin respons pandemi pemerintah, karena pemerintahan Abe memberikan sinyal yang membingungkan mengenai apakah pembatasan kegiatan lebih dipilih dibandingkan melakukan lebih banyak kegiatan perekonomian – atau sebaliknya – sering kali membingungkan masyarakat Jepang.           
Tantangan kedua yang akan dihadapi oleh Suga adalah mengkonsolidasi kekuatan di dalam partainya. Ia dipilih sebagai pemimpin LDP dengan dukungan dari sebagian besar faksi di dalam partainya, tapi ia tidak tergabung dalam faksi mana pun. Ketika ia sudah menunjuk kabinetnya, persaingan dan keretakan internal di dalam LDP kemungkinan akan muncul. 
Strategi terbaik bagi Suga mungkin adalah langsung menyelenggarakan pemilu. Memenangkan pemilu, dibandingkan hanya unggul dalam persaingan internal partai, akan memberikan Suga amanah dari masyarakat yang diperlukan untuk melakukan kebijakan perekonomian yang lebih berani.