La inflación, la Fed y el panorama general
CAMBRIDGE – La inflación -sus causas y su conexión con la política monetaria y las crisis financieras- fue el tema de la conferencia internacional de banqueros centrales y académicos de este año en Jackson Hole, Wyoming. Pero, si bien el deseo de los responsables de las políticas económicas de estar preparados para potenciales riesgos futuros que afecten la estabilidad de precios es entendible, no colocaron estos temores en el contexto de los recientes desarrollos inflacionarios a nivel global -o dentro de una perspectiva histórica.
Para los 189 países sobre los cuales hay datos disponibles, la inflación mediana para 2015 está apenas por debajo del 2%, levemente menos que en 2014 y, en la mayoría de los casos, es inferior a las proyecciones del Fondo Monetario Internacional en su Perspectiva Económica Mundial de abril. Como demuestra el gráfico más abajo, la inflación en casi la mitad de todos los países (avanzados y emergentes, grandes y pequeños) hoy está en 2% o por debajo de ese nivel (la manera en que la mayoría de los banqueros centrales definen la estabilidad de precios).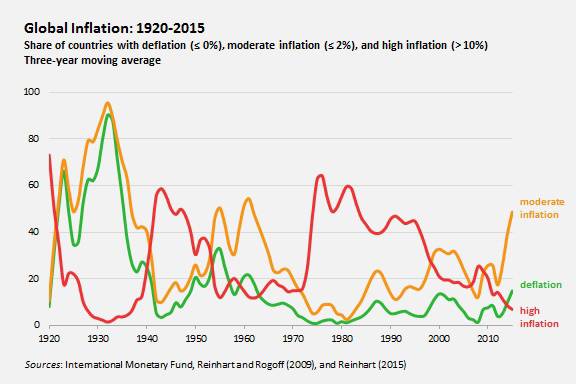 To continue reading, please log in or enter your email address.
To continue reading, please log in or register now. After entering your email, you'll have access to two free articles every month. For unlimited access to Project Syndicate, subscribe now.