A Inflação, a Fed, e o Panorama Geral
CAMBRIDGE – A inflação – as suas causas e a sua ligação à política monetária e às crises financeiras – foi o tema da conferência internacional de responsáveis por bancos centrais e académicos deste ano em Jackson Hole, no Wyoming. Mas, embora seja compreensível o desejo dos responsáveis políticos em prepararem-se contra potenciais riscos futuros para a estabilidade dos preços, não colocaram estas preocupações no contexto dos desenvolvimentos recentes da inflação a nível global – ou mesmo numa perspectiva histórica.
Para os 189 países para os quais existem dados disponíveis, a inflação média para 2015 está pouco abaixo dos 2%, um pouco menos que em 2014 e, na maior parte dos casos, abaixo das projecções do Fundo Monetário Internacional no seu World Economic Outlookde Abril. Como mostra a seguinte figura, a inflação em quase metade de todos os países (avançados e emergentes, grandes e pequenos) está agora a 2% ou abaixo disso (que é como a maioria dos responsáveis de bancos centrais definem a estabilidade de preços).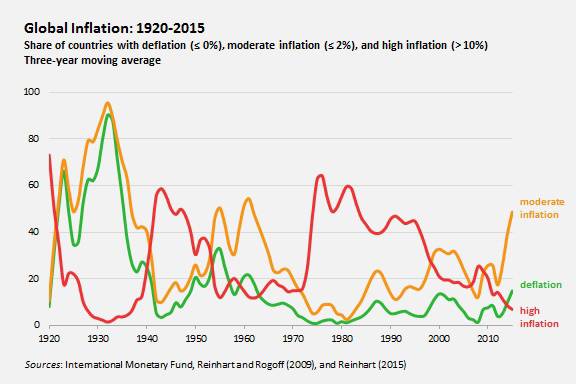 To continue reading, please log in or enter your email address.
Registration is quick and easy and requires only your email address. If you already have an account with us, please log in. Or subscribe now for unlimited access.