L'inflazione, la Fed e la visione d'insieme
CAMBRIDGE – L'inflazione – le sue cause e il collegamento alle crisi finanziarie e di politica monetaria – è stata al centro della conferenza internazionale dei banchieri centrali e degli accademici tenutasi quest'anno a Jackson Hole, nel Wyoming. Se però il desiderio dei policymaker di prepararsi ai potenziali rischi futuri per la stabilità dei prezzi è comprensibile, non hanno inquadrato queste preoccupazioni nell'ambito del recente andamento dell'inflazione a livello globale – o in una prospettiva storica.
Per i 189 Paesi per i quali sono disponibili i dati, l'inflazione media per il 2015 si attesta appena sotto il 2%, in leggero ribasso rispetto al 2014 e, nella maggior parte dei casi, inferiore alle proiezioni del Fondo monetario internazionale contenute nel World Economic Outlookdi aprile. Come mostrano i dati seguenti, l'inflazione in quasi la metà dei Paesi (avanzati ed emergenti, di piccole e grandi dimensioni) è ora pari o inferiore al 2% (che secondo molti banchieri centrali corrisponde alla definizione di stabilità dei prezzi).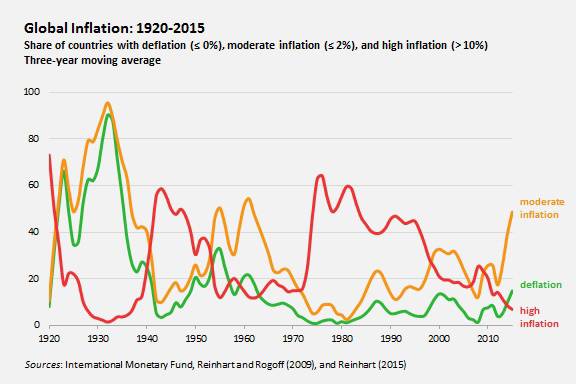 To continue reading, please log in or enter your email address.
Registration is quick and easy and requires only your email address. If you already have an account with us, please log in. Or subscribe now for unlimited access.