L'inflation, la Fed et la perspective globale
CAMBRIDGE – L'Inflation – ses causes et sa relation avec la politique monétaire et les crises financières – était le thème cette année de la conférence internationale des banquiers centraux et universitaires à Jackson Hole, dans le Wyoming. Cependant, autant la volonté des décideurs de se préparer à de futurs risques éventuels sur la stabilité des prix est compréhensible, autant ils n'ont pas replacé ces préoccupations dans le contexte de l'évolution récente de l'inflation au niveau mondial – ou dans une perspective historique.
Pour les 189 pays pour lesquels des données sont disponibles, l'inflation moyenne pour 2015 se situe juste en dessous de 2%, niveau légèrement inférieur à celui de 2014 et, dans la plupart des cas, en deçà des projections publiées par le Fonds monétaire international dans son World Economic Outlook du mois d'avril. Comme le montre le graphique ci-dessous, l'inflation dans pratiquement la moitié de tous les pays (avancés et émergents, grands et petits) est maintenant égale ou inférieure à 2% (ce qui correspond au niveau défini par la plupart des banquiers centraux comme la stabilité des prix).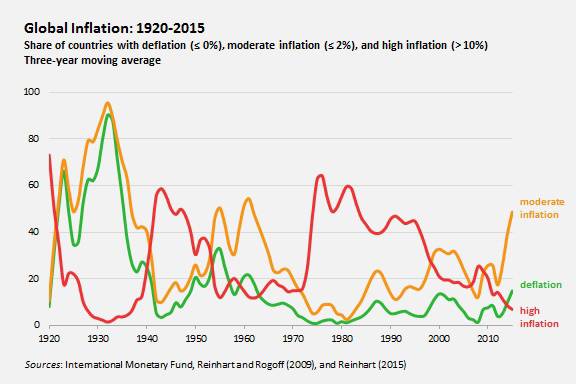 We hope you're enjoying Project Syndicate.
To continue reading, subscribe now.
Get unlimited access to PS premium content, including in-depth commentaries, book reviews, exclusive interviews, On Point, the Big Picture, the PS Archive, and our annual year-ahead magazine.
Already have an account or want to create one? Log in