Inflace, Fed a vnímání souvislostí
CAMBRIDGE – Tématem letošní mezinárodní konference centrálních bankéřů a akademiků v Jackson Hole v americkém státě Wyoming byla inflace – její příčiny a spojitost s měnovou politikou a finančními krizemi. Avšak třebaže touha tvůrců politik připravit se na budoucí rizika ohrožující cenovou stabilitu je pochopitelná, nezasadili tyto obavy do kontextu nedávného dění na globální úrovni – ani do historické perspektivy.
Ve 189 zemích, pro něž jsou k dispozici data, se mediánní inflace v roce 2015 pohybuje těsně pod 2 %, o něco níž než v roce 2014 a ve většině případů pod hladinou odhadů, jež Mezinárodní měnový fond zveřejnil ve svých dubnových Světových ekonomických vyhlídkách. Jak je vidět níže v grafu, v téměř polovině zemí (vyspělých i rozvojových, velkých i malých) teď inflace dosahuje nanejvýš 2 % (což je podle většiny centrálních bankéřů definice cenové stability).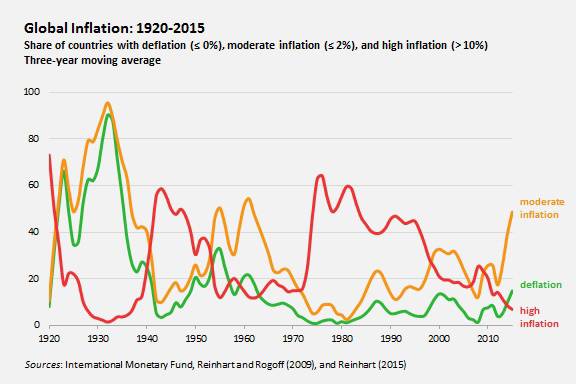 We hope you're enjoying Project Syndicate.
To continue reading, subscribe now.
Get unlimited access to PS premium content, including in-depth commentaries, book reviews, exclusive interviews, On Point, the Big Picture, the PS Archive, and our annual year-ahead magazine.
Already have an account or want to create one? Log in