Dadle una oportunidad al gobierno de Italia
LONDRES – Casi nadie tiene en Europa buenas palabras para la coalición de gobierno de Italia, compuesta por el populista Movimiento Cinco Estrellas (M5S) y el nacionalista partido la Liga. La única diferencia es entre quienes quieren castigar a Italia de inmediato por no cumplir las reglas presupuestarias de la eurozona y quienes están dispuestos a postergarlo, o al menos administrarlo más lentamente. Pero, ¿por qué no considerar la idea de olvidar del todo la necesidad de castigo y dar una oportunidad al gobierno italiano?
La razón no es que la coalición sea particularmente atractiva. No lo es. El M5S no se pierde ninguna oportunidad de insultar y amenazar a los periodistas críticos, y la Liga denigra a los inmigrantes y acosa a los gobiernos locales que se muestran hospitalarios con los solicitantes de asilo que han arriesgado sus vidas cruzando el Mediterráneo.
Aun así, hay buenas razones para reservarse el juicio sobre el gobierno. Después de todo, es todavía muy nuevo, tiene popularidad interna, está en posición de hacer algún bien y está queriendo cambiar reglas fiscales que había que reformar de todos modos.
Sí, la coalición entre el M5S y la Liga es ruidosa y poco atractiva. Bajo el liderazgo de facto de Matteo Salvini, ministro del interior perteneciente a la Liga, muestra una tendencia a molestar a las voces críticas internas y externas casi a diario. Pero, aunque pareciera que los populistas italianos han estado en el poder desde siempre, cabe recordar que su gobierno apenas tiene seis meses de vida.
No se debería juzgar a ningún gobierno a menos que sus acciones (y no solo sus palabras) sean tan insensatas como para poner en peligro la constitución, la seguridad o la estabilidad del país. La coalición M5S/Liga todavía no lo ha hecho. Lo que ha hecho es proponer un presupuesto anual que incluye un déficit del 2,4% del PIB en 2019, cerca de tres veces mayor al propuesto por el gobierno anterior, pero difícilmente gigantesco según los estándares internacionales.
Como se esperaba, la propuesta presupuestaria generó conmoción en la Comisión Europea, que pudo abrir su primer "procedimiento frente al exceso de déficit" contra un estado miembro. Sin embargo, básicamente el gobierno está proponiendo un mayor gasto público y recortes tributarios para cumplir las promesas de campaña de sus miembros. Pueden llegar a ser un derroche o ineficaces, pero no se elevan al nivel de ser temerarios.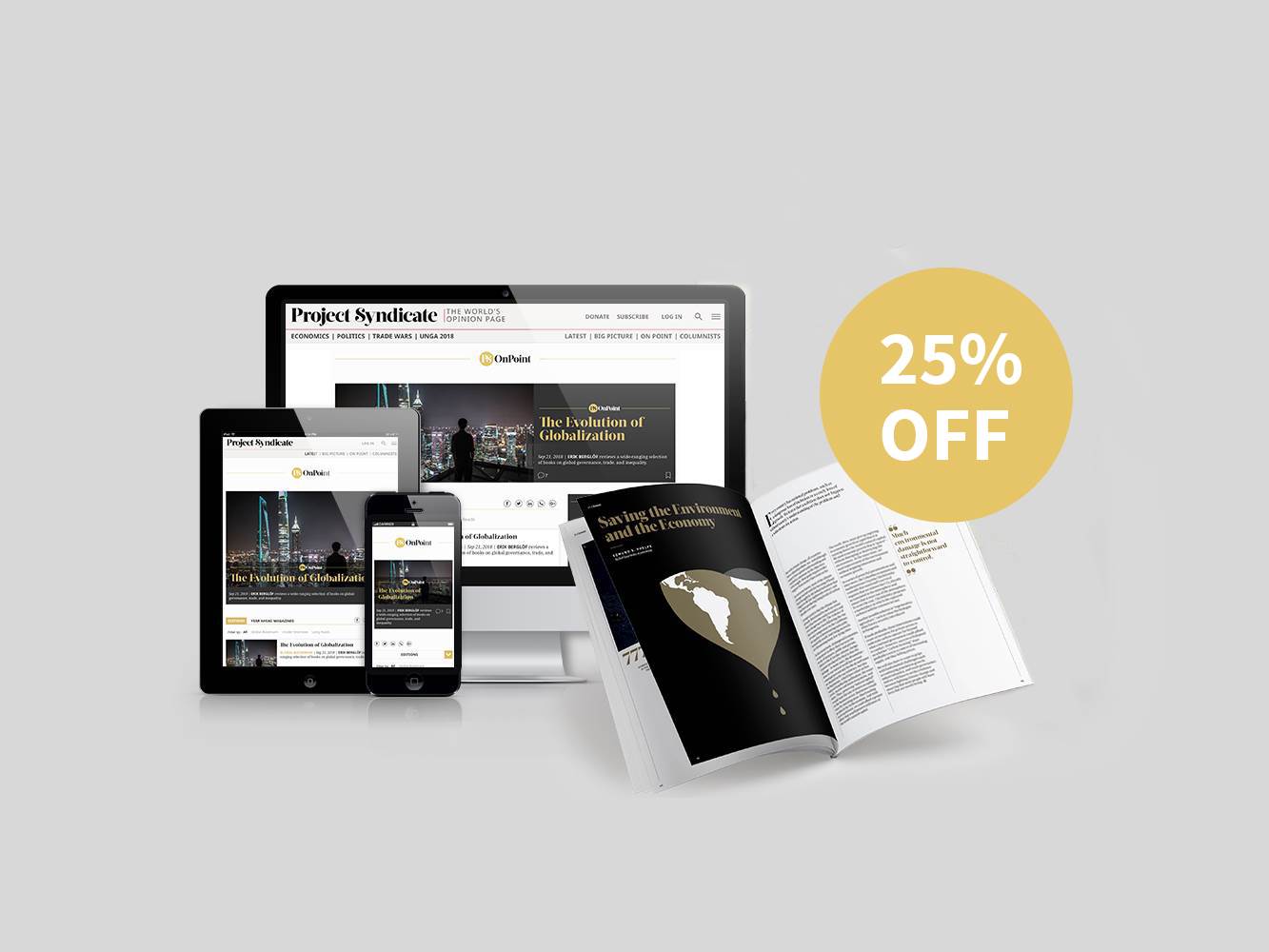 Subscribe now
For a limited time only, get unlimited access to On Point, The Big Picture, and the PS Archive, plus our annual magazine and a tote bag, for just $75.
Más aún, a diferencia de muchos nuevos gobiernos, la popularidad de la coalición M5S/Liga ha aumentado desde que llegara al poder. Juntos, los dos partidos reúnen más del 60% del apoyo del electorado italiano. Tal vez no dure, pero tampoco se puede ignorar.
Y si bien parte de la popularidad de la coalición se debe al apoyo de sus posiciones políticas más polémicas (es decir, su postura antiinmigración y su confrontación con la UE), también refleja el deseo de los votantes de un estado de bienestar modernizado. Una interpretación benigna de las intenciones de la coalición es que busca un sistema que tenga como modelo las medidas de "flexiseguridad" de las que Dinamarca ha sido pionera. (Y, por supuesto, los recortes tributarios y las alzas de las pensiones nunca son impopulares).
No hay duda de que el "ingreso ciudadano" propuesto por el M5S será tremendamente difícil de poner en práctica. La idea es proporcionar un pago mensual de €780 ($888) a quienes estén buscando empleo activamente, y registrar y orientar a los destinatarios a través de centros de empleo locales (como en el modelo danés). El problema es que la administración pública local en Italia es notoriamente ineficaz, especialmente en el sur, donde el desempleo es mayor.
Y, sin embargo, incluso si hay buenas razones para ser escépticos sobre el plan, no deja de ser un paso en la dirección correcta. Puede que sea necesaria una década para probar su factibilidad y optimizar su implementación. Pero ya es hora de que un gobierno italiano al menos lo inicie.
El presupuesto del gobierno como un todo se debe ver con el mismo espíritu. Los economistas independientes sin duda tienen razón al plantear que no impulsará el crecimiento como lo ha prometido la coalición. Si bien significaría una amplia repartición de efectivo, no llegaría a ser una iniciativa de estímulo bien enfocada.
Pero, más que arriesgarse a una crisis abierta al bloquear el presupuesto italiano para el 2019, la Comisión Europea haría mejor si presiona para que se adopten reformas estructurales mejor enfocadas en 2020, después de que los partidos de la coalición hayan cumplido sus promesas de campaña. Mientras tasas de interés más altas sobre la deuda estatal italiana y una confrontación con la UE podría conducir a la recesión e incluso a un desastre –si motiva amenazas de un "Italexit" del euro-, un enfoque más flexible podría evitar lo peor.
Entre las principales debilidades económicas de Italia se encuentran su historial de bajos niveles de inversión pública y su oxidada infraestructura, como lo evidenció el trágico colapso del Puente Morandi en Génova el pasado agosto. Lamentablemente, la coalición está dividida sobre el gasto en infraestructura. Mientras la Liga ha presionado por nuevas carreteras y más trenes de alta velocidad, algunos en el M5S siguen cautivos de una ideología anticapitalista y antidesarrollo. Es un impasse que se tiene que superar, ya sea dentro de la coalición o, de ser necesario, con nuevas elecciones generales en 2019.
Mientras tanto, los otros 18 países miembros de la eurozona deberían ponderar si se ha de actualizar el "pacto fiscal" que forjaran en 2012, en plena crisis de la deuda soberana del euro. Mario Monti, que fuera primer ministro de Italia en ese momento, ha presionado por largo tiempo para que la inversión de capital se trate de manera diferente que el gasto corriente, de modo que países como Italia puedan emprender los gastos de infraestructura que necesitan con urgencia.
Habría que seguir su consejo. Y mientras los gobiernos de la eurozona debaten el asunto, harían bien en dar algo de respiro al gobierno italiano. Otro ex primer ministro italiano, Romano Prodi, calificó una vez de "estúpido" el Pacto de Estabilidad y Crecimiento de la UE. Sin duda, sería estúpido obligar a una confrontación con el gobierno más populista –y popular- de la eurozona en nombre de reglas anticuadas y excesivamente rígidas.
Traducido del inglés por David Meléndez Tormen