Gebt Italiens Regierung eine Chance
LONDON – In Europa hat derzeit kaum jemand ein gutes Wort über Italiens emporgekommene herrschende Koalition aus populistischer 5-Sterne-Bewegung (M5S) und nationalistischer Lega zu sagen. Uneinigkeit besteht nur darüber, ob man Italien sofort bestrafen sollte, weil es sich den Haushaltsregeln der Eurozone widersetzt, oder ob man die Strafe hinausschieben oder zumindest langsamer verabreichen sollte. Aber hier ist eine Idee: Warum nicht ganz auf eine Bestrafung verzichten und der italienischen Regierung eine Chance geben?
Der Grund dafür ist nicht, dass die Koalition besonders sympathisch ist. Das ist sie nicht. Die M5S gibt sich alle Mühe, kritische Journalisten zu beleidigen und zu bedrohen, und die Lega verunglimpft Einwanderer und bedrängt Kommunen, welche sich gastfreundlich gegenüber Asylsuchenden zeigen, die bei der Überquerung des Mittelmees ihr Leben riskiert haben.
Trotzdem gibt es gute Gründe, sich mit einem Urteil über die Regierung noch zurückzuhalten. Schließlich ist sie noch sehr neu, ist im Inland beliebt, ist in einer Position, tatsächlich Gutes zu tun, und stellt Haushaltsregeln in Frage, die ohnehin reformiert werden müssten.
Die Koalition aus M5S und Lega ist laut und abstoßend. Unter der faktischen Führung des Lega-Vorsitzenden und Innenministers Matteo Salvini hat sie eine Begabung dafür, in- und ausländische Kritiker gleichermaßen täglich zu verärgern. Doch während es sich bereits jetzt so anfühlt, als hätte es Italiens Populisten schon immer gegeben, sollte man nicht vergessen, dass ihre Regierung gerade mal sechs Monate im Amt ist.
Man sollte über keine Regierung derart schnell urteilen, sofern nicht ihre Handlungen (und nicht nur ihre Äußerungen) so unverantwortlich sind, dass sie die Verfassung, die Sicherheit oder die Stabilität des Landes gefährden. Die Koalition aus M5S und Lega tut das bisher noch nicht. Was sie getan hat, ist, für 2019 einen Jahreshaushalt mit einem Defizit von 2,4% vom BIP vorzuschlagen – etwa dreimal größer als das von der Vorgängerregierung vorgeschlagene Defizit, aber im internationalen Maßstab nicht gerade riesig.
Wie erwartet erregte der Haushaltsentwurf den Zorn der Europäischen Kommission, die nun ihr erstes "Defizitverfahren" überhaupt gegen einen Mitgliedstaat einleiten könnte. Doch schlägt die Regierung in erster Linie eine Erhöhung der öffentlichen Ausgaben und Steuergeschenke vor, die darauf ausgelegt sind, die Wahlkampfversprechen ihrer Mitglieder zu erfüllen. Diese Maßnahmen mögen sich als verschwenderisch oder ineffektiv erweisen, aber an das Niveau der Unverantwortlichkeit reichen sie nicht heran.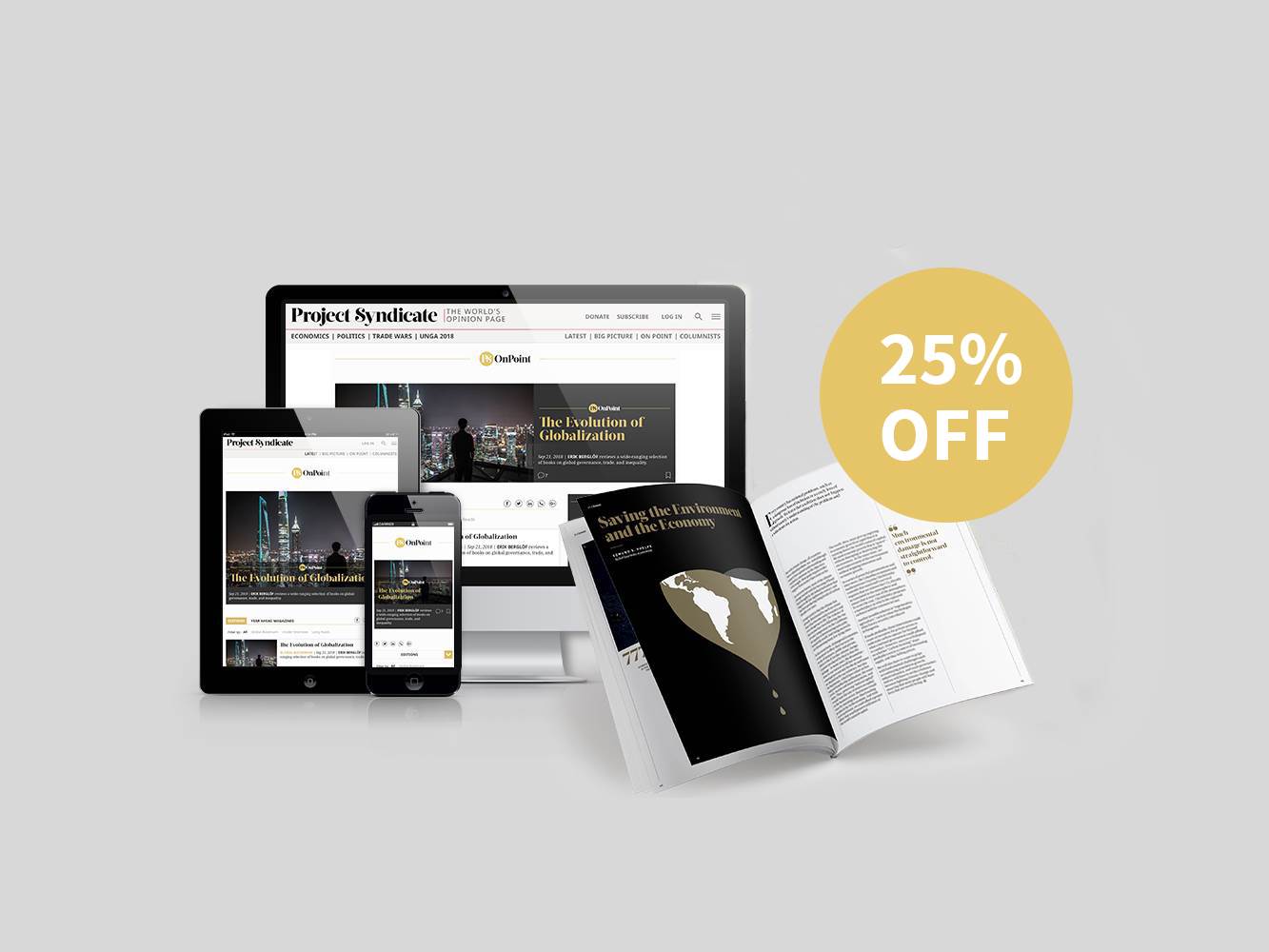 Subscribe now
For a limited time only, get unlimited access to On Point, The Big Picture, and the PS Archive, plus our annual magazine and a tote bag, for just $75.
Zudem ist die Beliebtheit der Koalition aus M5S und Lega – anders als bei vielen anderen neuen Regierungen – seit ihrem Amtsantritt gestiegen. Gemeinsam genießen beide Parteien inzwischen die Unterstützung von mehr als 60% der italienischen Wähler. Das bleibt womöglich nicht so, aber man kann es auch nicht ignorieren.
Und während die Popularität der Koalition teilweise auf unattraktive politische Positionen – namentlich die einwandererfeindliche Haltung der herrschenden Parteien und ihre Konfrontation mit der EU – zurückzuführen ist, spiegelt sie auch die Sehnsucht der Wähler nach einem modernisierten Wohlfahrtsstaat wider. Eine freundliche Auslegung der Absicht der Koalition ist, dass sie ein System anstrebt, das dem Modell der erstmals von Dänemark erfolgreich umgesetzten "Flexicurity"-Maßnahmen folgt. (Und natürlich stoßen Steuersenkungen und Rentenerhöhungen bei den Wählern nie auf Ablehnung.)
Sicherlich wird sich das von der M5S vorgeschlagene "Bürgereinkommen" verteufelt schwer umsetzen lassen. Die Idee dabei ist, diejenigen, die sich aktiv um eine Arbeit bemühen, mit monatlich 780 Euro zu unterstützen, und die Empfänger bei den örtlichen Arbeitsämtern anzumelden und dort anzuleiten (wie beim dänischen Modell). Das Problem ist, dass Italiens Kommunalverwaltungen für ihre mangelnde Effektivität berüchtigt sind, insbesondere im Süden, wo die Arbeitslosigkeit am höchsten ist.
Obwohl es gute Gründe gibt, dem Plan skeptisch gegenüberzustehen, ist er nichtsdestotrotz ein Schritt in die richtige Richtung. Es mag ein Jahrzehnt dauern, seine Machbarkeit zu testen und seine Umsetzung zu optimieren. Aber es ist Zeit, dass eine italienische Regierung diesen Prozess zumindest einleitet.
Der Staatshaushalt insgesamt sollte im selben Geiste betrachtet werden. Jene unabhängigen Ökonomen, die sagen, dass er nicht den Wachstumsschub bringen wird, den die Koalition verspricht, haben sicherlich Recht. Obwohl der Haushalt Geld weit gestreut unter die Leute bringt, läuft er nicht auf ein gut fokussiertes Konjunkturprogramm hinaus.
Doch statt eine ausgewachsene Krise zu provozieren, indem sie Italiens Haushalt für 2019 blockiert, täte die Europäische Kommission besser daran, 2020, wenn die Regierungsparteien ihre Wahlkampfversprechen erfüllt haben, auf fokussiertere Strukturreformen zu drängen. Während höhere Zinssätze auf italienische Staatsanleihen und eine Konfrontation mit der EU zu einer Rezession und sogar in die Katastrophe führen könnten – wenn sie Drohungen mit einem "Italexit" aus dem Euro auslösen –, könnte ein entgegenkommenderer Ansatz das Schlimmste verhindern.
Zu den größten wirtschaftlichen Schwächen Italiens gehören sein nach historischen Maßstäben niedriges Niveau an staatlicher Investitionstätigkeit und seine knirschende Infrastruktur, wie sie etwa durch den tragischen Zusammenbruch der Morandi-Brücke in Genua im vergangenen August belegt wird. Leider ist die Koalition derzeit über ihre Infrastrukturausgaben zerstritten. Während die Lega auf mehr Hochgeschwindigkeitszüge und neue Straßen drängt, bleiben einige in der M5S einer antikapitalistischen, entwicklungsfeindlichen Ideologie verhaftet. Diese Pattsituation gilt es aufzulösen – entweder im Rahmen dieser Koalition oder ggf. durch Neuwahlen 2019.
In der Zwischenzeit sollten die verbleibenden 18 Mitgliedstaaten der Eurozone in Betracht ziehen, ob der "Europäische Fiskalpakt" von 2012, den sie auf dem Höhepunkt der staatlichen Schuldenkrise in der Eurozone geschlossen haben, aktualisiert werden müsste. Mario Monti, Italiens damaliger Ministerpräsident, drängt seit langem, Anlageinvestitionen anders zu behandeln als laufende Ausgaben, damit Länder wie Italien dringend erforderliche Infrastrukturausgaben tätigen können.
Man sollte Montis Rat befolgen. Und während die Regierungen der Eurozone diese Frage debattieren, täten sie gut daran, der italienischen Regierung gegenüber eine gewisse Nachsicht zu üben. Ein anderer ehemaliger italienischer Ministerpräsident, Romano Prodi, hat den Stabilitäts- und Wachstumspakt der EU einmal als "dumm" bezeichnen. Im Namen antiquierter, übertrieben rigider Regeln eine Konfrontation mit der populistischsten – und beliebtesten – Regierung der Eurozone zu erzwingen wäre tatsächlich dumm.
Aus dem Englischen von Jan Doolan