Donner sa chance au gouvernement italien
LONDRES – En Europe, presque personne n'a un bon mot pour la coalition arriviste au pouvoir en l'Italie, à savoir le parti populiste Mouvement Cinq Étoiles (M5S) et le parti nationaliste La Ligue. Le seul désaccord est entre ceux qui veulent pénaliser l'Italie immédiatement pour avoir défié les règles budgétaires de la zone euro - et ceux qui sont disposés à retarder la punition, ou du moins à l'infliger plus lentement. Mais voici une suggestion : pourquoi ne pas rejeter complètement la punition et donner une chance au gouvernement italien ?
La raison n'est pas que la coalition soit particulièrement sympathique. Ce n'est pas le cas. Le M5S se démène pour insulter et menacer les journalistes critiques à son égard - et La Ligue dénigre les immigrants et harcèle les gouvernements locaux qui font preuve d'hospitalité à l'égard des demandeurs d'asile qui ont risqué leur vie en traversant la Méditerranée.
Il y a pourtant de bonnes raisons de réserver notre jugement sur le gouvernement. Après tout, il est encore très nouveau, il est populaire au niveau national, il est réellement en mesure de faire de bonnes choses et il remet en question des règles budgétaires qui devront reformées de toute façon.
Oui, la coalition M5S-La Ligue est bruyante et rébarbative. Sous la conduite de facto de Matteo Salvini de La Ligue, le ministre de l'Intérieur, cette coalition a le chic pour embarrasser chaque jour les critiques nationaux et étrangers. Mais bien qu'il semble déjà que les populistes sont là depuis toujours en Italie, il faut se souvenir que leur gouvernement n'a que six mois.
Aucun gouvernement ne doit être jugé aussi rapidement à moins que ses actes (pas simplement ses mots) ne soient si irréfléchis qu'ils mettent en danger la constitution, la sécurité, ou la stabilité du pays. La coalition M5S-La Ligue n'en est pas encore là. Cette dernière a proposé un budget annuel qui implique un déficit de 2,4 % du PIB en 2019 - soit près de trois fois supérieur au déficit proposé par le gouvernement précédent, mais qui n'a rien d'énorme par rapport aux normes internationales.
Comme prévu, la proposition de budget s'est attiré les foudres de la Commission européenne, qui a pu ouvrir sa première affaire de « procédure de déficit excessif » contre un État Membre. Mais le gouvernement propose principalement une augmentation des dépenses publiques accrues et des subventions de réductions fiscales, conçues pour tenir les promesses de campagne de ses membres. De telles mesures pourraient s'avérer inutiles ou inefficaces, sans pour autant être irréfléchies.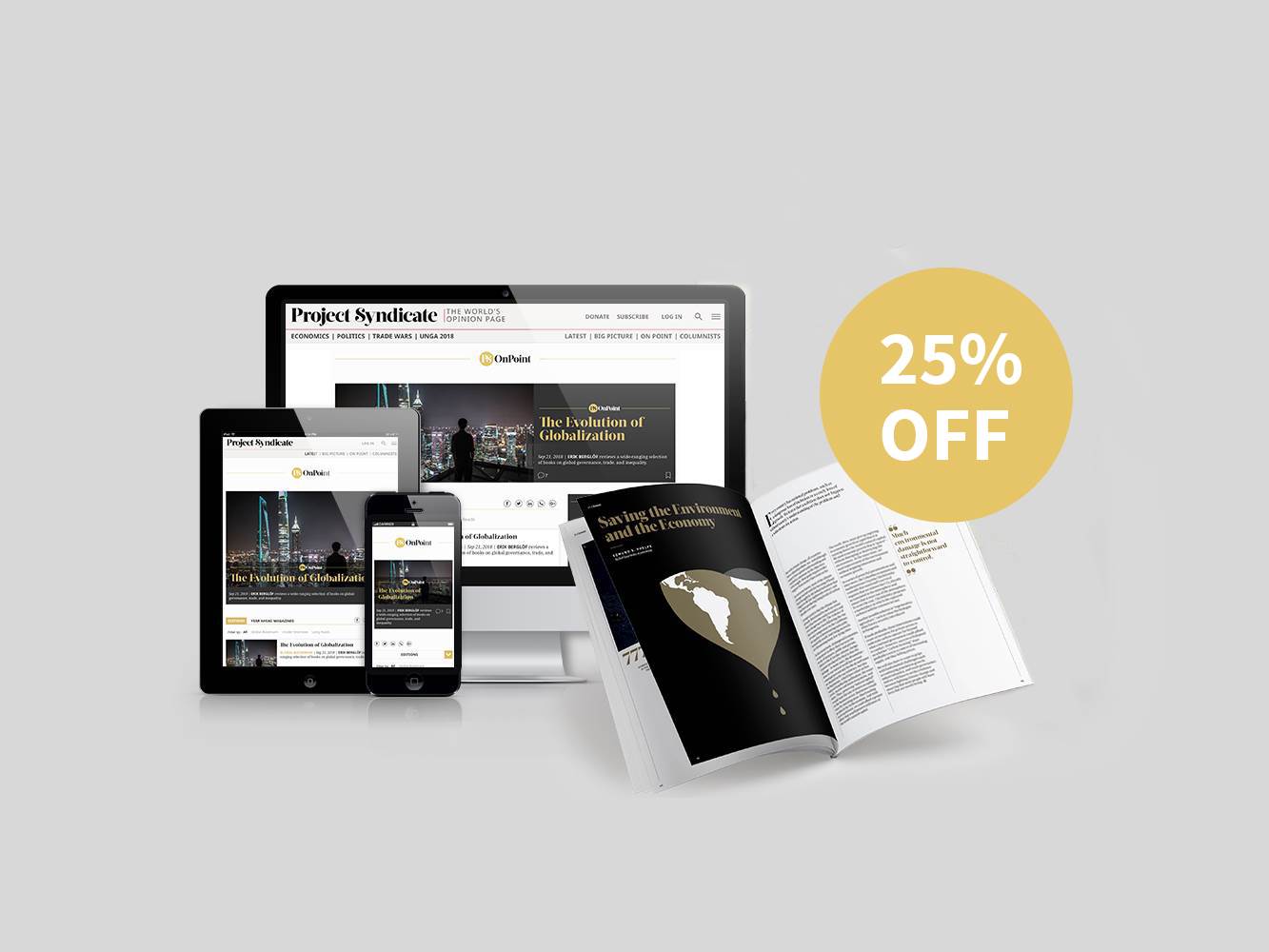 Subscribe now
For a limited time only, get unlimited access to On Point, The Big Picture, and the PS Archive, plus our annual magazine and a tote bag, for just $75.
En outre, contrairement à de nombreux nouveaux gouvernements, la popularité de la coalition M5S-La Ligue s'est développée depuis qu'elle est arrivée au pouvoir. Ensemble, les deux partis bénéficient du soutien de plus de 60 % des électeurs italiens. Cela peut va certainement pas durer, mais ne peut pas être ignoré non plus.
Et tandis qu'une part de la popularité de la coalition est due au soutien en faveur de ses mesures politiques impopulaires - à savoir, la position anti-immigration des partis au pouvoir et la confrontation avec l'UE - reflète également le désir d'un État-providence modernisé de la part des électeurs. Une interprétation charitable de l'intention de la coalition est qu'elle poursuit un système inspiré des mesures réussies de « flexicurité » inventées par le Danemark. (Et naturellement, les réductions des impôts et les augmentations des retraites ne sont jamais impopulaires chez les électeurs.)
Assurément, le « revenu de citoyenneté » proposé par M5S va être particulièrement difficile à mettre en œuvre. L'idée est de fournir un paiement mensuel de 780 € (888 $) à ceux qui recherchent activement un emploi et d'enregistrer et de guider les bénéficiaires vers des centres locaux de recherche d'emploi (comme dans le modèle danois). Le problème est que l'administration publique locale de l'Italie est notoirement inefficace, en particulier dans le Sud, où le chômage est le plus fort.
Mais même s'il y a de bonnes raisons d'être sceptique quant à ce projet, il s'oriente néanmoins dans la bonne direction. Il faudra peut-être une décennie pour juger de sa faisabilité et pour optimiser sa mise en œuvre. Mais il est temps qu'un gouvernement italien enclenche au moins le processus.
Le budget public global doit être considéré selon le même point de vue. Les économistes indépendants ont sûrement raison de dire qu'il ne va pas provoquer la poussée de croissance promise par la coalition. Bien que le budget fournisse une grande quantité d'argent, il ne constitue pas pour autant un effort de relance bien ciblé.
Mais plutôt que de risquer une crise à grande échelle en bloquant le budget italien de 2019, la Commission européenne ferait mieux de pencher en faveur de réformes structurelles mieux ciblées en 2020, une fois que les partis de la coalition auront exaucé leurs promesses de campagne. Si l'on tient compte des taux d'intérêt plus élevés sur la dette publique italienne et du fait qu'une confrontation avec l'UE pourrait conduire à une récession et même à une catastrophe - si cela déclenche les menaces d'un « Italexit » de l'euro - une approche plus accommodante pourrait éviter le pire.
Parmi les principales faiblesses économiques de l'Italie, on peut citer son niveau historiquement bas en investissements publics et ses infrastructures anciennes, comme en témoigne l'effondrement tragique du pont de Morandi à Gênes au mois d'août. Malheureusement, la coalition est actuellement divisée sur la question des dépenses d'infrastructure. Tandis que La Ligue avait encouragé davantage de trains à grande vitesse et de nouvelles routes, certains membres du M5S restent sous la coupe d'une idéologie anticapitaliste et anti-développement. Cette impasse doit être levée, soit au sein de la coalition, soit lors de nouvelles élections législatives en 2019, si nécessaire.
Entre-temps, les 18 États membres restants de la zone euro doivent déterminer s'il est nécessaire de mettre à jour le « pacte budgétaire » de 2012 qu'ils ont forgé au plus fort de la crise de la dette souveraine de l'euro. Mario Monti, Premier ministre italien de l'époque, a longtemps insisté pour que les investissements soient traités différemment des dépenses actuelles, afin que des pays comme l'Italie puissent continuer à faire des dépenses d'infrastructure désespérément nécessaires.
Il faut suivre le conseil donné par Monti. Et tandis que les gouvernements de la zone euro en sont à débattre de la question, ils feraient bien de se montrer indulgents envers le gouvernement italien. Un autre ancien Premier ministre italien, Romano Prodi, a autrefois qualifié le Pacte de Stabilité et de Croissance de l'UE de « stupide. » Forcer une confrontation avec le gouvernement le plus populiste - et le plus populaire - de la zone euro, au nom de règles périmées et excessivement rigides serait en effet stupide.