¿Seguirán los italianos "votando con los pies"?
MILÁN – Es probable que la indecisiva elección general en Italia, que muestra un claro giro populista, lleve a un largo período de parálisis política que congelará la adopción de muy necesarias reformas estructurales. Pero el impasse, y con él la percepción de que el país no quiere cambiar, pueden tener otro efecto preocupante: aumentar la fuga de cerebros italianos, agravando una tendencia que asoló al país por más de un decenio.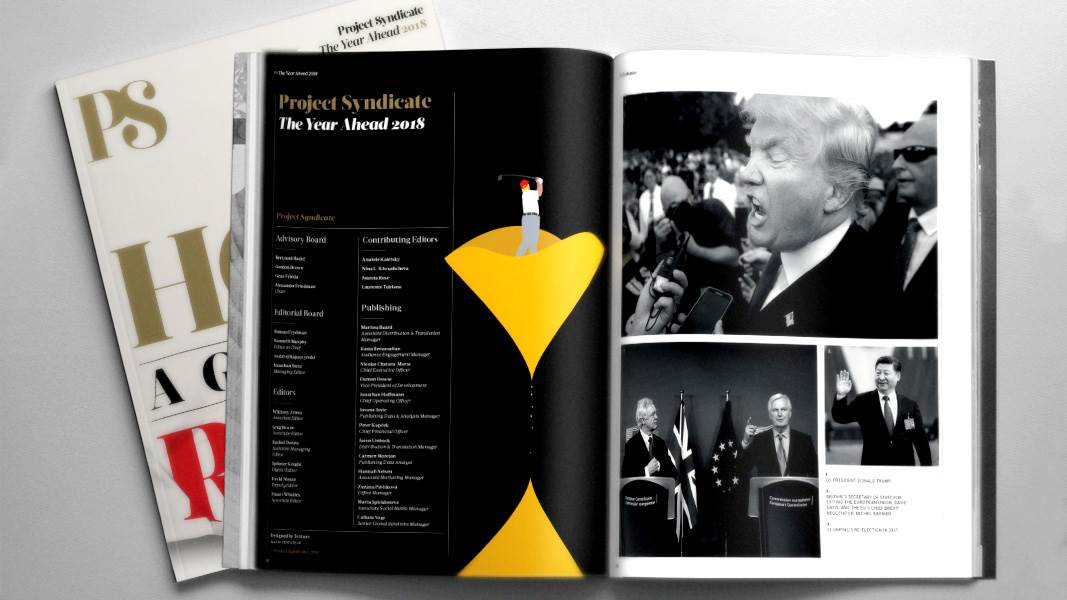 The Year Ahead 2018
The world's leading thinkers and policymakers examine what's come apart in the past year, and anticipate what will define the year ahead.
Desde 2007, casi 1,5 millones de italianos se fueron del país, sumándose a otros cuatro millones de expatriados. Para poner la cifra en perspectiva: en este momento reside en el extranjero aproximadamente el 8% de la población italiana. Pero es posible que la cantidad real sea mayor. Hay expatriados italianos que no declaran a las autoridades nacionales su situación de residencia real, para conservar el acceso a beneficios como la atención médica gratuita.
Más o menos un tercio de los emigrados tienen título universitario. Muchos son profesionales altamente calificados que trabajan en finanzas, consultoría, arquitectura, derecho o el sector académico. Y abundan las historias de emprendedores italianos que fundaron empresas exitosas en los Silicon Valley del mundo.
Los principales imanes de talento son Francia, Alemania, el Reino Unido y Estados Unidos. A Londres, lugar de residencia de unos 250 000 italianos, la llaman la quinta ciudad más grande de Italia (después de Roma, Milán, Nápoles y Turín). Ni siquiera el Brexit frenó la inmigración desde Italia, contra las tendencias imperantes en Europa occidental. Es un claro síntoma de las condiciones insatisfactorias en Italia, donde un mercado laboral rígido, la falta de una adecuada financiación para la investigación académica y la creación de empresas, y un sistema socioeconómico sesgado a favor de la gente de más edad impiden a las personas expresar todo su potencial.
Pero Italia no sólo pierde trabajadores, cualificados, ambiciosos y visionarios. También la élite intelectual se está yendo del país. Datos de la OCDE para los años 1996 a 2011 muestran que, de los países europeos más grandes, Italia es un aportante neto de científicos al resto del mundo. Para colmo de males, exporta investigadores con un historial de publicaciones importantes y recibe investigadores de segunda línea.
En economía, siete de los receptores de la Medalla Carlo Alberto (que se otorga cada dos años a un economista italiano destacado de menos de cuarenta años) enseñaban en universidades extranjeras de élite. Y en la cima de la distribución de talentos la situación es todavía más desalentadora. Con pocas excepciones, los receptores italianos del Premio Nobel, de la Medalla Fields en matemática, del Premio Pritzker en arquitectura o del Premio Breakthrough en ciencias biológicas hicieron sus carreras en el extranjero.
La pérdida para el país es doble. En primer lugar, por lo general los emigrantes estudiaron en Italia a costa del erario público; el costo a lo largo de toda la formación asciende a unos 600 000 dólares por cada graduado universitario. Es como si desde 2007 el país hubiera perdido cada año entre 4 y 5 puntos porcentuales del PIB. En segundo lugar, como los expatriados suelen ser los más insatisfechos con el statu quo, Italia pierde a los agentes más probables de cambio, aquellos que podrían sacudir una economía estancada y extender la frontera tecnológica.
Si el presidente de Italia, Sergio Mattarella, logra que se forme un gobierno de unidad nacional, debería poner el problema de la fuga de cerebros al tope de la agenda política, junto con el mercado laboral, el sector financiero y el sistema de pensiones. Por ser un asunto de interés nacional, ninguna fuerza política le pondrá obstáculos. Y para demostrar el compromiso del gobierno, el próximo primer ministro debería crear un ministerio de la diáspora.
Lo ideal sería que Italia revierta la fuga de cerebros, mediante la adopción de las reformas necesarias para conservar el talento italiano y recuperar el que ya se ha ido. Pero incluso con una composición parlamentaria más reformista que la actual, los efectos de esas medidas sólo se materializarían en el largo plazo. Por eso, el ministerio de la diáspora debería concentrarse en soluciones inmediatas, por ejemplo políticas de involucramiento y la apelación al vínculo emocional de los expatriados con el país de origen. Incluso desde lejos, los emigrados pueden ayudar a la renovación de Italia, mediante un aumento del flujo de conocimiento, dinero e innovaciones hacia el país, la promoción internacional de los intereses nacionales, la conexión de empresas locales con el mercado global y la colaboración con la firma de acuerdos con centros de investigación o empresas privadas en el extranjero. Y algún día, si se da un cambio real, incluso tal vez decidan volver.
El nuevo ministerio debería trazar un mapa de la diáspora y compilar perfiles detallados de las habilidades y la experiencia de los individuos más talentosos de Italia en el extranjero. Esto permitirá evaluar la gravedad de la fuga de cerebros, conectar a los emigrados con posibles empleadores en Italia e involucrar a los más exitosos en proyectos filantrópicos y de mentoría. Además, el gobierno debe organizar eventos periódicos formales con expatriados y aprovechar sus ideas y su experiencia para promover la innovación, el emprendedorismo y el crecimiento de industrias clave.
La mejor fuente de inspiración para un programa de estas características es Irlanda. Desde 2009, Irlanda mantiene un programa llamado "Global Irish" que promueve la vinculación con la inmensa diáspora del país; esto incluyó la creación de un ministerio ad hoc y la adopción de medidas particularizadas, por ejemplo el Global Irish Economic Forum. La impresionante recuperación de Irlanda tras la crisis financiera de hace diez años no hubiera sido posible sin el apoyo, las recomendaciones y la participación de su diáspora.
Italia desatendió demasiado tiempo su fuga de cerebros. Paradójicamente, la parálisis actual ofrece una oportunidad excelente para resolverla.
Traducción: Esteban Flamini