Sempre più italiani voteranno con i "piedi"?
MILANO – L'inconcludente voto del 4 marzo, con la sua chiara deriva populista, porterà a un prolungato periodo di stallo politico, congelando l'adozione di quelle riforme strutturali di cui l'Italia  ha tanto bisogno. Ma lo stallo, e la relativa percezione che il paese non sia disposto a cambiare, potrebbe avere un altro effetto deleterio. Fornirà un ulteriore pretesto per i migliori talenti italiani ad andare all'estero, aggravando una tendenza che ha afflitto il paese per oltre un decennio.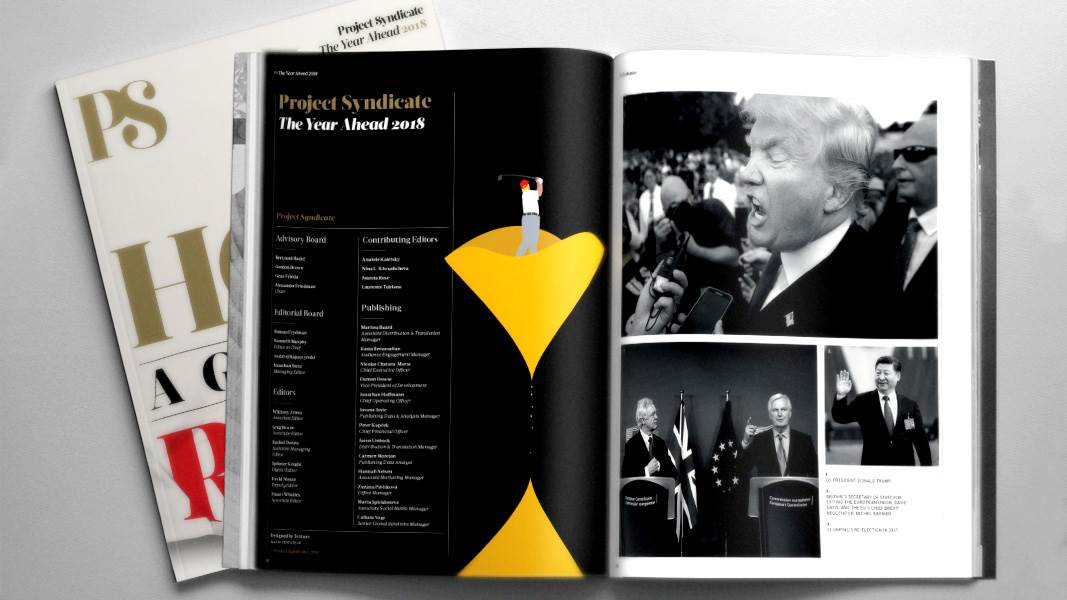 The Year Ahead 2018
The world's leading thinkers and policymakers examine what's come apart in the past year, and anticipate what will define the year ahead.
Dal 2007 quasi 1,5 milioni di italiani hanno lasciato il paese, unendosi ad oltre quattro milioni di altri espatriati. Per comprendere la gravità della situazione, questi numeri implicano che circa l'8% della popolazione italiana risiede attualmente all'estero. Ma il numero potrebbe essere più elevato. Non è inusuale per gli espatriati italiani non dichiarare alle autorità nazionali la loro residenza effettiva per preservare l'accesso a benefici come l'assistenza sanitaria gratuita.
Circa un terzo di questi emigrati è laureato. Molti sono professionisti altamente qualificati che lavorano in finanza, consulenza, accademia o architettura. E innumerevoli sono le storie di imprenditori italiani che hanno fondato aziende di successo nelle Silicon Valley del mondo.
La Francia, la Germania, il Regno Unito e gli Stati Uniti sono i principali magneti. Londra è la quinta città più grande d'Italia - dopo Roma, Milano, Napoli e Torino - con circa 250.000 italiani. Nemmeno la Brexit ha fermato l'immigrazione dall'Italia, contrariamente alle tendenze prevalenti nell'Europa occidentale. Questo è un chiaro sintomo delle difficoltà incontrate dalle persone più talentuose ad esprimere il proprio potenziale in madrepatria per via di un rigido mercato del lavoro, finanziamenti inadeguati per la ricerca accademica e il venture capital, e un sistema socioeconomico gerontocratico.
L'Italia non sta solo perdendo lavoratori qualificati, ambiziosi e visionari. Anche la sua élite intellettuale è in fuga. I dati dell'OCSE per gli anni 1996-2011 mostrano che tra i maggiori paesi europei l'Italia è l'unico contributore netto di scienziati verso il resto del mondo. A peggiorare le cose, Roma scambia ricercatori con pubblicazioni importanti per scienziati stranieri di mediocre qualità.
In ambito economico, sette degli otto vincitori della Medaglia Carlo Alberto, che viene assegnata ogni due anni al miglior economista italiano sotto i 40 anni, insegnano in America. E quando si guarda alla coda della distribuzione dei talenti, la situazione è ancora più scoraggiante. Con pochissime eccezioni, i beneficiari italiani dei premi Nobel, la medaglia Fields in matematica, il Pritzker Prize in architettura o il Breakthrough Prize nelle scienze della vita hanno trascorso parte delle loro carriere all'estero.
La perdita per il paese è duplice. In primo luogo, coloro che se ne vanno sono generalmente istruiti in Italia a spese del governo: vengono investiti circa 500.000 euro per la carriera scolastica completa di ciascun laureato. È come se il paese avesse perso 4-5 punti percentuali del PIL ogni anno dal 2007. Secondo, dato che gli espatriati sono solitamente i meno soddisfatti dello status quo, l'Italia perde i più probabili agenti di cambiamento - quelli che rivitalizzerebbero un'economia stagnante e spingerebbero la frontiera tecnologica verso l'esterno.
Se Mattarella riuscirà a spingere per un governo di unità nazionale, dovrebbe porre il problema della fuga dei cervelli in cima all'agenda politica, insieme al mercato del lavoro, al settore finanziario e al sistema pensionistico. Essendo una questione di interesse nazionale, nessuna forza politica lo ostacolerebbe. E per dimostrare l'impegno del governo nei confronti della questione, il prossimo primo ministro dovrebbe allargare la squadra di governo nominando un ministro della diaspora.
Idealmente, l'Italia dovrebbe invertire la fuga dei cervelli adottando le necessarie riforme per mantenere e attirare nuovamente i propri talenti. Ma, qualora l'attuale costellazione parlamentare fosse più riformista, gli effetti di tali misure si materializzerebbero solo nel lungo termine. Il ministero della diaspora dovrebbe concentrarsi invece su misure di breve termine, come le politiche di coinvolgimento della diaspora, facendo leva sull'attaccamento emotivo degli espatriati verso la propria nazione d'origine. Anche da lontano, gli emigranti possono contribuire al rinnovamento dell'Italia aumentando il flusso di ritorno di conoscenza, denaro e innovazione, promuovendo l'interesse nazionale a livello internazionale, collegando le imprese locali con il mercato globale e contribuendo a costruire partnership con centri di ricerca o aziende private all'estero. E un giorno, se il paese dovesse cambiare per davvero, anche gli emigranti più di successo potrebbero persino decidere di tornare a casa.
Il nuovo ministero dovrebbe mappare la diaspora e compilare profili dettagliati delle competenze possedute dalle migliori menti italiane all'estero. In questo modo sarebbe possibile valutare la gravità della fuga di cervelli, costruire un ponte con potenziali datori di lavoro in patria e coinvolgere gli emigrati di maggior successo in progetti filantropici e di mentoring. Inoltre, il governo dovrebbe organizzare regolarmente eventi formali con espatriati e sfruttare le loro idee ed esperienze per promuovere l'innovazione, l'imprenditorialità e la crescita delle industrie chiave.
L'Irlanda rappresenta la migliore fonte di ispirazione per un programma del genere. Dal 2009, l'Irlanda ha adottato un programma chiamato "Global Irish" per promuovere i contatti con la diaspora del paese attraverso l'istituzione di un ministero ad hoc e l'adozione di misure mirate come il Global Economic Forum irlandese. L'incredibile ripresa economica dell'Irlanda dalla crisi finanziaria di un decennio fa non sarebbe stata possibile senza il supporto, le raccomandazioni e l'impegno della sua diaspora.
Per troppo tempo, l'Italia ha ignorato la sua fuga di cervelli. Paradossalmente, l'attuale situazione di stallo offre un'eccellente opportunità per affrontarla.