El partido bunga-bunga vuelve a Italia
LONDRES – El 4 de marzo se celebrará en Italia la próxima elección general, y los principales contendientes ya están precalentando para ocho duras semanas de campaña. Es probable que no haya un ganador claro; como sea, parece evidente que el ritmo no lo marcarán los velocistas de 31 y 42 años de edad que encabezan los dos partidos principales, sino un maratonista de 81 años.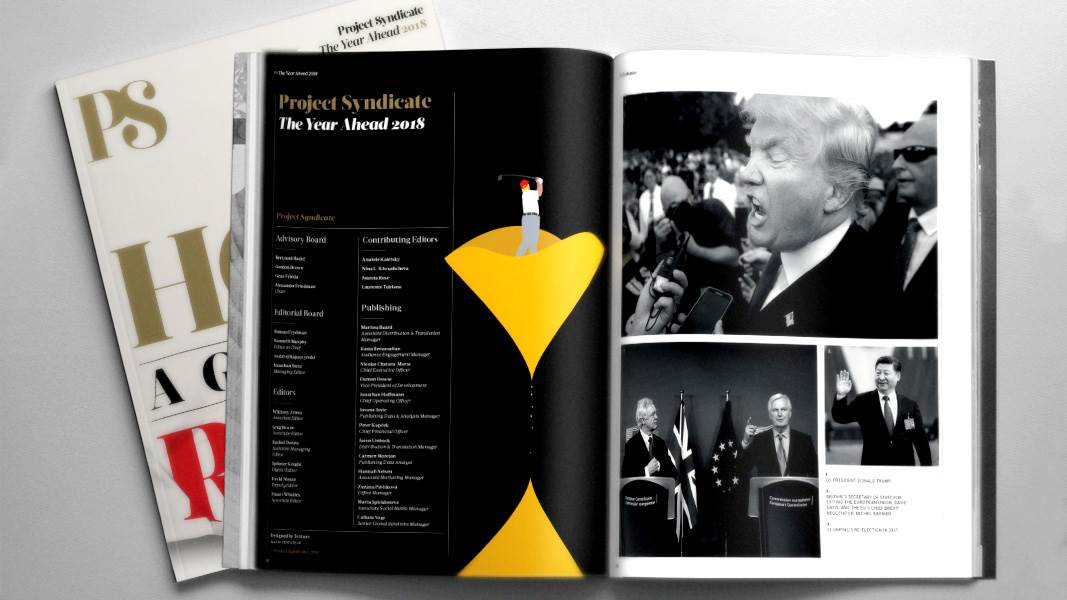 The Year Ahead 2018
The world's leading thinkers and policymakers examine what's come apart in the past year, and anticipate what will define the year ahead.
Sí, por sorprendente que parezca, puede que la elección la termine definiendo el mismísimo Silvio Berlusconi, el tres veces primer ministro que popularizó el término "partido bunga-bunga". Berlusconi, cuyo último gobierno tuvo un final deshonroso en 2011 (cuando la crisis del euro amenazaba engullir a Italia), no puede por el momento aspirar a un cuarto mandato (ni a ningún cargo público), debido a una condena por evasión fiscal dictada en 2013; pero la coalición de centroderecha que lidera llega a esta elección en los mejores términos.
La última elección general celebrada en Italia, en febrero de 2013, tampoco tuvo un ganador claro. El país ha sido gobernado desde entonces por coaliciones lideradas por el centroizquierdista Partido Democrático (PD). Y el inicio de la campaña encuentra a Italia experimentando el mayor crecimiento económico en más de diez años, aunque el desempleo se mantiene en un nivel obstinadamente alto, superior al 11% (aproximadamente 35% entre los trabajadores más jóvenes). Sin embargo, esto no ayuda al PD.
Durante su mandato como primer ministro (desde febrero de 2014 hasta diciembre de 2016), Matteo Renzi, joven y carismático líder del PD, se presentó como un rottamatore (desguazador) que desmantelaría los viejos vicios del establishment político. Pero terminó perdiendo más simpatizantes de los que cautivó. Su principal logro fue la ley de reforma del anquilosado mercado laboral italiano, algo que difícilmente le aporte votos. Tras alcanzar un máximo en 2014, con 40% de los votos en la elección para el Parlamento Europeo, el apoyo al PD cayó a entre 20 y 25%, y el ala izquierda del partido se separó.
Hoy, el partido que encabeza solitario las encuestas de opinión es el Movimiento Cinco Estrellas (M5S), populista y contestatario, liderado por el comediante Beppe Grillo (aunque el candidato oficial a primer ministro es un joven inexperto, Luigi Di Maio, de 31 años). El M5S ha madurado desde su fundación hace cinco años, cuando era una mera expresión de malestar de los votantes. Ahora moderó su oposición al euro, y mantiene un nivel de apoyo de entre 26 y 29%, pese al pobre desempeño de su gobierno en Roma.
El problema para el M5S es que la nueva ley electoral lo obliga a obtener más o menos el 40% del total de votos para tener mayoría parlamentaria. Dos tercios de los escaños en la cámara baja se decidirán por representación proporcional, pero el tercio restante se decidirá por mayoría simple en distritos unipersonales, y aquí es probable que el M5S salga perjudicado, porque ni quiere ni puede tejer las alianzas electorales necesarias para formar mayorías.
De hecho, el grupo de partidos que más se beneficiará con el sistema electoral actual es el único que consiguió llegar a un pacto preelectoral con otros: la centroderecha de Berlusconi. Como demostró con sus victorias electorales en 1994, 2001 y 2008, la mayor fortaleza de Berlusconi siempre fue la capacidad de crear coaliciones. Y lo mismo que en esas elecciones, su partido, Forza Italia, tendrá como socio principal a la Lega Nord, un movimiento separatista, xenófobo y euroescéptico.
Pero no todo irá viento en popa para Berlusconi. Tendrá que navegar el complicado proceso de acordar candidatos conjuntos con el energético y ambicioso líder de la Lega Nord, Matteo Salvini (que también aspira a liderar la centroderecha) y con el tercer y más pequeño socio del grupo: el derechista Fratelli d'Italia (Hermanos de Italia).
Sin embargo, hasta ahora las cosas se le presentan bien a Berlusconi. Las encuestas dan a Forza Italia alrededor del 16% de los votos, un poco más que la Lega Nord (pero mucho menos que en las mejores épocas del partido, cuando recibía más del 25%). Y es probable que el malestar de los votantes con la entrada de refugiados e inmigrantes y el temor público al potencial disruptivo del M5S beneficien a la centroderecha. Los vientos le son propicios.
Por su parte, Berlusconi se presenta a sí mismo como un estadista anciano, incluso alguien en quien se puede confiar. Ha suavizado su imagen, hablando en defensa de los pensionados y manifestando un nuevo interés en los derechos de los animales. Y sobre todo, sigue siendo una estrella de campaña, dueño de las principales estaciones comerciales de TV del país.
Conseguir la mayoría absoluta será tarea ardua para el grupo de Berlusconi, pero no imposible. En cualquier caso, hacer un buen papel sería el regreso soñado del viejo showman. Si su coalición de centroderecha obtiene la mayoría, elegirá él mismo al primer ministro; o lo más probable, será el principal actor en las negociaciones para formar un gran gobierno de coalición con partidos de centroderecha y centroizquierda.
Lo más destacable es que cualquiera de ambas salidas se verá como un resultado estable y digno, en comparación con la alternativa más probable: un gobierno de minoría liderado por el M5S. ¿Acaso Berlusconi terminará siendo el salvador político de Italia? No hay que descartarlo.
Traducción: Esteban Flamini