A festa bunga-bunga volta a Itália
LONDRES – Agora que foram marcadas as próximas eleições legislativas de Itália para 4 de Março, os principais candidatos preparam-se para uma difícil campanha de oito semanas. O resultado espera-se confuso e inconclusivo, mas algo parece já claro: quem marcará o ritmo podem não ser os velocistas de 31 ou 42 anos que lideram os dois principais partidos, mas antes um maratonista de 81 anos.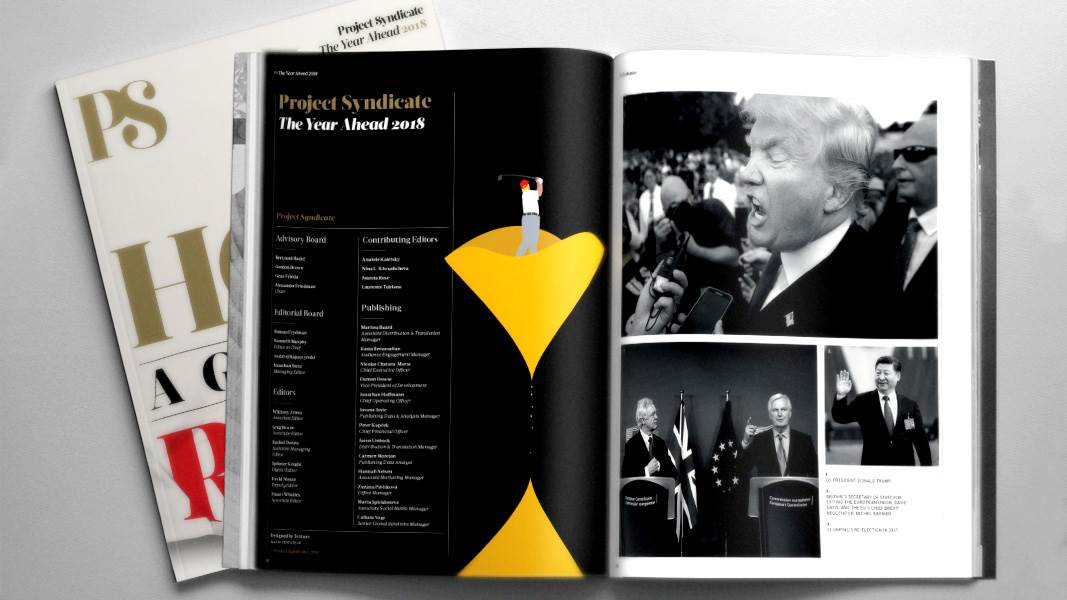 The Year Ahead 2018
The world's leading thinkers and policymakers examine what's come apart in the past year, and anticipate what will define the year ahead.
Sim, por mais chocante que possa parecer, o fiel da balança nestas eleições poderá ser nem mais nem menos que Silvio Berlusconi, três vezes primeiro-ministro, e que popularizou o termo "festa bunga-bunga". Berlusconi, que cessou funções de forma ignominiosa em 2011, quando a crise da dívida soberana da zona euro ameaçava engolir Itália, não poderá aspirar a um quarto mandato (ou a qualquer cargo público), devido a uma condenação por fraude fiscal em 2013, mas a coligação de centro-direita que lidera é a mais dinâmica neste início de campanha eleitoral.
As últimas eleições legislativas em Itália, em Fevereiro de 2013, também foram confusas e inconclusivas. Desde então, o país tem sido governado por coligações lideradas pelo Partido Democrata (PD), de centro-esquerda. E agora, no início da campanha, a Itália está a passar pelo mais rápido crescimento económico em mais de uma década, embora o desemprego permaneça teimosamente elevado, acima dos 11% (e perto dos 35% para os trabalhadores mais jovens). Porém, isto não está a ajudar o PD.
Durante o seu mandato de primeiro-ministro entre Fevereiro de 2014 e Dezembro de 2016, Matteo Renzi, o jovem e carismático líder do PD, apresentou-se como um rottamatore (demolidor), que destruiria os hábitos tradicionais do sistema político. Mas acabou por afastar mais pessoas do que aquelas que impressionou favoravelmente. A sua realização emblemática consistiu em legislação para reformar os escleróticos mercados laborais de Itália (que só dificilmente lhe poderá garantir votos). Desde o seu auge em 2015, quando teve 40% dos votos nas eleições para o Parlamento Europeu, o apoio ao PD decresceu para apenas 20-25%, e a ala esquerda do partido separou-se.
Hoje, o principal partido único nas sondagens de opinião é o rebelde e populista Movimento Cinco Estrelas (M5S), liderado pelo comediante Beppe Grillo (embora o seu candidato oficial a primeiro-ministro seja o inexperiente Luigi Di Maio, de 31 anos). O M5S amadureceu desde a sua fundação há cinco anos, quando a sua mensagem central se resumia a "uma praga em todas as vossas casas". Desde então, a sua oposição ao euro moderou-se. E permanece popular, com apoios que rondam os 26-29%, apesar do seu fraco desempenho na gestão do município de Roma.
O problema do M5S é que, por causa da nova lei eleitoral, teria de conseguir perto de 40% dos votos totais para assegurar uma maioria parlamentar. Embora a representação proporcional determine dois terços dos lugares na câmara baixa, um terço dos lugares será decidido por maioria simples nos círculos uninominais, onde o M5S provavelmente perderá, porque não está disposto, nem é capaz, de formar as alianças eleitorais necessárias para garantir maiorias.
Com efeito, o agrupamento partidário que mais beneficiará com o actual sistema eleitoral será o único que conseguiu forjar um pacto pré-eleitoral com outros partidos: o centro-direita, liderado por Berlusconi. Como demonstrou com as suas vitórias eleitorais em 1994, 2001 e 2008, a maior força de Berlusconi sempre residiu na criação de coligações. E, tal como nessas eleições, o seu próprio partido (Forza Italia) terá como parceiro principal a Liga Norte, separatista, anti-imigração e eurocéptica.
Evidentemente que nem tudo serão rosas para Berlusconi. Terá de navegar pelo complicado processo de escolher candidatos conjuntos com o energético e ambicioso líder da Liga Norte, Matteo Salvini – que tem os seus planos próprios para a liderança do centro-direita – e com o terceiro e mais pequeno parceiro do grupo: os Irmãos de Itália, de direita.
Mesmo assim, e até agora, as perspectivas são boas para Berlusconi. A Forza Italia tem perto de 16% das intenções de voto, um pouco acima do apoio da Liga Norte, mesmo estando bastante abaixo dos valores do apogeu do partido, quando conseguia votações superiores a 25%. E o centro-direita beneficiará provavelmente com a revolta dos eleitores, provocada pela entrada de refugiados e de migrantes, e com o medo do público quanto ao potencial disruptivo do M5S. O vento é-lhes favorável.
Por seu lado, Berlusconi apresentou-se como um estadista idoso, como um par de mãos seguras. Suavizou a sua imagem, falando em defesa dos pensionistas e confessando um novo interesse pelos direitos dos animais. E, em último lugar mas não menos importante, continua a ser um activista brilhante, que só por acaso é dono das principais emissoras comerciais de TV no país.
Assegurar uma maioria absoluta seria uma tarefa difícil para o grupo de Berlusconi, mas não impossível. De qualquer forma, um bom desempenho eleitoral seria um regresso notável para o antigo apresentador – precisamente o que ele sempre apreciou. Se a sua coligação de centro-direita conseguir a maioria, o primeiro-ministro será directamente escolhido por ele; mais provavelmente, será ele o principal interveniente nas negociações para um grande governo de coligação entre os partidos do centro-direita e do centro-esquerda.
De forma mais marcante, qualquer um destes cenários seria amplamente visto como um resultado estável e respeitável, comparado com a alternativa mais provável: um governo minoritário liderado pelo M5S. Poderá Berlusconi tornar-se o salvador político de Itália? Não excluam essa possibilidade.