Il Bunga-Bunga torna in Italia
LONDRA – Ora che la data delle prossime elezioni in Italia è stata fissata per il 4 marzo, i principali concorrenti si stanno scaldando per una dura campagna elettorale di otto settimane. Secondo le aspettative il risultato sarà confuso, ma c'è una cosa che sembra già chiara: il ruolo fondamentale potrebbe non essere dei già noti velocisti di 31 e 42 anni a capo dei due principali partiti, bensì del maratoneta ottantunenne.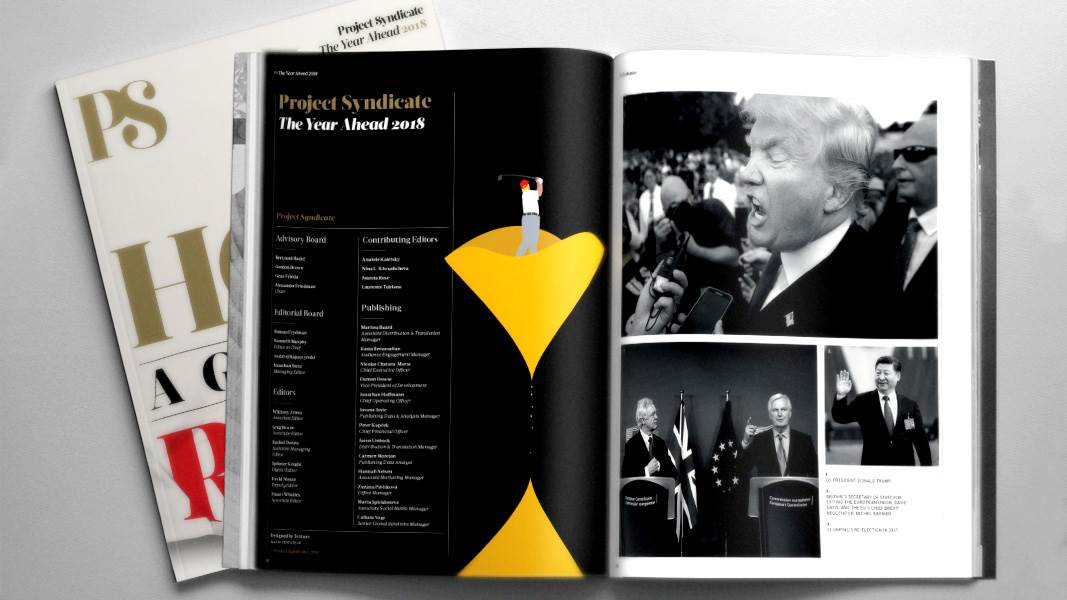 The Year Ahead 2018
The world's leading thinkers and policymakers examine what's come apart in the past year, and anticipate what will define the year ahead.
Eh sì, per quanto possa sembrare scioccante, il kingmaker di queste elezioni potrebbe essere non altri che Silvio Berlusconi, Primo Ministro italiano per tre volte che ha reso popolare il termine "bunga-bunga." Berlusconi, che lasciò il suo mandato ignominiosamente nel 2011 quando la crisi del debito sovrano dell'euro minacciava di fagocitare l'Italia, non può tuttavia aspirare ad un quarto mandato, o a qualsiasi carica pubblica, a causa di una condanna per frode fiscale nel 2013. Tuttavia, la coalizione di centro destra che lui guida ha il maggior slancio in questa fase pre-elettorale.
Anche le ultime elezioni in Italia, nel febbraio 2013, sono state caotiche e inconclusive. Da allora il paese è stato governato da una coalizione guidata dal Partito Democratico (PD) del centro sinistra ed ora, mentre si sta per entrare nel periodo di campagna elettorale, l'Italia sta vivendo il periodo di maggior crescita economica degli ultimi dieci anni sebbene la disoccupazione rimanga tenacemente alta a più dell'11% (e a circa il 35% per i lavoratori più giovani). Ciò non sta tuttavia aiutando il PD.
Nel ruolo di Primo Ministro da febbraio 2014 a dicembre 2016, Matteo Renzi, il leader giovane e carismatico del PD, si era proposto come il rottamatore che avrebbe smantellato i vecchi metodi dell'establishment politico. Ma ha finito per allontanare piu persone di quanto ne abbia impressionate. Il suo più grande traguardo è stata la legge di riforma del mercato del lavoro italiano, ormai sclerotizzato, il che non ha contibuito a fargli guadagnare voti. Dal picco registrato nel 2015 del 40% dei voti ottenuto alle elezioni del Parlamento europeo, il sostegno per il PD è diminuito fino al 20-25%, mentre il partito di sinistra si è diviso.
Oggi, il primo partito nei sondaggi è il Movimento Cinque Stelle (M5S), ribelle e populista, guidato dal comico Beppe Grillo (anche se il candidato ufficiale come Primo Ministro è l'inesperto trentunenne Luigi Di Maio). L'M5s è maturato rispetto a cinque anni fa quando fu fondato e quando il messaggio principale si riduceva a "una piaga su tutte le vostre case". Da allora il movimento ha moderato la sua opposizione sull'euro e con il sostegno al 26-29% continua ad essere popolare nonostante la prestazione scadente dell'amministrazione del Comune di Roma.
Il problema per l'M5s è che, a causa della nuova legge elettorale, dovrà guadagnarsi circa il 40% dei voti per avere una maggioranza parlamentare. Se da un lato il sistema proporzionale determinerà infatti i due terzi dei seggi nella Camera dei Deputati, un terzo verrà invece determinato da un sistema maggioritario uninominale nelle circoscrizioni uniche con il quale il Movimento Cinque Stelle è destinato a perdere in quanto non è disposto, o non è in grado, di formare delle alleanze politiche per garantire una maggioranza.
In questo contesto la coalizione che trarrà maggior vantaggio dall'attuale sistema elettorale sarà l'unica in grado di riuscire a stringere un patto pre-elettorale con altri partiti, ovvero il centro destra guidato da Berlusconi. Come ha dimostrato con le sue vittorie elettorali nel 1994, 2001 e nel 2008, la forza più grande di Berlusconi è sempre stata la formazione di coalizioni. E, proprio come in quelle elezioni, il suo partito, Forza Italia, avrà come principale partner il partito separatista, anti-immigrati ed euroscettico, la Lega Nord.
Ovviamente, non sarà tutto così facile per Berlusconi. Dovrà infatti gestire il processo spinoso di concordare dei candidati unificati con l'ambizioso ed energetico leader della lega Nord, Matteo Salivini, anche lui con gli occhi puntati alla leadership del centro destra, e con un terzo partner minore sempre del centro destra, ovvero Fratelli d'Italia.
Tuttavia, finora le premesse sono buone per Berlusconi. I sondaggi danno Forza Italia al 16%, una percentuale leggermente più alta rispetto a quella della Lega Nord, ma comunque al di sotto del periodo di massimo splendore, ovvero quando riusciva ad andare oltre il 25%. Il centro destra trarrà poi vantaggio dalla rabbia degli elettori rispetto al flusso di rifugiati e migranti e dalla paura da parte dell'opinione pubblica del potenziale di destabilizzazione dell'M5s. Il vento soffia quindi a suo favore.
Da parte sua Berlusconi si presenta come uomo politico di grande esperienza e come un porto sicuro. Ha ammorbidito la sua immagine sostenendo i pensionati e professando un nuovo interesse per i diritti degli animali. Infine, continua ad essere un magnifico promotore delle campagne elettorali e possiede i principali canali televisivi commerciali del paese.
Arrivare ad una maggioranza assoluta è un'impresa difficile per il gruppo di Berlusconi, ma non impossibile. In ogni caso, un forte sostegno sarebbe comunque una rimonta per il vecchio showman, che è proprio ciò a cui da tempo aspira. Se la sua coalizione di centro destra dovesse guadagnare la maggioranza, finirebbe per scegliere direttamente il primo ministro, e, cosa ancor più probabile, svolgerebbe un ruolo chiave nelle negoziazioni rispetto ad un governo di grande coalizione tra i partiti di centro destra e di centro sinistra.
La cosa più sorprendente è che entrambi questi scenari verrebbero visti come un risultato stabile e rispettabile rispetto all'alternativa più probabile, ovvero un governo di minoranza guidato dai cinque stelle. Berlusconi potrebbe quindi essere alla fin fine il salvatore politico dell'Italia? Non è da escludere.
Traduzione di Marzia Pecorari