Bunga Bunga ist wieder da
LONDON – Der nunmehr für den 4. März festgelegte Termin für die nächsten Parlamentswahlen in Italien bildet für die wichtigsten Kandidaten den Auftakt für einen harten achtwöchigen Wahlkampf. Während mit einem chaotischen, unklaren Wahlergebnis gerechnet wird, scheint eine Sache bereits klar zu sein: Das Tempo werden wohl nicht die 31- beziehungsweise 42-jährigen Sprinter an der Spitze der beiden führenden Parteien vorgeben, sondern ein 81-jähriger Marathonläufer.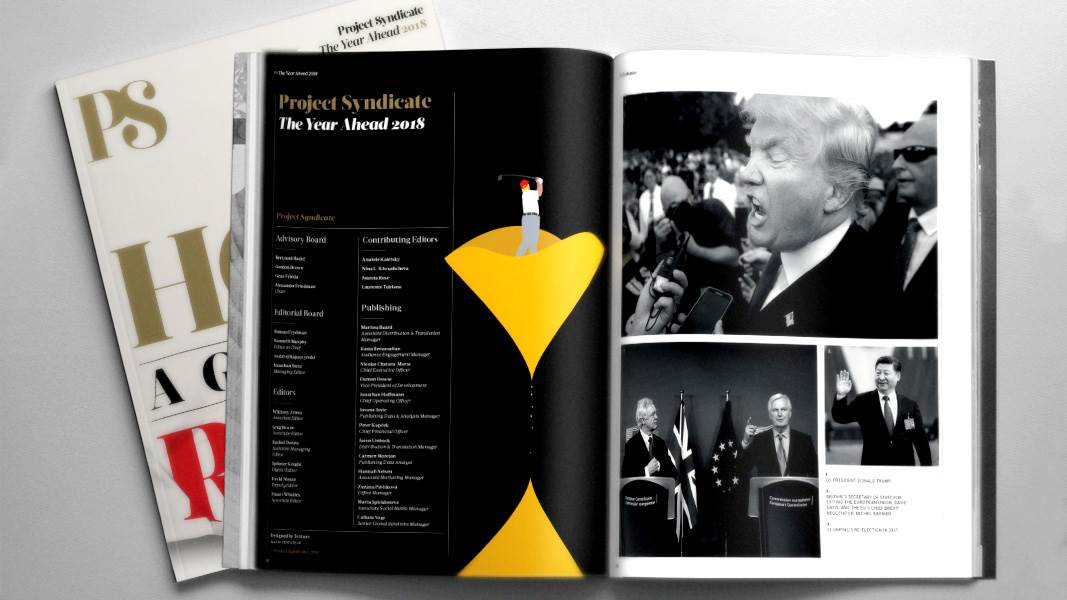 The Year Ahead 2018
The world's leading thinkers and policymakers examine what's come apart in the past year, and anticipate what will define the year ahead.
Ja, es ist schockierend: Der Königsmacher bei diesen Wahlen könnte niemand anderer als Silvio Berlusconi sein, der dreimalige Ministerpräsident, dem die Welt den Begriff "Bunga Bunga"-Party zu verdanken hat. Berlusconi, der zuletzt 2011 unrühmlich aus dem Amt geschieden ist, als die Staatschuldenkrise in der Eurozone Italien zu verschlingen drohte, kann sich nach seiner Verurteilung wegen Steuerhinterziehung 2013 zwar keine Hoffnungen auf eine vierte Amtszeit – oder ein anderes öffentliches Amt – machen, doch das von ihm angeführte Mitte-Rechts-Bündnis geht mit dem größten Elan in die Wahlen.
Auch die letzten Parlamentswahlen in Italien im Februar 2013 waren chaotisch und nicht eindeutig. Seither ist das Land von Mitte-Links-Koalitionen regiert worden, angeführt von der Demokratischen Partei (Partita Democratico, PD). Während der Startschuss für den Wahlkampf gefallen ist, verzeichnet Italien derzeit das schnellste Wirtschaftswachstum seit über einem Jahrzehnt, auch wenn die Arbeitslosigkeit hartnäckig hoch bei über 11% (und rund 35% für jüngere Arbeitskräfte) verharrt. Trotzdem profitiert der PD nicht davon.
In seiner Amtszeit als Ministerpräsident von Februar 2014 bis Dezember 2016 hat sich Matteo Renzi, der jugendliche und charismatische Vorsitzende des PD, als rottamatore in Szene gesetzt, der das alte politische Establishment "verschrotten" würde. Doch letztlich hat er mehr Menschen vor den Kopf gestoßen als beeindruckt. Sein wichtigster Erfolg war eine Reform des verkrusteten italienischen Arbeitsmarktes – nichts, womit sich Wählerstimmen gewinnen ließen. Nach einem Hoch von 40% der Stimmen bei der Wahl zum Europaparlament 2015, ist die Unterstützung für den PD auf nur 20-25% gesunken und der linke Flügel der Partei hat sich abgespalten.
Die derzeit führende Einzelpartei in den Umfragen ist die aus dem Protest heraus entstandene, populistische Fünf-Sterne-Bewegung (M5S) unter dem Vorsitz des Komikers Beppe Grillo (auch wenn der unerfahrene, 31-jährige Luigi Di Maio offiziell zum Spitzenkandidaten für das Amt des Ministerpräsidenten gekürt wurde). Die Fünf-Sterne- Bewegung ist seit ihrer Gründung vor fünf Jahren reifer geworden, als sich ihre Kernbotschaft noch auf ein shakespearesches "zum Teufel eure Häuser" belief. Ihre ablehnende Haltung gegenüber dem Euro hat sie seither gemäßigt. Und mit Umfragewerten zwischen 26-29% ist sie trotz ihrer schwachen Regierung im Gemeinderat von Rom weiterhin populär.
Die M5S steht vor dem Problem, dass sie aufgrund eines neuen Wahlgesetzes rund 40% der Gesamtstimmen brauchen wird, um sich eine parlamentarische Mehrheit zu sichern. Während zwei Drittel der Sitze im Abgeordnetenhaus per Verhältniswahl vergeben werden, wird ein Drittel per Mehrheitswahl in Einerwahlkreisen bestimmt, wo die Fünf-Sterne-Bewegung wahrscheinlich das Nachsehen haben wird, weil sie weder willens, noch in der Lage ist, die Wahlbündnisse einzugehen, die nötig sind, um Mehrheiten zu erhalten.
Tatsächlich wird die einzige Parteigruppierung, der es gelungen ist vor der Wahl einen Pakt mit anderen Parteien zu schmieden, am meisten vom jetzigen Wahlsystem profitieren: das von Berlusconi angeführte Mitte-Rechts-Bündnis. Wie Berlusconi bei seinen Wahlsiegen in den Jahren 1994, 2001 und 2008 bewiesen hat, ist die Bildung von Koalitionen schon immer seine größte Stärke gewesen. Wie schon in den damaligen Wahlen wird der wichtigste Partner seiner eigenen Partei Forza Italia die separatistische, einwandererkritische und euroskeptische Lega Nord sein.
Natürlich wird für Berlusconi nicht alles reibungslos laufen. Er wird die knifflige Aufgabe bewältigen müssen, sich mit dem energischen und ehrgeizigen Matteo Salvini – dem Vorsitzenden der Lega Nord, der sich ebenfalls als Anführer des Mitte-Rechts-Bündnisses in Stellung bringt – und mit dem dritten, kleineren Partner der Gruppe, den rechtsgerichteten Fratrelli d'Italia, auf gemeinsame Kandidaten zu einigen.
Trotzdem sieht es bislang gut aus für Berlusconi. Forza Italia liegt in den Umfragen bei rund 16% und damit etwas vor der Lega Nord, auch wenn Forza Italia weit hinter ihren Glanzzeiten zurückbleibt als sie in Umfragen bei über 25% lag. Und das Mitte-Rechts-Bündnis wird wahrscheinlich von der Wut der Wähler über den Zustrom von Flüchtlingen und Migranten profitieren und von der Angst der Bevölkerung vor dem disruptiven Potenzial der Fünf-Sterne-Bewegung. Das Bündnis hat Rückenwind.
Berlusconi setzt sich als Elder Statesman in Szene – sogar als zuverlässig und kompetent. Er hat sich ein softeres Image verpasst, indem er sich für Rentner einsetzt und neuerdings Interesse am Tierschutz zeigt. Und er ist nicht zuletzt immer noch ein herausragender Wahlkämpfer, dem zufälligerweise die größten Fernsehsender des Landes gehören.
Es wäre schwierig für Berlusconis Gruppe, eine absolute Mehrheit zu erlangen, aber ausgeschlossen ist es nicht. Ein gutes Ergebnis würde jedenfalls ein beachtliches Comeback für den alten Entertainer bedeuten – was er schon immer sehr genossen hat. Wenn seine Mitte-Rechts-Koalition eine Mehrheit erhalten sollte, wird er direkt den Ministerpräsidenten küren; wahrscheinlicher wird er die Schlüsselfigur in den Verhandlungen über eine große Koalition aus Mitte-Rechts- und Mitte-Links-Parteien sein.
Am bemerkenswertesten ist aber, dass beide Szenarien im Vergleich zur wahrscheinlichsten Alternative ‒ einer von der Fünf-Sterne-Bewegung geführten Minderheitsregierung ‒ weithin als solides und respektables Ergebnis betrachtet würden. Könnte sich Berlusconi am Ende als politischer Retter Italiens erweisen? Man kann es nicht ausschließen.
Aus dem Englischen von Sandra Pontow.