Le retour des fêtes bunga-bunga en Italie
LONDRES – À présent que les prochaines élections législatives italiennes ont été fixées au 4 mars, les principaux candidats se préparent pour une dure campagne de huit semaines. On s'attend à ce que les résultats soient confus et peu concluants, mais une chose est déjà claire : les sprinters de 31 ou de 42 ans qui dirigent les deux principaux partis risquent de ne pas être les meneurs de train. Il s'agirait plutôt d'un coureur de marathon de 81 ans.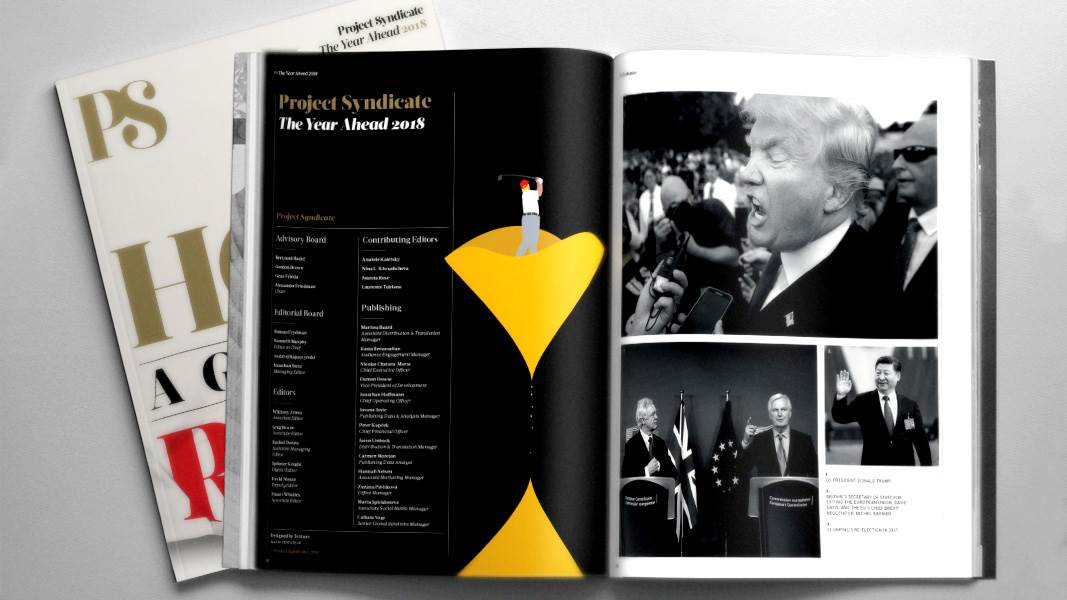 The Year Ahead 2018
The world's leading thinkers and policymakers examine what's come apart in the past year, and anticipate what will define the year ahead.
Oui, aussi choquant que cela puisse paraître, le faiseur de rois de ces élections pourrait être Silvio Berlusconi en personne, lui qui a déjà été trois fois Premier ministre et qui a popularisé le terme « fête bunga-bunga. » Berlusconi, qui a honteusement quitté ses fonctions en 2011, quand la crise de la dette souveraine en euro a menacé d'engloutir l'Italie, ne peut pas encore aspirer à un quatrième mandat - ni à toute autre charge publique - suite à une condamnation pour fraude fiscale en 2013. Pourtant la coalition de centre-droit qu'il dirige a la plus forte avance à l'approche des élections.
Les dernières élections législatives en Italie, en février 2013, ont été tout aussi confuses et peu concluantes. Au cours de la période allant de janvier 1995 à février 2001, le pays a été gouverné par des coalitions dirigées par le Parti Démocratique de centre-gauche (PD). À présent, à l'approche de la campagne, l'Italie connaît sa croissance économique la plus rapide depuis plus d'une décennie, bien que le chômage demeure obstinément fort, à plus de 11 % (et approximativement à 35 % pour les plus jeunes travailleurs). Pourtant cela n'aide pas le PD.
Alors qu'il était Premier ministre de février 2014 à décembre 2016, Matteo Renzi, le leader juvénile et charismatique du PD, se présentait comme un rottamatore (bagarreur) qui démantelait les vieilles méthodes de l'establishment politique. Mais il a fini par aliéner plus de gens qu'il n'en a impressionné. Sa plus grande réussite a été la législation pour réformer les marchés du travail sclérosés de l'Italie - ce qui est loin d'être un piège à voix. Depuis son sommet en 2015, avec 40 % des voix lors des scrutins du Parlement européen, le soutien au PD est tombé à seulement 20-25 % en 2016 et l'aile gauche du parti s'est scindée.
Aujourd'hui, le principal parti unique dans les sondages d'opinion est le Mouvement des Cinq Étoiles (M5S), insurgé et populiste, dirigé par le comédien Beppe Grillo (bien que son candidat officiel au poste de Premier ministre soit un jeune homme inexpérimenté de 31 ans, Luigi Di Maio). Le M5S a mûri depuis sa fondation il y a cinq ans, quand son message central se résumait à « un fléau sur toutes vos maisons ». Il a depuis modéré son opposition à l'euro. Et avec un soutien aux environs de 26-29 %, il reste populaire malgré ses mauvais résultats à la mairie de Rome.
Le problème pour le M5S est qu'en raison d'une nouvelle loi électorale, il devra remporter environ 40 % du vote total pour obtenir une majorité parlementaire. Alors que la représentation proportionnelle va déterminer les deux tiers des sièges à la Chambre basse, un tiers sera décidé par un Scrutin uninominal majoritaire à un tour dans les circonscriptions uninominales, où le M5S va probablement perdre, car il n'est ni disposé ni capable de former les alliances électorales nécessaires pour s'assurer des majorités.
En fait, le groupe de partis qui bénéficiera le plus du système électoral actuel sera le seul à avoir réussi à forger un pacte pré-électoral avec d'autres partis : le centre-droit dirigé par Berlusconi. Comme il l'a démontré avec ses victoires électorales en 1994, 2001 et 2008, la plus grande force de Berlusconi a toujours été la construction de coalitions. Et comme lors de ces élections passées, son propre parti, Forza Italia, aura pour partenaire principal la Ligue du Nord, séparatiste, anti-immigration et eurosceptique.
Bien sûr, ces élections ne seront pas une simple formalité pour Berlusconi. Il devra trouver sa voie dans le difficile processus d'associer des candidats communs avec le leader énergique et ambitieux de la Ligue du Nord, Matteo Salvini - qui des ambitions personnelles sur le leadership du centre-droit - et avec le troisième partenaire plus petit du groupe : les Frères d'Italie, de droite.
Pourtant, jusqu'à présent, l'avenir semble prometteur Berlusconi. Forza Italia affiche un score dans les sondages du scrutin aux alentours de 16 %, ce qui est légèrement supérieur au soutien de la Ligue du Nord, même si c'est bien en deçà de l'âge d'or du parti, qui était alors crédité de plus de 25 % d'opinion favorable. Et le centre-droit va certainement bénéficier de la colère des électeurs relativement aux afflux de réfugiés et de migrants, ainsi que de la crainte de l'opinion publique quant au potentiel disruptif du M5S. Ils ont le vent dans le dos.
Pour sa part, Berlusconi se dépeint lui-même comme un homme d'État vétéran – même comme une personne fiable. Il a adouci son image, en parlant pour les retraités et en affichant un nouvel intérêt pour les droits des animaux. Enfin et surtout, il est encore un excellent militant qui se trouve détenir les principales chaînes de télévision commerciales du pays.
Obtenir une majorité absolue risque bien d'être un défi de taille pour le groupe de Berlusconi : mais cela n'est pas impossible. En tout cas, une solide progression serait un retour tout à fait remarquable pour ce vieux showman – et ceci ferait précisément ses délices. Si sa coalition de centre-droit remporte une majorité, il choisira directement le Premier ministre ; plus probablement, il sera l'acteur principal dans les négociations sur un gouvernement de grande coalition des partis de centre-droit et de centre-gauche.
Plus remarquable encore, chacun de ces deux scénarios risque d'être largement considéré comme un résultat stable et respectable, par rapport à la solution de rechange plus probable : un gouvernement minoritaire dirigé par le M5S. Berlusconi pourrait-il finir par être le sauveur politique de l'Italie ? Ce n'est pas à exclure.