La mejor esperanza del pueblo iraní
LONDRES – Uno de los aspectos más extraordinarios de las protestas que se desarrollan en Irán (las mayores desde el Movimiento Verde de 2009) es que es muy posible que las hayan iniciado los mismos contra quienes están dirigidas. Parece que los teócratas ultraconservadores de Irán creyeron que agitando en sus bastiones políticos el malestar por la economía podrían debilitar al presidente moderado Hassan Rouhani. Pero si es así, no anticiparon hasta qué punto el pueblo iraní está insatisfecho con el statu quo, y en particular, con ellos.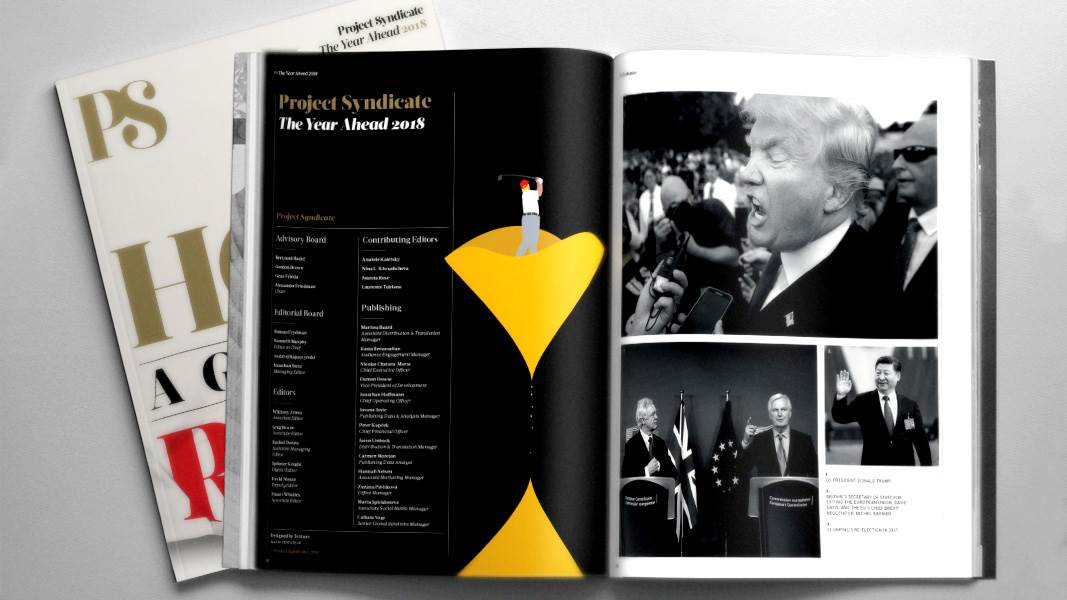 The Year Ahead 2018
The world's leading thinkers and policymakers examine what's come apart in the past year, and anticipate what will define the year ahead.
Seamos claros: pese a la gran magnitud de las protestas, es muy improbable que acaben con el régimen. Las fuerzas de seguridad iraníes son extremadamente poderosas y tienen mucho en juego en el sistema actual, que les da control de amplias áreas de la economía iraní.
Además, los manifestantes no tienen líderes ni objetivos claros. Sin importar cuánto aliento les den las potencias occidentales, es casi seguro que después de las protestas los halcones islamistas conservarán sus bases de poder y la Guardia Revolucionaria Islámica seguirá controlando la mayor parte de los bienes del Estado y del aparato de seguridad.
Pero eso no implica que nada cambiará, ni que Occidente no pueda ejercer alguna influencia.
Por ejemplo, puede ocurrir que Rouhani renuncie (obligado o por voluntad propia). Pero los manifestantes no verían en esto un triunfo, ya que Rouhani sólo es el administrador supuestamente moderado de un Estado cuya constitución, según lo entiende la élite clerical, no procede de este mundo. Si para proteger la pureza religiosa del gobierno (y sus mal habidos privilegios) los extremistas que asuman el poder tienen que reprimir brutalmente a su propio pueblo y devolver Irán a la Edad Media, lo harán sin dudar.
Más allá de que Rouhani renuncie o no, ya es evidente que el statu quo no puede continuar para siempre, e incluso es posible que no dure mucho. A los iraníes se les dijo que el acuerdo sobre el programa nuclear firmado en 2015 los sacaría de la penuria económica. Pero en parte por la corrupción persistente (un área en la que Irán figura en el cuartil más bajo del mundo), la inflación anual supera el 10%, y el desempleo juvenil se sitúa en 25%. Según Gallup, sólo los ciudadanos de Irak y Sudán del Sur ven su futuro con más pesimismo.
Hasta ahora, Rouhani no pudo o no quiso usar el poder de la presidencia para reformar Irán. Pero las protestas le dan más motivos que nunca para mejorar las condiciones económicas locales. Si no lo logra, puede que Irán enfrente una oleada de protestas más grande, con un liderazgo más fuerte y objetivos más claros.
Para reformar la economía iraní hay que empezar por admitir que la política exterior expansionista del país es una locura muy cara. El costo de financiar una guerra por intermediarios en Yemen, sostener un partido político y un grupo terrorista en el Líbano, y tratar de dominar Siria e Irak asciende a miles de millones de dólares al año. No es extraño que los manifestantes corearan: "dejen a Siria, piensen en nosotros".
Los ciudadanos iraníes no son los únicos que se oponen a la política exterior del país. La mayor parte de los gobiernos de Occidente y Medio Oriente también están muy preocupados por la conducta de Irán, que atenta contra normas internacionales como el respeto de la soberanía nacional. Y es evidente que las amenazas públicas que profiere Irán de destruir Estados Unidos y los estados del Golfo no ayudan.
La problemática política exterior de Irán no es resultado de mala gestión, sino de una ideología tóxica basada en dos ideas fijas. En primer lugar, la dirigencia iraní está convencida (lo mismo que el presidente ruso Vladimir Putin) de que la geopolítica global es un juego de suma cero (coincidencia que tal vez explique la estrecha alianza que se formó entre Rusia e Irán). En segundo lugar (y esto es más peligroso), se cree investida por Dios de un derecho a unir a los musulmanes shiitas en un único califato. El resultado es un régimen hostil que ve en el éxito de sus vecinos una amenaza y un motivo para la guerra.
La dirigencia iraní no abandonará fácilmente las avanzadas que el país sentó por Medio Oriente en el último decenio; son cabezas de playa que los halcones del régimen consideran activos cruciales para la seguridad nacional y la política exterior. Pero las protestas actuales dan a Occidente una oportunidad de presionar a Irán para que suspenda sus ambiciones regionales y se concentre en la desesperada situación interna: o acepta un acuerdo y las sanciones se reducen, o estas podrían ampliarse si se niega a ceder.
Es verdad que si los extremistas religiosos se adueñan del control de todos los niveles del gobierno de Irán, cualquier llamado a pensar en el futuro económico de los iraníes caerá en oídos sordos. Pero si Rouhani conserva la presidencia (o lo reemplaza otro moderado), tal vez la presión consiga que Irán reduzca su aventurerismo en el extranjero y reforme la economía local. Esto minimizaría el riesgo de un brote de violencia grave en Irán y movilizaría la oposición a los extremistas religiosos.
Irán está en un punto de inflexión. El mundo debe enviar al régimen un mensaje claro: que deje de desestabilizar la región y ayude a su propio pueblo a prosperar.
Traducción: Esteban Flamini