Die beste Perspektive für die iranische Bevölkerung
LONDON – Es kann gut sein, dass die aktuellen Proteste im Iran – die größten seit der Grünen Bewegung von 2009 – kurioserweise von genau denjenigen geschürt wurden, gegen die sie gerichtet sind. Irans ultrakonservative Theokraten haben anscheinend gedacht, dass sie den gemäßigten Präsidenten Hassan Rouhani schwächen könnten, indem sie die Wut der Bevölkerung in ihren politischen Hochburgen über wirtschaftliche Missstände anheizen. Wenn das der Fall sein sollte, dürften sie nicht darauf gefasst gewesen sein, wie groß die Unzufriedenheit der Menschen im Iran mit dem gegenwärtigen Zustand ist – vor allem ihrer eigenen Rolle dabei.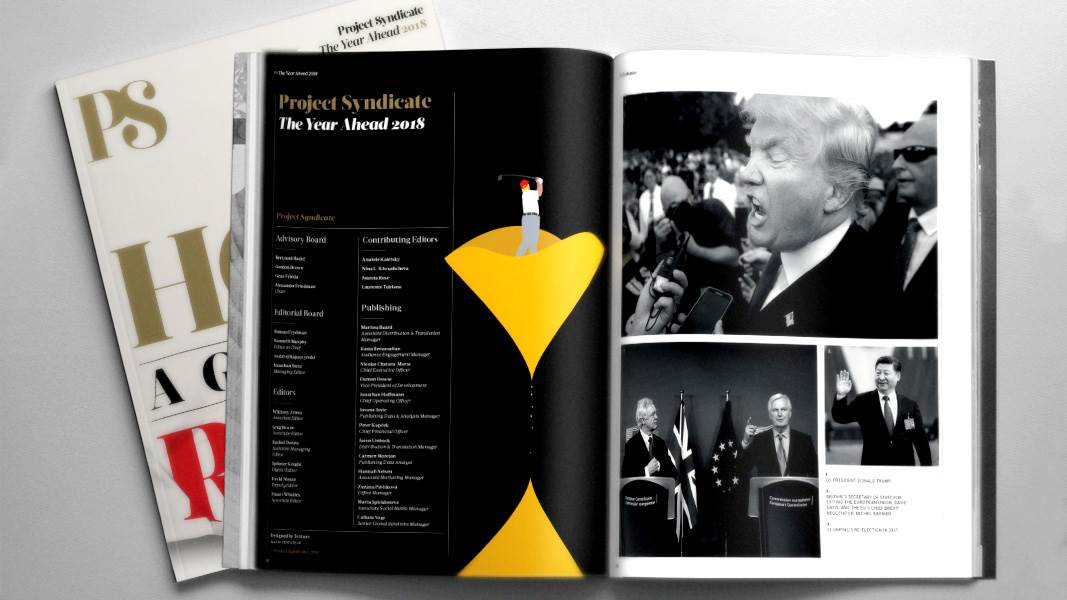 The Year Ahead 2018
The world's leading thinkers and policymakers examine what's come apart in the past year, and anticipate what will define the year ahead.
Es ist trotz der Größenordnung der Proteste sehr unwahrscheinlich, dass sie das Regime zu Fall bringen werden. Für die mächtigen iranischen Sicherheitskräfte, die im gegenwärtigen System weite Teile der iranischen Wirtschaft kontrollieren, steht zu viel auf dem Spiel.  
Hinzukommt, dass es den Demonstranten an klaren Anführern und Zielsetzungen fehlt. Egal wie viel Rückenstärkung die Proteste aus westlichen Staaten erfahren: Es ist so gut wie sicher, dass letztlich die islamistischen Hardliner ihre Machtbasis und die iranische Revolutionsgarde die Kontrolle über den Großteil des staatlichen Vermögens und die Sicherheit des Staates behalten werden.
Das bedeutet aber nicht, dass alles bleibt, wie es ist. Und es bedeutet auch nicht, dass der Westen keinen Einfluss geltend machen könnte.
Möglich wäre etwa, dass es letztendlich zu einem Rücktritt Rouhanis kommt, ob zwangsweise oder aus freien Stücken. Das dürften die Demonstranten allerdings kaum als Erfolg verbuchen. Schließlich gilt Rouhani als gemäßigter Präsident eines Staates, dessen Verfassung in den Augen der geistlichen Führung nicht weltlichen, sondern göttlichen Ursprungs ist. Sollte es zum Schutz der religiösen Reinheit ihrer Regierung – und ihrer eigenen unrechtmäßig erworbenen Gewinne – erforderlich sein, ihr eigenes Volk brutal zu unterdrücken und den Iran zurück ins Mittelalter zu befördern, würden es die am Ruder bleibenden Extremisten bereitwillig tun.  
Unabhängig davon, ob Rouhani zurücktritt oder nicht, ist absehbar geworden, dass sich der Status quo nicht auf unbestimmte Zeit beibehalten lässt – vielleicht gar nicht mehr lange. Der iranischen Bevölkerung wurde gesagt, dass das 2015 geschlossene Atomabkommen ihrer wirtschaftlichen Not ein Ende bereiten würde. Doch unter anderem aufgrund der anhaltenden Korruption – Iran rangiert im internationalen Vergleich im untersten Viertel – liegt die jährliche Inflation bei über 10% und die Jugendarbeitslosigkeit bei 25%. Einer Gallup-Umfrage zufolge blicken nur irakische und südsudanesische Bürgerinnen und Bürger noch pessimistischer in die Zukunft.
Bislang wollte oder konnte Rouhani die Macht der Präsidentschaft nicht für Reformen im Iran nutzen. Angesichts der Proteste ist er jedoch motivierter denn je, die wirtschaftliche Situation im eigenen Land zu verbessern. Wenn er scheitern sollte, könnte eine größere Protestwelle mit stärkeren Anführern und klareren Zielsetzungen auf Iran zukommen.
Alle Bemühungen die iranische Wirtschaft zu reformieren, müssen den Widersinn der kostspieligen expansionistischen Außenpolitik des Landes erkennen. Die Finanzierung eines Stellvertreterkrieges im Jemen, die finanzielle Unterstützung einer politischen Partei und Terrormiliz im Libanon und das Streben nach Vorherrschaft in Syrien und Irak haben Jahr für Jahr Milliarden von Dollar gekostet. Es dürfte keine Überraschung gewesen sein, dass Demonstranten riefen: "Verlasst Syrien, denkt an uns."
Die iranischen Bürgerinnen und Bürger sind nicht die einzigen, die Einwände gegen die Außenpolitik ihres Landes haben. Die meisten westlichen Länder und Regierungen im Nahen Osten sind äußerst besorgt über das Vorgehen des Iran, in dem sich die Ablehnung internationaler Normen wie die Achtung der nationalen Souveränität widerspiegelt. Irans öffentliche Drohungen, Amerika und die Golfstaaten zu zerstören sind sicher nicht hilfreich.
Irans problematische Außenpolitik ist keine Folge der Misswirtschaft, sondern einer gefährlichen Ideologie. Tatsächlich wird sie von zwei fixen Vorstellungen untermauert. Erstens ist die iranische Führung überzeugt, dass globale Geopolitik ein Nullsummenspiel ist – eine Auffassung, die sie mit dem russischen Präsidenten Wladimir Putin teilt. (Diese Gemeinsamkeit erklärt vielleicht das enge Bündnis, das zwischen Russland und Iran entstanden ist.) Zweitens – und noch gefährlicher – glaubt die iranische Führung, dass es ihr gottgegebenes Recht ist, schiitische Muslime unter dem Dach eines Kalifats zu vereinigen. Die Folge ist ein feindseliges Regime, das die Erfolge seiner Nachbarn als Bedrohung betrachtet – und bereit ist deshalb Krieg zu führen.
Die iranische Führung wird keine Neigung verspüren, die Stellungen wieder aufzugeben, auf die sie in den vergangenen zehn Jahren im Nahen Osten vorgerückt ist; Brückenköpfe, die die Hardliner des Regimes als entscheidende Pluspunkte ihrer Außen- und Sicherheitspolitik betrachten. Im Zuge der aktuellen Proteste bietet sich dem Westen jedoch die Chance, Iran zu drängen, seine regionalen Ambitionen aufzugeben und sich auf die desolate innenpolitische Lage zu konzentrieren. Wenn eine Einigung erzielt wird, können bestehende Sanktionen abgebaut werden. Wenn sich die iranische Führung weigert nachzugeben, können neue Sanktionen verhängt werden.
Wenn religiöse Extremisten die Kontrolle über alle Ebenen der iranischen Regierung übernehmen sollten, steht fest, dass Appelle, die auf den wirtschaftlichen Perspektiven der iranischen Bevölkerung beruhen, ungehört verhallen werden. Doch wenn Rouhani Präsident bleibt – oder ein anderer Gemäßigter seinen Platz einnimmt – besteht die Chance, dass dieser Druck ausreichend Deckung bieten würde, um Irans expansionistische Abenteuer im Ausland zurückzuschrauben und die heimische Wirtschaft zu reformieren. Auf diese Weise würde das Risiko einer Eskalation der Gewalt im Iran minimiert und die Opposition gegen religiöse Extremisten mobilisiert.
Iran befindet sich an einem Wendepunkt. Die Welt muss dem iranischen Regime eine klare Botschaft senden: Beendet die Destabilisierung der Region und helft eurem eigenen Volk, Wohlstand zu erlangen.
Aus dem Englischen von Sandra Pontow.