Der Weg zu einem neuen Atomabkommen mit dem Iran
BERLIN – Als der Iran im Januar bekannt gab, seine Verpflichtungen aus dem Abkommen des Jahres 2015 zur Begrenzung seiner atomaren Aktivitäten weiter "reduzieren" zu wollen, war das keine Reaktion auf die Ermordung des Kommandanten der iranischen Quds-Einheit, General Qasem Soleimani, die sich wenige Tage zuvor ereignet hatte. Beide Entwicklungen waren jedoch Ausdruck der eskalierenden Konfrontation zwischen dem Iran und den USA seit Sommer 2019. Sämtliche Bemühungen zur Sicherung der Substanz des Abkommens aus dem Jahr 2015 (offiziell bekannt als Joint Comprehensive Plan of Action oder JCPOA) müssen diesen Zusammenhang berücksichtigen.
Das iranische Regime erklärte, dass es sich in dieser "fünften und letzten" Phase des Rückzugs aus seinen Verpflichtungen im Rahmen der JCPOA nicht mehr an die im Abkommen vereinbarten Obergrenzen für Zentrifugen und Urananreicherung gebunden fühlen würde. Gleichzeitig hielt der Iran fest, dass dieser Schritt sowie die früheren schrittweisen Reduzierungen seiner Verpflichtungen umkehrbar seien und dass die Behörden die Inspektion der Atomanlagen des Landes durch die Internationale Atomenergiebehörde nicht einschränken würden.
Die europäischen Regierungen sagen jedoch, der jüngste Schritt des Iran sei ein schwerwiegender Verstoß gegen das Abkommen. Nachdem man den Iran im November 2019 im Anschluss an die damalige Phase Rückzugs aus seinen Verpflichtungen gewarnt hatte, setzten die "E3" – Deutschland, Frankreich und das Vereinigte Königreich – den im JCPOA vorgesehenen Streitbeilegungsmechanismus in Gang, der dazu vorgesehen ist, mögliche Vertragsverletzungen zu behandeln.
Im Rahmen dieses Mechanismus haben die nach dem Rückzug der USA im Jahr 2018 verbleibenden Unterzeichner des Abkommens - die E3, Russland, China und der Iran - mindestens 30 Tage Zeit, den Streit untereinander beizulegen. Gelingt es ihnen nicht, sich entweder auf eine inhaltliche Lösung oder auf eine Verlängerung dieser Frist zu einigen, kann jeder der Vertragsstaaten den Streit vor den Sicherheitsrat der Vereinten Nationen bringen. Dieser hätte dann einen Monat Zeit, um über eine Resolution zur Verlängerung der Aussetzung internationaler Sanktionen gegen den Iran abzustimmen, die in Kraft ist, seit der JCPOA im Jahr 2016 wirksam wurde. Ohne derartige Resolution würden die alten Sanktionen gemäß des "Snap-Back-Mechanismus" automatisch wieder greifen. Und weil die US-Regierung unter Präsident Donald Trump mit Sicherheit ihr Vetorecht nutzen würde, um eine derartige Resolution zu blockieren, käme es einem Todesurteil für den JCPOA gleich, würde man die Auseinandersetzung vor den Sicherheitsrat bringen.
So muss es nicht kommen, wenn die E3, Russland, China, der Iran und die Europäische Union (die als eine Art Notar des Abkommens fungiert) den Streitbeilegungsmechanismus gemäß seines beabsichtigten Zwecks einsetzen. Keine dieser Parteien möchte dem JCPOA ein Ende setzen. Es ist jedoch nicht klar, ob das Abkommen vor der US-Präsidentenwahl im November gerettet werden kann; und eine zweite Amtszeit Trumps würde es ziemlich sicher nicht überstehen. Diese Erkenntnis liegt dem - nicht nur unter den europäischen Unterzeichnerstaaten des Abkommens langsam um sich greifenden Konsens - zugrunde, wonach ein Arrangement für die Zeit nach dem JCPOA in Betracht gezogen werden muss. Obwohl der britische Premierminister Boris Johnson einen "Trump-Deal" mit dem Iran forderte, haben die Staats- und Regierungschefs der E3 gemeinsam von der Notwendigkeit gesprochen, einen "langfristigen Rahmen für das iranische Atomprogramm" zu definieren.
So widersinnig es erscheinen mag, aber die aktuelle regionale Dynamik könnte eine Gelegenheit für konstruktive Gespräche über ein derartiges Rahmenwerk bieten. Die strategische Eskalation seit dem letzten Sommer, insbesondere die Angriffe des Iran auf saudi-arabische Ölanlagen im September und die Ermordung Soleimanis im Januar, haben gezeigt, wie nahe die Region einer (wahrscheinlich unkontrollierbaren) militärischen Konfrontation sein könnte. Aus diesem Grund haben die Golfstaaten, die Trump zuvor ermutigt hatten, eine harte Haltung gegenüber dem Iran einzunehmen, ausdrücklich eine Deeskalation gefordert. Darüber hinaus begannen verschiedene Parteien, die zuvor das Gespräch verweigerten, miteinander zu sprechen oder signalisierten zumindest ihre diesbezügliche Bereitschaft: die Vereinigten Arabischen Emirate mit dem Iran, die Saudis mit den Huthi im Jemen und Katar und die Saudis mit den Iranern (über Dritte).
Subscribe now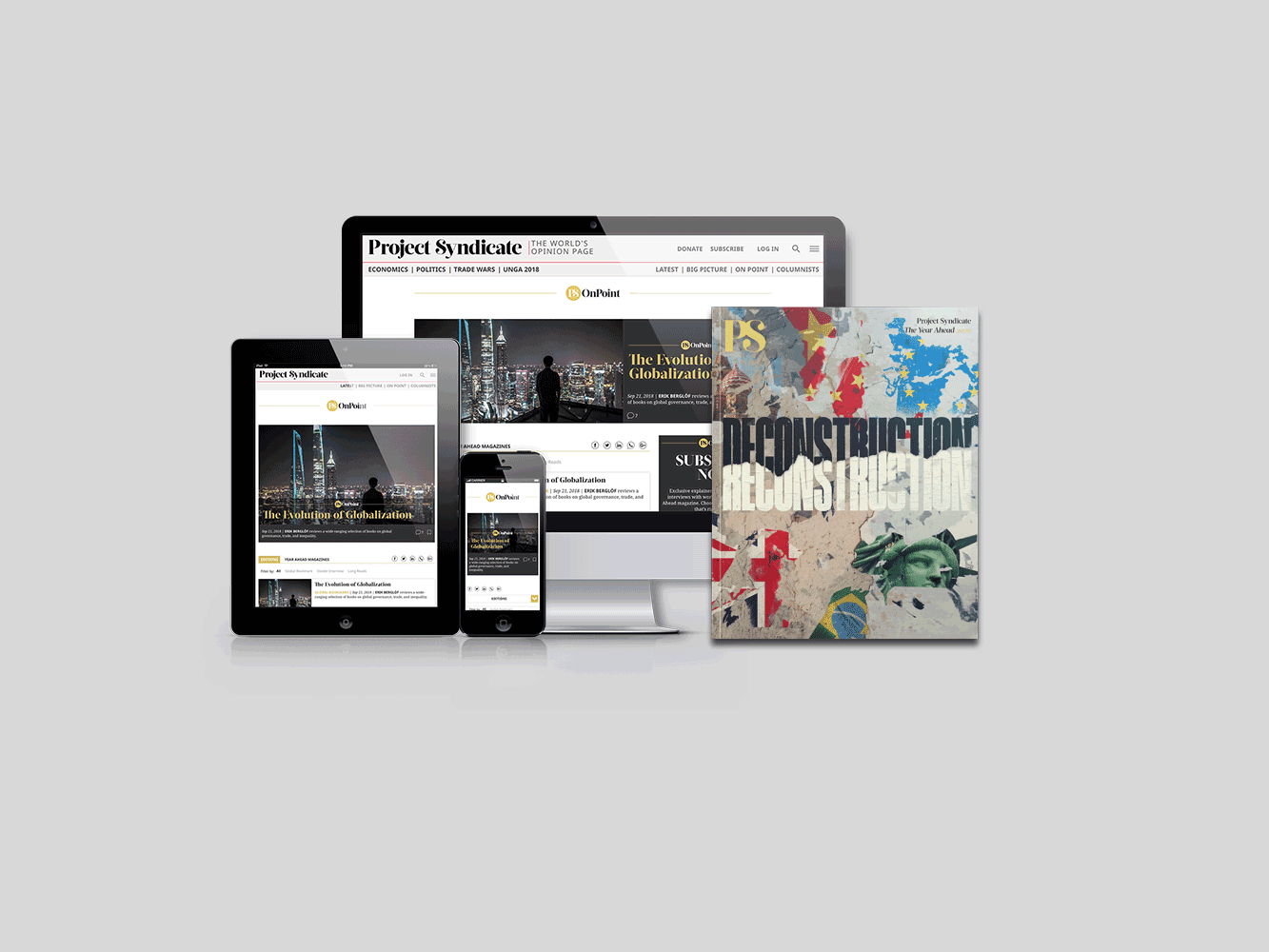 Subscribe now
Subscribe today and get unlimited access to OnPoint, the Big Picture, the PS archive of more than 14,000 commentaries, and our annual magazine, for less than $2 a week.
Zum Zeitpunkt des G7-Gipfels im vergangenen August in Biarritz schienen sogar Trump und das iranische Regime irgendeine Form des diplomatischem Engagements in Erwägung zu ziehen. Obwohl Hardliner in Teheran und Washington weitere Fortschritte verhinderten, führte die Hilfe der Schweiz anschließend zu einem Gefangenenaustausch zwischen dem Iran und den USA, wodurch sich zeigte, dass mithilfe von Freunden oder Partnern eine grundlegende bilaterale Verständigung möglich ist. Trump dankte dem Iran sogar für "für überaus faire Verhandlungen" und bezeichnete diese als "Vorbote dessen, was möglich ist."
Die europäischen Regierungen sollten weiterhin versuchen, ernsthafte, direkte Gespräche zwischen den USA und dem Iran zu ermöglichen. Gleichzeitig sollten sie den Streitbeilegungsmechanismus nutzen, um sowohl unmittelbare Maßnahmen zur Deeskalation zu erörtern als auch um die Konturen eines JCPOA-Nachfolgeabkommens auszuloten – oder einer alternativen Vereinbarung, sollte das gegenwärtige Abkommen platzen.
In diesen Debatten sollte man sich mit der Frage befassen, wie der ursprünglich von Trump unterstützte französische Vorschlag einer europäischen Kreditlinie für den Iran zur Linderung seiner wirtschaftlichen Nöte umgesetzt und wie der derzeitige Widerstand der USA gegen diese Idee überwunden werden kann.  Der Iran könnte einen solchen Schritt unterstützen, indem er einigen seiner kürzlich "reduzierten" Verpflichtungen wieder nachkommt.
In weitergehenden Gesprächen könnte man sich auf Fristen und Bestimmungen für künftige freiwillige Beschränkungen der iranischen Nuklearaktivitäten konzentrieren, sobald die so genannten "Sonnenuntergangsklauseln" des JCPOA auslaufen. Letztendlich müssten die USA Teil eines neuen Abkommens sein, und der Iran würde Garantien brauchen, dass eine zukünftige US-Regierung ein derartiges Abkommen nicht wieder aufkündigt. Gestärkt werden könnte ein Abkommen durch die Zustimmung des US-Kongresses – um die sich die Regierung unter Präsident Obama im Falle der JCPOA nicht bemühte. Dazu wäre es erforderlich, zentrale Bedenken der US-Gesetzgebers auszuräumen, wie etwa hinsichtlich der Lebensdauer iranischer Verpflichtungen, wobei offizielle Vertreter des Iran darauf hingewiesen haben, für Diskussionen zu diesem Thema offen zu sein, wenn bestimmte andere Bedingungen, insbesondere ein "wirtschaftlicher Waffenstillstand", erfüllt werden.  
Dennoch sollte jedes künftige Abkommen mit dem Iran ein Rüstungskontrollabkommen sein, das nicht mit anderen strittigen Angelegenheiten überfrachtet ist. Fragen hinsichtlich Souveränität und Sicherheit, wie der Einsatz und die Bewaffnung militanter Stellvertreter, die Weiterverbreitung von Raketen oder die Sicherheit von Wasserstraßen, sollten am besten in einem regionalen Kontext behandelt werden.
Angesichts des jüngsten Interesses der meisten regionalen Akteure an einer Deeskalation der Spannungen könnte jetzt der richtige Zeitpunkt sein, über die Ebene bilateraler Gespräche hinauszugehen und eine regionale Konferenz zu Vertrauensbildung, Sicherheit und Zusammenarbeit zu initiieren. Ein derartiger Prozess wäre eine Ergänzung zu den erneuten und wahrscheinlich langwierigen Atomverhandlungen zwischen dem Iran und den großen internationalen Mächten.
Aus dem Englischen von Helga Klinger-Groier