Irán, el poder hegemónico vacío
TEL AVIV – Los líderes israelíes y árabes se han pasado años advirtiendo sobre el ascenso de un imperio chiita liderado por los iraníes que se extendería por gran parte de Oriente Medio. Ahora que Irán está conectado al Mediterráneo a través de un corredor terrestre que atraviesa Irak, Siria y el Líbano, muchos hablan de una reivindicación. Pero el miedo de Irán como un poder hegemónico regional es sumamente exagerado.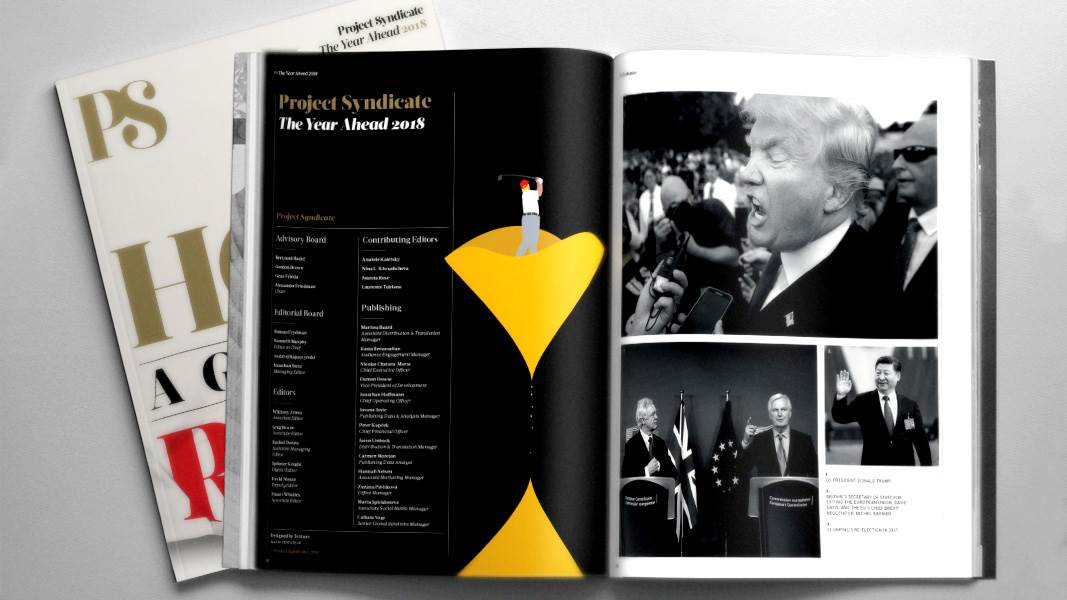 The Year Ahead 2018
The world's leading thinkers and policymakers examine what's come apart in the past year, and anticipate what will define the year ahead.
No se puede negar que Oriente Medio está plagado de conflictos localizados, muchas veces alimentados por rivalidades entre caudillos. Pero ningún actor regional está interesado en una conflagración de trascendencia. Esto es particularmente válido en el caso de Irán, que es incapaz de proyectar un poder militar convencional más allá de sus fronteras.
En verdad, el programa nuclear de Irán estaba destinado a compensar su debilidad militar convencional en un vecindario donde tiene más enemigos que amigos. Sin embargo, al llevar a la comunidad internacional a imponer sanciones paralizantes, el esfuerzo nuclear de Irán terminó minando aún más el progreso del país, impidiendo el progreso tecnológico y la inversión militar. Mientras tanto, sus enemigos, particularmente Israel y Arabia Saudita, que tienen presupuestos militares mucho mayores, adquirían las tecnologías militares occidentales más avanzadas.
Frente a esta debilidad, el corredor terrestre de Irán, que inspira tanto miedo a sus vecinos regionales, depende de poderes locales poco confiables, lo que lo torna insustentable. Y eso sin tener en cuenta su vulnerabilidad a los ataques aéreos norteamericanos.
Se suponía que Irak, un eslabón vital en el corredor, era el feudo chiita incondicional de Irán. Pero poner fin al predominio de las Fuerzas de Movilización Popular (Hashd al-Shaabi), un paraguas patrocinado por Irán de las milicias chiitas, en zonas evacuadas por el Estado Islámico (EI) es una alta prioridad para el primer ministro iraquí, Haider al-Abadi, que cuenta con el respaldo de la suprema autoridad chiita de Irak, Ali al-Sistani.
La situación en Siria es más complicada, pero no mucho más favorable para Irán que, después de años de respaldar al régimen del presidente Bashar al-Assad, ha descubierto que el verdadero poder hegemónico en la región es Rusia. El presidente Vladimir Putin sabe que convencer a los grupos rebeldes sunitas de deponer sus armas como parte de un acuerdo de paz efectivo será mucho más difícil si Irán conserva una fuerte presencia en el país. De la misma manera, Assad sabe que no puede aspirar a construir puentes con la mayoría sunita de Siria si su régimen está administrando un protectorado iraní.
Sin embargo, los mayores problemas de Irán en Siria son Estados Unidos e Israel. El primero ha mantenido su presencia militar en el país, inclusive después de haber derrotado al EI, para impedir que Irán consolidara el control. Y la poderosa fuerza aérea de Israel nunca permitiría una importante presencia militar iraní en Siria. Los líderes de Irán saben que el riesgo de una guerra allí tornaría vulnerable la infraestructura nuclear del país.
La influencia de Irán también está flaqueando en el Líbano. Después de años de servicio a la dinastía Assad, Hezbollah ahora está esforzándose por recuperar su legitimidad doméstica, promoviendo inclusive el retorno de Saad Hariri, el líder sunita de la anti-iraní Alianza del 14 de Marzo, a su puesto como primer ministro. Esto refleja un fuerte deseo de mantener cierta semblanza de orden institucional en el Líbano, e indica que una guerra con Israel, como en el caso de Irán, no responde a los intereses de Hezbollah.
Sin duda, la República Islámica, al igual que la Unión Soviética, ha visto durante mucho tiempo la expansión en el extranjero como la mejor manera de proteger los resultados de la revolución en casa. Pero como han demostrado las experiencias soviética e iraní, la imposibilidad de manejar los desafíos domésticos plantea una mayor amenaza para la legitimidad del régimen. Si bien el futuro del corredor terrestre de Irán depende de sus poderes amigos en el exterior, el futuro de la República Islámica depende de la capacidad de sus líderes de cumplir con sus promesas en casa.
Sin embargo, los líderes de Irán parecen estar poniendo a sus agentes en el exterior por encima de sus ciudadanos. A pesar del fracaso del acuerdo nuclear de 2015 a la hora de satisfacer las altas expectativas económicas de los iraníes, las autoridades siguen invirtiendo miles de millones de dólares en grupos como Hezbollah, Hamas en Palestina y los hutíes en Yemen. Irán ha gastado cerca de 10.000 millones de dólares sólo en Siria para defender a Assad.
La resultante presión fiscal ha obligado a Irán a recortar algunos de los abundantes subsidios que durante mucho tiempo han apuntalado el respaldo popular del régimen. Las protestas montadas por jóvenes principalmente de clase trabajadora contra las profundas reducciones de los subsidios a los alimentos y a los combustibles rápidamente se convirtieron en manifestaciones contra la teocracia de Irán, al canto de "Muerte a Ali Khamenei", el líder supremo de la República Islámica.
Tres generaciones es mucho tiempo para que sobreviva cualquier utopía revolucionaria, ya sea la República Islámica de Irán o la Unión Soviética. Los ciudadanos cada vez se sienten más desconectados -y hasta escépticos- de la causa original. Esto es absolutamente válido hoy, cuando la tecnología digital ha profundizado la división generacional.
En los años 1980, frente a un ataque brutal del Irak de Saddam Hussein, los iraníes se manifestaron detrás del régimen para garantizar la supervivencia del país. Hoy no se someterán a penurias similares en nombre de mantener avanzadas en Siria y Yemen, o un corredor terrestre al Mediterráneo. Aproximadamente la mitad de la población de Irán tiene menos de 30 años y el desempleo juvenil ronda el 25%. No debería sorprender entonces que algunos manifestantes recientemente cantaran "¡Olvídense de Siria! ¡Piensen en nosotros!"
El interés de Irán en evitar una guerra sin cuartel debería ser una buena noticia para sus enemigos, que no están en una posición particularmente fuerte para manejar más enredos militares en el exterior. Arabia Saudita, en particular, está enfrentando difíciles reformas domésticas, que incluyen esfuerzos por diversificar su economía, al mismo tiempo que está inmersa en sus propias intervenciones militares en Siria y Yemen. 
Irán puede ser un estorbo en Oriente Medio, pero no un poder hegemónico. Decir lo contrario, como acostumbran hacer los líderes israelíes y árabes, no hace otra cosa que tornar más factible un conflicto horriblemente sangriento, destructivo y desestabilizador que todas las partes pretenden evitar.