Die richtige Antwort auf den Iran
PRINCETON – Am frühen Morgen des 14. September wurden zwei große saudi-arabische Ölfelder von Drohnen angegriffen. Dies betraf fast die Hälfte der Produktion des weltgrößten Ölexporteurs – und damit 5% der globalen Nachfrage. Die Angriffe – die die jemenitischen Huthi-Rebellen für sich beanspruchen, aber allgemein dem Iran zugerechnet werden – waren für die Nahostpolitik und die weltweiten Energiemärkte ein entscheidender Moment, da sie nicht nur die amerikanische Dominanz am Persischen Golf herausgefordert haben, sondern auch die Rolle Saudi-Arabiens als zuverlässigster weltweiter Ölanbieter.
Der naheliegende Grund des Iran für diesen Angriff sind die erstickenden wirtschaftlichen Sanktionen, die ihm die Regierung von US-Präsident Donald Trump auferlegt hat – seit ihrer Kündigung des Nuklearabkommens von 2015 im letzten Jahr, das auch als "umfassender gemeinsamer Handlungsplan" (Joint Comprehensive Plan of Action, JCPOA) bekannt war. Aber die aktuellen Spannungen entstammen einer regionalen Machtdynamik, die bis zur US-geführten Invasion des Irak von 2003 zurückreichen. Aufgrund dieses spektakulären Fehlschlags läuteten Trump und sein Vorgänger Barack Obama das Ende der fast acht Jahrzehnte andauernden amerikanischen Hegemonie am Golf ein.
Die Vereinigten Staaten haben ihre Kriege im Nahen Osten satt – insbesondere deshalb, weil sie ihre überwältigende militärische Übermacht nicht in dauerhaften politischen Einfluss umwandeln konnten. Aber der amerikanische Rückzug hat ein strategisches Vakuum hinterlassen, das die einflussreichsten Akteure der Region nun füllen wollen.
Erstens ist da die Türkei, die ihren militärischen und wirtschaftlichen Einfluss auf die persische Golfregion durch Militärstützpunkte in Katar ausgeweitet hat. Viel aggressiver hingegen geht der Iran vor, der aus seinem Bedürfnis, die USA aus der Region zu vertreiben, kein Geheimnis macht – ebenso wenig aus seinem Versuch, die saudische Monarchie zu stürzen (also den dritten Akteur, der versucht, sein regionales Profil zu stärken).
In den letzten Jahren hat der Iran, größtenteils aufgrund des Scheiterns der USA, seine Position verbessert. Er konnte seinen Einfluss bis in den Irak, nach Syrien, in den Libanon und in den Jemen hinein ausdehnen, indem er stellvertretende, nichtstaatliche Akteure wie die Huthis unterstützte und ein großes und vielfältiges militärisches Arsenal aufbaute. Im Jemen versucht der Iran, die Kontrolle über die strategisch wichtige Meeresstraße Bab al-Mandab zu erlangen. Fasst er dort Fuß, kann er auch Saudi-Arabien mit Drohnen, Raketen und Marschflugkörpern bedrohen, ähnlich wie die Hisbollah Israel vom Südlibanon aus angreift.
Saudi-Arabien hingegen bleibt eine Macht des Status Quo, die vor allem an Stabilität interessiert ist – nicht zuletzt, um ihre Ölverkäufe zu fördern. Die Saudis, die froh sind, unter dem Sicherheitsschirm der USA verbleiben zu können, haben sich in den letzten Jahrzehnten trotz massiver Waffenkäufe (hauptsächlich aus den USA) nur wenig um ein starkes Militär bemüht, ganz zu schweigen von ihrer Fähigkeit, Macht auszuüben. Jetzt versuchen sie verzweifelt, beides nachzuholen, aber diesen Prozess abzuschließen wird eine Generation lang dauern.
Subscribe now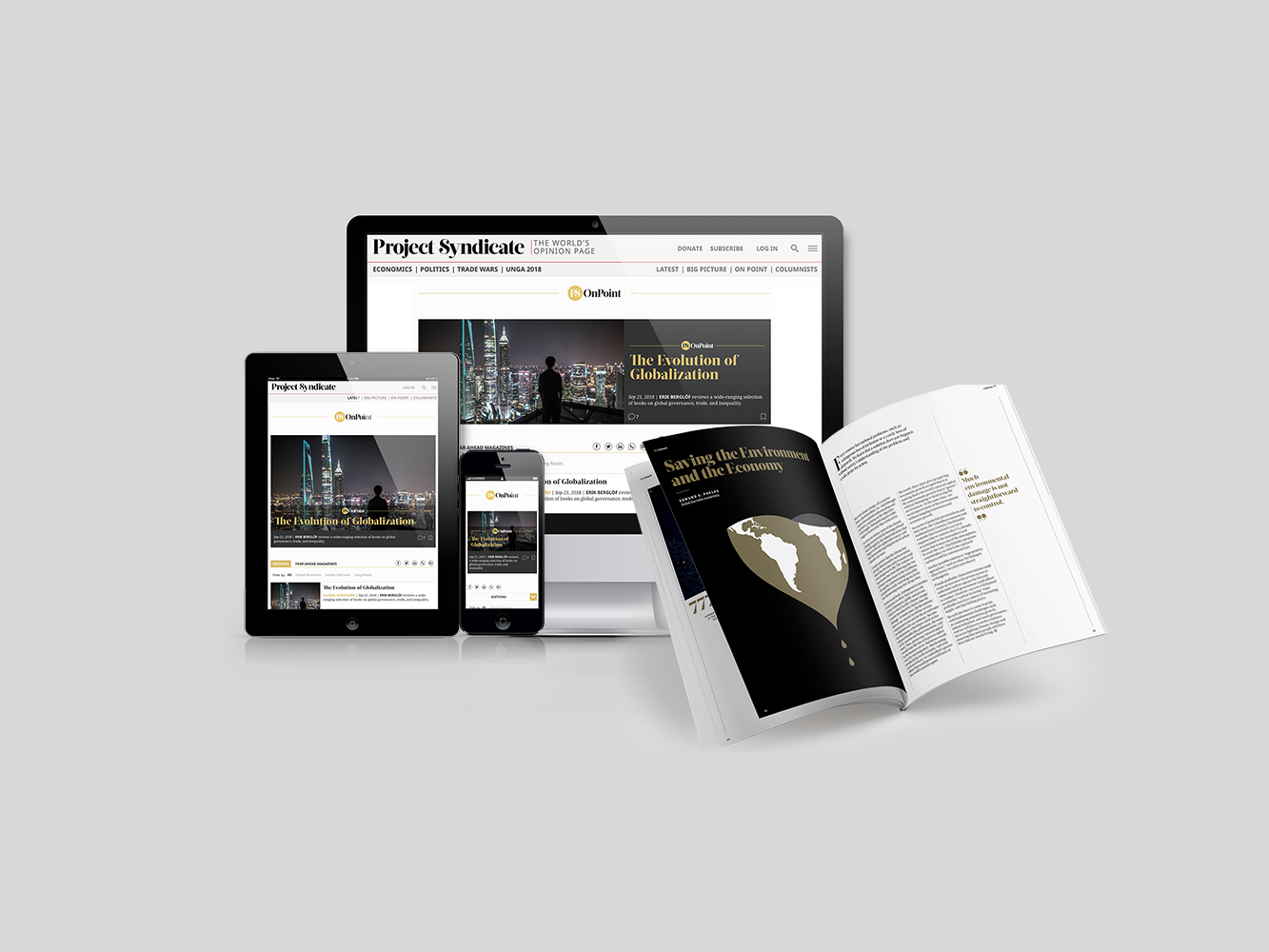 Subscribe now
Subscribe today and get unlimited access to OnPoint, the Big Picture, the PS archive of more than 14,000 commentaries, and our annual magazine, for less than $2 a week.
Bis dahin hat Saudi-Arabien kaum Möglichkeiten, den iranischen Ambitionen etwas entgegen zu setzen. Nicht nur läuft das Königreich damit Gefahr, seine dominante Position in der Region zu verlieren, sondern auch die Wahrscheinlichkeit weiterer Anschläge auf saudische Öl- und ölverarbeitende Anlagen oder öffentliche Versorgungseinrichtungen nimmt zu. Würden beispielsweise Entsalzungsanlagen angegriffen, könnten die saudischen Wasserhähne innerhalb von Tagen austrocknen.
Wären die USA engagiert genug, könnten diese Entwicklungen abgewendet werden, aber ob sich die Saudis darauf verlassen können, ist ungewiss. Zwar hat Trump direkt nach dem jüngsten Angriff getwittert, die USA stünden "Gewehr bei Fuß" und warteten nur darauf, von den Saudis zu hören "wer diese Angriffe ihrer Meinung nach verursacht hat und unter welchen Bedingungen wir weitergehen".
Aber ob Trump jemals entsprechend dieser Aussage handeln würde, kann bezweifelt werden: Würde ein Vergeltungsschlag zu einem waschechten Krieg führen, könnten die Aussichten für seine Wiederwahl im Jahr 2020 in den Keller gehen. Diese Erkenntnis hat den Iran wahrscheinlich erst ermutigt, den Angriff überhaupt durchzuführen.
Der iranische Angriff verfolgte noch einen anderen bedeutenden Zweck: die saudische Vormachtstellung auf den globalen Ölmärkten zu untergraben. Mit etwa 23% der weltweit bekannten Reserven hat Saudi-Arabien genug Reserveproduktionskapazität aufgebaut, um als marktstabilisierender "Ausgleichsproduzent" zu dienen. Der iranische Angriff – der 5,7 Millionen Barrel der saudischen Tagesproduktion vernichtete – stellt die Fähigkeit des Königreichs, diese Rolle zu erfüllen, in Frage.
Saudi-Arabien beeilte sich zwar, der Welt zu versichern, es werde seine Produktion wiederherstellen und damit einen ernsten wirtschaftlichen Schock verhindern – ein Versprechen, das sich bis jetzt als glaubwürdig erweist. Aber der Ruf des Landes wurde beschädigt, und nun ist klar, dass der Iran die Ölproduktion nach Belieben stören kann, indem er Schiffe, Pipelines sowie große Verarbeitungs- und Speichereinrichtungen angreift.
Die iranischen Angriffe säen auch Zweifel an der Behauptung der USA, ihre Energieversorgung sei unabhängig, und unterstreichen die immer noch bestehende Verletzlichkeit der Amerikaner gegenüber einer Produktionsunterbrechung am Golf. Nach dem Anschlag musste Trump Vorräte aus den strategischen US-Ölreserven anzapfen, um die Märkte zu beruhigen.
Natürlich werden die USA nicht einfach untätig bleiben: Trump hat seinen Finanzminister Steven Mnuchin bereits angewiesen, die Sanktionen gegen den Iran zu verschärfen. Aber dass dies den gewünschten Effekt hat, ist unwahrscheinlich. Im Gegenteil: Da der Iran bereits jetzt schwer unter den Sanktionen leidet, lässt dies einen weiteren Angriff auf die Energieinfrastruktur am Golf praktisch unvermeidlich erscheinen.
Was wirklich nötig ist, ist ein angemessener Vergeltungsschlag gegen den Iran. Saudi-Arabien kann ihn nicht durchführen, ohne die regionale Konfrontation erheblich zu verschärfen, aber die USA könnten dies. Bleibt die US-Antwort begrenzt und verhältnismäßig, wird sie wahrscheinlich nicht zu einem ausgewachsenen Krieg führen. Immerhin ist der Iran nicht lebensmüde. Gegen die wiederholten israelischen Angriffe auf iranische Streitkräfte hat er auch nicht reagiert.
Ebenso sollten die USA dem Iran ein paar Anreize bieten, darunter auch einen begrenzten Abbau der Sanktionen. In diesem Sinne besteht Amerikas beste Option darin, das iranische Drehbuch zu kopieren und seinem Gegner gemischte Signale zu senden.
Früher oder später werden sich die USA entscheiden müssen, wieviel militärische Mittel sie am Golf behalten wollen. Jetzt aber muss die oberste Priorität darin bestehen, auf die jüngste iranische Provokation zu reagieren, bevor ein weiterer Angriff stattfindet.
Aus dem Englischen von Harald Eckhoff