L'excès d'efficacité peut-il nuire aux investissements ?
CAMBRIDGE (G.-B.) – En 1831, lorsque Charles Darwin embarqua sur le Beagle, pour un voyage d'exploration de cinq ans, les navires n'auraient pu déterminer leur position en mer sans l'aide de chronomètres, qui leur donnaient l'heure exacte au méridien de référence. Enregistrée lors de de la culmination locale du soleil, cette heure donnait, par différence avec celle, connue, de la culmination de l'astre au méridien de référence, la longitude du navire. Pour garantir la précision – les mouvements du navire à la mer affectaient la mesure du temps –, on embarquait au moins trois chronomètres. Le Beagle en comptait vingt-deux.
Tout comme le voyageur du XIXe siècle, l'ingénieur d'aujourd'hui apprécie deux, voire trois précautions, qui valent mieux qu'une ; c'est la fonction des sauvegardes et des mécanismes à sécurité intégrée (on considérera généralement la précaution du triple exemplaire comme convenable). Les économistes, en revanche préfèrent l'efficacité à la précaution répétitive – une méthode qui, malgré ses mérites, a ses insuffisances.
Ce serait certes les caricaturer que de prétendre que les économistes négligent les procédures de sauvegarde dans les systèmes critiques. Mais lorsqu'il s'agit de décisions concernant l'investissement, ils s'attachent avant tout à allouer les ressources le plus efficacement possible, ce que permet l'analyse coûts-bénéfices.
Les raisons en sont évidemment nombreuses : une politique publique – qu'elle dépense l'argent du contribuable ou qu'elle régule les affaires – doit dégager le plus de valeur possible. L'analyse des coûts et des bénéfices contribue à faire en sorte qu'un optimisme excessif n'engage pas une dépense superflue. Elle peut aussi éviter, par exemple, que la compétition entre régions ou entre ceux qui répondent à des appels d'offre ne transforme en jeu de stratégie les décisions d'investissements dans les projets financés par le contribuable.
Dans un nouvel ouvrage, The Cost-Benefit Revolution (« La Révolution coûts-bénéfices ») Cass Sunstein, juriste et professeur de droit américain, se réjouit de la confiance croissante dont jouissent aux États-Unis les analyses coûts-bénéfices pour orienter, depuis les années 1980, les politiques réglementaires. D'autres pays adoptent ces méthodes. Ainsi le Trésor du Royaume-Uni a-t-il publié un manuel sur leur mise en œuvre dans l'appréciation des dépenses publiques.
Mais l'efficacité n'est pas tout, et les bénéfices à long terme d'un investissement ne sont pas toujours évidents au début. En réalité, nous devrions nous réjouir que les générations précédentes n'aient pas été tenues à l'analyse coûts-bénéfices.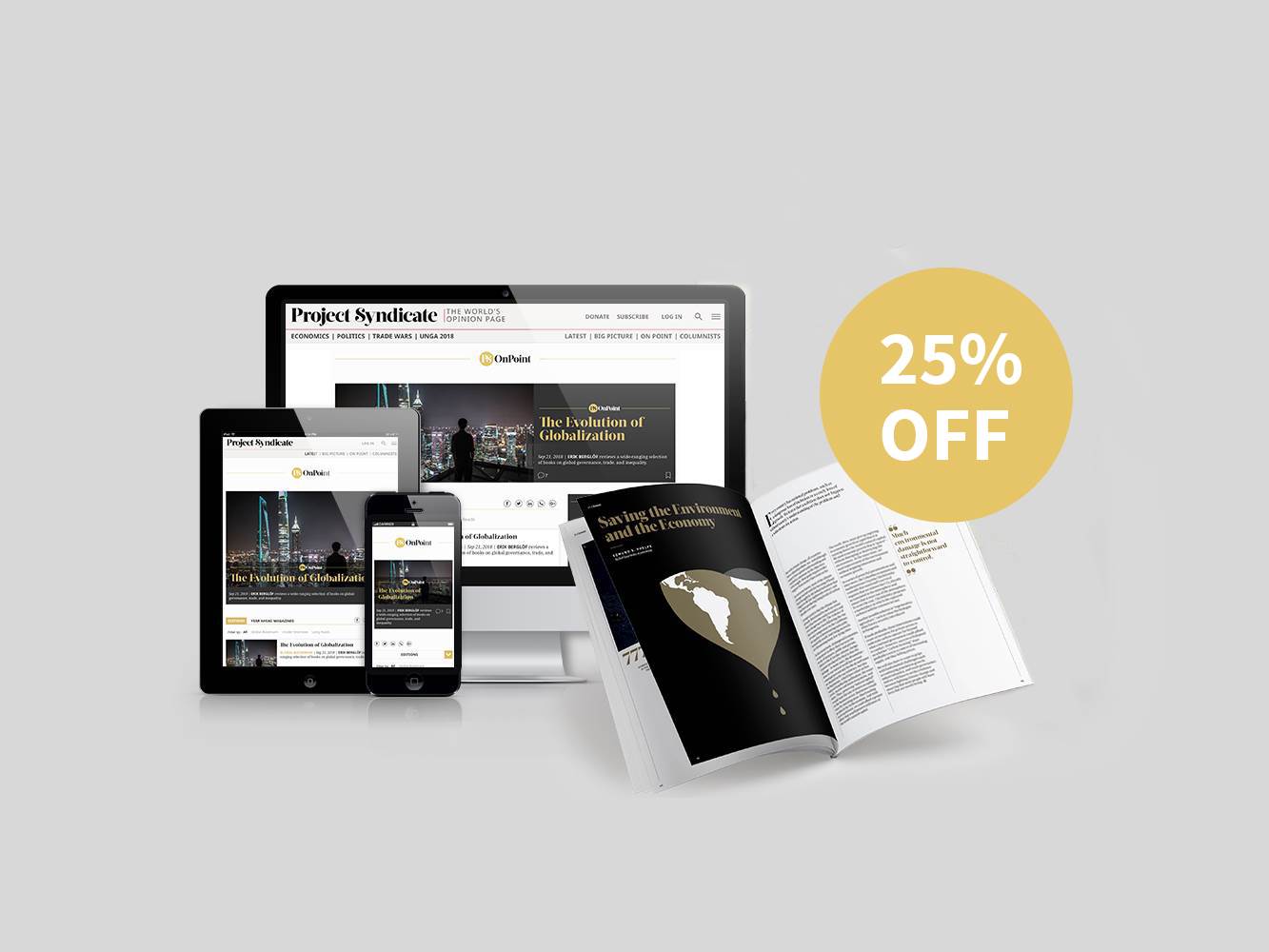 Subscribe now
For a limited time only, get unlimited access to On Point, The Big Picture, and the PS Archive, plus our annual magazine and a tote bag, for just $75.
Dans le Londres victorien, l'ingénieur Joseph Bazalgette construisit un réseau d'égouts dont la capacité a suffi pendant les cent cinquante années qui ont suivi et n'est qu'aujourd'hui en cours d'extension. Thomas Jefferson pensait que le projet de canal reliant l'Hudson – et New York – au lac Érié était une folie, mais sont coût – environ cent milliards de dollars d'aujourd'hui – fut amorti relativement vite. Aucun économiste n'aurait soutenu, sur la base des estimations plausibles des billets à tarif réduit et des bénéfices attendus, la construction de l'Opéra de Sidney – ni de quelque autre bâtiment public devenu l'image des nombreuses villes qui s'en trouvent embellies de par le monde ; de simples cubes de béton auraient été beaucoup plus efficaces.
La difficulté est de distinguer entre des projets potentiellement iconiques et les usines à gaz, malheureusement plus communes, dont les coûts de fonctionnement et de maintenance sont hors de proportion. Mais la construction finit souvent par revenir beaucoup plus cher que prévu. Bent Flyvberg, expert en grands projets, les décrit comme « dépassant les budgets, dépassant les délais, dépassant encore et encore » ; il montre que neuf sur dix sont en dépassement de coût – souvent de plus de 50 % par rapport à l'estimation initiale.
Lorsqu'on cherche à estimer les grands projets iconiques, ou qui le sont potentiellement, la difficulté tient au fait que l'analyse coûts-bénéfices de l'investissement ne fonctionne pas lorsqu'il s'agit d'une réalisation susceptible d'influencer nettement le taux de croissance de l'économie, comme ce fut le cas du canal Érié, qui stimula les échanges. Cette analyse n'est vraiment pertinente que pour des décisions plus modestes et marginales ; elle ne rend pas compte, en tout cas, de la puissance des récits, capables d'orienter les résultats économiques, comme l'a montré Robert J. Schiller, prix « Nobel » d'économie en 2013.
Les économistes devraient reconnaître les limites de l'analyse coûts-bénéfices et fournir une méthode plus rigoureuse d'analyse des effets non marginaux, non linéaires qui affectent les grands investissements. D'une façon plus générale, l'efficacité de peut pas être la seule aune à laquelle organiser l'économie. Ce qui aurait dû devenir une évidence, voici une décennie, lorsque la vulnérabilité des marchés financiers, obsédés par la maximalisation des profits, fut mise à nu.
Il en va de même de la méthode du « juste à temps » des chaînes d'approvisionnement, qui réduit les coûts en diminuant la quantité de marchandises et de matériaux stockés, mais s'est avérée vulnérable aux catastrophes naturelles (les inondations par exemple) ou à d'autres perturbations (les grèves des travailleurs notamment). À l'heure de la montée des protectionnismes, les risques de perturbations des échanges ne font que croître.
D'un point de vue politique, l'efficacité optimale n'est pas toujours, non plus, désirable. En démocratie, la réconciliation des conflits d'intérêt entre partenaires peut nécessiter que nous y sacrifiions un peu d'efficacité. On pourrait concevoir cela comme une forme de précaution, même redondante, qui fabrique de la résilience politique.
Il n'est jamais simple de déterminer combien l'on doit sacrifier d'efficacité et dans quelles circonstances. Le Beagle lui-même avait multiplié à l'excès les précautions : à son retour, en 1836, onze des chronomètres embarqués fonctionnaient encore ; Mais si l'on considère l'importance des travaux effectués par Darwin au cours du voyage, les bénéfices outrepassèrent largement ce coût superflu.
Traduit de l'anglais par François Boisivon