Kunnen investeringen té efficiënt zijn?
CAMBRIDGE – In 1831, toen Charles Darwin aan boord ging van The Beagle voor zijn vijf jaar durende expeditie, werd voor het navigeren gebruik gemaakt van chronometers, die de exacte tijd weergaven op een referentielocatie (meestal de thuishaven). Als die tijd werd vergeleken met de lokale zonnetijd, kon de plaatselijke lengtegraad worden vastgesteld. Om precisie te garanderen – de golfslag beïnvloedde het bijhouden van de tijd – had een schip op z'n minst drie chronometers nodig. The Beagle had er 22.
Net als de 19e-eeuwse reiziger stelt de moderne ingenieur prijs op overmaat, in de vorm van back-up- en failsafe-mechanismen (de meesten zouden een drievoudige voorziening doorgaans toereikend achten). Economen geven echter de voorkeur aan efficiency boven overmaat – een benadering die ondanks duidelijke voordelen ook zo haar tekortkomingen heeft.
Eerlijk gezegd zou het een karikatuur zijn om te zeggen dat het economen het altijd te min vinden om voor backups te zorgen in cruciale systemen die kunnen vastlopen. Maar als het op investeringsbeslissingen aankomt, richten economen zich op het meest efficiënte gebruik van hulpbronnen, zoals weerspiegeld in de kosten-batenanalyse.
Dat is op zich natuurlijk heel zinnig: het overheidsbeleid – of het nu gaat om het uitgeven van belastinggeld of om het toezicht houden op het bedrijfsleven – moet zoveel mogelijk waarde genereren. De kosten-batenanalyse helpt ervoor te zorgen dat buitensporig optimisme niet leidt tot verkwisting. Zo kan ook het nemen van strategische gokken met investeringsbeslissingen voorkomen worden, bijvoorbeeld onder invloed van de concurrentie tussen regio's of tussen aanbieders, om door de belastingbetaler gefinancierde projecten binnen te slepen.
In een nieuw boek, The Cost-Benefit Revolution, juicht de Amerikaanse jurist Cass Sunstein de geleidelijke toename toe van het zich verlaten op kosten-batenanalyses als richtsnoer voor het toezichtbeleid in de Verenigde Staten sinds de jaren tachtig. Andere landen maken ook gebruik van kosten-batenanalyses, terwijl het ministerie van Financiën van Groot-Brittannië bijvoorbeeld een handleiding heeft uitgegeven over hoe je dat moet doen.
Maar efficiency is niet alles, en de langetermijnvoordelen van een investering zijn niet altijd duidelijk vanaf het begin. Feitelijk moeten we blij zijn dat vroegere generaties niet vastzaten aan kosten-batenanalyses.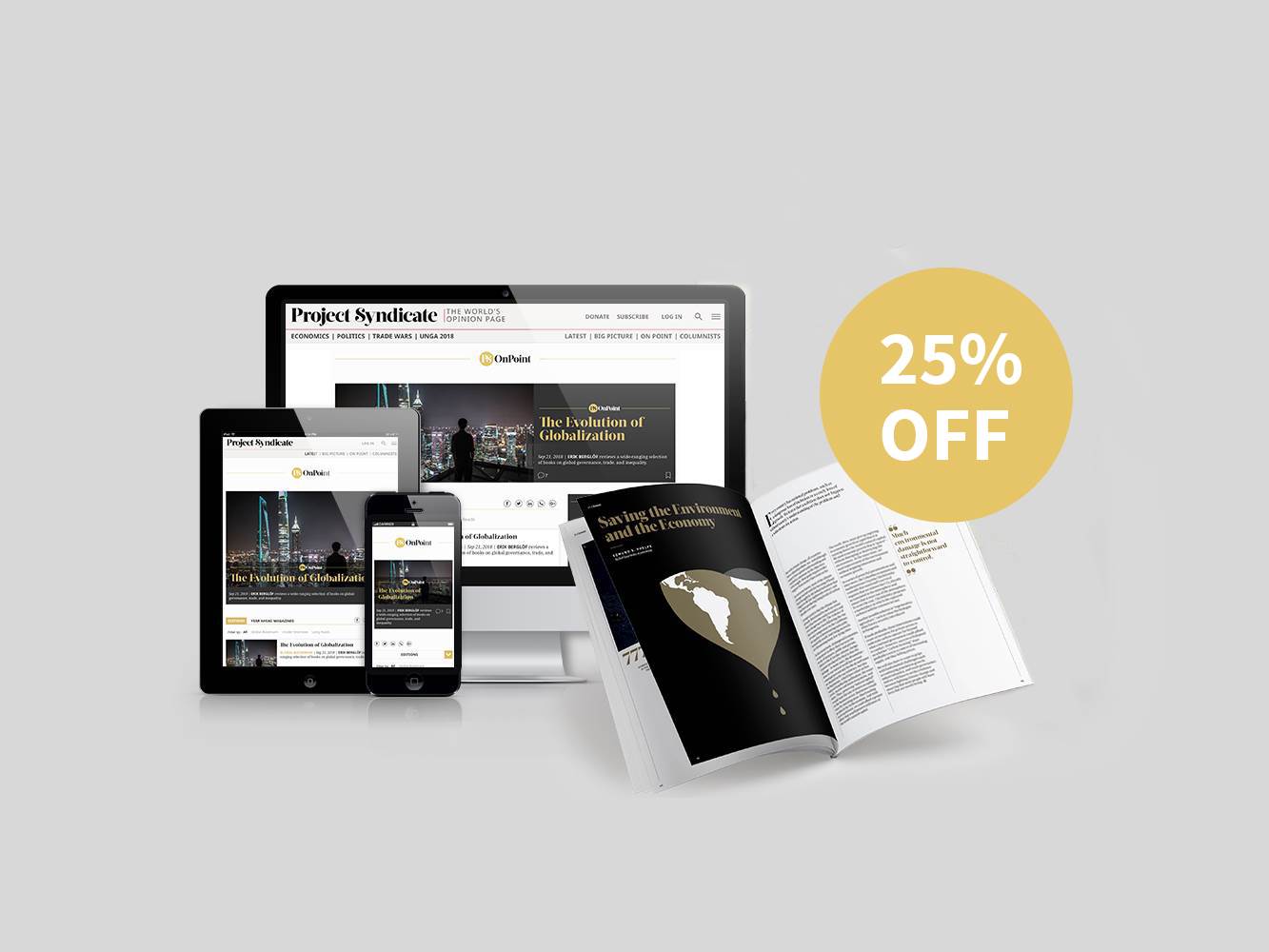 Subscribe now
For a limited time only, get unlimited access to On Point, The Big Picture, and the PS Archive, plus our annual magazine and a tote bag, for just $75.
In Victoriaans Londen heeft de ingenieur Joseph Bazalgette een rioleringssysteem gebouwd met genoeg capaciteit voor 150 jaar; pas nu wordt het systeem verder uitgebreid. Thomas Jefferson dacht dat het Erie Canal-project waanzin was, maar de kosten ervan – zo'n $100 mrd in hedendaagse dollars – werden betrekkelijk snel terugverdiend. Geen econoom, gewapend met plausibele schattingen van kortingspercentages en verwachte voordelen, zou de bouw van het Sydney Opera House hebben gesteund – of die van welk monumentaal gemeentelijk pand ook dat nu ergens ter wereld een stad siert; utilitaire betonnen kubussen zouden veel efficiënter zijn geweest.
De uitdaging is het onderscheiden van potentieel monumentale projecten van de veel vaker voorkomende "witte olifanten," waarvan de operationele en onderhoudskosten niet in verhouding staan tot de waarde. Uiteindelijk blijken de bouwkosten dikwijls veel hoger uit te vallen dan verwacht. Bent Flyvbjerg, een expert op het gebied van mega-projecten, beschrijft ze als "te duur en te laat, telkens weer," en heeft aangetoond dat negen van de tien met kostenoverschrijdingen te maken krijgen – van vaak 50% of meer dan oorspronkelijke geraamd.
Een deel van het probleem bij het beoordelen van grote of (potentieel) monumentale investeringsprojecten is dat normale kosten-batenanalyses niet werken bij projecten die het groeitempo van de economie waarschijnlijk aanzienlijk zullen veranderen, zoals in het geval van het Erie Canal, dat de handel bevorderde. Ze werken alleen bij kleinere, marginale beslissingen en houden zeker geen rekening met de macht die verhalen uitoefenen bij het bereiken van economische resultaten, zoals beschreven door de Nobelprijswinnaar Robert J. Shiller.
Economen moeten de beperkingen onder ogen zien van kosten-batenanalyses en een rigoureuzere methode bedenken voor het analyseren van de niet-marginale, niet-lineaire feedback-mechanismen die grote investeringen beïnvloeden. In bredere zin kan efficiency niet het enige criterium zijn voor het organiseren van de economie. Dat had tien jaar geleden al duidelijk moeten zijn geworden, toen de systemische kwetsbaarheden van de financiële markten, met hun eenzijdige nadruk op winstmaximalisering, werden blootgelegd.
Op dezelfde wijze zijn "just-in-time"-aanbodketens – die de kosten terugdringen door de hoeveelheid goederen en materialen te reduceren die in voorraad worden gehouden – kwetsbaar gebleken voor natuurrampen (zoals overstromingen) of andere ontwrichtingen van de economie (zoals stakingen). In een tijd dat het protectionisme in opkomst is, neemt het risico van handelsontwrichtingen alleen maar toe.
Ook vanuit een politiek perspectief is optimale efficiency niet altijd wenselijk. In een democratie kan het voor het beslechten van belangenconflicten onder stakeholders noodzakelijk zijn om wat efficiency te offeren. Je zou het kunnen zien als een vorm van overmaat die politieke veerkracht oplevert.
Het is nooit makkelijk precies vast te stellen hoeveel efficiency moet worden opgeofferd en in welke gevallen. Zelfs The Beagle zou dit wel eens overdreven kunnen hebben: zij keerde in 1836 immers terug met elf nog werkende chronometers. Maar gezien de invloed op de langere termijn van Darwins werk tijdens die reis wogen de voordelen ruimschoots op tegen de niet-noodzakelijke kosten.
Vertaling: Menno Grootveld