O despertar urbano da Índia
WASHINGTON, DC –Quando o Reino Unido se tornou o primeiro país do mundo a passar por uma urbanização em grande escala no século XIX e início do século XX, o processo transformou a sua economia e sociedade. Hoje, a Índia enfrenta uma transformação semelhante, a diferença é que está a acontecer a um ritmo de "cem à hora". Até 2030, a população urbana da Índia atingirá 600 milhões de pessoas, duas vezes o tamanho da população dos EUA.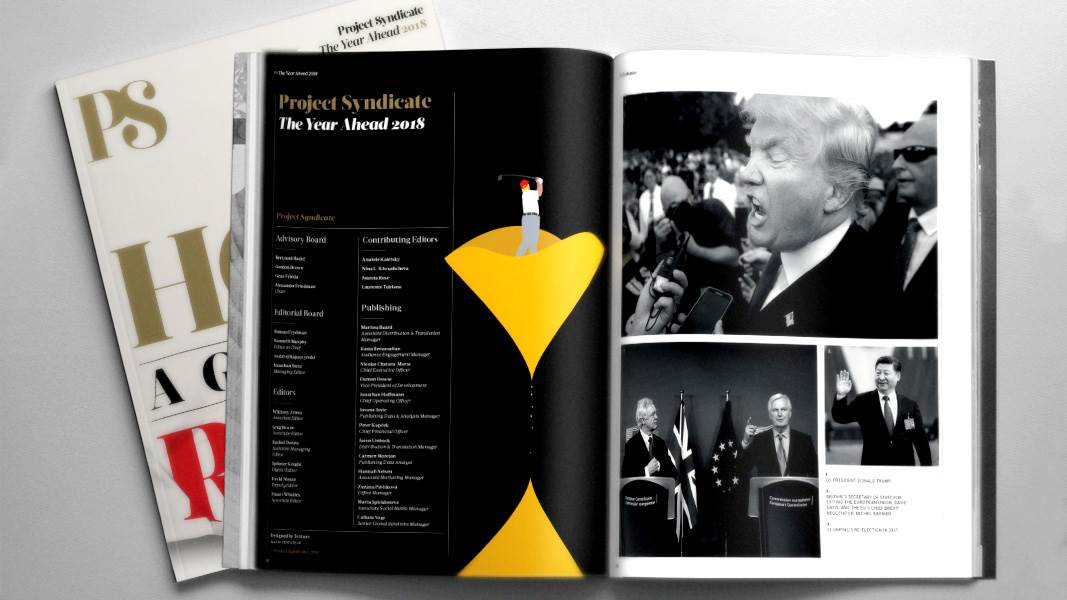 The Year Ahead 2018
The world's leading thinkers and policymakers examine what's come apart in the past year, and anticipate what will define the year ahead.
Para a Índia, a rápida urbanização é particularmente vital para permitir que o país tire o máximo partido do dividendo demográfico proporcionado pela sua população jovem. Com mais 12 milhões de pessoas a juntar-se à mão de obra do país todos os anos, o potencial desse dividendo é enorme. À medida que o processo de urbanização continua, a conectividade, proximidade e diversidade irão acelerar a difusão do conhecimento, suscitar mais inovação e aumentar o crescimento da produtividade e do emprego.
No entanto, apesar de todas as suas vantagens, a rápida urbanização também representa enormes desafios, desde a gestão do congestionamento e da poluição até à garantia de que o crescimento é inclusivo e equitativo. Como país retardatário na questão da urbanização, a Índia irá beneficiar de inovações tecnológicas, incluindo tecnologias digitais, energia mais limpa, materiais de construção inovadores e novos meios de transporte –que lhe permitirão ultrapassar alguns dos seus países homólogos mais desenvolvidos. Mas tirar proveito dessas tecnologias exigirá políticas eficazes, incluindo investimentos inteligentes em infraestruturas e medidas para tornar as cidades mais competitivas, particularmente nas indústrias modernas.
Tornar as suas cidades mais competitivas exigirá que a Índia decida se quer realçar a especialização (com uma indústria concentrada numa determinada cidade) ou a diversificação (com todas as cidades a acolher uma variedade de indústrias, sensivelmente ao nível da média nacional). Não é uma escolha fácil: o debate sobre qual abordagem é a melhor tem sido intenso há quase um século.
Em 1991, no início da época da liberalização económica da Índia, as cidades do país tendiam para a especialização. Mas, nos últimos anos, tem havido uma mudança notável que se direciona para a diversificação, com alguns grandes centros urbanos, como Mumbai e Bangalore, a enfrentar as maiores e mais rápidas mudanças longe da especialização.
A especialização tende a ser mais elevada nas indústrias tradicionais do que nas indústrias modernas. Embora algumas indústrias modernas –como equipamento para escritórios de contabilidade e informático, e equipamentos de rádio, televisão e comunicação –tendam a ficar localizadas em distritos mais especializados, aproximadamente três quartos dos distritos indianos com níveis mais elevados de especialização dependem de indústrias tradicionais. Dos 600 distritos da Índia, aqueles que permanecem os mais especializados são Kavaratti (transporte de água), Darjiling (produtos de papel), Panchkula (equipamento para escritórios de contabilidade e informático) e Wokha (produtos de madeira).
Embora os níveis de especialização na Índia fossem muito mais elevados do que os dos Estados Unidos da América, na década de 1990, os dois países convergiram ao longo do tempo. Tudo isso sugere que, tal como a tecnologia continua a avançar, também a diversificação continuará a avançar –uma tendência que irá moldar os padrões futuros da urbanização na Índia.
Este é um bom augúrio para o emprego, porque mais cidades e distritos diversificados tendem a vivenciar um maior crescimento do emprego. Os grupos iniciais de serviços modernos também têm vivenciado um crescimento do emprego anormalmente elevado, desde 2000.
E há mais boas notícias: as melhorias mais sólidas nos empregos, devido à diversificação, estão a ocorrer em zonas rurais e entre pequenas empresas, sugerindo que a urbanização da Índia pode trazer crescimento inclusivo e prosperidade. As evidências também mostram que altas taxas de crescimento, que sustentam a redução da pobreza, estão concentradas nas zonas rurais de determinados distritos.
Tirar total proveito destas tendências positivas exigirá, no entanto, que a Índia impulsione o investimento em infraestruturas. Apesar de uma desaceleração no crescimento do setor de fabricação –uma tendência espelhada em grande parte do resto do mundo –a urbanização continua a acelerar na Índia, especialmente em distritos com acesso a melhores infraestruturas.
No mundo em desenvolvimento, mil milhões de pessoas não têm acesso à eletricidade e a estradas, e mais de 500 milhões não têm um acesso fiável a água potável segura. Fazer face a essas deficiências é fundamental para o desenvolvimento –e a Índia não é exceção. O acesso a melhores infraestruturas permitirá a que mais milhões de empresários, especialmente mulheres, beneficiem do despertar urbano do país. A chave para o sucesso será melhorar a eficiência da despesa pública e, em simultâneo, atrair maiores investimentos privados.
Há certamente um incentivo económico para os atores privados canalizarem o seu dinheiro para as infraestruturas de países em desenvolvimento. Afinal, países de alto rendimento, onde as populações estão a envelhecer rapidamente, muitas vezes têm um excesso de poupanças, prontas para serem distribuídas em investimentos de elevado rendimento. Os países de rendimento mais baixo, com as suas populações mais jovens e grandes necessidades de infraestruturas, fornecem exatamente essas oportunidades.
Na situação atual, contudo, menos de 1% dos 68 biliões de dólares geridos por fundos de pensão, seguradoras e outros é canalizado para projetos de infraestruturas. E, dado o baixo apetite pelo risco entre os investidores, sem mencionar o número reduzido de projetos a nível urbano, os governos municipais irão debater-se para elevarem essa percentagem.
Mas não é impossível. O que é necessário é uma liderança visionária a nível local, com governos municipais a identificar projetos de infraestruturas que promovam o empreendedorismo, aumentem a competitividade das suas cidades e promovam o desenvolvimento regional ao reforçarem a ligação entre o urbano e o rural. Esses governos também devem alavancar os seus ativos, incluindo os terrenos; mobilizar a receita do utilizador; e modificar regulamentos financeiros e incentivos para aumentarem o apetite dos investidores pelo risco. Se adicionarmos uma maior capacidade técnica e financeira, então tornar-se-á muito mais fácil atrair os fundos privados necessários e criar parcerias que beneficiem a transformação urbana da Índia.
A Índia tem todas as ferramentas necessárias para fazer avançar o seu processo de urbanização de uma forma que promova o crescimento inclusivo e sustentável. Tem de usá-las sabiamente.