Het urbane ontwaken van India
WASHINGTON, DC – Toen het Verenigd Koninkrijk het eerste land ter wereld werd dat een grootschalige urbanisatie onderging in de negentiende en begin twintigste eeuw transformeerde dit proces zijn economie en maatschappij. Vandaag de dag staat India een overeenkomstige transformatie te wachten, alleen in een honderd maal zo rap tempo. Tegen 2030 zal de stedelijke bevolking van India de 600 miljoen bereiken, twee maal die in Noord- en Zuid-Amerika samen.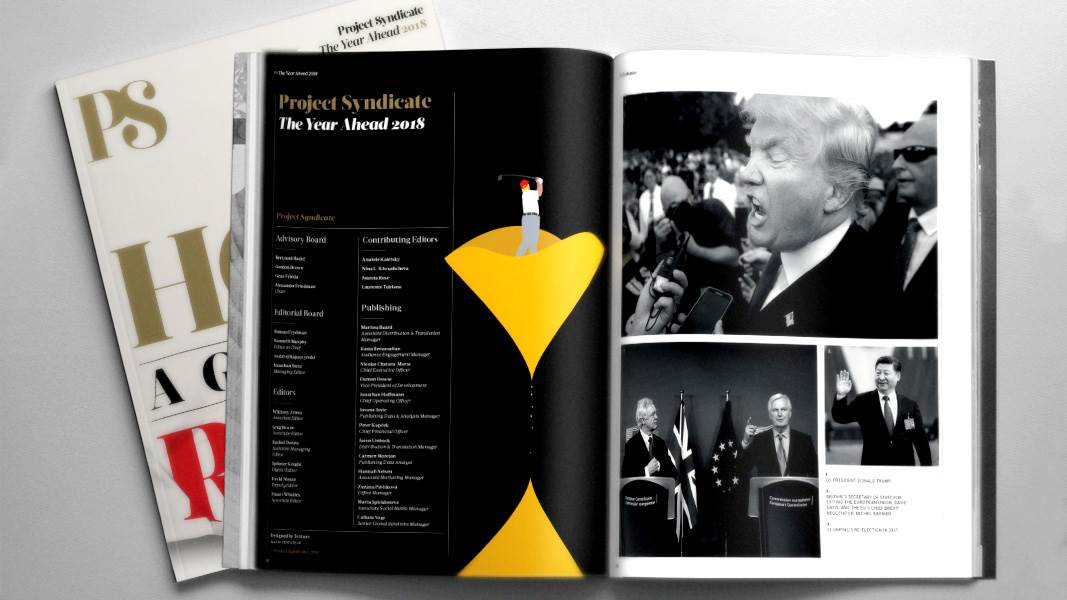 The Year Ahead 2018
The world's leading thinkers and policymakers examine what's come apart in the past year, and anticipate what will define the year ahead.
Voor India is een snelle urbanisatie vooral cruciaal om het land te volle te laten profiteren van het demografische dividend van zijn jonge bevolking. Met 12 miljoen mensen die jaarlijks de beroepsbevolking van het land betreden is het potentieel van dat dividend enorm. Terwijl het urbanisatieproces doorzet zullen connectiviteit, nabijheid, en diversiteit de verspreiding van kennis versnellen, verdere innovatie aanjagen, en de productiviteits- en werkgelegenheidsgroei vergroten.
Ondanks alle voordelen echter biedt een snelle verstedelijking ook gigantische uitdagingen, van het beheersen van dichtslibbing en vervuiling tot het garanderen dat de groei inclusief en billijk is. Als laatkomer qua urbanisatie zal India profiteren van technologische innovatie – waaronder digitale technologie, schonere energie, innovatieve bouwmaterialen, en nieuwe manieren van transport – die het in staat zullen stellen om haasje over te spelen met sommige van zijn meer ontwikkelde tegenhangers. Maar profijt trekken uit deze technologieën zal effectief beleid vergen, inclusief slimme investeringen in infrastructuur en maatregelen om steden concurrerender te maken, vooral qua moderne industrieën.
Zijn steden concurrerender maken zal van India eisen om te beslissen of het de nadruk zal leggen op specialisatie (met industrieën die worden geconcentreerd is bepaalde steden) of op diversificatie (waarbij elke stad thuis is van een hele reeks industrieën, min of meer in lijn met het nationale gemiddelde). Dit is geen gemakkelijke keuze: het debat over welke benadering beter is woedt al bijna een eeuw.
In 1991, rond de tijd dat de economische liberalisering van India begon, neigden de steden in het land naar specialisatie. Maar in recente jaren heeft zich een opmerkelijke verschuiving richting diversificatie voorgedaan, waarbij enkele grote stedelijke centra, zoals Mumbai en Bangalore, de grootste en snelste verschuivingen weg van specialisatie doormaken.
De specialisatie neigt veel groter te zijn in traditionele industrieën dan in moderne. Alhoewel sommige moderne industrieën – zoals kantoorboekhouding- en gegevensverwerking-apparatuur, en apparatuur voor radio, televisie, en communicatie – gelokaliseerd neigen te zijn in meer gespecialiseerde districten, leunt ruwweg driekwart van de Indiase districten met hogere niveaus van specialisatie op traditionele industrieën. Van de 600 districten in India zijn degenen die het meest gespecialiseerd blijven Kavaratti (zeetransport), Darjeeling (papier), Panchkula (kantoorboekhouding- en gegevensverwerking-apparatuur), en Wokha (houtverwerking).
Alhoewel de Indiase specialisatieniveaus veel hoger lagen dan die in de Verenigde Staten in de vroege jaren '90 zijn de twee landen naar verloop van tijd geconvergeerd. Dit alles suggereert dat terwijl de technologie vooruit blijft gaan de diversificatie dit ook zal doen – een trend die de toekomstige urbanisatiepatronen in India vorm zal geven.
Dit is goed nieuws voor de werkgelegenheid, omdat meer gediversifieerde steden en districten meestal een grotere banengroei kennen. Initiële clusters van moderne diensten hebben sinds 2000 ook een abnormaal hoge werkgelegenheidsgroei ervaren.
En er is nog meer goed nieuws: de sterkte vooruitgang qua banen door diversificatie komt voor in plattelandsgebieden en kleine ondernemingen, wat suggereert dat de verstedelijking van India een inclusieve groei en welvaart kan voortbrengen. Er is ook bewijs dat laat zien dat hoge groeiratio's, die de reductie van armoede ondersteunen, zijn geconcentreerd in de landelijke gebieden van bepaalde districten.
Om deze positieve trends volledig te benutten zal echter van India vergen om de investeringen in infrastructuur op te drijven. Ondanks een vertraging in de groei van de productiesector – een trend weerspiegeld in het grootse deel van de rest van de wereld – is de urbanisatie in India blijven accelereren, vooral in districten met toegang tot betere infrastructuur.
In de ontwikkelingswereld heeft een miljard mensen geen toegang tot elektriciteit en wegen, en meer dan een half miljard geen toegang tot veilig drinkwater. Het aanpakken van deze gebreken is cruciaal voor ontwikkeling – en India is hierin geen uitzondering. Een toegang tot betere infrastructuur zal nog eens miljoenen ondernemers, vooral vrouwen, in staat stellen om te profiteren van 's lands urbane ontwaken. De sleutel tot succes zal zijn om de efficiency van publieke uitgaven te verbeteren, terwijl ondertussen meer private investeringen worden aangetrokken.
Er bestaat zeker een economische stimulans voor private actoren om hun geld richting infrastructuur in ontwikkelingslanden te kanaliseren. Tenslotte hebben hogelonenlanden, waar de bevolking snel vergrijst, vaak een overdaad aan spaargelden klaar staan om in investeringen met hoge rendementen te stoppen. Lagelonenlanden, met hun jongere bevolkingen en grote behoeften aan infrastructuur, bieden precies dat soort mogelijkheden.
Zoals het er nu voor staat echter wordt minder dan 1% van de 68 biljoen dollar die wordt beheerd door pensioenfondsen, aanbieders van levensverzekeringen, en anderen gekanaliseerd richting infrastructuurprojecten. En gegeven de weinige trek in risico bij investeerders, de kleine omvang van projecten op stadniveau nog geheel daargelaten, zullen gemeentelijke overheden worstelen om dat aandeel te vergroten.
Maar het is niet onmogelijk. Waar nu behoefte aan is is visionair leiderschap op lokaal niveau, waarbij gemeentelijke overheden infrastructuurprojecten identificeren die het ondernemerschap bevorderen, de concurrentiepositie van hun stad vergroten, en de regionale ontwikkeling aanjagen door het versterken van de connectiviteit tussen stad en platteland. Deze overheden zouden verder: hun eigen activa in stelling moeten brengen, inclusief het bezit van land; hun gebruiksopbrengsten moeten mobiliseren; en de financiële reguleringen en stimuli om de trek in risico van investeerders te vergroten moeten modificeren. Tel hier een grotere technische en financiële capaciteit bij op en het zou veel makkelijker worden om de benodigde private fondsen aan te trekken en partnerschappen op te bouwen die de urbane transformatie van India baten.
India beschikt over alle benodigde middelen om zijn urbanisatieproces aan te jagen op een manier die een inclusieve en duurzame groei bevordert. Laat het deze wijs inzetten.
Vertaling Melle Trap