La guerra de la India contra la ciencia
NUEVA DELHI – El nuevo ministro de educación de la India, Satyapal Singh, declaró hace poco que la teoría de la evolución por selección natural de Darwin "no es científica", porque "nadie, incluidos nuestros ancestros, ha dicho o escrito que vio a un mono convertirse en un ser humano". Esta declaración sorprendente es sólo la última andanada del ataque que ha emprendido el gobierno actual contra la ciencia.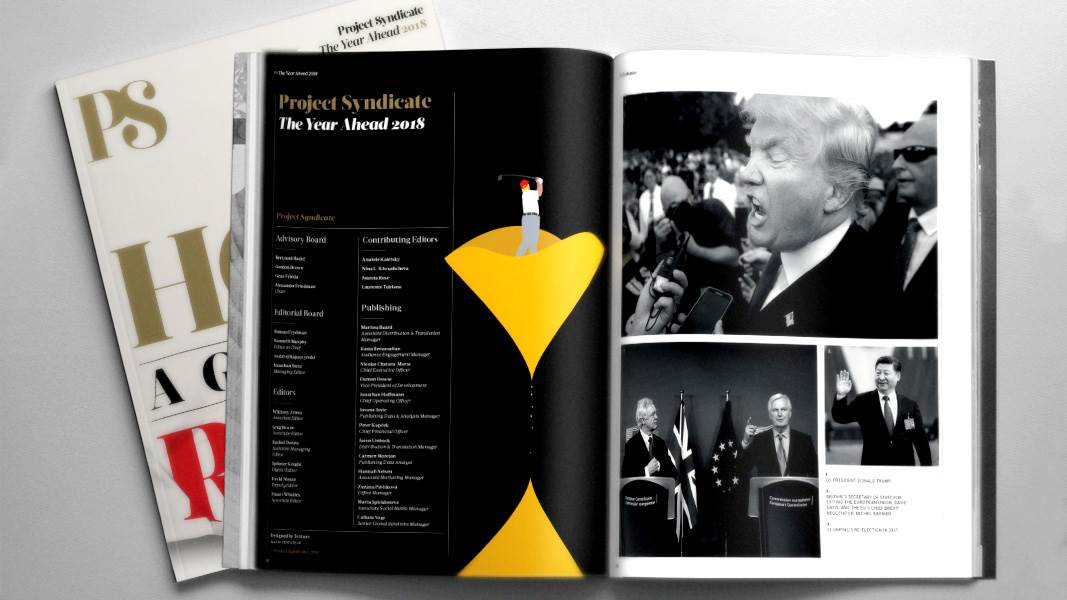 The Year Ahead 2018
The world's leading thinkers and policymakers examine what's come apart in the past year, and anticipate what will define the year ahead.
Según la constitución de la India, desarrollar "el temperamento científico, el humanismo y el espíritu de curiosidad y reforma" es deber de todos los ciudadanos (e implícitamente, responsabilidad del Estado). El primer gobernante de la India, Jawaharlal Nehru, sostuvo que a diferencia de la religión (que tiende a producir "intolerancia, credulidad y superstición, emocionalismo e irracionalismo" y un "temperamento de persona dependiente y esclava") el temperamento científico es "el temperamento de un hombre libre".
Pero para el Partido Popular Indio (Bharatiya Janata Party) que hoy gobierna la India, esas ideas han pasado de moda. Sus líderes y simpatizantes quieren enseñar a los escolares que la teoría evolutiva es una hipótesis más acerca del origen de la vida, en plano de igualdad con las tesis religiosas. Lo que buscan es desterrarla de los programas escolares.
Darwin no es el único blanco de ataque. Hace unas semanas, el ministro de educación de Rajastán, Vasudev Devnani (otro incondicional del BJP), aseguró que la vaca es un animal único, porque inhala y exhala oxígeno. La veneración de la vaca es algo así como una obsesión para el BJP y sus seguidores, que han llegado a la violencia contra seres humanos en nombre de la protección de los animales. Pero incluso para muchos simpatizantes del BJP esto ya fue demasiado.
Singh y Devnani son personas educadas: Singh es graduado en química, y Devnani ingeniero. Pero ni el estudio ni el liderazgo parecen suficientes para desalentar un coqueteo descarado con la ignorancia.
Lo mismo puede decirse del exjuez del Tribunal Supremo de Rajastán Mahesh Chandra Sharma (supuestamente también graduado en ciencias), que en una entrevista que dio el año pasado, sugirió que el pavo real (ave nacional de la India) "es célibe toda la vida" y fecunda a la pava con sus lágrimas. Como prueba de dicho celibato, mencionó las plumas de pavo real que usa el Señor Krishna.
Hasta el primer ministro Narendra Modi se sumó a este asalto a la ciencia. A Modi le gusta presentarse como un líder del siglo XXI, entendido en tecnología. Pero en la inauguración de un hospital en Mumbai, en octubre de 2014, aseguró que el dios hindú Ganesha, con su cabeza de elefante, es prueba de que en la antigua India ya existía la cirugía plástica, y que el antiguo relato épico Mahabharata confirma que "en aquel tiempo la gente conocía la genética". Al parecer a Modi no se le dio por pensar que incluso la cabeza más pequeña de elefante no cabría en el cuello humano más grande.
La ironía es que la India fue de verdad un país pionero en cirugía plástica. El primer cirujano plástico de la historia fue un indio, Sushruta, y los arqueólogos han encontrado en el territorio los instrumentos quirúrgicos más antiguos del mundo (que datan del primer siglo de esta era). En los textos antiguos también hay evidencia de rinoplastias. Pero mezclar estos hechos históricos con un relato de mitológicas cabezas de elefante transplantadas es un atentado contra la ciencia (y contra los autores de avances dignos de reconocimiento).
En 2014, además, Modi les dijo a unos escolares que el cambio climático no es un problema ambiental, sino que tiene que ver con la capacidad de los seres humanos para enfrentar el frío y el calor, que cambia con el tiempo. Según explicó en la televisión nacional, el calentamiento global es "sólo un estado mental".
Y no son sólo políticos los que, alentados por la ideología del movimiento Hindutva adoptada por el BJP, están propagando la seudociencia en la India. Lo mismo han hecho una y otra vez diversos personajes relacionados con Modi, por ejemplo el maestro de yoga y emprendedor ayurvédico Baba Ramdev, que vende remedios para "curar" la homosexualidad.
Esto dio más impulso a un enjambre de gurúes que han convertido la religión y la seudoespiritualidad en un negocio lucrativo en la India. Por ejemplo, en 2015 el "Sadhguru" New Age Jaggi Vasudev aseguró que no hay que comer durante un eclipse lunar, porque: "Los alimentos cocinados son apreciablemente distintos antes y después de un eclipse. Lo que antes era alimento nutritivo se convierte en veneno. Aquel que tenga alimento en el cuerpo verá envejecer sus energías aproximadamente 28 días en un plazo de dos horas".
Otros aseguran (con cierto nivel de apoyo oficial) que en la India de la era védica ya se habían hecho todos los descubrimientos y avances científicos, incluidos el avión a chorro y las armas atómicas. El mensaje implícito es que la antigua India tenía todas las respuestas, de modo que las creencias y prácticas tradicionales y autóctonas son fundamentalmente superiores a las ideas y los estilos de vida modernos importados.
El BJP y sus seguidores exaltan la sabiduría del pasado porque la ven como un elemento central para la promoción de la identidad compartida basada en la fe que propugna el proyecto del Hindutva. Para ellos, la religión no es una cuestión de creencia personal, un impulso hacia lo divino; más bien, es un elemento clave de la política identitaria tradicional, un medio para mantener el orden social, garantizar la disciplina y el conformismo, y evitar el cambio radical.
Cuando un ministro cuestiona el darwinismo o asegura que la vaca tiene poderes milagrosos, no está simplemente dando a elegir entre una teoría científica y una explicación basada en la fe. Más bien, le recuerda a la opinión pública que la cosmovisión a la que la fe está aliada es integral y demanda adherir a un proyecto político más amplio, que prescribe creencias y conductas que en realidad poco tienen que ver con la religión.
La ciencia y la racionalidad son una amenaza para ese conformismo, porque alientan el escepticismo, la libertad de pensamiento y el cuestionamiento de las visiones tradicionales que el BJP tanto quiere consolidar. Es por eso que en su intento de transformar la India secular en un estado hindú, el BJP debe debilitar a la ciencia.
No hace falta recalcar la tragedia implícita en esta tendencia. El Estado oscurantista y atávico que el BJP quiere crear no se parecería en nada a aquel que hizo de la India la superpotencia científica de la edad antigua. De sólo pensarlo dan ganas de llorar. Esperemos que no haya alguna pava real cerca.
Traducción: Esteban Flamini