Aprendiendo de China
BEIJING – Desde que comenzó su reforma y apertura un mes como éste hace 40 años, China ha sido un alumno muy bueno. Y ahora, después de cuatro décadas de rápido desarrollo, el país cada vez más se presenta como un maestro. En tanto compromete más capital en el exterior, tiene un fuerte interés en la manera en que se administran los países en los que invierte. Ahora bien, ¿el mundo está dispuesto a aprender de China?
En los últimos años, China ha utilizado su política más enérgica de "salir" –expresada de la manera más ambiciosa en su gigantesca Iniciativa Un Cinturón, Una Ruta- tanto para fomentar sus propios intereses económicos como para proyectar poder blando. Los líderes de China quieren devolverle a su país lo que ven como su posición merecida en el mundo.
El peso económico de China alcanzó su pico en 1600, cuando representaba más de un tercio de la economía global. Su porcentaje del PIB global declinó lentamente hasta 1820, cuando comenzó a caer precipitosamente, debido al enorme impacto de la Revolución Industrial en el crecimiento económico en Occidente. Para comienzos de 1960, el porcentaje de China del PIB global había caído por debajo del 5%.
Luego Deng Xiaoping inició la reforma y apertura de China, y comenzó el propio milagro de crecimiento del país. Desde 1978, China ha sacado a cientos de millones de personas de la pobreza, y su porcentaje de la economía global, hoy en una quinta parte, sigue creciendo. Si China quiere aumentar su influencia internacional, sustentando su experiencia como modelo para que otros imiten, debe identificar los mecanismos que sostienen su éxito y explicar por qué son transferibles. 
Éste es esencialmente el mandato de un nuevo centro lanzado por la Universidad Tsinghua en Beijing. El Centro Académico para Prácticas Económicas y Pensamiento Chinos, con su sugestivo acrónimo ACCEPT (ACEPTAR en inglés), está dedicado a entender y diseminar la experiencia de desarrollo de China. A comienzos de este mes, inició este proceso con su primer informe, llamado "Lecciones Económicas Aprendidas de los 40 Años de Reforma y Apertura de China".
El informe incluye cinco observaciones notables. Para empezar, el crecimiento en las últimas cuatro décadas estuvo impulsado principalmente por el ingreso de nuevas firmas, y no por la reestructuración de firmas existentes. Es más, la distribución de rentas generadas a partir de la conversión de tierra agrícola a un uso industrial y residencial desempeñó un papel vital a la hora de alentar la inversión Al mismo tiempo, la profundización financiera fue esencial para estimular la actividad empresarial y el consumo. La apertura también alentó el aprendizaje y, finalmente, una política macroeconómica proactiva permitió que el país evitara crisis financieras y suavizara las fluctuaciones en el crecimiento.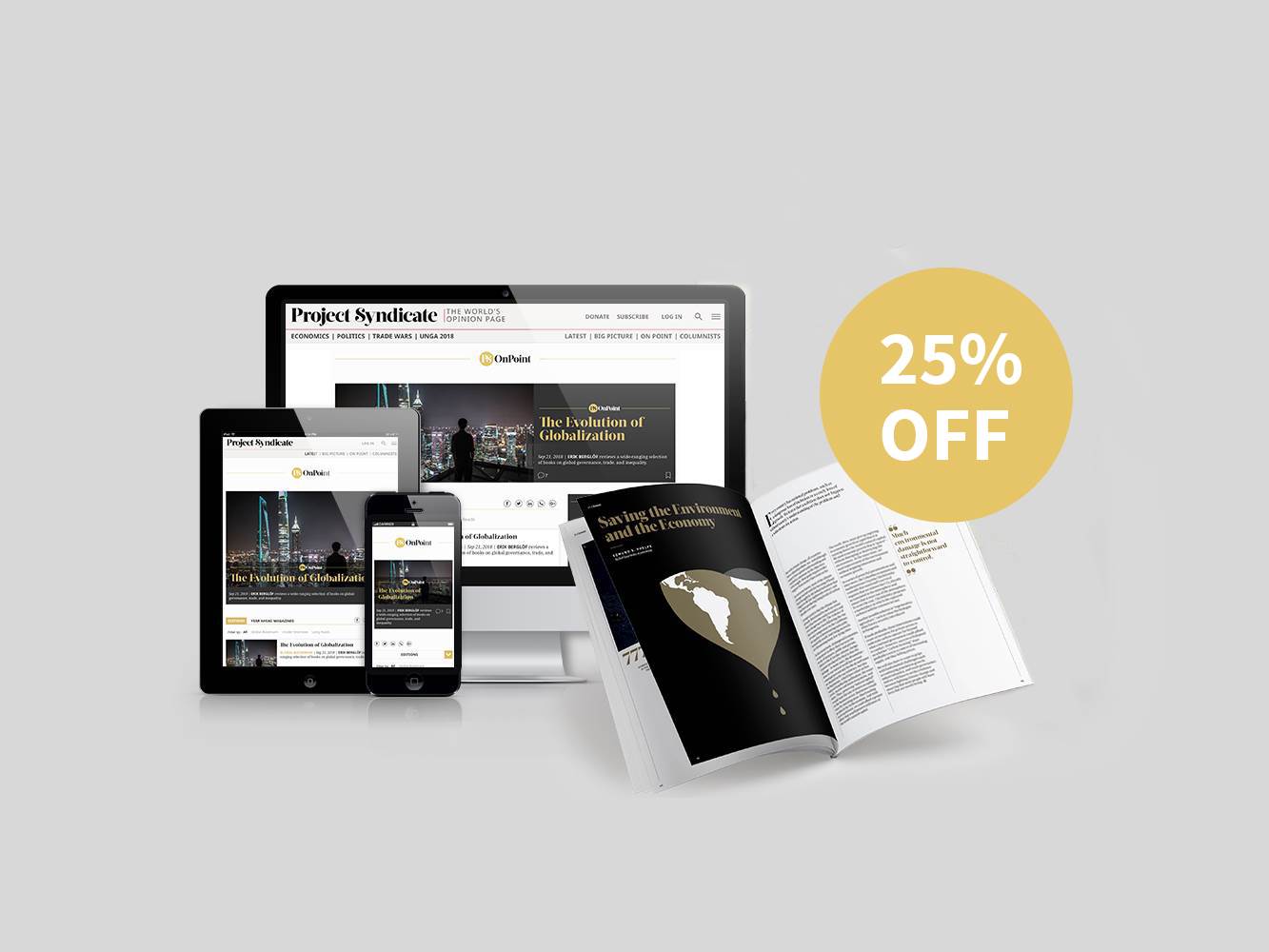 Subscribe now
For a limited time only, get unlimited access to On Point, The Big Picture, and the PS Archive, plus our annual magazine, for just $75.
Un interrogante clave planteado por el informe –y, por cierto, prácticamente por cualquier análisis de la experiencia de desarrollo de China desde 1978- tiene que ver con los roles relativos del estado y el mercado. ¿Qué fue más importante para el éxito de China, el surgimiento de nuevas firmas privadas o la mano caritativa del gobierno?
En verdad, no es una pregunta nueva. Pero, como señaló el economista de Harvard Dani Rodrik en el evento de lanzamiento, la manera en que alguien la responde tiende a decir más sobre esa persona que sobre la economía china. China, cree Rodrik, es como un test de Rorschach para economistas.
Sin embargo, el informe de ACCEPT puede ofrecer información útil sobre la pregunta, al destacar cómo interactúan la gestión estatal y la liberalización económica. Las nuevas empresas privadas fueron motores clave de crecimiento económico, pero fue el estado el que creó incentivos fuertes para el ingreso al mercado. Los emprendedores invirtieron mucho en sus relaciones con las autoridades gubernamentales, y el estado utilizó las señales del mercado para guiar la asignación de recursos y evaluar iniciativas experimentales.
Más allá de fomentar el ingreso de firmas nuevas, el estado chino movilizó recursos domésticos considerables para la inversión. Aún más impresionante, el estado garantizó una experimentación y un aprendizaje constantes en todos los niveles de gobierno, lo que seguirá siendo esencial en tanto China aborde cuestiones como la desigualdad.
Sin embargo, explicar los principales factores detrás del desarrollo de China es sólo el primer paso. Si China ha de exportar su modelo de desarrollo de manera significativa, tendrá que superar una cantidad de barreras adicionales –empezando por la creciente desconfianza internacional.
Entre los países desarrollados, una queja importante es que China se viene aprovechando de las innovaciones de otros, inclusive exigiéndoles a las empresas extranjeras que compartieran su tecnología con empresas chinas como condición de acceso al mercado. Si bien es completamente normal que un país en el estado de desarrollo económico de China absorba e imite tecnologías extranjeras, su tamaño y poder de mercado aumentan drásticamente su capacidad para alentar una transferencia de tecnología. Y China ha estado feliz de utilizar ese apalancamiento, muchas veces de maneras que sus competidores consideran injustas.
Mientras tanto, los países en desarrollo cada vez más se preguntan si la inversión china en realidad les sirve de algo o no. Hasta el momento, China por lo general ha evitado condicionar sus inversiones a requerimientos de políticas explícitos. Pero, como muchas de esas inversiones aportan bajos retornos económicos, China ya no puede darse el lujo de ignorar cómo se utilizan sus recursos o el nivel de endeudamiento de los receptores de sus préstamos.
Al persuadir a otros países de aceptar sus lecciones de desarrollo, China enfrenta un dilema difícil. Después de todo, China le debe su éxito de desarrollo en parte al hecho de que mantuvo la plena titularidad y control del proceso. Por el contrario, los países en Europa central y del este hicieron que la Unión Europea les impusiera políticas de desarrollo –una dinámica que ha contribuido significativamente al ascenso de fuerzas políticas anti-establishment.
En un momento de creciente resentimiento por su influencia internacional cada vez mayor, la capacidad de China de promover su modelo de desarrollo está siendo debilitada seriamente. No ayuda que Occidente se mantenga inflexible respecto de que no se debería permitir que una estrategia antidemocrática triunfe a nivel global. Vamos camino a un choque peligroso, no de civilizaciones, sino de sistemas. Necesitamos adaptarnos mutuamente.
Tiene poco sentido que los países en desarrollo rechacen de plano las lecciones del milagro económico de China, y una creciente hostilidad entre China y Occidente no es beneficiosa para nadie. Por el contrario, los países deberían estar abiertos a aprender de China, que a su vez debería reconocer los límites de su modelo político, inclusive comparado con las democracias defectuosas de Occidente.