Verdades incómodas sobre la inmigración
LONDRES – La sociología, la antropología y la historia han venido haciendo grandes avances en el debate sobre la inmigración. Parece que el Homo economicus, que vive sólo por el pan, le ha cedido el lugar a alguien para quien una sensación de pertenencia es por lo menos tan importante como comer.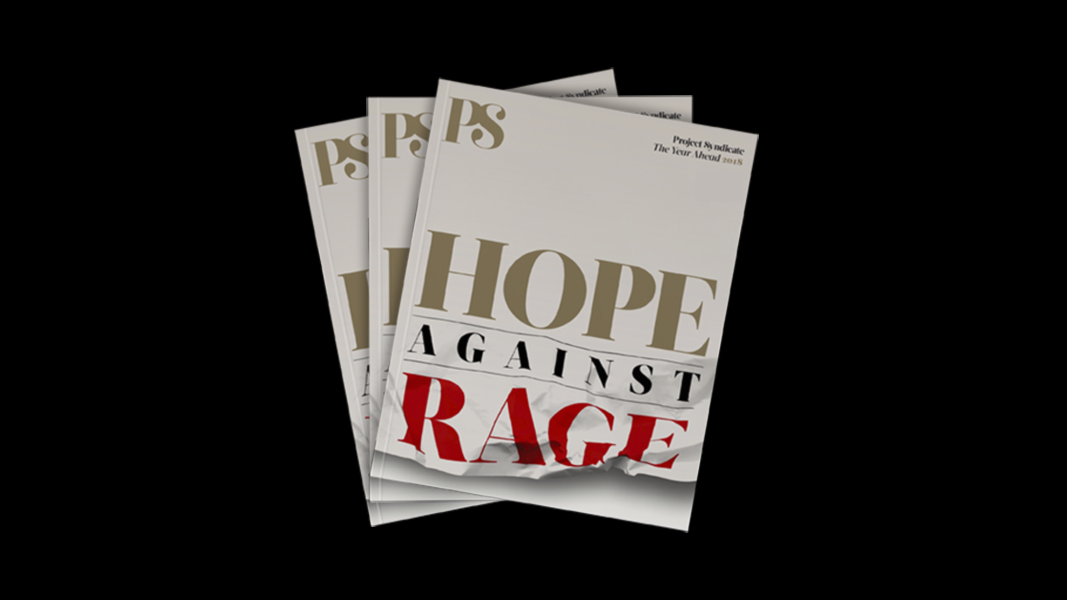 The Year Ahead 2018
The world's leading thinkers and policymakers examine what's come apart in the past year, and anticipate what will define the year ahead.
Esto nos hace dudar de que la hostilidad hacia la inmigración masiva sea simplemente una protesta contra las pérdidas de empleo, los salarios deprimidos y la creciente desigualdad. La economía por cierto ha tenido que ver en el aumento significativo de las políticas de identidad, pero la crisis de identidad no será eliminada exclusivamente mediante reformas económicas. El bienestar económico no es lo mismo que el bienestar social.
Empecemos, sin embargo, por la economía, utilizando como ejemplo concreto al Reino Unido -que hoy está saliendo de la UE-. Entre 1991 y 2013 hubo un ingreso neto a Gran Bretaña de 4,9 millones de inmigrantes nacidos en el exterior.
La teoría económica estándar nos dice que la inmigración neta, al igual que el libre comercio, beneficia a la población nativa con cierto retraso. El argumento aquí es que si uno aumenta la cantidad de mano de obra, su precio (los salarios) cae. Esto aumentará las ganancias. El aumento de las ganancias lleva a más inversión, lo que hará crecer la demanda de mano de obra, revirtiendo así la caída inicial de los salarios. La inmigración, por ende, le permite a una población mayor disfrutar del mismo nivel de vida del que gozaba antes una población más pequeña -una clara mejora en el bienestar total.
Sin embargo, un estudio reciente del economista de la Universidad de Cambridge Robert Rowthorn ha demostrado que este argumento está lleno de agujeros. Los llamados efectos temporarios en términos de trabajadores nativos desplazados y salarios más bajos pueden durar cinco o diez años, mientras que los efectos beneficiales suponen una ausencia de recesión. Y, aún sin recesión, si existe un ingreso continuo de inmigrantes, en lugar de un incremento excepcional en el tamaño de la fuerza laboral, la demanda de mano de obra puede ir constantemente a la zaga del crecimiento de la oferta. El "argumento de que los inmigrantes les quitan el empleo a los trabajadores locales y hacen caer sus salarios", sostiene Rowthorn, "puede ser exagerado, pero no siempre es falso".
Un segundo argumento económico es que la inmigración rejuvenecerá la fuerza laboral y estabilizará las finanzas públicas, porque los trabajadores jóvenes importados generarán los impuestos necesarios para sostener a un creciente número de pensionados. Se proyecta que la población del Reino Unido superará los 70 millones de habitantes antes de que termine la próxima década, un incremento de 3,6 millones, o 5,5%, debido a la inmigración neta y a un excedente de nacimientos por sobre las muertes entre los recién llegados.
Rowthorn desestima este argumento. "El rejuvenecimiento a través de la inmigración es una cinta sin fin", dice. "Mantener una reducción definitiva del ratio de dependencia requiere un flujo interminable de inmigrantes. Una vez que el ingreso de inmigrantes se detenga, la estructura etaria se revertirá y volverá a su trayectoria original". Un ingreso menor de inmigrantes y una edad jubilatoria más alta sería una solución mucho mejor para el envejecimiento de la población.
Por lo tanto, inclusive con resultados óptimos, como que se evitara la recesión, los argumentos económicos para una inmigración de gran escala son difícilmente concluyentes. De manera que el quid de la cuestión es realmente su impacto social. Aquí, el beneficio familiar de la diversidad choca con el riesgo de una pérdida de cohesión social.
David Goodhart, ex editor del periódico Prospect, ha debatido el argumento para una restricción desde una perspectiva socialdemócrata. Goodhart no adopta ninguna postura sobre si la diversidad cultural es intrínseca o moralmente buena o mala. Simplemente da por sentado que la mayoría prefiere vivir con gente de su clase, y que los responsables de las políticas deben tener en cuenta esta preferencia. Una actitud de laissez-faire frente a la composición de la población de un país es tan insostenible como la indiferencia ante su tamaño.
Para Goodhart, la raíz de la hostilidad de los liberales ante los controles de la inmigración es su visión individualista de la sociedad. Al no entender el apego de la gente a las comunidades establecidas, catalogan la hostilidad a la inmigración como irracional o racista.
El exceso de optimismo liberal sobre la facilidad de integrar a los inmigrantes tiene el mismo origen: si la sociedad no es más que una colección de individuos, la integración no es un problema. Por supuesto, dice Goodhart, los inmigrantes no tienen que abandonar sus tradiciones por completo, pero "existe algo que se llama sociedad" y si no hacen ningún esfuerzo por integrarse, a los ciudadanos nativos les resultará difícil considerarlos parte de la "comunidad imaginada".
Un ingreso demasiado rápido de inmigrantes debilita los lazos de solidaridad y, en el largo plazo, erosiona los vínculos afectivos necesarios para sostener el estado de bienestar. "La gente siempre favorecerá a sus propias familias y comunidades", sostiene Goodhart, y "es la tarea de un liberalismo realista la de buscar una definición de comunidad que sea lo suficientemente amplia como para incluir a gente de muchos contextos diferentes, sin ser demasiado amplia como para que pierda sentido".  
Los liberales económicos y políticos son aliados a la hora de defender una inmigración irrestricta. Los liberales económicos ven las fronteras nacionales como obstáculos irracionales para la integración global de los mercados. Muchos liberales políticos consideran que los estados nación y las lealtades que inspiran son obstáculos para la mayor integración política de la humanidad. Ambos apelan a obligaciones morales que van mucho más allá de los límites culturales y físicos de las naciones.
Sobre el tapete está el debate más antiguo de las ciencias sociales. ¿La política y los mercados pueden crear comunidades o éstas presuponen una sensación previa de pertenencia?
Me da la impresión de que cualquiera que piense sobre estas cuestiones está inclinado a coincidir con Goodhart que la ciudadanía, para la mayoría de la gente, es algo con lo que se nace. Los valores se cultivan a partir de una historia y una geografía específica. Si la conformación de una comunidad cambia demasiado rápido, arranca a la gente de su propia historia y termina perdiendo sus raíces. La ansiedad de los liberales por no parecer racistas les impide ver estas verdades. El resultado inevitable es una explosión de lo que hoy se llama populismo.
La conclusión política que se puede extraer es banal, pero aun así vale la pena replantearla. No se debería forzar la tolerancia de un pueblo al cambio y a la adaptación más allá de sus límites, a pesar de lo diferentes que puedan ser entre un país y otro. Específicamente, no se debería forzar demasiado la inmigración, porque seguramente esto provocará hostilidad. Los políticos que no "controlan las fronteras" no merecen la confianza de su pueblo.