¿Acompañará Europa a Biden?
BERLÍN – El presidente de los Estados Unidos Joe Biden encontró su misión: proteger Occidente, fortaleciendo sus democracias liberales contra tentaciones autoritarias (externas o internas). Tras ser testigo de un intento de golpe de Estado y de crecientes desigualdades socioeconómicas en su país, Biden sabe que las democracias no pueden esperar apoyo del extranjero mientras no cumplan sus promesas de igualdad, justicia y seguridad fronteras adentro.
Si Europa quiere ser partícipe en este renacimiento democrático, el primer paso puede ser reconocer que la retórica del gobierno estadounidense es realista. Biden (a diferencia de su antecesor) no añora el mito de una edad perdida de grandeza estadounidense. Piensa en el futuro, y apunta a cuestiones que movilizan por igual a todos los partidarios de la democracia, sean liberales o conservadores.
Por ejemplo, ¿cómo crear oportunidades para los rezagados del capitalismo global, de modo que no sucumban a las falsas promesas populistas? ¿Cómo renovar el compromiso democrático de otros países desarrollados? ¿Cómo controlar a las superpoderosas industrias financiera y tecnológica, cómo dar forma a un orden global más dinámico?
La idea de «Occidente» siempre se pensó como un concepto universal que ofrecía un marco normativo para la coexistencia pacífica y próspera de la humanidad. Los derechos humanos, la libertad de expresión, la autodeterminación democrática y el Estado de Derecho no son exclusivos de alguna región o de algún grupo de países.
Pero un dirigente chino podría preguntarse por qué su país debería seguir a «Occidente», sobre todo ahora que la mayoría de los chinos consideran que el orden internacional que aquel diseñó es hostil a sus aspiraciones. Vista en esta perspectiva, la era europeo‑estadounidense se terminó. De la debacle de la Guerra de Irak y la presidencia de Trump al Brexit, los signos de la decadencia occidental están por doquier.
Mientras estadounidenses y europeos defienden la importancia de los derechos humanos individuales, los chinos responderán muy seguros de sí que también hay derechos humanos sociales: educación, nutrición, vivienda adecuada, etcétera. Y los logros de China en esta materia son innegables, ya que sacó de la pobreza extrema a más de 800 millones de personas en las últimas cuatro décadas.
Subscribe to Project Syndicate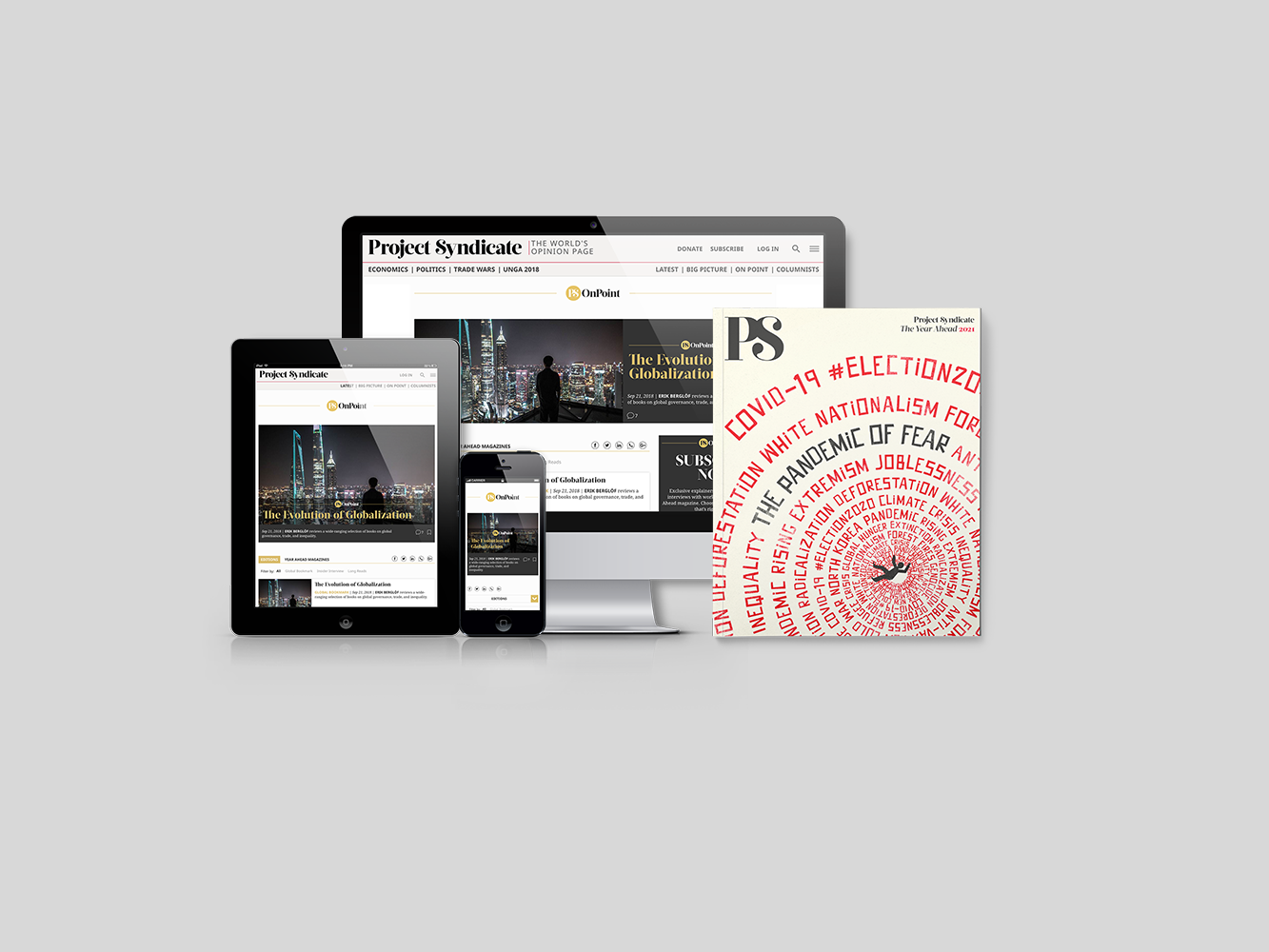 Subscribe to Project Syndicate
Enjoy unlimited access to the ideas and opinions of the world's leading thinkers, including weekly long reads, book reviews, topical collections, and interviews; The Year Ahead annual print magazine; the complete PS archive; and more. All for less than $9 a month.
Los lineamientos están pues claros. Para poder hacer un aporte significativo a la misión de Biden, Europa tiene que fortalecerse. Y como la política exterior y de seguridad europea tiende a evolucionar muy lentamente, Europa también tiene que seguir avanzando en la ampliación del mercado común, que seguirá siendo su principal atractivo y fuente de fortaleza.
Pero ese atractivo sólo se mantendrá en la medida en que el mercado común permita más dinamismo. Para obtener liderazgo tecnológico, con menos dependencia de China y Estados Unidos, Europa tiene que invertir más en investigación y desarrollo (I+D), digitalización e inteligencia artificial. Tiene que seguir una política climática conjunta con Estados Unidos. Y aunque hace poco el G7 acordó una «alianza para reconstruir el mundo mejor» como alternativa a la Iniciativa de la Franja y la Ruta de China en Asia Central, África y América Latina, es necesario que la Unión Europea amplíe su apoyo a este programa, sin dejar de reforzar el poder disuasivo de la OTAN.
Ya cerca de la elección federal de septiembre, Alemania (mayor economía de la UE) tendría que estar debatiendo su aporte al fortalecimiento del bloque en años venideros. Pero los principales partidos y políticos alemanes no han hablado del tema, tal vez porque todavía quieren ver cómo evoluciona la pandemia. Muchos temen que tras una rápida recuperación económica de los estados miembros septentrionales más ricos, se acentúe la divergencia con otros países (en concreto, Italia y Francia).
Los 750 000 millones de euros del fondo de recuperación de la UE no serán suficientes para lograr algo similar a una convergencia entre el norte y el sur (ni siquiera para evitar que se amplíe la divergencia). Los estados miembros más pobres de la UE ya están muy endeudados y no pueden endeudarse mucho más, sobre todo si suben los tipos de interés. En cuanto empiece a repuntar la inflación, la política implícita de monetización de deudas que sigue el Banco Central Europeo (mediante la compra ilimitada de títulos de deuda pública de los países más pobres) tendrá que llegar a su fin.
En estas condiciones, la única salida restante será una «unión de transferencias» en la que los países más ricos, como Alemania, inviertan más en los estados miembros más pobres. Una mayor inversión en infraestructura, digitalización e I+D es necesaria no sólo para mejorar la eficiencia y productividad en los estados miembros con economías más débiles, sino también para conservar la unidad de la eurozona y de la UE. Pero será un largo camino, más aún porque hoy Europa carece de los instrumentos necesarios para completarlo.
Desde el punto de vista de la política fiscal alemana, invertir en una Europa económica y socialmente más estable supone enormes beneficios. Es verdad que en Alemania predomina la idea de que el país ya aporta a Europa más de lo que obtiene. Pero es una idea absurda: como principal exportador del bloque, con un superávit comercial inmenso y persistente, Alemania recibe por definición más de lo que gasta.
En vez de crear la impresión de que Alemania depende del mercado chino, la dirigencia alemana debe poner en claro que la dependencia real del país es respecto del mercado europeo. Más del 50% del total de las exportaciones alemanas tiene por destino otros estados miembros de la UE, mientras que lo exportado a China y Estados Unidos apenas suma un 10%.
En el largo plazo, el éxito de Alemania depende del éxito de sus vecinos europeos; cuanto antes lo entendamos, mejor nos irá. El credo de Biden de corregir los problemas internos también es válido para nosotros. Tenemos que demostrar que nuestras sociedades democráticas son mejores que las alternativas autocráticas. Si no lo hacemos, la idea normativa de Occidente seguirá perdiendo atractivo.
Traducción: Esteban Flamini