La identidad moral del homo economicus
CAMBRIDGE – ¿Por qué vota la gente, si hacerlo es costoso y altamente improbable que incida en el resultado de las elecciones? ¿Por qué hace uno más de lo que debe en su trabajo?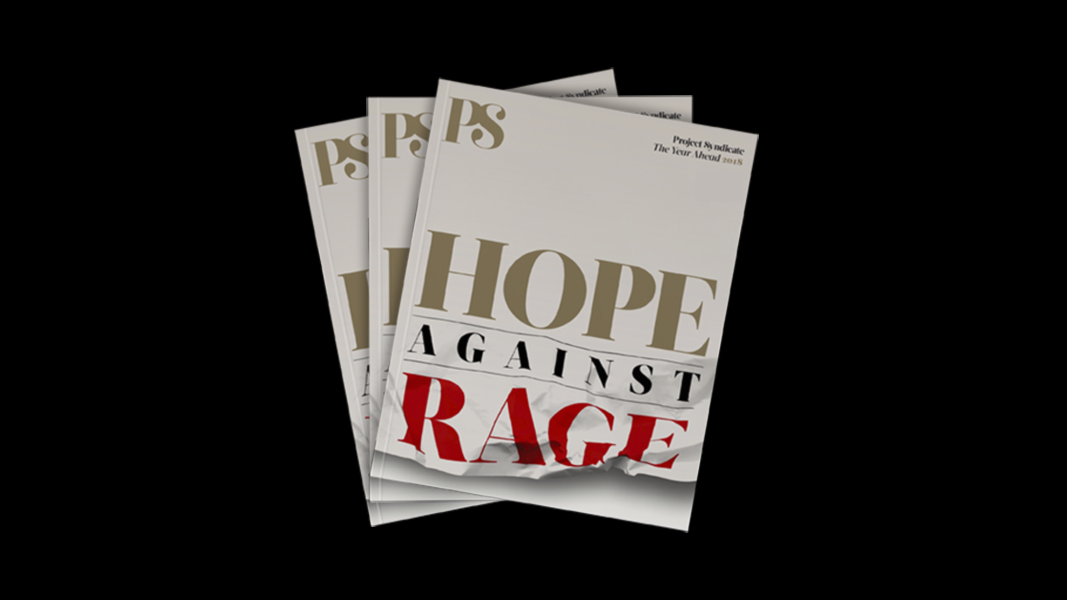 The Year Ahead 2018
The world's leading thinkers and policymakers examine what's come apart in the past year, and anticipate what will define the year ahead.
Dos libros recientes –Identity Economics [Economía de la identidad] por el premio Nobel George Akerlof y Rachel Kranton, y The Moral Economy [La economía moral] por Sam Bowles– indican que una silenciosa revolución está desafiando los fundamentos de la economía, prometiendo cambios radicales en la forma en que visualizamos numerosos aspectos de las organizaciones, las políticas públicas, y hasta la vida social. Al igual que con el repunte de la economía del comportamiento (que ya incluye seis premios Nobel entre sus líderes), esta revolución emana de la psicología. Sin embargo, mientras la economía del comportamiento se basa en la psicología cognitiva, la revolución actual tiene sus raíces en la psicología moral.
Como es el caso con la mayor parte de las revoluciones, la actual no está sucediendo porque, según lo estimara Thomas Huxley, bellas teorías antiguas estén siendo destruidas por feos hechos nuevos. Hace tiempo que sabemos de los hechos feos e inconsistentes, pero los individuos no abandonan un esquema mental a menos que puedan sustituirlo por otro: a la larga, son solo las teorías más nuevas y más poderosas las que dan muerte a las bellas teorías antiguas.  
Durante largo tiempo, la teoría económica aspiró a la elegancia de la geometría euclidiana, en la cual todos los teoremas ciertos se derivan de cinco axiomas aparentemente incontrovertibles, como la noción de que solo hay una línea recta que conecta dos puntos en el espacio. En el siglo XIX, los matemáticos exploraron las consecuencias de relajar uno de esos axiomas, y descubrieron la geometría de los espacios curvos, en la que un número infinito de líneas longitudinales puede pasar a través de los polos de una esfera.
Los axiomas fundamentales de la economía tradicional incorporan una visión de la conducta humana que se conoce como homo economicus: hacemos lo que más nos gusta o lo que preferimos más, entre las opciones factibles. Pero, ¿qué hace que deseemos o prefiramos algo?
Hace mucho tiempo que la economía postula que aquello que orienta nuestras preferencias es exógeno a la cuestión de que se trate: de gustibus non est disputandum, como argumentaban George Stigler y Gary Becker. No obstante, empleando unos pocos supuestos razonables, como la idea de que más es mejor que menos, es posible hacer muchas predicciones sobre la forma en que las personas van a comportarse.
La revolución de la economía del comportamiento puso en duda la idea de que formulamos estos juicios de manera acertada. En este proceso, se sometieron a pruebas experimentales los supuestos en que se basa el homo economicus, y se llegó a la conclusión de que eran deficientes. Pero, a lo más, esto condujo a la idea de empujar sutilmente [nudge] a la gente a tomar decisiones mejores, como obligarla a excluirse en lugar de incluirse a la hora de optar por una alternativa mejor.
Es posible que la nueva revolución haya sido gatillada por un descubrimiento incómodo que realizó la revolución anterior. Consideremos el llamado juego del ultimátum, en el que a un participante se le da una suma de dinero, digamos, US$100. Él debe dar parte de este dinero a un segundo jugador. Si este acepta la oferta, ambos retienen el dinero. Si no, ninguno de los dos recibe nada.
El homo economicus le daría US$1 al segundo jugador, quien debería aceptar la oferta porque US$1 es mejor que cero dólares. No obstante, a través del mundo, la gente tiende a rechazar las ofertas inferiores a US$30. ¿Por qué?
La nueva revolución supone que cuando tomamos decisiones, no consideramos meramente cual de las opciones disponibles nos gusta más. También nos preguntamos qué deberíamos hacer.
De hecho, según la psicología moral, nuestros sentimientos morales, acerca de los cuales Adam Smith escribió su otro libro famoso, evolucionaron para regular nuestro comportamiento. Somos la especie más cooperadora de la Tierra porque nuestros sentimientos evolucionaron para mantener la cooperación, para poner al "nosotros" por encima del "yo". Entre estos sentimientos se cuentan la culpa, la vergüenza, la indignación, la empatía, la simpatía, el miedo, la repugnancia, y todo un cóctel de otras emociones. En el juego del ultimátum, rechazamos ofertas porque encontramos que son injustas.
Akerlof y Kranton proponen añadir algo simple al modelo económico convencional de la conducta humana. Sostienen que además de los elementos egoístas típicos que definen las preferencias, las personas se consideran parte de "categorías sociales" con las cuales se identifican. Existe una norma o un ideal asociado con cada una de estas categorías, por ejemplo, ser cristiano, padre, albañil, vecino, o deportista. Y puesto que comportarse de acuerdo al ideal produce satisfacción, la gente actúa no solo para adquirir, sino también para llegar a ser.
Bowles demuestra que tenemos esquemas muy diferentes para analizar situaciones. En particular, los incentivos monetarios pueden funcionar en situaciones semejantes a las del mercado. Sin embargo, como lo reveló el famoso estudio de las guarderías infantiles de Haifa, la imposición de multas a quienes recogían a sus hijos con tardanza resultó tener el efecto opuesto: si una multa es como un precio, se puede decidir que es un precio que vale la pena pagar.
Pero sin la multa, el llegar atrasado constituye un comportamiento descortés, grosero, o falto de respeto en relación al personal de la guardería, el cual sería evitado por las personas con amor propio incluso si no existieran las multas. Desgraciadamente, en el ámbito empresarial tanto como en el público, se ha restado importancia al énfasis en esta forma alternativa de regular el comportamiento. En su lugar, se han derivado estrategias a partir de la visión de que todas nuestras conductas son egoístas, de modo que el desafío intelectual ha sido el diseño de mecanismos o contratos "compatibles con los incentivos", esfuerzo que también ha sido reconocido con premios Nobel.
Sin embargo, como lo demostró George Price hace mucho tiempo, es posible que la evolución darwiniana nos haya hecho altruistas, por lo menos hacia quienes percibimos como miembros del grupo que llamamos "nosotros". Puede que la nueva revolución de la economía dé cabida a estrategias basadas en afectar ideales e identidades, no solo impuestos, multas y subsidios. En este proceso, tal vez comprendamos que votamos porque es lo que los ciudadanos deberíamos hacer, y que desempeñamos una labor excelente en nuestro trabajo porque buscamos respeto y realización personal, no solo un aumento de sueldo.
De tener éxito, la nueva revolución puede conducir a estrategias que nos hagan más receptivos a los mejores ángeles de nuestra naturaleza. La ciencia económica y nuestra visión de la conducta humana no tienen por qué ser sombrías. Pueden llegar a ser hasta inspiradoras.
Traducción del inglés por Ana María Velasco