Harry Potters literarischer Zauber
PRINCETON – In diesem Sommer feierten Leser auf Literaturfestivals und in Buchläden auf der ganzen Welt den 20. Jahrestag der Ersterscheinung von J.K. Rowlings erstem Buch aus der Harry-Potter-Reihe - Harry Potter und der Stein der Weisen – und das aus gutem Grund. Seit der junge Zauberer am 26. Juni 1997 erstmals in Erscheinung trat, ist aus dem "Jungen, der lebte" eine "Ikone von Bestand" geworden.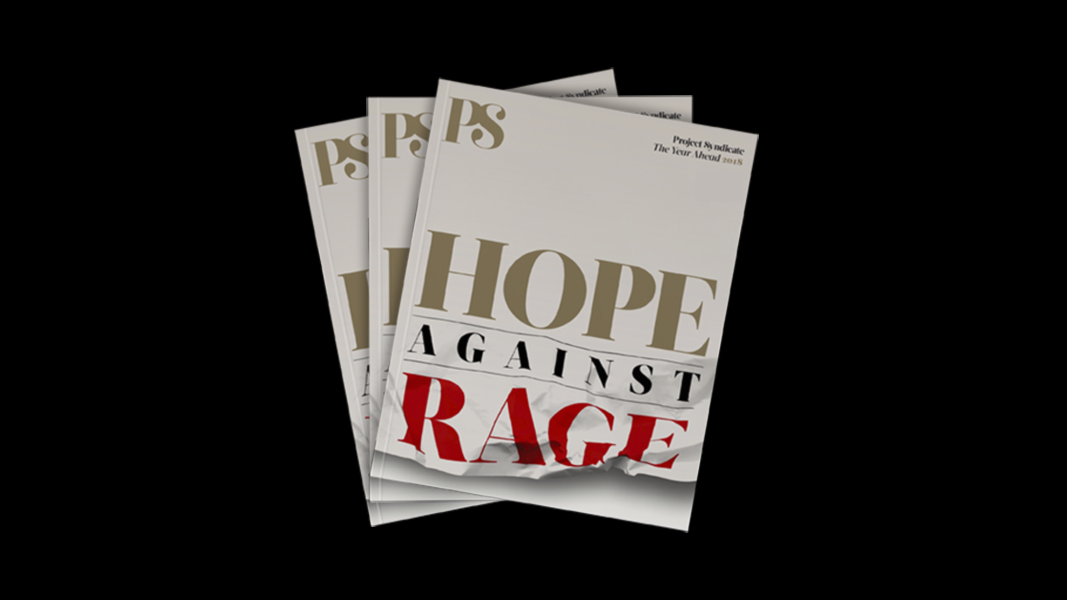 The Year Ahead 2018
The world's leading thinkers and policymakers examine what's come apart in the past year, and anticipate what will define the year ahead.
In den letzten zwei Jahrzehnten wuchs die Harry-Potter-Reihe zu sieben Romanen an. Insgesamt wurden 450 Millionen Bücher verkauft und die Geschichten in mehr als sechs Dutzend Sprachen übersetzt. Die acht auf Grundlage der Bücher entstandenen Verfilmungen haben 7 Milliarden Dollar eingespielt, und der Verkauf von Harry-Potter-Spielzeug und anderen Artikeln brachte noch einmal 7 Milliarden Dollar ein. Menschen ab eines gewissen Alters und mit literarischem Interesse fällt es schwer, sich an einen Tag zu erinnern, an dem die weltweite Leserschaft nicht von Rowlings Schöpfung verzaubert wurde. 
Aus diesem Grund ist es für mich erstaunlich, wenn ich daran denke, wie unterkühlt meine Studenten im Herbst 1999 auf das Buch Harry Potter und der Stein der Weisen reagierten, als es auf der Leseliste für meine Vorlesung über Populärliteratur "American Best Sellers" aufschien, die ich seit 1993 halte. In dieser Vorlesung, die einen Überblick über Populärliteratur vom 17. Jahrhundert bis heute bietet, werden die Studenten eingeladen, sich Gedanken darüber zu machen, wie und warum bestimmte Bestseller ihre Leser in den Bann zogen. Am Ende jedes Semesters lasse ich die Studenten das letzte Buch als Beispiel für den Zeitgeschmack auswählen. Im Jahr 1999 entschieden sie sich für diesen ersten Harry-Potter-Roman.
In diesem Jahr wurde Amerika vollkommen von einer Potter-Manie erfasst. Im Juni brachte der amerikanische Verleger der Reihe in aller Eile die gebundene Ausgabe des zweiten Romans Harry Potter und die Kammer des Schreckens in die Buchläden. Und neben der Taschenbuchausgabe des Steins der Weisen wurde das dritte Buch Harry Potter und der Gefangene von Askaban am 8. September veröffentlicht.   
Am Ende dieses Monats belegten Rowlings Romane die ersten drei Plätze der Literatur-Bestsellerliste der New York Times, während die Taschenbuchausgabe des Steins der Weisen auf dem ersten Platz der Taschenbuchliste stand. Das Magazin Time brachte den Zauberer mit Brille sogar auf seinem Titelbild. Man konnte sich nicht umdrehen, ohne irgendwo auf Harry zu stoßen. Meine Studenten waren gespannt zu erfahren, was es mit der ganzen Aufregung auf sich hatte.
Du liebe Zeit, wie groß war die Enttäuschung. Für die Studenten handelte es sich um zweitklassiges Geschwafel, das nicht einmal annähernd die Aufmerksamkeit verdiente wie die geliebten Serien ihrer Kindheit wie etwa Die Chroniken von Narnia oder Der Herr der Ringe. Obwohl sie nur wenige Jahre ihrer Kindheit entwachsen waren, zogen sie mit dem gleichen Eifer über Harry Potter her wie viele der berüchtigt negativen erwachsenen Kritiker: "Nachgemacht." "Schlecht geschrieben." "Voller Klischees." "Gefühlsduselei." Sie entdeckten in Harry nichts Wundersames, keine Wärme und keinen Witz.
Die Abneigung meiner Studenten überraschte mich, aber im Rückblick betrachtet hätte es das nicht sollen. Obwohl die Leserschaft von Harry Potter von Beginn an zu einem Gutteil aus Erwachsenen bestand, waren diese Studenten genau die falsche demographische Gruppe, um das sich ausbreitende Phänomen zu würdigen. Zu alt für neue Kinderbücher und zu jung um selbst Kinder zu haben (so wie ich als junger Vater zu dieser Zeit) kamen sie schnell zu dem Schluss, dass die Reihe trotz ihrer damaligen Popularität bald aus der Erinnerung verschwinden würde. Im folgenden Herbst des Jahres 2000 entschied sich die nächste Studentengruppe auch für den Stein der Weisen als letzten Text und lehnte ihn ebenso wie ihre Kollegen des Vorjahres aus ganzem Herzen ab.
Schneller Vorlauf in den Frühling 2007. Nachdem ich die Vorlesung "American Best Sellers" für ein paar Jahre auf Eis gelegt hatte, nahm ich sie wieder in mein Programm auf. Als die Studenten diesmal das letzte Buch wählen sollten, entschieden sie sich für Harry Potter und der Stein der Weisen. Ich machte mich auf schlechte Kritiken gefasst.
Doch diesmal fielen die Beurteilungen begeistert aus. Diese neue Gruppe bestehend aus jungen Menschen der Geburtsjahrgänge zwischen 1986 und 1989 hatte Rowling als Kinder und Jugendliche und nicht als College-Studenten erstmals gelesen und das hieß, sie sind praktisch mit Harry, Ron und Hermine aufgewachsen. Gleiches passierte im Herbst 2010. Für beide Gruppen war "Wir sind mit Harry Potter aufgewachsen" ein Motto und keine Marke. Würde Harry jemals aus der Erinnerung verschwinden? Nie im Leben.  
Seit 2010 habe ich meine Vorlesung über Bestseller zwei Mal gehalten und beide Male haben sich die Studenten am Ende des Semesters nicht für einen Harry-Potter-Roman als letztes Buch entschieden. Haben wir es mit Potter-Müdigkeit zu tun? Nicht sehr wahrscheinlich, wenn ich bedenke, wie die Romanreihe in einer meiner anderen Vorlesungen zu "Kinderliteratur" weiterhin gut aufgenommen wird. In dieser Vorlesung ist es meine Entscheidung, einen Harry-Potter-Roman auf den Stundenplan zu setzen. Statt dem Stein der Weisen nehme ich allerdings Harry Potter und der Gefangene von Askaban durch – mein Lieblingsbuch der siebenteiligen Harry-Potter-Reihe, das aufgrund seiner umfassenden Behandlung von Themen wie Treue, Verrat, Rache und Barmherzigkeit den Übergang von Kinderliteratur zu Romanen für junge Erwachsene markiert. Dabei handelt es sich auch um das Lieblingsbuch vieler meiner Studenten.
Aber wie lange wird die Beliebtheit Harry Potters noch anhalten? Jedes Mal, wenn ich die Vorlesung "Kinderliteratur" halte, beginne ich mit einer Umfrage: "Welche Bücher auf unserer Leseliste haben Sie als Kind gelesen?" Im Jahr 2010 hatten 86 Prozent Harry Potter und der Gefangene von Askaban gelesen. Im Jahr 2012 stieg der Wert auf 94 Prozent. Doch in den Jahren danach fiel dieser Prozentsatz - auf 87 Prozent im Jahr 2014 und auf 81 Prozent 2016.  
Das ist alles unwissenschaftlich, ich weiß. Aber ich bin neugierig: wird der Prozentsatz im nächsten Frühling auf unter 80 Prozent fallen, wenn ich wieder die Vorlesung über "Kinderliteratur" halten werde? Werden meine Studenten aus den Jahren 1999 und 2000 recht behalten und Harry Potter wird an Bedeutung verlieren und niemals zu einem dauerhaften Klassiker werden? Oder liegt ein Gleichgewichtspunkt vor uns, ab dem der Prozentsatz gleich bleibt und nicht weiter sinkt?
Vielleicht werden wir die Antworten zu Harrys 40. Jubiläum wissen. Bis dahin werde ich ihn weiterhin gerne in meinen Hörsaal einladen.
Aus dem Englischen von Helga Klinger-Groier