L'Europe et les anti-européens
LONDRES – Les élections européennes ont déclenché une douloureuse remise en question, portant non seulement sur le fonctionnement de l'Union européenne, mais sur son objet même. Les résultats montrent clairement qu'il y a à présent deux Europes. L'une dans laquelle la logique de l'intégration est profondément ancrée dans le système politique et dans l'ordre social. L'autre qui rejette les hypothèses de base d'une telle souveraineté partagée.
La bonne nouvelle, c'est que la plupart des pays européens appartiennent à la première catégorie. La mauvaise, c'est que les exceptions concernent deux pays très grands et très puissants.
Le débat sur l'Europe n'est pas simplement une discussion sur les mérites de telle ou telle solution institutionnelle ou technique à un problème de coordination politique. Il s'agit de la façon dont des sociétés peuvent s'organiser efficacement dans le contexte de la mondialisation. Jusqu'à présent, on a accordé une trop grande importance à l'aspect institutionnel et pas assez au dynamisme et à l'innovation sociale.
Avant les élections, les pro-européens considéraient le vote à venir comme la preuve qu'un nouveau modèle de la démocratie à l'échelle européenne était en train d'apparaître. L'Europe allait ressembler davantage à un pays, avec les partis politiques pan-européens qui devaient proposer leur meilleur candidat (ou Spitzenkandidat comme disent les Allemands), au poste de président de la Commission européenne.
Mais les eurosceptiques ont répliqué que le nouvel ordre politique ne fonctionnerait pas. Les électeurs devaient finalement considérer les élections comme par le passé : une occasion de protester, non pas tant contre l'Europe que contre leurs propres gouvernements nationaux. Ils devaient également voter contre l'austérité, imposée dans le cadre de la stratégie de l'UE pour défendre l'union monétaire.
Ni les optimistes ni pessimistes n'ont eu raison. Aucun leader européen clairement désigné ne s'est distingué dans ces élections et le marchandage politique entre les gouvernements de l'UE sur le prochain président de la Commission est susceptible de se prolonger et de prendre un tour curieusement anti-démocratique. Dans le même temps, malgré les gros titres qui suggéraient le contraire, il n'y a pas eu de vague globale anti-européenne, ni de désillusion face au projet européen.
Subscribe to Project Syndicate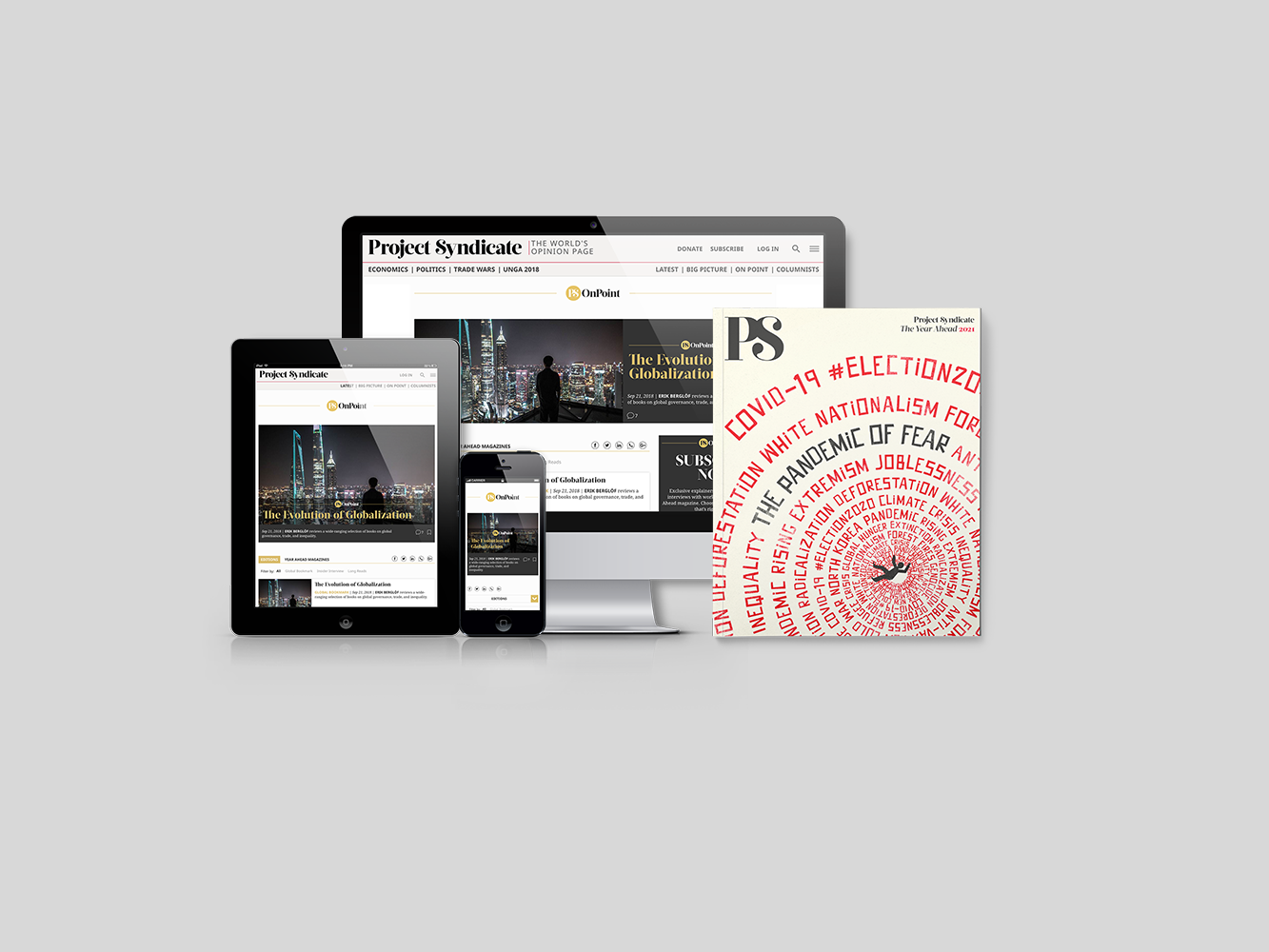 Subscribe to Project Syndicate
Enjoy unlimited access to the ideas and opinions of the world's leading thinkers, including weekly long reads, book reviews, topical collections, and interviews; The Year Ahead annual print magazine; the complete PS archive; and more. All for less than $9 a month.
En effet, dans de nombreux pays, y compris certains de ceux les plus durement touchés par la crise financière et économique, les électeurs ont finalement approuvé à la fois leur gouvernement et le projet européen. L'effet favorable au candidat sortant était perceptible en Espagne et plus encore en Italie, où le nouveau gouvernement de réforme de Matteo Renzi a déçu les attentes selon lesquelles les Italiens devaient exprimer à leur tour un fort vote de protestation. En Europe de l'Est, le parti Plate-forme civique au pouvoir en Pologne a surclassé l'opposition nationaliste, alors que les électeurs dans les État baltes, où les effets économiques d'austérité étaient les plus graves dans toute l'UE, ont approuvé les candidats centristes du Parlement européen.
La faiblesse inattendue de la droite populiste aux Pays-Bas et les bons résultats des démocrates-chrétiens au pouvoir en Allemagne ont traduit le même phénomène : un nouveau noyau dur de l'Europe, politiquement stable et sûr de lui.
Cependant, outre-Rhin et outre-Manche, les choses sont bien différentes. En France et au Royaume-Uni, le succès des partis populistes insurgés a ébranlé le paysage politique. Dans ces deux pays, le parti au pouvoir (les socialistes français et les conservateurs britanniques) a été non seulement battu, mais a terminé troisième.
Le Premier ministre français Manuel Valls a décrit la victoire du Front national, le parti d'extrême-droite de Marine Le Pen comme un « séisme » politique. Et même si l'on peut facilement attribuer le triomphe du Front national à l'impopularité du président socialiste François Hollande et de son gouvernement, le triomphe parallèle du Parti pour l'indépendance au Royaume-Uni ne peut pas s'expliquer comme un vote de protestation contre le gouvernement de coalition, qui est en train de relancer l'économie. La victoire éclatante de l'UKIP a témoigné sans ambiguïté de la part des citoyens d'un rejet de l'Europe, en particulier de l'immigration en provenance de l'UE.
Les résultats des élections en France et au Royaume-Uni reflètent les écarts les plus marqués des deux pays par rapport au cadre européen. Tout d'abord, leur héritage impérial les force à se comporter comme de grandes puissances du XIXème siècle et non pas dans le cadre de mondialisation et d'interconnexion du XXIème siècle. On retrouve cette tendance dans leurs modèles économiques. Au Royaume-Uni, la dépendance excessive vis-à-vis de la finance traduit le fait que la finance est l'activité centrale de coordination de la vie économique, ce qui avait plus de sens au XIXème siècle qu'aujourd'hui.
Pour la France, la même faiblesse est sensible dans une propension au gigantisme des entreprises. Il y a de nombreuses réussites pour les grandes entreprises industrielles, la plupart politiquement bien connectées. Il existe aussi de très petites entreprises familiales qui sont les vestiges d'un pays perdu. Mais la panoplie des PME qui font la réussite économique de l'Allemagne et de l'Espagne a presque entièrement disparu en France.
Le Royaume-Uni et la France ont actuellement des débats énergiques sur la manière de faire évoluer leur modèle économique. Certains réformateurs au sein du gouvernement veulent davantage de programmes d'apprentissage à l'allemande : on parle d'allégements fiscaux pour les petites entreprises et d'allégement de la charge réglementaire, jugé trop intrusive.
Il est difficile de dire comment le Royaume-Uni et la France pourront survivre sur la base de la nostalgie. Réformer les deux pays est une tâche aussi essentielle que la réforme de l'ordre politique vieillot et complexe de l'Europe. Et cela exige beaucoup plus que de simplement peaufiner les dépenses publiques et d'introduire certains projets d'infrastructure de haute technologie. Cela implique plutôt de recréer les fondements d'une société plus dynamique.
La réforme nationale de deux anciennes grandes puissances impériales de l'Europe est aussi un élément essentiel au bon fonctionnement de l'Europe. S'il est concevable que le projet européen puisse survivre sans le Royaume-Uni, toutefois une Union européenne sans la France est impensable.