De werkelijke prijs van pesticiden is onbetaalbaar
NAIROBI – Een groeiende hoeveelheid bewijsmateriaal duidt erop dat de industriële landbouw de planeet en haar bevolking schade berokkent. Met name chemische pesticiden zijn een steeds grotere bedreiging voor het milieu en de volksgezondheid.
Samen met synthetische meststoffen zijn pesticiden van levensbelang voor de industriële landbouw – en het gebruik ervan neemt in bijna alle regio's van de wereld gestaag toe. Uit de jongste Insectenatlas van de Heinrich Böll Foundation blijkt dat het jaarlijkse mondiale pesticidengebruik is toegenomen van ongeveer drie miljoen ton aan het begin van het millennium naar ruim vier miljoen ton vandaag de dag. De mondiale pesticidenverkoop bedroeg in 2018 in totaal €56,5 mrd en zou in 2023 naar €82 mrd kunnen stijgen
Hoewel sommige nationale toezichthouders steeds bezorgder worden over de gezondheidsrisico's die voortvloeien uit pesticidenresten in het eten, onderschatten overheden overal de gevolgen van deze producten voor organismen waar ze niet voor bedoeld zijn. Pesticiden kunnen tientallen jaren in het milieu blijven voortbestaan en hele ecosystemen bedreigen. Het buitensporige gebruik en misbruik ervan leidt tot verontreiniging van de bodem en waterbronnen, waardoor de biodiversiteit wordt aangetast, weldadige insectenpopulaties worden vernietigd en ons voedsel minder veilig wordt.
Afnemende insectenpopulaties zijn in Europa een belangrijk onderwerp geworden sinds uit een onderzoek in 2017 is gebleken dat in sommige delen van Duitsland in de drie voorgaande decennia ruim 75% van de vliegende insecten was verdwenen. Enige tijd later schatten onderzoekers van de Universiteit van Sydney dat 41% van alle insectensoorten wereldwijd achteruit ging, en dat een derde werd bedreigd met uitsterven.
Deze onderzoeken bieden een eerste glimp van een zorgwekkende ecologische trend. Wetenschappelijke langetermijngegevens over insectenpopulaties zijn schaars en vrijwel non-existent in regio's waar het tempo van de agrarische industrialisatie aan versnelling onderhevig is, zoals in Azië, Afrika en Latijns-Amerika. Het zijn precies die regio's die bijzonder kwetsbaar zijn voor gevaarlijke pesticiden.
In de afgelopen twee decennia, na publieke protesten en campagnes, heeft de Europese Unie veel schadelijke actieve ingrediënten van pesticiden verboden. De algehele trend in het pesticidengebruik in Europa is echter niet uniform: sommige Europese landen, zoals Denemarken, gebruiken minder pesticiden, terwijl andere, zoals Polen, er meer gebruiken. Niettemin hebben, over het geheel genomen, strengere regelgeving en verminderde vraag de Europese markt minder profijtelijk gemaakt voor de toonaangevende mondiale pesticidenproducenten.
Subscribe to Project Syndicate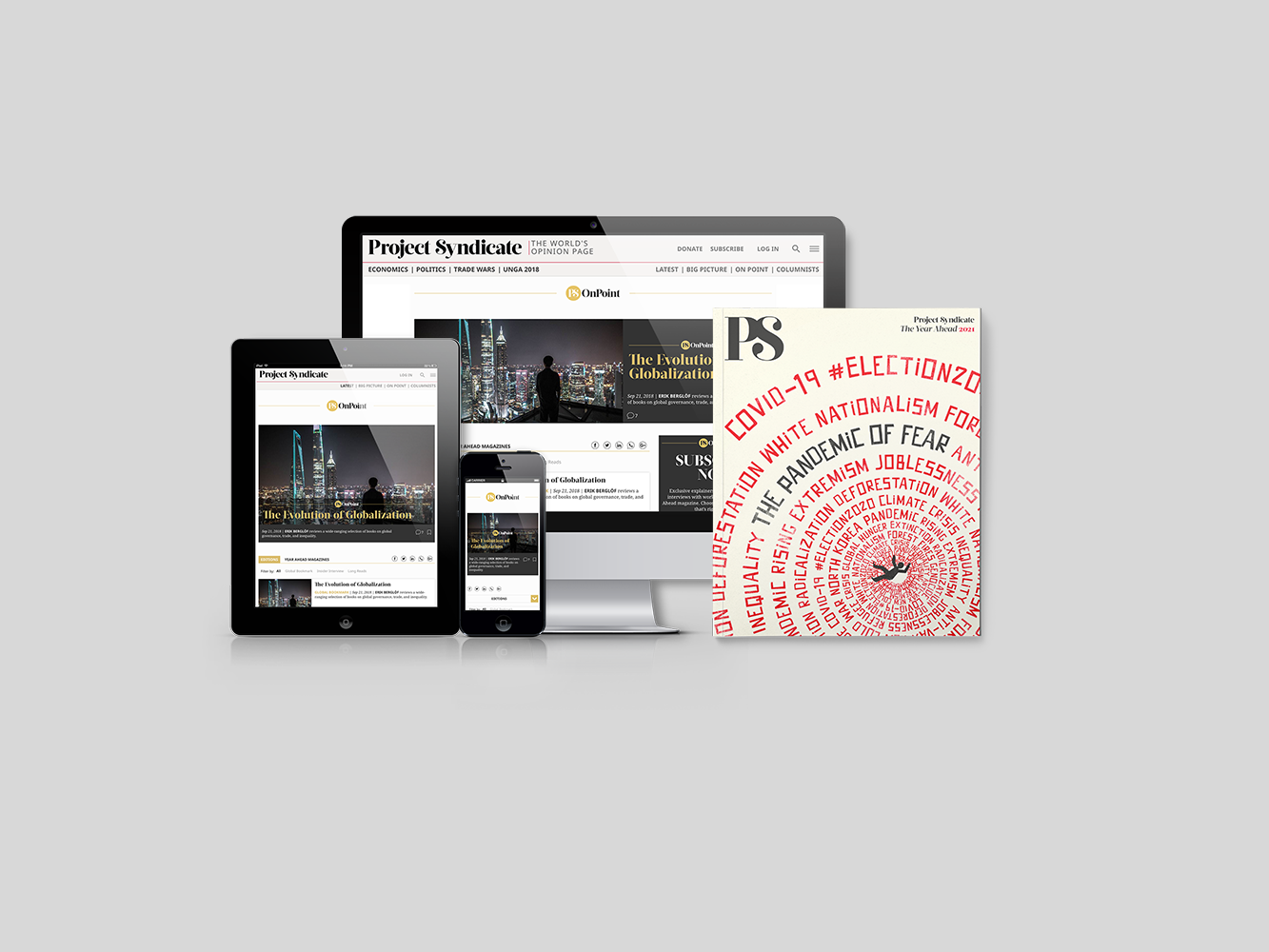 Subscribe to Project Syndicate
Enjoy unlimited access to the ideas and opinions of the world's leading thinkers, including weekly long reads, book reviews, topical collections, and interviews; The Year Ahead annual print magazine; the complete PS archive; and more – for less than $9 a month.
De vier grootste producenten – BASF en Bayer in Duitsland, de in Zwitserland gevestigde Chinese firma Syngenta, en Corteva Agriscience, voorheen de landbouwdivisie van DowDuPont – nemen gezamenlijk tweederde van de mondiale markt voor pesticiden voor hun rekening, en zijn op zoek naar nieuwe inkomstenbronnen. Zij richten zich op de ontwikkelingslanden, waar de landbouwsectoren onder druk staan om de groeiende bevolking te voeden, terwijl ze zich ook moeten aanpassen aan de gevolgen van de klimaatverandering.
Hier profiteren de grote producenten van het feit dat de betrekkelijk strenge standaarden voor pesticiden die door Europese regeringen zijn afgekondigd uitsluitend binnen de eigen grenzen worden toegepast. Ze zijn niet omgezet in beperkingen van de productie en export van schadelijke pesticiden vanuit de EU naar andere landen. Zolang de ingrediënten in één van de OESO-landen zijn goedgekeurd mogen bedrijven uit EU-landen pesticiden produceren en exporteren die deze ingrediënten bevatten – ongeacht de vraag of op wetenschappelijke wijze is aangetoond dat ze schadelijk zijn voor de menselijke gezondheid of het milieu.
Een derde van de geregistreerde actieve ingrediënten van pesticiden die in Kenia worden gebruikt is bijvoorbeeld niet goedgekeurd in Europa vanwege de negatieve gevolgen voor de gezondheid of het milieu. Volgens de Pesticide Properties Database, die door de Universiteit van Hertfordshire wordt bijgehouden als onderdeel van het door de EU gefinancierde FOOTPRINT-project, is 77% van de pesticide-producten in Kenia geclassificeerd als kankerverwekkend, mutageen, endocrine-ontwrichtend of neurotoxisch, of als duidelijke gevolgen hebbend voor de voortplanting. Bovendien is 32% van de beschikbare pesticiden in het land giftig voor bijen, en is ruim de helft giftig voor vissen.
Europa is na China de op één na grootste exporteur van pesticiden naar Kenia, en bijna 60% van de Europese producten die geregistreerd zijn in het land wordt gemaakt door BASF, Bayer en Syngenta. Uit een onderzoek van Public Eye bleek dat ruim een derde van de verkochte pesticiden die waren gemaakt door BASF, Bayer, Corteva Agriscience, FMC en Syngenta, chemicaliën bevatten die zeer schadelijk zijn voor de gezondheid of het milieu.
Helaas is het toezicht op het gebruik van pesticiden zwak in veel landen in het mondiale Zuiden. En omdat deze producten steeds beter verkrijgbaar zijn, neigen lokale boeren ertoe ze te gebruiken zonder veiligere alternatieven te overwegen.
Zelfs als pesticiden veilig gebruikt zouden kunnen worden, ontberen boeren, operators en handelaren vaak de taalvaardigheid om de handleiding te kunnen lezen, vooral als die niet in het lokale dialect zijn gedrukt. Dergelijke obstakels, naast de hoge kosten van persoonlijke beschermende middelen, kunnen ʻveilig gebruik' tot een loos begrip maken. Bovendien dreigt de armzalige laboratoriuminfrastructuur in veel ontwikkelingslanden de consumentenvoedselveiligheid nog verder te ondermijnen.
Via een petitie in het Keniase parlement hebben milieu- en volksgezondheidsorganisaties strengere controles op pesticiden geëist, en een verbod op actieve ingrediënten waarvan bewezen is dat ze schadelijk zijn. Lobbyisten van de industrie noemen de inspanningen van deze groepen anti-wetenschappelijk, en beweren dat pesticiden onmisbaar zijn in de strijd tegen de honger in de wereld – een narratief dat aanlokkelijk klinkt, maar fout is. Makkelijke argumenten die geen oog hebben voor op bewijzen gebaseerde zorgen over pesticiden zullen eenvoudigweg de toonaangevende producenten de mogelijkheid geven te blijven profiteren van business as usual.
In plaats daarvan moeten we een serieuze discussie voeren over alternatieve benaderingen van het verbouwen van veilige producten in een duurzame landbouw die van de bescherming van de volksgezondheid en het milieu zijn hoogste prioriteit maakt. Zoals uit de regelgeving van de EU en de Keniase petitie blijkt, zal betekenisvolle verandering gecoördineerd politiek leiderschap vergen. Het recht van iedereen op veilig voedsel en een gezonde omgeving staat op het spel.
Vertaling: Menno Grootveld