Wenn Soft Power zur Waffe wird
PARIS – In der Theorie internationaler Beziehungen wird in der Regel zwischen weicher und harter Macht unterschieden. Der Begriff Soft Power beschreibt die Ausübung politischen Einflusses durch flexible, nicht bindende Instrumente wie Wirtschaftshilfe; die Verbreitung von Standards in Bereichen wie Umwelt, Gesundheit und zivile Sicherheit sowie durch die Ausfuhr von Kulturgütern. Für gewöhnlich widerstrebt es politischen Akteuren, die Soft Power ausüben, andere zu zwingen. Sie ziehen es vor, mit gutem Beispiel voranzugehen. Die Europäische Union ist die führende Vertreterin dieses Ansatzes.
Hard Power hingegen bezieht sich auf die Ausübung von Macht mithilfe militärischer und wirtschaftlicher Druckmittel. Anstatt mit gutem Beispiel voranzugehen, nutzen Länder die ihnen zur Verfügung stehende Hard Power, um anderen ihren Willen aufzuzwingen. In Anlehnung an Machiavelli halten sie es für besser, gefürchtet zu sein als geliebt. Das Paradebeispiel ist Russland. Die Vereinigten Staaten waren lange zwischen Europa und Russland angesiedelt und standen für eine einzigartige Kombination beider Machtformen.
Heutzutage verliert die Unterscheidung zwischen hart und weich jedoch zunehmend an Bedeutung, denn Soft Power selbst wird als Waffe benutzt. In dem, was einige Kommentatoren heute "Sharp Power" nennen, werden traditionelle Soft-Power-Instrumente – Handel, Rechtsnormen, Technologie – zunehmend eingesetzt, um Zwang auszuüben. Wenn man drei Hauptursachen für diese Veränderung ausmachen sollte, wären es der Aufstieg Chinas, die daraus resultierende chinesisch-amerikanische Rivalität und die neue Macht digitaler Technologien.
Der bisher sensibelste Bereich, in dem Soft Power als Waffe benutzt wird, ist der Handel. Seit Präsident Donald Trump an die Macht gelangt ist, haben die USA die Einfuhrzölle erhöht und sich auf die "nationale Sicherheit" berufen, um ihre Umgehung des regelbasierten multilateralen Handelssystems zu rechtfertigen. Die USA mögen zwar nicht länger die alleinige Kontrolle über das multilaterale System haben, doch sie können ihren Konkurrenten (und ihren Verbündeten) auf bilateraler Basis Schaden zufügen.
Die Verwandlung des Handels in eine Waffe hat tiefgreifende Folgen. Bis Ende 2019 werden die USA einen durchschnittlichen Einfuhrzoll in Höhe von 6,5 Prozent erheben, gegenüber nur 1,5 Prozent vor drei Jahren, was sie in Bezug auf Einfuhrbeschränkungen in die Nähe von Brasilien rücken lässt. Die Regierung Trump hat inzwischen 90% der Einfuhren aus China mit Abgaben belegt, doch ihre strategischen Ziele für den Handelskrieg sind weiterhin unklar.
Die Regierung Trump will China sicherlich zwingen, seinen bilateralen Handelsüberschuss mit den USA zu verringern, und viele in den USA wollen, dass China einen Weg zur Marktwirtschaft einschlägt. Aber die Ironie ist, dass der Handelskrieg beide Länder gezwungen hat, sich auf gelenkten Handel zu verlegen, was die chinesische Wirtschaft noch fester im staatlichen Griff bleiben lässt.
Subscribe now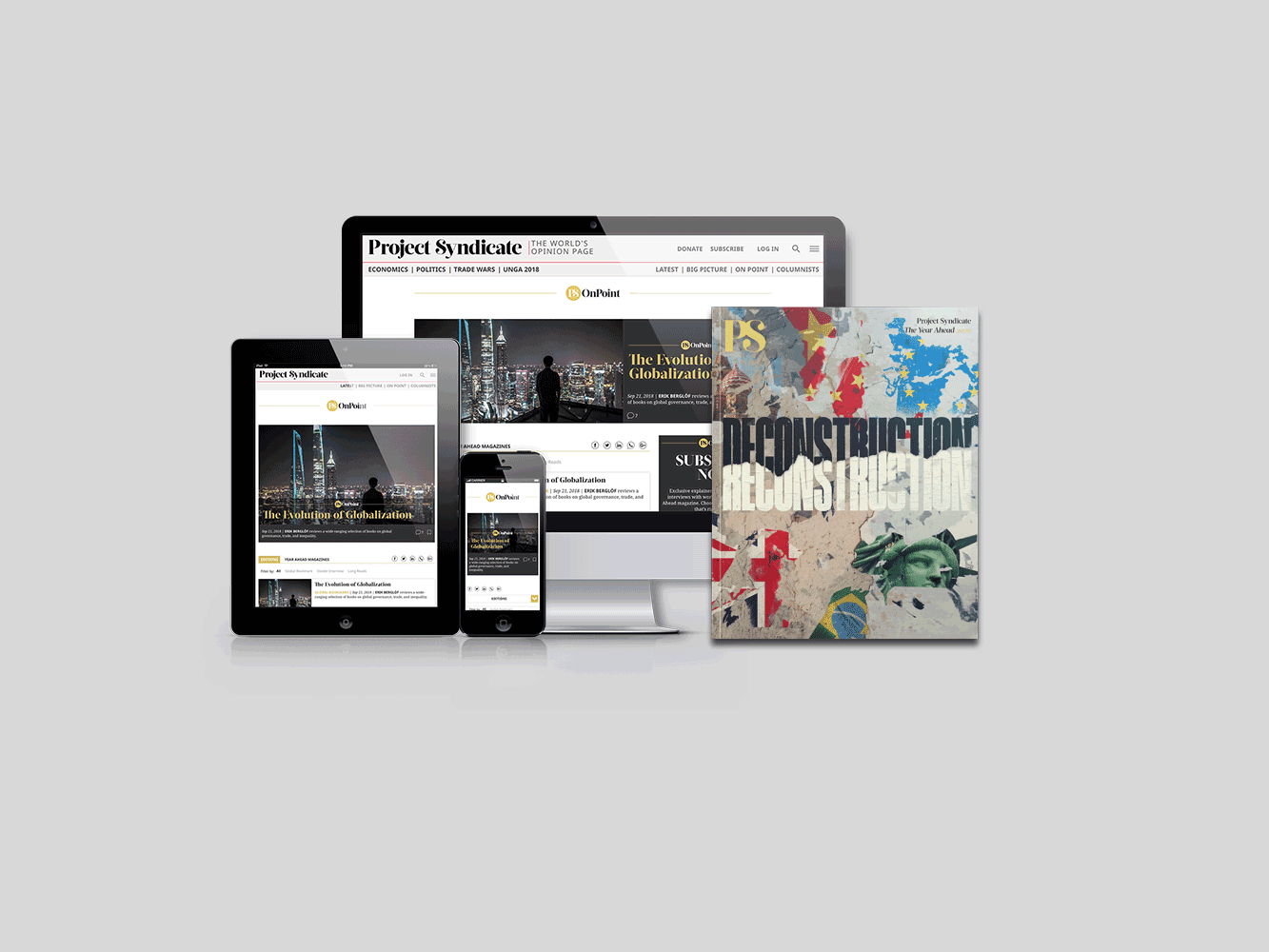 Subscribe now
Subscribe today and get unlimited access to OnPoint, the Big Picture, the PS archive of more than 14,000 commentaries, and our annual magazine, for less than $2 a week.
Eine neue Ära des gelenkten Handels birgt erhebliche Risiken für Europa. China muss möglicherweise weniger aus Europa importieren, damit es mehr aus den USA importieren kann, oder es könnte Exporte, die es nicht mehr in die USA verschiffen kann zu Dumpingpreisen auf die europäischen Märkte werfen. So oder so entwickelt sich der internationale Handel immer mehr zu einem Nullsummenspiel.
Aufgrund extraterritorialer Anwendungen nationaler Gesetze greift der Einsatz von Soft Power als Waffe auch im rechtlichen Bereich um sich. Sowohl die USA als auch die Europäische Union erheben Anspruch auf extraterritoriale Anwendung, aber die Unterschiede in der Art und Weise, wie sie diese Macht ausüben, sind aufschlussreich. Die europäische Extraterritorialität wurde noch nie für rein politische Zwecke genutzt und beschränkt sich im Wesentlichen auf drei Bereiche: Marktstandards, Wettbewerbspolitik und den Schutz personenbezogener Daten.
Die USA hingegen nutzen regelmäßig den Dollar, um jede wirtschaftliche Aktivität zu bestrafen, die sie, sogar auf kurze Sicht, als Bedrohung ihrer außenpolitischen Interessen betrachten. So wurde die französische Bank BNP Paribas vom US-Justizministerium mit einer Geldstrafe von 9 Milliarden Dollar belegt, weil sie gegen US-Embargos gegen Kuba, Sudan und den Iran verstoßen hat. Und mit dem CLOUD Act aus dem Jahr 2018 können US-amerikanische Strafverfolgungsbehörden nun auch dann auf Daten amerikanischer Unternehmen zugreifen, wenn diese nicht in den USA gespeichert sind.
Wieder einmal haben europäische Unternehmen die Kosten für diese Maßnahmen getragen. Und weil europäische Unternehmen so stark in die US-Wirtschaft integriert sind, hat Europa darum gekämpft, eine eigenständige Außenpolitik gegenüber Iran beizubehalten. Wenn es nicht gelingt, den Euro zu einer internationalen Währung werden zu lassen, die dem Dollar Konkurrenz machen kann, wird die europäische Wirtschaft leicht verwundbar für extraterritoriale Anwendungen von US-Gesetzen bleiben.
Ein dritter Bereich, in dem Soft Power zur Waffe wird ist die Technologie, insbesondere im Hinblick auf 5G. Im Gegensatz zu 3G- und 4G-Breitbandsystemen hat der Einsatz des 5G-Standards weitreichende sicherheits- und geopolitische Auswirkungen, denn er verspricht nicht nur eine Verbesserung der Mobiltelefonie, sondern auch eine Beschleunigung der Entwicklung des Internet der Dinge und der Digitalisierung ganzer Volkswirtschaften. Daher kann jeder böswillige Eingriff in die 5G-Architektur erhebliche wirtschaftliche, soziale oder sogar physische Schäden verursachen.
Aufgrund der wachsenden Kapazität Chinas zur Durchführung von Cyberkriegen hat der Chef des Bundesnachrichtendienstes große Vorbehalte gegen die Öffnung des deutschen 5G-Netzes für das chinesische Unternehmen Huawei geäußert. Huawei ist zwar derzeit der weltweit führende Anbieter von 5G-Hardware, unterliegt aber chinesischem Recht und ist somit letztlich der Kommunistischen Partei Chinas und den chinesischen Nachrichten- und Sicherheitsdiensten gegenüber verantwortlich.
Was auch immer man von der Regierung Trump halten mag: Die USA liegen nicht falsch, wenn sie auf die potenzielle Gefahr hinweisen, die von Huawei und chinesischen Technologieanbietern im Allgemeinen ausgeht. US-Vorwürfe gegen chinesische Unternehmen wie Huawei und ZTE sollten den Europäern die Augen für die Bedrohung durch Netzwerktechnologien öffnen, die als Waffe dienen können.
Mit Blick auf die Zukunft wäre es vernünftig, wenn die USA europäischen Unternehmen wie Ericsson oder Nokia ihre Unterstützung anbieten würden, die in Europa und anderswo als Gegengewicht zu Huawei dienen. Die strengen Wettbewerbsregeln der Europäischen Union verhindern, dass sie diesen Unternehmen in ihrem Wirkungsgebiet offene Unterstützung gewährt. Und weil die EU kein Staat ist, hat sie kein Interesse daran, staatliche Beihilfen zu gewähren oder Soft Power anderweitig als Keule zu schwingen.
Dennoch sollten sich die europäischen Staats- und Regierungschefs davor hüten, die tatsächlichen Gegebenheiten außer Acht zu lassen. Die Chance zu verpassen, einer besorgniserregenden neuen globalen Dynamik voraus zu sein, wäre nicht im Interesse des letzten großen Soft-Power-Akteurs auf der Welt.
Aus dem Englischen von Sandra Pontow